Everything looks hunky dory in the beginning, but after a few days the real picture comes into the forefront and you start thinking, whether to leave your old job was the right decision or not! You thought that things will be different this time around, the office environment will be perfect, your new boss will be the nicest man on earth and you would get the liberty to do the creative hat.
But, nothing like that happened and you were back to square one. So, now what? There are two options in front of you. One leads back to the old boss's cabin and the other one is to continue working in an environment, which is even worse than the earlier one.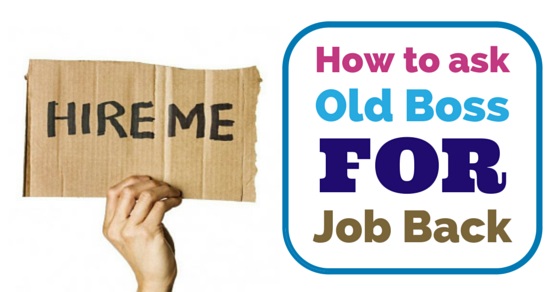 Old v/s New Job Position:
When you left the job, your boss told you, he would like to have you back any day because you served the company so well and they also wrote letters of appreciation for you. Even you loved your past job, but the new job offered you better money and position that was too tempting to refuse.
But, now when you are actually working in this condition you have realized that work life balance is a distant dream in your present job profile. So, increased paycheck has invited increased stress and is eating up your personal space as well.
In this scenario, many employees feel like going back to their old job. But, they are not sure whether they will be welcomed back or not!
Tips for Going back to Former Employer:
The honeymoon period is over and you have the taste of reality in the present job too. Now, the big question is whether you want to make the nightmare work for you or you want to give it all up and head back straight to your cozy comfort?
If you are thinking about the second option, then there is no need to worry much because they might also want you back. So, try out the below mentioned tips and in no time you will find yourself back with your old friends and colleagues.
1. Test the water first:
Prior to making the final approach, you must always test the water to verify that the company also wants you back.
Try to get in touch with the old colleagues who are also your friend and you know that they won't blurt out any of your secrets. Ask them whether it is the right time to return!
2. Ensure long term relationship:
In your mind, you must be sure about one thing and that is you are ready to serve for a long time once you get back to your old job.
You have left the company on a positive note and due to this very reason you were welcomed back again, but now again after serving for two weeks if you feel like quitting, then you will ruin the goodwill once and for all. Therefore, before making the final move, it is always better to think over the decision and then proceed.
3. Plan your approach:
If you have realized your mistake of changing the job within a month's time, then you can always send an email to your boss to let him or her know of your intentions.
A phone call is not the right approach because that way the boss will be under the pressure of coming up with an answer then and there. An email will give him the space to scrutinize the situation and prepare himself for the meeting as well.
If it has been a long time now that you have left your prior job, then call up the reception to know what the hierarchy is at the moment. This way you will also come to know whether your old boss is still there or someone has replaced him. Even your close colleagues can also help you with this piece of information.
4. Prove yourself:
Don't assume that they are waiting to welcome you back just because you performed well earlier. You must put in all your effort to present an impressive CV.
They know what you can do and how well you can complete the task or take initiatives, but that must not make you complacent, instead you must highlight your achievements and in between if you have done some remarkable job in your present position, then don't forget to include that as well in your CV before submitting it.
5. Prepare for the interview:
Preparation is important for any interview. Don't think that it will be a piece of cake for you this time around. Rather, you must make sure that you go through the official website in order to gain knowledge about the new product of the company and other basic information.
Make your presence felt in the social networking media like LinkedIn. Update your skills and all other details that are imperative.
6. Don't forget the cover letter:
You must come up with a formal cover letter, but you can mention there your last tenure with the company. While you do that you must remember that you must not depend only on your prior experience with the company, instead you must focus on why the company must welcome you back.
How you can prove yourself to be the biggest asset of the company this time around? You can also include the information regarding your comeback in the cover letter, but if you want, you can also keep that point aside because anyways, you will have to answer that during your interview (if the boss is new)!
7. Move to higher authority:
You have talked to your immediate boss and she has declined your application, then you can speak to the higher authority who had also assured you that you can come back whenever you want.
It might happen that your boss didn't literally mean that she will welcome you back anytime you want, but there is no harm in asking your higher authority. If they agree, then you can easily go back to your old job.
Conclusion:
Sometimes it might happen that the position for which you were working earlier is already filled up, so you might be offered a new position. If you really want to get back here, then be ready to accept the offer that is being made. But, make sure that the position, which is being offered, is at par with your qualification and capability.
Otherwise, there is no justification for coming back to the old job; else you will again start getting frustrated here too.