Recruitment industry is transforming as it has integrated big data recruitment into its recruiting efforts. With an innumerable number of job hunters and job openings, manually selecting resumes, shortlisting candidates, and calling them for the interview is almost impossible.
Moreover, various recruiting channels, job complexities, and a wide diversity of candidate have made it difficult for recruiters to recognize and hire talents before they are hired by competitors. Hence, the recruitment industry is always looking for ways to make recruitment easier and let technology shortlist candidates.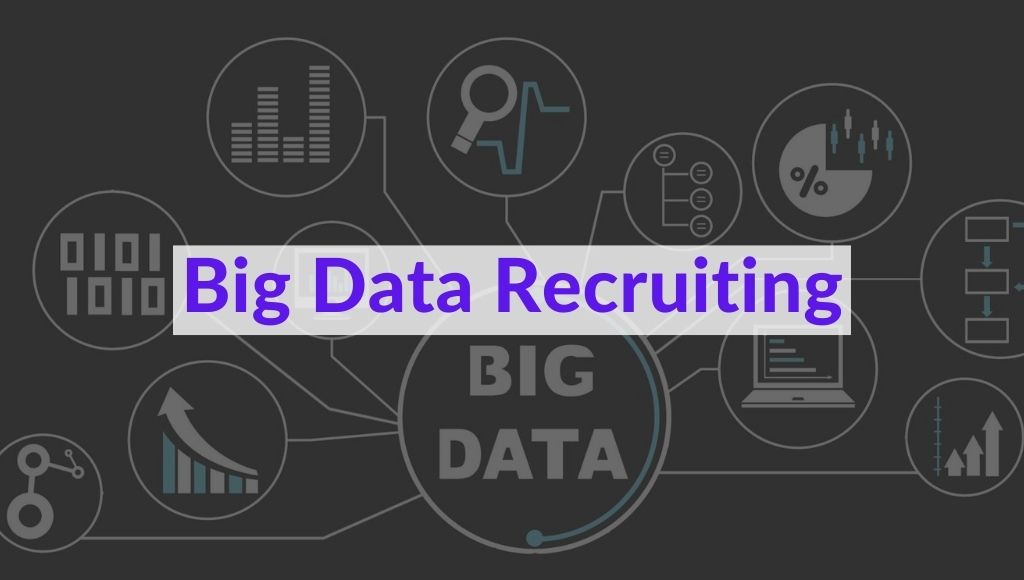 While ATS or Applicant Tracking Software continues to be extremely useful, it is but not efficient enough to aid recruiters to unleash the most skilled candidates from the vast talent pool. This is particularly when the profiles of such candidates exist in the hiring managers databases.
Hence, further evolution is needed and that is to integrate big data into recruitment.
From telecommunications, financial services to healthcare, and more, big data is there for every industry. But why it is so useful and what exactly it holds? All this and more is being discussed in this post!
What is Big Data?
The big data is a huge volume of unstructured or structured data, which is extensively available at collective fingertips. The bulk data sets are assessed to disclose previously hidden patterns and offer deep insights into human behavior, businesses, and more. Analysis conducted using big data is useful for everything, from gauging a candidate's productivity to financial services, and even analyzing the weather.
Organizations belonging to wide spectrum and from conceivable industries use big data for solutions on leveraging the data into meaningful ways.
For instance, operations, marketing, and sales are popular to rely heavily on big data analytics and to make business decisions by uncovering hidden patterns, market trends, unknown correlations, customer preferences, and other vital business details. With the help of such in-depth data, it is possible to make well-informed and profitable decisions.
Big Data Recruiting – Why Use Big Data in Recruitment Process?
Also known as people analytics, big data is used in recruiting when there is massive data needed by recruiters to analyze and gain support in their search to find the most suitable employee.
It is more than screening numerous resumes for specific keywords or data mining using social media platforms. It offers a path to create a 360-degree view of the candidate before they step front in building for their interview.
Mostly, everyone is online and hence personal data is available for use. This data is a goldmine for recruiters that let them dig out the most important details about a candidate.
The resume gives only one-dimensional look about a candidate. To get the complete picture it is vital to have access to more detailed and affordable data. Definitely, you can use keywords of applicant tracking software to guide the search, but don't let them alone define it. Recruiters can check beyond other keywords and fetch details into semantic analytics. Also, it can help them extract complete details from a candidate and analyze it.
So, using big data in recruitment, it is possible to gain detailed information about a candidate. Big data can solve some of the major challenges of the HR recruitment process, such as:
It Offers Bulk Data:
Many factors are considered when it is about finding the ideal candidate through bulk data. Thousands of bytes of information are crunched when the recruiters are looking for someone with the correct skillset.
For instance, big data applied to hire the tech positions would look at the candidate's publicly delivered source code, including social media platforms, LinkedIn profile, and their website. Even, it helps to know about the way they use technology.
Velocity:
The conventional hiring process can consume anywhere from 29 to 43 days. However, this is the average time. There are certain positions that need specific skills and may take months to get filled.
In addition to this, recruiting using big data makes the hiring process quicker because of the great velocity offered by it that recognizes and evaluates details. It helps to hire managers and HR recruiters to reduce the time taken to research the best candidates because they have convenient access to all relevant details in hand. It implies they can spend more time to personally connect with candidates and less time is wasted in dealing with the wrong people.
Variety:
One of the major reasons to utilize big data in recruiting is related to the variety of information it offers. Big data is a major attribute, which sets it different from conventional analytics is its potential to combine details from a range of distinct sources.
For example, big data can look at video and text files and link the details together. If you are hiring for technical openings, the data can help you look at the open-source code as well as the social media platforms of the candidate. The combination of such information helps recruiters to make a well-informed decision.
Finds the Best Candidates:
By utilizing the three aspects – variety, velocity, and volume, big data helps to look at the candidates from many angles. It not only evaluates the details of a candidate from its resume but also uses other online platforms to exploratory search and brings the best details about the candidate.
The social media platforms, in particular, emphasize the potential expertise of candidates. Channels like Twitter and Facebook share advice, industry insights, and thought leadership. With the use of big data, it is possible to look at in-depth credentials of a candidate.
Provides Better Context to Resume:
By assessing the data of candidate and assessing the hidden details, it becomes possible to comprehend the genuine interests and skills of a person. Big data hiring actually helps organizations to find the best-hidden talent.
Big data in recruiting lets you find a candidate that skipped college, however, performs exceptionally well at a higher level as compared to a highly qualified candidate. Hence, even if a candidate lacks higher qualification or flashy company background on his resume, he can be an excellent hire if he holds the right skills set.
Big Data Helps to Engage with Candidates:
Big data is not useful to find the best candidates for an opening before your competitors finds one; it also helps you to engage personally and lucratively with the top talent.
With the help of analytics and big data, it is possible to understand the candidates better. It breaks down all the barriers and better comprehends candidates that are high performers and those who look good only on paper.
By offering a vast range of information, recruiting using big data help employers to gain a more personal touch for candidates within the process of hiring. The proliferation of personal blogs and social media, it becomes possible to understand the personality of a candidate before his final interview. This way, it is possible to skip right to suitable candidates who can be the perfect fit for your company's culture.
Big Data and Recruiting – What Should HR Track
For recruiters competing to hire talent and retaining top performers as well as implementing growth strategies have topped the priority list for HR professionals. Till recently, data analytics were unable to offer HR with details that offer actionable details to hire proactive recruiting strategies.
But the complete opposite of previous performance analytics is big data. It not just inform recruiters about the present workforce but also uses predictive analytics to support HR develop as well as manage a database of qualified candidates.
The modern reporting tools offer detailed insights and pinpoint data, which impact the immediate recruiting decisions of a company. With the help of such data, it is possible to gain a more sorted process. Hence, here consider some of the ways that HR must track while using big data in recruiting.
Perfect the Hiring Strategy:
As estimated by the U.S. Department of Labor, a bad hire can increase the cost to a company by 30% of an employee's potential earnings in the first year. Using big data, you can avail a hiring process that helps you to perfect your hiring strategy. The analytics can be used to implement talent acquisition strategies on the basis of targeted traits.
For example, look at recruiting data offered by the candidate management system like:
Check from where your candidates are coming geographically and hone the key areas, which bring most candidates.
Check how candidates entered into the talent community. It can be through job boards, career website, or they may directly ass to the network. Recruiters must know the source that is best to gain top talent.
Check the job categories used by candidates to identify themselves. This will help recruiters to gain more understanding about the best candidates and prepare well to find more like them.
Better Retention of Employee:
No matter what size of business one has, the cost of employee turnover is huge. A major benefit of using big data to predict the behavior of employee renders as an opportunity to understand factors that motivated employees, engaged them, and makes them more loyal to stay.
For a better understanding of behavior, there are various tools available like employee engagement and exit surveys, stay interviews, and others. It also helps to predict factors, which lead to employee dissatisfaction.
If the staff is working in a team environment, utilizing team assessments to estimate team dynamics help the company avail insights on how the overall group is performing. Understanding such drivers and retention also help businesses to identify the characteristics of ideal traits of top performers.
Predict the Future Needs for Hiring:
Prepare the organization for growth by combining the knowledge about the workforce with big data that offers insight about workforce future.
For example, consider demographic trends affecting the business. Check economic demands that have an impact on your business success. Use big data to predict the future patterns and trends that will offer insights to skill sets of the company will need from future talent.
Moreover, you can dig into bigger details to predict the longevity of employee with data estimating average tenure by the role. Doing so lets the company estimate hiring requirements because of expected employee churn. Also, it enables companies to work on the retention strategies at specific timeframes of employment. Moreover, the data can help to pinpoint development and training programs at multiple stages of employment.
Recruiters can dig deeper into statistics and data that move beyond the surface level, allowing recruiters to engage in actionable recruiting results. By utilizing big data analytics, the company can enhance hire quality and proactively develop a talent database for future requirements.
How to Incorporate Big Data into Your Recruiting Process?
Your company can benefit from utilizing big data into recruiting to determine and assess prospects, future leaders, and find solutions to keep worthwhile hires on the board.
Some of the ways you can integrate big data into the recruiting process are as follows:
Determine When and Why an Opening is Vacant:
Big data can be used to identify even before a position is available. It might seem counterintuitive, but you can use big data to gain an indication if someone might be leaving the company.
It does not imply you have to spy on employees or check their browsing history to know about the websites they are looking for. But instead, you can focus on individuals to check if there are patterns that may suggest that are searching for alternative employment opportunities.
By understanding the reasons, you can take appropriate action. If there are shortcomings, which can be resolved, it is possible to form a proactive team and make them work towards achieving business goals and justify the ROI.
Find Well-Qualified Candidates:
With the use of data analysis, it is possible to determine the particular skills goals, experience, and other traits that previous recruiters possess. This helps companies to build a better candidate profile and know about the applicants to contact.
Having a clearer view of the desired candidate, recruiters can successfully weed through many resumes faster and make sure you don't hire ill-fit or unsuitable candidates for the interview.
Better Chances to Connect with Job Seekers:
Recruiters can use big data to identify candidates to target and to know where to reach them. For companies that don't have a recruitment marketing budget, they can use big data in order to gather detailed information and know more about a candidate.
Figure out channels that helped to gain the past hires. Differentiate about the companies for which valued employees left the company to work, and assess the employment marketing efforts.
When you know the messages, which competitors use to attract the employees and having information about HR data analytics to clarify the effective places, it is possible to make contact with candidates well in advance. This way, it becomes possible to structure an effective advertising campaign.
Potentially Cut Down Hire Time:
The recruiting and interview process is on the rise. There are innumerable steps now involved including skills tests, group interviews, and other screening techniques to find the most suitable candidates. The detailed hiring process is time-intensive and quite long.
Also, there are many big companies who have a long hiring time. But the good thing is that they have larger data to access along with additional resources to collect and analyze HR data analytics. For such reasons, big data recruiting tends to be a worthwhile investment for organizations of all sizes. It is because it potentially reduces the hiring time.
Data vs. Gut:
The gut can sometimes lie but is always real and true, unless fake statistics are collected. Sometimes, hiring can be biased on gut feelings about whether a person is suitable for a specific position or not. But by using the data, you can counteract or validate the decision.
Moreover, there can be a scenario when a candidate has exceptional problem-solving skills and that offer recruiters a wonderful experience during hiring and interview. The data can be used to check the claims made by candidates. Using data, you can see the skill and have quantifiable data, which can be used as a benchmark across the candidates.
Big data can help eliminate personal bias that can enter into the recruitment process and end up making a lucrative decision.
Assess Candidates Using Data To Adequate Performance Metrics:
Assessments are used to make selections based on performance metrics. In-depth analysis can be used to see the assessment parts, which have the best predictive skills to performance. For this, you have to collect the data properly in order to gain predictive abilities.
The assessment must continue to be data points utilized when employees are recruited for performance management. With a huge data set, it is possible to see particulars of assessment that hold the highest predictive elements for driving performance. This way, recruiters can focus on decisions making with the biggest predictive abilities.
The Future of Big Data in Recruitment:
The candidates are increasingly living their lives online. This has made it easier to track and monitor various moments in their professional lives and let recruiters know to some extent where they will probably make a move.
It also makes it easier to identify candidates with exceptional skills or those who are potential enough to learn new skills. Recruiters can know about candidates who can excel in a particular role and who would perfectly match to the culture of their organization.
Most importantly, everything a candidate performs online is useful as data. Even the social channels used by candidates can let recruiters know a lot about the candidates.
Hence, there is no short of information about a candidate in the online world. Recruiters only have to use this data to analyze and exploit it to their advantage. Every detail that candidates share publicly online can be used to create a more accurate and better picture of who the candidates are.
By gaining knowledge about candidates and getting to know them and understanding their requirements and wants can help you anticipate their future selections. If the process is performed with enough candidates with similar experiences and interests within a similar sector can let you note wider trends that affect the recruitment industry on a larger scale.
What is real is that big data is the future of job development and recruiting, and comprehending how it makes sense will be critical to the success of a company. Presently, big data is supporting fast-growing companies and find their perfect developers, executives, and engineers. However, it is not possible to 'data mine' the way to perfect candidate. You require the correct tools to assess them and the right people who can deliver meaningful insights.
There is no limitation of applicant tracking systems and workforce analytics designed specifically for recruiting purposes, and most of them are ideal at collecting and aggregating transactional details. But the solution is not just collecting data; it is more about interpreting it and understanding its significance for each data point. There are various systems that can be used to gather a huge volume of data, but still, there are fundamental issues as people don't know what they are really not aware of.
Presently, recruiters must understand big data that enhances discovery, delivers better visualization and insights. The finest recruiting teams will utilize technology that helps them offer the right candidates and let them know how to measure the data points to offer the most suitable fit for a position.
Moreover, an important thing to remember is that personal communication and interaction offer perhaps the most vital data than bulk amounts of publicly available data. Does a candidate respond to an email? Does the candidate show up for an interview? And most importantly, are there personal references and referrals that must carry a lot of weight within the matching algorithm.
Hence, undoubtedly, recruiting is moving towards an E2E transactional model that is in full-effect with organizations such as Airbnb and Redfin, both of which are tech companies that invest heavily in people on the back-end as well as front-end. The ultimate goal to use big data recruiting approach is to offer the best experience and service, thereby supporting companies and people reach their complete potential.