Wisestep.com used AI to analyse 180,334 IT contract jobs in the USA , posted in the month of August 2021.
If you are a Recruiter or a Bench Sales Recruiter then you will learn more about
The Top 10 Trending skills that you need to hire or build your bench for
The Top 10 Locations where these jobs are being opened.
The Top 10 Jobs being hired for
The Top 10 States where the jobs are being offered.
If you are an IT professional who works on a contractual basis or a Recruiter who hires for Contract Roles in the IT Market in the USA, this should interest you.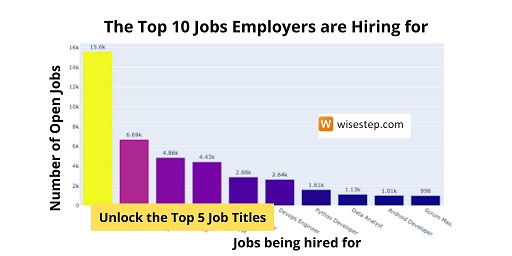 Top 10 IT Jobs Employers are Recruiting in USA:
We found that the top 10 Jobs being hired for totaled 41 K of the total 180 K open jobs available in the month of August 2021.
The top 5 of these Jobs alone contributed to more than 34 K open positions in August 2021. If you are an IT professional or a Bench Recruiter then this study tells you which Jobs are the most in demand.
Here's a quick snapshot of the Top 10 IT Jobs various Employers are hiring for. Are your Bench Consultants Skill sets on the list ?
Sign up on Wisestep.com and Unlock the Top 5 jobs. Once you login, you can view this in your Dashboard. Signup for Free to Unlock the Report.
Once you signup, don't forget to try the Wisestep.com AI Powered Job Matching for your Talent Bench
If you are a Recruiter with a Bench of Technology Consultants that you'd like to place in the right job, right location and the right rates, we can help you with our AI powered Job matching for your Bench.
For details contact :  sales@wisestep-inc.com