As we approach the halfway point of 2022, it's a good time to start looking forward to next year. One of the best places to start is by reviewing your business processes. So many business owners and CEOs rely on the strategies they've always used, but over time, outdated, old-school processes can hold your business back.  
They can not only create operational inefficiencies and employee dissatisfaction — but impact your profitability in the long run. Of course, one inefficiency can have an effect, but running multiple inefficient processes will make you feel the impact tenfold.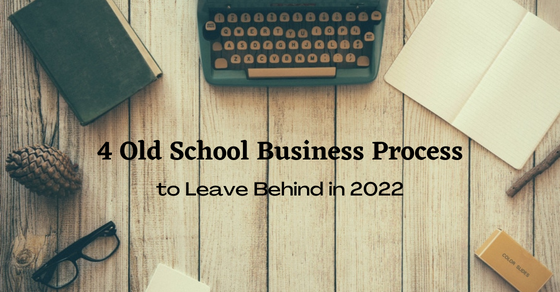 Here are just some of the potential consequences:
Increased costs 

Lower levels of customer service

Decreased revenue 

Higher risks 

Lower competitive market position 
So, which business processes should you be reviewing? Ideally, all of them. 
How to Review Your Business Processes:
You can use the same roadmap to evaluate and optimize each process, using the steps we've outlined below:
Step 1: Identify each process
There may be one process you immediately know needs updating, or you may decide to review each function individually. If you're unsure where to start, speak to your employees and find out which day-to-day tasks they feel frustrated with or take longer than necessary. Focus on these first. 
Step 2: Set goals for optimization
For each process you've identified, define the goal of optimization. This goal might be settling invoices before their due date, setting up a certain number of meetings from lead generation, or saving time when inputting HR data. Communicate these goals with your team, and set a time limit for review. 
Step 3: Map the current process
Create a visual map of your current process to see how information or specific tasks flow between different departments and roughly how long each step takes to complete. There are many techniques for modeling each process, including data flow diagrams, Gantt charts, and business process modeling notation. 
Step 4: Identify weaknesses
Once you've mapped each process, you'll be able to identify areas of inefficiency or weakness. These can be your first focus for optimization. The feedback from your employees can also help during this step.   
Step 5: Test before implementation

 
Before rolling out new processes at scale, test each one so you can check if any improvements will help. You may be able to sign up for a free trial of specific software that you're interested in or gather feedback from employees who have tested new processes.  
Step 6: Monitor and improve

 
Once you implement the new process, monitor improvements over time. Evaluate if your adjustments have helped you reach your goals from step two and if its offering more value than your previous process. Feedback from employees and stakeholders can help you stay on track. There are bound to be a few pain points, so monitor these to see if your team can resolve them or if a more serious issue needs more evaluation.  
4 Old School Business Processes to Quit Now:
Reviewing all your business processes might seem daunting; depending on your business size, it can be a big undertaking. But by identifying individual strategies using the steps above, you can gradually update and improve them over time. 
If you're not sure where to start, here are four processes found in many businesses that can benefit from optimization. 
1.Your Team's Approach to Sales & Lead Generation
If the cry of "The more cold calls we make, the better!" sounds familiar, it might be time to reconsider your approach. The Harvard Business Review found only 10% of cold calls are effective, and only 2% of calls result in a client meeting. So while this time-consuming approach can work out for businesses selling premium or high-ticket items, it's not worth the effort.  
A more modern — and successful — alternative to the traditional high-volume cold calls is to rebalance towards warmer calls with prospects who are ready to talk. Warm calls instead focus on leads who have already interacted with your business, whether that's through following you on social media, clicking on an ad, or signing up for a lead magnet. Focusing on these warm leads allows you to provide a tailored service as you guide them through your marketing funnel. 
The good news is — it's possible to convert your cold calls into warm leads. Use our tips to create a connection before you pick up the phone:
Do a deep-dive on research:

A generic script for cold calls will never perform as well as building a rapport with leads by doing some quick research. For example, taking a few minutes to look at the size of a company, their LinkedIn profile, or recent blog posts can give you a better idea of their challenges. 

Make the most of social media:

Engage with your leads by leaving a like or comment on their social media platforms to establish a regular presence within their feed. Then, by the time you pick up the phone, your name is already familiar, and they're more likely to respond positively to your call.  

Send an email:

A few well-created

letters of introduction via email

can help pave the way for a phone call later. For example, you may decide to introduce the key points of your offer or how your product can solve a specific business problem you might have identified from your research. 

Share a resource:

Creating case studies and white papers to share with your leads can help introduce them to your product and qualify them as warmer leads if they show interest.   
Find some common ground:

While doing your research, you might come across mutual connections whose testimonials you can share with your leads. 
Leave a message:

Many people don't like leaving a message, but if you do hit a lead's voicemail — think of this as your opportunity for an elevator pitch. It's a good idea to prepare a mini script for these scenarios, or at least to practice what you'll say ahead of time.

 
Send a gift:

While your leads might receive hundreds of emails daily, they probably don't receive much physical mail. So sending a gift in the post can gain far more attention than any other type of outreach. Small gifts like pens, tumbles, and stickers can work well, or even custom cookies can help grab the attention of a lead and give them something by which to remember you.
2. Paper Processes That Hinder Your Cash Flow
More often than not, the race towards generating a profit focuses on selling more. Instead, flip this and focus on implementing processes that control your operating costs and keep a positive cash flow intact. 
If costs start spiraling out of control, no matter how much revenue you're generating, your profit won't look all that healthy. Combine that fact with rising inflation and interest rates; suddenly, your business books might look slightly alarming.  
Many businesses are still manually completing their accounts payable processes, which can lead to inefficiencies, errors, and too much time spent chasing unpaid invoices. Automating your accounts payable is one of the most effective ways you can reduce your operating costs and increase your profits, with some impressive benefits no matter the size of your business, including:
57% faster invoice approval 

44% reduction in paper usage 

37% increase in

employee productivity 

36% lower overall account payable processing costs 

34% better visibility into unpaid invoices 
Automated AP software can make a dramatic difference in reducing your operating costs. For example, having visibility over when all invoices are due can help you pay them in the correct order as soon as possible, which can sometimes mean collecting early payment discounts. You'll also save time by dealing with fewer calls or emails from vendors chasing payments and avoid late fees for invoices that go unpaid longer than they should. 
Chasing payments isn't something any business owner wants to do, and the last thing you want to dedicate time towards. That's why it's so important to establish the right automation practices out of the gate that scale as your company grows.
Even if you think your business might not (yet) be large enough to justify AP automation — it probably is. Automation can help you batch invoices, keep track of which invoices are due, and save time and money in the long run. Automated accounts processing also gives you access to valuable data that can help you analyze your business processes and drive efficiencies. 
3. Depending on Paper Business Records
How many filing cabinets does your office have? Are you always looking through them to find something you know you filed away, but you just can't remember where? While paper-based filing systems were the only way to get the job done in the past, there are so many other options. 
One area where switching to computerized records can have a significant advantage is for your Human Resources department. 
Any HR department needs to keep a huge number of documents, which traditionally were all paper-based. While sometimes it can be tempting to keep doing something because 'that's the way it's always been done,' transitioning towards a centralized computer-based system for your HR records will help drive efficiencies. And save more time for your HR team to focus on optimizing the employee journey rather than trying to find an overtime form submitted last month (but no one seems to know where it is). 
One huge disadvantage of paper-based records is the high chances of errors, especially if documents need to be handled by multiple team members. Another disadvantage is the siloing of information because not everyone knows where all documentation is kept. 
What if someone is away on vacation, and they're the person everyone asks when they can't find a specific piece of paper? Transitioning towards computerized records can help open up the flow of critical business information and ensure that everyone, all the time, can access everything. 
When it comes to tax records, it's best practice to keep your business tax returns for three years, but as you can be audited for up to seven years after filing, many accountants will recommend you keep records for this long. But, the IRS does say that electronic records are equivalent to paper, so if you've uploaded all your documentation to your accounting software, you don't necessarily need to keep a paper copy.     
4. Building Bespoke (And Expensive) Apps:   
In previous decades, sometimes, the best way to solve specific business issues was to hire a software developer to build something for you. Especially if there weren't any custom solutions available off-the-shelf. But nowadays, there are plenty of other alternatives.
With the rise of no-code applications, it's no longer necessary to build something yourself (or pay a developer to do it for you). Instead, modern business owners can now create simple solutions—thanks to some tech knowledge and elbow grease. 
Plenty of businesses rely on spreadsheets to complete all kinds of daily tasks — from keeping a list of stock to tracking the customer journey. Spreadsheets might hold plenty of valuable data — but they're not easy to use or attractive. Converting these spreadsheets into an intuitive app is just one example of how no-code apps help you achieve tasks that weren't previously possible.
There's no need for deep technical knowledge because the app converter does all the hard work for you. All you need is a properly-formatted spreadsheet and the internet! Once your spreadsheet is linked to the converter, you can customize the interface of your new app to match your brand colors, add your logo, and use third-party integrations.
Choosing converting software designed for business use is recommended, as you'll be able to edit permissions, add users, and set passwords for access.    
Future Proof Your Business:

 
Optimizing your business processes to create a modern organization helps you build business resiliency and a strong workplace culture that's driven by innovation and smart use of resources. 
And in today's volatile market, that's incredibly important. Now is the time to start looking towards the coming year and taking concrete steps so that your business is in the best shape by the time we're ringing in the new year.