Just like most of the things, even the process of job search has evolved tremendously. Earlier, job searching was done just to find suitable jobs. But now, it is more than finding a job and getting a call for the interview.
The job search market has become more competitive and intricate than ever. In the current scenario, successful job seekers are employing various job search strategies to stand out of the crowd and find an appropriate job for themselves.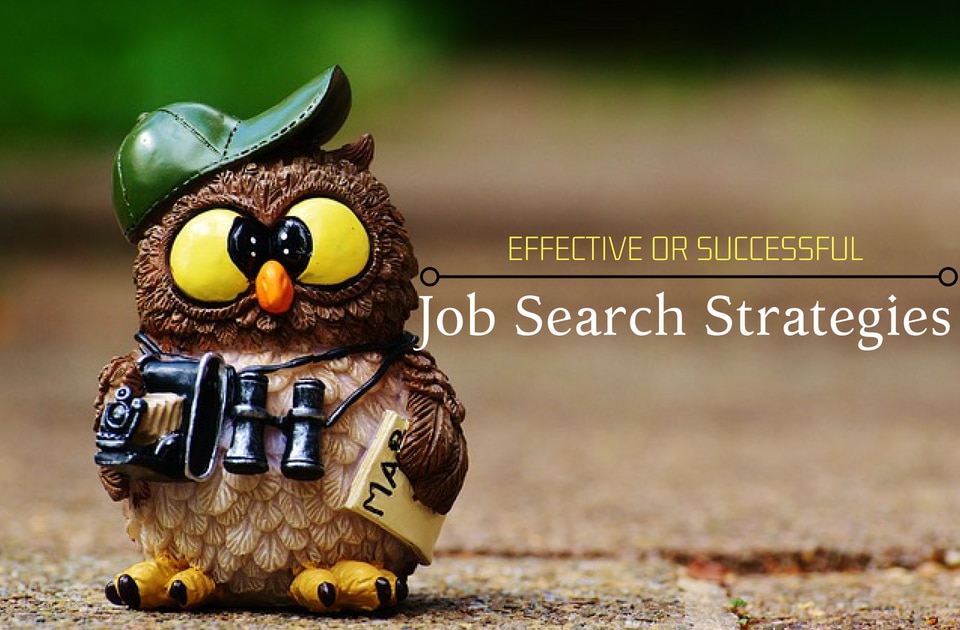 These job search strategies help to expedite the job search process, identify the new connection, bring your resume to notice, ensure more companies are able to find you, get an interview call, and eventually land with a job offer.
Most importantly, these strategies can help you stand out from the crowd. So, if you want to know about such job search strategies, then here we have listed the most successful ones for you!
Best Job Search Strategies and Techniques:
1. Discover Thyself:
Before you delineate a job search strategy it is essential that you do a detailed analysis of thyself. Investigate thoroughly about your skills, interests, potentials, abilities, achievements, ambitions, and values.
Create a list of such things. Jotting such things down will help you recognize about your unique qualities, which makes you stand above the others in the competition. This is the first and most important step towards successful job search.
2. Tailor Down Your Resume:
Take enough time to write a well-tailored resume that highlights your skills specifically as per the job you wish to apply for.
Make sure you customize your cover letter and resume in a way so that the hiring managers are able to identify what all you are doing and the skills you possess just after glancing at your resume.
Everything must be clearly mentioned and must give the hiring manager a chance to know that why you are the best candidate for the job. Avoid sending a generic resume to various companies in which you are interested to get a job.
3. Hit the Right Target:
Make sure you match your interests, values, and skills with an appropriate profession. For example, if you wish to get a bigger salary then make sure you focus on career direction that can serve you with it.
For this, you can conduct in-depth research in numerous fields and companies offering such solutions. Also, learn about various businesses that are of interest to you and hit the right target to those that can offer you with suitable positions.
4. Stand Out from the Crowd:
The job market is stuffed with a huge crowd and if you want to land a lucrative job then an important strategy is to present yourself in a way that makes you different from other applicants.
You need to create a targeted resume and highlights your skills to show the hiring manager that you are a suitable candidate for their job opening. Promote yourself as a personal brand to a job by highlighting 2 or 3 of your unique skills or potentials. Explain how these skills are different and how they are useful to the job.
5. Follow a Proactive Approach:
Don't follow the conventional approach of waiting more will land you to the most profitable job. It is the modern world, and hence, if you want to be successful then you must have a proactive approach to everything you do and practice.
Hence, don't wait for any new opportunity to come and knock your door. Rather, strategize smartly to get through, before your competition grabs the opportunity.
6. Narrow Your Search Criteria:
If you will narrow down your search criteria then this will not just save you time, but will also help you find a relevant job for yourself in short time frame.
For this, you can use the search engines, job portals, social platforms, as well as more other channels that can provide you with jobs matching to your interests, skills, and preferred location. So, narrow down your search and instead of wasting time on non-relevant jobs, just try targeting the relevant job openings.
7. Browse Various Job Boards:
The best resources to find suitable jobs in the modern, competitive world are various job boards. There are numerous popular sites offering open positions to job seekers.
You can browse these job boards in order to find an appropriate job that compliments your skills and potentials and even offer you with handsome salary.
8. Consider Taking Help of a Reliable Recruitment Agency:
A recruitment agency is a middleman between employers and job seekers. Such agencies take all the necessary details about the job description and use the collected information to search resumes or CVs matching the required skills, experiences, and qualifications.
So, if you possess all the traits and skills required by the company in their role then the recruitment agency will contact you and call you for the interview. This can be your amazing chance to get hired for your dream job.
9. Attend Various Career Events:
Another successful job search strategy that has been gaining huge momentum over few years is attending various career events.
Attending different career fairs is one of the finest ways to land a suitable job. For this, you can prepare by pre-registering for the event. Make sure you research only the registered employers. Gather numerous copies of your resume or CV and dress smartly while you attend a career fair.
10. Use Your Mobile to Search for the Job:
Don't limit the usage of your mobile to playing games or browsing social networking sites. Your mobile can be your best way to land your dream job.
Most of the reputed job boards offer mobile application services to job seekers so that they can always hunt for a reliable job for themselves. This is an effective job search strategy that is gaining momentum at a faster pace.
While conventionally there were just very few job seekers using and benefitting from this service, the number has increased to a great extent and is still increasing.
11. Allow Your Network to Work for You:
If you lack an efficient network, then you are surely losing on some of the best job opportunities.
Networking is still an effective job search strategy that works great for most of the people. Building a strong network might seem a little tough, but once you start with it, things become smooth and streamlined. Connect with all possible professionals around you, as you never know which contact might be helpful to get you your preferred job.
Besides physical networking, you must also join social networking groups on LinkedIn and other similar websites so that more people can network with you.
12. Rank Well on Google :
Ranking on Google is essential not just for a search engine, but it can be highly helpful to job seekers to land their dream job.
Prepare visual or video resume, generate LinkedIn profiles etc. Create a URL using your name so that when prospective job hunters would search, typically your resume will rank at the top. This will create a strong impression on the recruiters.
13. Learn Skills with Temporary Jobs:
If you are not able to find a high-paying, suitable job for yourself, then there is no point sitting idle at home.
Rather, the best way is to look for temporary jobs. This will help you to utilize your available time in the best way. Such jobs are great to develop new experiences, learn new skills, and also make some money. Also, if you get a job in a reputed organization then you can even add it to your resume.
14. Plan Cold Calling Employers:
This is another effective job search strategy that might seem a little tough to you but is really very successful.
Cold calling implies that you must take the initiative and contact employers without involving any middlemen in between. This will help employers to know how willing you are to work for them.
You can begin with preparing a list of employers with whom you would like to work. Then carry out a brief research to fetch important details about the employer. Prepare an impressive script and then practice some calls. If the employer offers you with some notes or feedback then be prepared to jot them down
15. Make Sure You have a Clean Online Reputation:
If there is any content online that reflects poor or negatives about you, then you must delete it or remove it.
If you want to land to a reputed job, then having professional visibility online is very important particularly on websites like LinkedIn and Twitter. Hence, always share relevant and important information online, related to your industry and field. Sharing positive information about your industry will help you build a strong reputation online, which is a great way to attract employers looking for suitable applicants online.
16. Check Company Website:
If you have been called for an interview or you have some companies in your mind that are suitable for your particular profession, then you must check their websites.
Put extra efforts to search for various open positions from the company's websites. This will help you search for most updated information about the availability in the organization.
Also, this is an excellent demonstration of your interest in that company. Try fetching vital details from the company's website like what the employers are actually doing and what is their background.
17. Track Your Job Search Process:
Besides targeting various companies and job openings, it is essential that you keep a track of progress of your job search process.
You can maintain a comprehensive record of various jobs that you have applied to. This record will include details related to your communication with the employer, referrals, interviews, and other follow-ups.
This way you will be able to build a valuable record for your present as well as your future job and even able to track that your job search strategies are delivering appropriate results or not.
18. Do not Limit The Options:
When you are hunting for the next job, then you must be aware of the difference between getting the right job and keeping yourself open to other possible options.
As per the experts, you must keep searching for vacancies in the company where you want to work and also for the position that you want. But at the same, you must keep yourself open to other lucrative options, which might act as important steps in your ladder to success.
When you are searching for a job then filter out your requirements. There will be a list of companies available to you. Rather than sticking to single availability or limiting the options, check for all the options listed under your preference.
19. Remain Persistent throughout Your Job Search process:
Hunting for a suitable job might be difficult, and there must be times when you would feel discouraged. But keep one thing in mind that everyone has gone through this phase.
The process of searching for an appropriate is unavoidable and occurs in everyone's life. So, be persistent and maintain a positive attitude throughout while you look for a suitable job for yourself.
Sooner or later, you would be definitely able to find your perfect job!
20. Set Goals:
You can set daily or weekly goals to your job search process. This will allow your mind to maintain an active participation for the job search process.
The goals can be related to a number of organizations you have applied, career-related events you have attended, interviews you have been called for, and the effectiveness of your elevator pitch and resume.
What Should You Look for in a Job Posting?
The Job Title
Recruiters Name
The exact instructions when applying for a job
Keywords to use in your resume
Actual qualifications required