Everyone uses Chrome extensions and they are nifty little tools that enrich the browser and make your internet using experience fun and adventurous and sometimes even dangerous. However, for the purists, here is how it is defined.
Google defines chrome extensions as "small software programs that customize the browsing experience. They enable users to tailor Chrome functionality and behaviour to individual needs or preferences. They are built on web technologies such as HTML, JavaScript, and CSS".
The Chrome extension offers extra functionality to the users, and it assists them in performing their tasks in a short span of time. The extension must fulfill a single purpose that is narrowly defined and easy to understand. The single extension might include different components and a range of functionality if they support a common goal.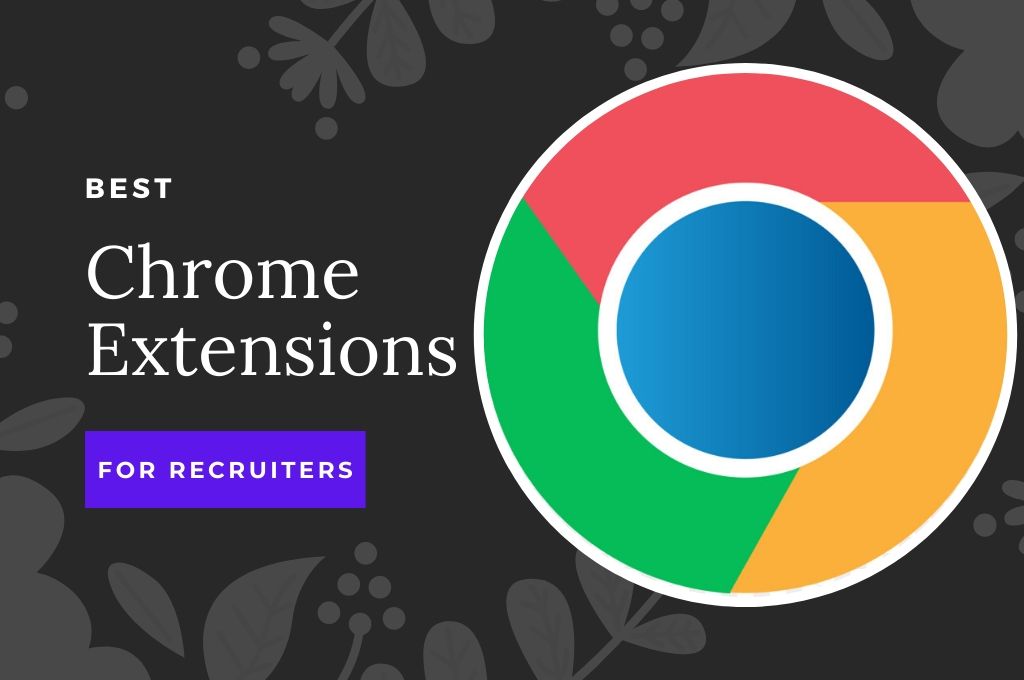 Thousands of businesses have developed chrome extensions for their customers, and this includes anything from a spellcheck tool like Grammarly to SEO extensions like SimilarWeb. In the past few years, companies are using chrome extensions to streamline their business operations and make it faster and simple for the employees. For example, recruiters use Chrome extension like Wisestep to connect with the candidates, and the sales team uses Lusha to generate prospect details (candidate email id, and phone number).
Best Chrome Extensions for Recruiters to Use in 2020:
In the past few years, technology has revolutionized the recruitment industry. Recruiters are no longer dependent only on the traditional method of hiring candidates and have started to expect that technology and new tools will help them do their work fast. In the Google Chrome Web Store page, recruiters can find thousands of extensions that will be useful in their day to day operations. The recruiters can be benefited by using the right mix of Chrome extensions as this will decrease the time to search for new candidates, and find their contact details (email id, phone number, and LinkedIn profiles).
In this article, we will be covering various Chrome extensions that can be used by the recruitment companies and how it will improve the efficiency of the recruiters. These are classified in different categories such as Automation and Sourcing.
Recruitment Automation:
Recruitment Automation is the new buzzword but what it does is to automate recruiting tasks and workflows to increase recruiter productivity and reduce cost per hire and time to hire. The Chrome extensions perform tasks that automate parts of the recruitment process and assist the recruiters in working more efficiently. We have listed a few Chrome extensions that help with the recruitment Jazz.
Wisestep:
Wisestep Chrome Extension is developed by Wisestep.com, and it is a widely used chrome extension in the recruitment industry. Wisestep Chrome extension automates the recruitment process in an efficient way. Wisestep Chrome extension has inbuilt Artificial Intelligence tools that import resumes from various job boards into the recruiter's database. The recruiters can add the candidates (along with details) from multiple job boards and other social media sites in a single click, and this is useful to build a talent pool in a shorter time. Recruiters can then search for these candidate resumes with a single click and add notes and keep track of their conversations with the candidates.
This Chrome Extension works with a majority of job boards such as Dice USA, Monster (USA, UK, Poland, Germany, and India), CareerBuilder USA, Techfetch, CWjobs UK, JobServe UK, and Naukri India
By implementing Wisestep extension in their daily routine recruiters all over the world are making their recruitment process more organized, and also save time for revenue-generating tasks like speaking to clients and candidates and leave the candidate data capture to the Wisestep browser extension.
DNNae:
The DNNae Chrome extension offers Automation on LinkedIn for recruiters. From the job description provided by the recruiters, the AI tool will search the various keywords such as job title, company name, industry, experience, education, and technical skills and will search for the resumes in LinkedIn. Each of these resumes is scored and ranked against the keywords. The recruiters can connect and send personalized connect messages to the top-scored resumes on LinkedIn.
Using the AI tool, recruiters can send up to 500 messages to the top-ranked profiles, and it will not use any of the InMail Credits. The future updates in the Chrome extension will be auto responding features where the AI will automatically send the reply to the candidates if the recruiters have not responded and scheduling meetings on the recruiter's calendar.
Recruiter Nerd for LinkedIn:
Recruiter Nerd for LinkedIn is a powerful tool for automation in almost all activities on the LinkedIn website. Using the tool, recruiters can connect, message, visit, manage the candidate's profile, and increase their pipeline. Some of the major features of the tools are that recruiters can send mass invites, mass messages, post a message to the feed by schedule, can schedule any task to be executed at a particular time, auto visit the candidate profile, send a personalized message, and integrate with the LinkedIn Sales Navigator.
Recruiter Nerd offers a freemium model where certain free features are offered, and by upgrading to the premium account majority of the features will be available for the recruiters. The premium package starts at US $14.99 per month, US $12.75 each month for a six months plan, and US $9.95 per month for a year plan.
Amazing Hire:
AmazingHiring develops Artificial Intelligence based web application tools for recruiters to find candidates directly from more than 50 sources. AmazingHiring Extension is a free tool to source tech candidates. Recruiters will able to track candidates' social footprint and professional background on different sources such as GitHub, Stack Overflow, Kaggle, Dribble, Behance, Google+, Rubygems, Quora, SlideShare, Facebook, Twitter, and 40+ sources and other social networks. However, recruiters are unable to source candidates from LinkedIn, the world's largest database. The chrome extension used together with the AmazingHiring search engine plugin will illustrate the candidate's current job, geographical location, available contacts, and comments in the Amazinghire platform.
Candidate Sourcing:
Candidate Sourcing involves proactively searching for qualified talent to fill the current or future positions for the organization. Finding qualified talent is one of the biggest challenges faced by recruitment firms. From the study conducted by Lever, a Recruitment Software development company, about 52% of candidates applied for the job are underqualified.[1] Below is the list of some of the Chrome extensions tools that are useful to find candidate profiles and other details (email id, phone number, LinkedIn profile).
Lusha:
Lusha Chrome Extension is developed Lusha Systems inc, which provides candidate information like company name, email id, and phone number. Recruiters using the Chrome extension can source candidates using a single click. Recruiters can source the candidate information in the Chrome browser or Salesforce plugin (via an API) or through Lusha's Zapier integration tool. When the recruiters visit any candidate page, the Chrome extension will automatically scan the candidate profile and capture the most up-to-date contact information in full compliance with the required data regulations.
The Lusha plugin is currently supported by LinkedIn and Salesforce. Lusha uses the Freemium model, and its free accounts provide five credit every month (using the free account recruiters can only source information on five candidates). The paid services start at US $39 per month to US $69 per month (using this plan recruiter can source up to 120 profiles a month).
RocketReach:
RocketReach is a web-based application tool that allows users to find email id, phone number, and Social Media profile of 250 million professionals across 6 million companies worldwide. Using the RockeReach Chrome Extension, users can find any profile with a single click across professional networking sites such as AngelList, Crunchbase, LinkedIn, or even in the Google Search Engine.
RocketReach is one of the most widely used chrome extension with more than two hundred thousand downloads. The Chrome extension has a hit ratio of 85%, as all the emails id is SMTP validated to ensure that they do not bounce.
RocketReach is a paid service provider and offers advanced search options to narrow the search down to candidate's location, industry, job title, and company. The paid services are available in 3 packages starting at US $59 per month to US $299 per month, and the users can search 125 contacts per month to 833 contacts per month (depends on the type of plan).
MightySourcer:
MightSourcer Chrome Extension tool is developed by the MightyRecruiter that offers end-to-end recruiting solutions. Using the Chrome extension, recruiters can post jobs on different job boards, promote job using advertising partners, search the candidates in the database (has over 20 million resumes), and find their contact information (email id and Phone number), rank candidates, and communicate with the candidates.
Using the Might Recruiters Paid service (Application Tracking Software), recruiters can add profiles to the database and invite them to apply for a job through customizable email messages. MightSourcer is compatible with LinkedIn, GitHub, Twitter, and Facebook, where the recruiter needs to identify the candidate, and the tool will provide all the candidate details.
Hunter:
Hunter Chrome Extension is used by 2 million recruiters, marketing, and sales personnel to find the relevant contact details of the prospective target accounts, and candidates. Recruiters can find the email contact of the prospective candidates by just visiting the website. Along with the email addresses, recruiters can also source the name of the candidate, job titles, social networks, and phone numbers. Recruiters have the option of sending bulk emails using various CRM tools such as Salesforce, HubSpot, Pipedrive, and Zoho.
The Chrome extension also offers a Domain search function. When the recruiter visits any website, the tool will display all the verified email id, and most likely used email id pattern.
The Hunter offers Free plan for the users, where they can source up to 50 contacts per month, and it paid plan starts at US $49 per month (can source up to 1,000 contacts) to US $399 (Enterprise Plan to source 50,000 contacts a month)
Discoverly:
Discoverly is a Chrome Extension tool enabling users to navigate and employ their social data. The tools illustrate complete social profiles of the candidate email contacts, including those on Twitter, Facebook, AngelList, Crunchbase, and other social websites. With the usage of Chrome extension, recruiters can view information such as mutual Facebook friends on LinkedIn, Facebook, and LinkedIn contacts on Twitter. Discoverly tool charges US$ 5 per month for its premium services, which offer 30% more profile matches, and users can also build a contact list.
Conclusion:
Chrome Extensions are now a must-have tool in the recruiter's list of tools. Recruiters using Chrome Extension like Wisestep Chrome Extension and the ones listed above will increase their productivity, cut costs for the companies, save time on repetitive work and reallocate time to core tasks such as communicating with the candidates or sourcing new candidates for unfilled positions.
Most of the Chrome extensions are available in the Freemium model, where the recruiters can use it for a certain level of usage or a certain period of time. Finding top talent is very tough, and recruiters being the early adopters they will make the whole recruitment process more manageable by spending less time.
If you haven't used a chrome extension for recruitment yet, why not give the Wisestep Chrome Extension a try.