The first year of the new decade brought significant shifts in how people work, live, and dream about the future. Set in motion by a pandemic, remote work established itself as a viable solution to keep economies running. Early studies show that the number of telework employees has tripled in both the US and EU over the first 4-6 months of 2020, compared to 2019.
As the world strives to build a new normal, entrepreneurs, corporate leaders, and HR specialists begin to redesign how their hybrid (remote-on-site) teams work for the greatest efficiency and accountability. To keep the balance positive between the advantages and disadvantages of remote work, corporate logistics, systems, and strategies need to support this transition and adapt to it.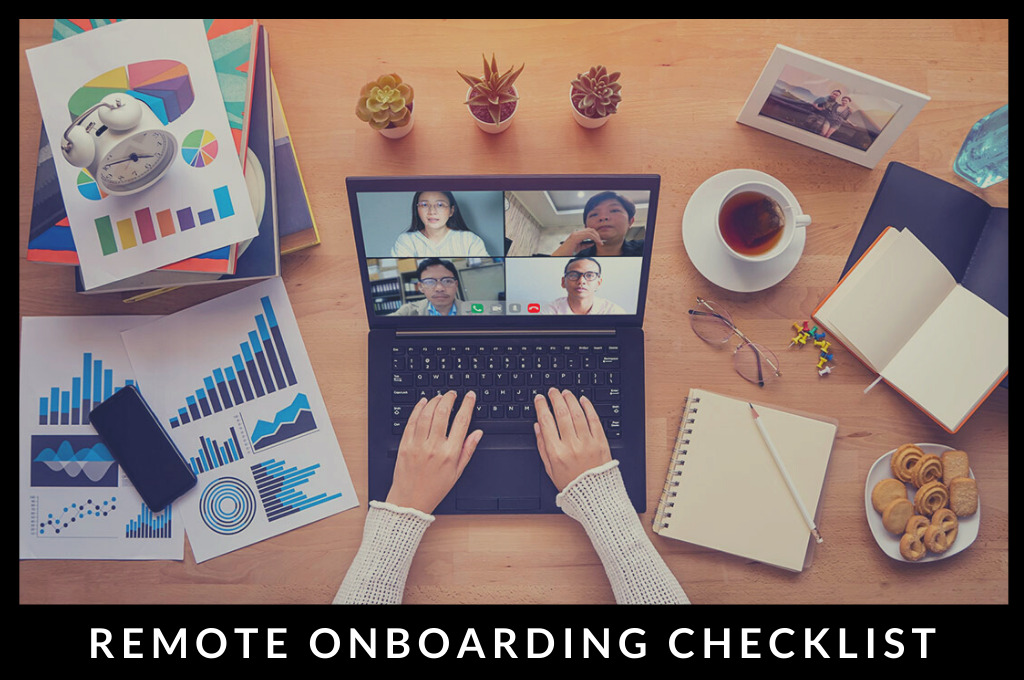 Onboarding – the welcoming, training, and orientation of new hires – is one of the processes with a crucial impact on a company's culture, employee retention, and competitive advantage.
It represents a valuable time frame to align strategies and expectations and to build trust and empowerment. An effective onboarding process represents the foundation for a healthy employment relationship and happy, productive employees.
With the brick and mortar headquarters no longer a focal point of the (first) workday, a successful onboarding requires agile tactics to bridge the actual, physical gap and a leap of faith to trust employees and treat them as partners.
Although the checkboxes of an onboarding plan might look similar in person and remotely, it takes creativity and flexibility to ensure a smooth integration of new hires in a remote environment.
The Onboarding Plan:
There are three main focus areas for a successful onboarding plan: paperwork & logistics, professional framework, and personal wellbeing. All these have to be taken into consideration, with all their respective ramifications and inherent challenges. Many leaders mistakenly expect onboarding to be a one-day process. This is a limited view, with negative consequences on morale and business success.
As the 9 tips below will detail, onboarding is an ongoing process that starts right after signing the employment contract. When done properly, onboarding will blend seamlessly into daily work routine in a timespan of 2 weeks to 3 months, depending on the complexity of the position and the size of the company.
Having an onboarding framework for en masse onboarding can help streamline repetitive tasks while making sure all information and resources are readily available. This should work as a starting point for flexible, adaptive strategies, that will cater to individual needs and will ensure consistent and long-lasting positive results.
9 Tips for Smooth Acclimation:
As with all human relationships, onboarding is not set in stone, nor should it be. With remote onboarding, specifically, where the line between work and personal life is at its most vulnerable, onboarding should take into account individual factors and personal context.
The list below is not meant to be exhaustive, but it tackles some of the most important logistical, professional, and personal aspects of successful onboarding. There is one red thread running through all the ideas below: beginnings are scary and uncomfortable for everybody.
Get the paperwork out of the way before the first day
Nobody enjoys paperwork, filling forms, and signing heaps of papers on their first day of work. Working remotely can add to the struggle if printing/scanning is involved. Since there is little novelty to this part of the process, it can be taken care of in the early stages of employment, sometimes even before the first day of work.
HR teams should work with management and compliance to make sure they use pre-boarding to give new employees ample time to deal with the tedious paperwork. A complete deck of documents, instructions, and FAQs sent upfront will make the process run smoothly.
Working remotely challenges another long-held practice of companies everywhere: the printed document. Setting up a secure online environment and using an e-signature tool will make the process safer and easier for everyone involved.
Make sure the setup is complete and works without glitches
While a missing passcode or a defective keyboard might be a fun way to take a break and mingle on the first day at the office, technology challenges can be frustrating to no end when talking about remote work.
A full hardware and software setup is key to a great first impression and the employee's peace of mind. Work with the IT department to set up all accounts, tool logins, and configurations before the first day of work. Include basic instructions and contact details for troubleshooting, as well as links to useful resources and advanced information.
A company's IT architecture and environment is as delicate, as it is crucial to a job well done. Keep the employee informed about risks and good practices in a straightforward, accessible manner and has at least one reporting channel readily available for any issues that might come up.
Make proper introductions
Shaking hands and taking a tour of the offices for formal introductions is part of the much-needed onboarding welcome. In a remote-based environment, an introductory email and a chat channel on a corporate discussion platform can help break the ice.
Use multimedia tools and gamify introductions to make them more fun and less awkward. Quirky questions about personal preferences can balance out the professional, cold, and distant first contact. Assigning a mentor or an onboarding buddy can reduce some of the pressure while providing a much-needed go-to contact node.
Relational onboarding will allow the team to integrate new employees faster, with significant positive effects on morale and productivity. Cross-functional introductions help manage workflow, untangle the inner workings of a new workplace and reduce preemptive stress.
Set clear expectations and track progress
A job description is too uptight, long, and detailed. Leaving the new hire to figure out things on their own is the other frustrating extreme, especially from a distance. Find the middle ground by creating a two-week plan that highlights important milestones. This is a great opportunity to clarify and reinforce what a workday should look like for a remote employee, how progress is measured, and what are the specific success indicators targeted by management.
Such an action plan should include logistical aspects (such as paperwork and IT&C setup), as well as job-related tasks. Schedule team meetings for catching up on current projects and the assignment of tasks within a team should take into account the new hires. Prioritize real work over theoretical busyness to make sure new employees get settled in their positions efficiently and with a sense of purpose.
A manager's commitment to specific check-in points keeps the employees accountable, engaged and excited. Celebrate success and update the plan as needed, with a flexible dose of support strategies and increasingly complex challenges. This will boost confidence and ramp up the new team members faster.
Reinforce the importance of company culture
Being on the same page regarding values, mission, and vision has never been more important. In a remote environment, where employees can feel disconnected and without a purpose, this holds even truer. Start strong, but small, by focusing on how every individual action contributes to the company's mission and success.
Training materials, relevant policies, and a corporate code of conduct are useful documents and should be available as early as possible. However, it is by action and continuous commitment that an open, transparent, supportive culture becomes apparent.
Diversity, experimentation, and autonomy are important aspects to take into consideration while companies decide where to invest their culture-building efforts. An agile, flexible and supple way of transmitting cultural values and demonstrating commitment from the early stages of onboarding is key to ongoing success, both of individual employees and the company, as a whole.
Ask for feedback and encourage open communication
Misunderstanding onboarding as a one-way learning process can prove detrimental to the long-term health of work relationships. Leaders should take the opportunity to learn and grow, as well. For that, it is crucial to use onboarding to create a welcoming space for questions, honest feedback, and open communication.
This can be done in regular check-ins, via email, or a corporate communication channel. It is important to remember, however, that a very structured feedback process can deter people from engaging. This is why managers and supervisors should allow time in their schedules for one-on-one discussions or even face-to-face meetings, if useful and appropriate.
Adding a personal touch to the communication loop and closing the feedback circle can reassure the new employees that their struggles are valid and significant. A timely response or escalation of questions and issues reinforces trust, partnership, and empowerment.
Lead by example to promote a healthy work-life balance
A great challenge of remote work is a healthy work-life balance. Setting the tone right from the very beginning can help avoid burnout and boost productivity. Managers should take advantage of the onboarding time to coach and encourage new employees to pay attention to both their wellbeing and their work responsibilities.
Technology, psychology, and mindfulness strategies can work to minimize distractions when working remotely. However, it is important to have these behaviors modeled by senior team members and supported by company policies. The onboarding period is the best time to walk the walk and demonstrate the company's health and safety strategies and promote any remote work stipends and benefits.
Teaching new employees to take ownership of their schedules can have a positive long-term impact on team productivity and corporate results. This can translate into a strict no-work on evenings and weekends policy or an agile performance evaluation that relies on palpable results and not screen time measured.
Adjusting to remote work, even at the best of times, can prove a challenge. Fostering a strong team and promoting collaboration (even from afar) can act as a catalyst for efficient onboarding and overall team success.
One of the risks of remote work is a disconnect resulted from solitary work, which can erode even the most self-sufficient employee. Dedicated team time – be it for brainstorming purposes or, more importantly, for impromptu coffee breaks via Zoom – is important and should be prioritized accordingly.
Celebrating success and managing failure as a team, rather than as separate individuals, physically, but not emotionally far from each other, can make a difference in flexibility, resilience, and performance.
Foster connection and vulnerability
Day-to-day challenges can feel overwhelming when employees have to deal with them by themselves, from the confinement of their living room turned office. To avoid this disconnect, encourage open and candid conversations about work and personal struggles.
Leaders can foster a transparent, judgment-free environment, where people are welcome with their strengths, but also their weaknesses, their successes, but also their struggles. This enables individuals to take ownership of their personal and professional lives, rejoice in the common ground and strive to do better.
The sense of belonging, not only as team members but as individuals translates into stronger bonds and more significant human interactions. These can sit at the foundation of long-term commitment, though and beyond onboarding.
Conclusion:
In a world in which digital transformation is well underway, people crave connection. Onboarding is the first official contact between employer and employee and a valuable opportunity for such connection. Despite the checkboxes that need to be ticked, this is a chance for individuals to come together, find common ground, and commit fully to a valuable relationship.
The pandemic exposed the paper-based, timesheet-dependent, office-centered professional life for what it was: an obsolete, rigid, and slow system. Knowledge employees are at the forefront of important changes in how we work and successful companies will be able to embrace and build on those changes.
The secret lies in the transparent and agile digital processes, a culture of trust and accountability, and the flexibility and resilience of all parties involved. It is a balancing act and a leap of faith, with a steep learning curve, yet wonderful opportunities.
Bonus Strategies to keep the onboarding process fun:
Onboarding is a lot about learning and the amount of information that employees are exposed to can feel overwhelming. Here are some useful digital-enabled ideas to make the process more interactive, fun, and efficient.
Design experience-based programs to make learning significant and allow employees to adapt their pace and enjoy exciting real-life results of their efforts quicker.
Use microlearning to make the right resources available at the right time, thus avoiding information overload and empowering curious, solution-oriented employees.
Build engagement and recognition through gamification, a successful way to promote healthy competition and better information retention.
This is a Guest Post by Anita Sambol:
With years of experience as a content strategist and creator, Anita has a 'super-power' of being a clear human voice for brands when talking to their audience. One of the projects she currently enjoys the most is being a content associate to EU Business School, where she's writing about business education, student life and online learning.