Recruitment, like other important corporate functions, has to be efficient and cost effective. Hiring metrics like time-to-hire and cost-per-hire have become important yardsticks in the hands of recruiters and head-hunters. In fact, process improvement programs in the realm of recruitment often aim at improving the key performance metrics. It is in this context, automation in recruitment assumes significance. One of the key tools that help in automation is the Google Chrome Extension. These are small software programs that simplify a variety of tasks and provide for better user experience. Applied to recruitment, Chrome extensions open up a lot of possibilities for recruiters and hiring managers.
"Extensions customize the browsing experience. They enable users to tailor Chrome functionality and behavior to individual needs or preferences." – Google
Technological advancements have revolutionized the recruitment industry. Recruiters no longer depend solely on traditional methods for hiring candidates but are increasingly seen to be embracing newer technologies like Chrome extensions to automate their recruitment process.
Introducing the Wisestep Chrome Extension:
Chrome extensions help recruiters to work smarter and source qualified candidates in a shorter span of time. One such tool is The Wisestep Chrome Extension. It is a simple but impactful tool that helps recruiters and hiring managers do their jobs more efficiently. The Wisestep Chrome Extension is developed by Wisestep Inc, a recruitment software firm, leveraging best-in-class software development methodologies and framework. The product is completely data-driven with built-in intelligent automation. It is truly an agile recruitment software. In this blog, we will discuss the features of the Wisestep Chrome Extension, its installation process and the benefits it offers.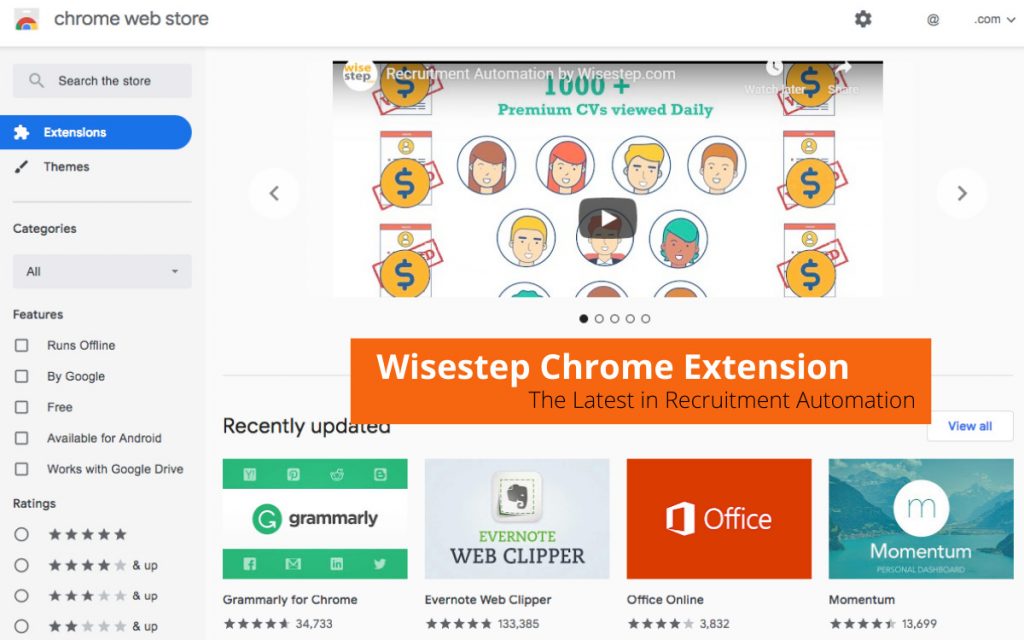 Installing the Wisestep Chrome Extension:
The Wisestep Chrome Extension is very easy to download and simple to use. It can be downloaded from the Google Chrome Webstore or from the company's web page. The installation process is simple (the recruiter needs to click on "Add to Chrome," and the Wisestep Chrome Extension gets installed in to the user's Chrome browser). After installation, the first-time users need to register on the Wisestep website using their Business Email address. Recruitment Professionals can post their jobs on the Wisestep platform and start work or assign it directly to their teams set up in the same Workspace. This helps save time in the hands of a recruiter enabling him instant access to the requirements and pre-empting the need to reach out to the team leads or managers individually for work-share allocation. Recruiters are able to automate the function of work-share allocation while speeding up the process.
Key Features:
The Wisestep Chrome Extension is a free tool that is accessible while using the Chrome Browser. The extension has all the desired features for making the task of recruitment easier.  Some of the  Major Benefits of the Wisestep Chrome Extension are listed below:
Integration with multiple job–boards – Augment your candidate sourcing efforts using Wisestep's integration with 10+ job boards and other candidate networks
Candidate sourcing and data gathering – Wisestep's AI-based tool enables quick capture of candidate details from multiple sources reducing tedious manual effort
Candidate Database building – Rapidly add candidates to your database with a single click
Process automation – Get all the heavy-lifting done as you focus your efforts on value-added activities
Real-time analytics – Analyse the efficiency of your processes and recruiter performance with timely, granular-level view of data
Cost-effective – Better value-for-money for job-board log-ins
GDPR compliant data-privacy framework – Provides best-in-class candidate data privacy controls with unmatched flexibility
Key Features Explained:
1. Easy integration with multiple job-boards – Get the best candidates from 10+ major candidate networks with simple clicks
The Wisestep Chrome Extension captures candidate profiles instantly from multiple job boards like Dice USA, Monster (USA, UK, Poland, Germany, and India), CareerBuilder USA, Techfetch, CWjobs UK, JobServe UK, and Naukri India. The job boards can be synced with the Wisestep tool for resume sourcing and talent pool building using Wisestep Chrome Extension. Organizations utilizing the Wisestep Chrome Extension can realize cost-savings to the tune of US $1,500 per month on Premium CV Views on job boards.
2. Candidate sourcing and data gathering – Get your investments work harder for you; increase your productivity up to 4X
The Wisestep Chrome Extension works with 10+ job boards and automatically extracts all candidate information from their profiles. This information is saved in the Wisestep Recruitment Software which is integrated with the Chrome extension and which allows for easy and seamless access to the data when queried for. The data is organized that makes it easy for the user to search for the profiles in their Wisestep Account when needed. The extension also allows recruiters to store and  update information such as jobs applied for, application status (rejected, shortlisted, or accepted the offers), and most importantly the conversation history between candidate and the recruiter. The automatic gathering of candidate data and storage for easy retrieval are key triggers for automation-led process improvements.
3. Rapid Candidate database building – Reduce time spent on non-recruitment activities by up to 47%
Building a Candidate database is a long and tedious task, and organizations do spend a considerable amount of time, resources, and money to build a robust database. While sourcing a resume from job boards, the Wisestep Chrome Extension captures critical candidate data and exports it to the Wisestep Database. Wisestep customers indicate a 4X increase in their talent pool using the Wisestep Chrome Extension.   Through its automated CV Capturing method a single recruiter can easily add a few thousand resumes to the Company Database every month. These are CV views that would have been paid for and consumed once. With the Profiles being captured in the Wisestep Database these are available for reuse in the future for similar roles.
This helps build long term value of Candidate Relationships for Companies that hire on an ongoing basis for themselves or their Clients.
4. Process automation – Achieve a 20% increase in candidate submissions
Automation streamlines the recruitment process and empowers recruiters to find qualified candidates easily. Wisestep Chrome Extension enables organizations to automate the process of manually sourcing qualified candidates. Wisestep recruitment automation helps organizations speed up time-to-hire and improve time-to-fill the candidate.
The Wisestep Extension has helped customers increase their candidate submissions by 20%
4. Real-Time Analytics on Candidates, Recruiters – Remove process bottlenecks and measure your performance
Analytics is being seen as a growth and profitability lever for staffing teams and recruitment firms. Combining data-driven insights with real-time analytics provides intelligent information which aids decision making. Real-time data can potentially impact all the stages of the recruitment process – from sourcing to candidate pipeline building to new-hire on-boarding.
The Wisestep Chrome Extension provides granular performance data of recruiters, teams and customers. It provides usable real-time data for better decision making. Wisestep's customers can easily make informed decisions based on the data generated (e.g. job mapping, jobs serviced, open jobs etc.), and it results in higher submissions, higher recruiter productivity and increased revenues.
5. Cost-effective tool – Reduce up to 25% on your recurring operating expenses
Recruitment costs are major operational costs for Staffing and Recruiting firm. For organizations that hire only for themselves too the hiring costs are not insignificant. According to Bersin by Deloitte, an organization spends US $4,000 on hiring a candidate.  Automation is now a necessity for Talent Acquisition teams. Automation reduces time allocation on routine and repetitive tasks such as Candidate Database building, Email campaigns, Reminders and Tasks and other activities. This helps recruiters reallocate their time and effort on activities like Candidate and Client Conversations that are value additive and contribute to profitability thereby shortening the time-to-hire a qualified candidate. On an average, Wisestep's customers have reported cost benefits of up to 25%.
6. GDPR compliant data-privacy framework – Give more control to the candidates to manage their own information
The Wisestep Chrome Extension is compliant with major data privacy frameworks like the GDPR and the CCPA.  Under the GDPR framework, Wisestep assumes the role of a Data Processor, and the respective organizations act as Data Controllers. Wisestep delivers GDPR compliance out-of-the-box by allowing Recruiters to manage the communication preferences of Candidates and allowing them access to update, delete or manage their information under the principles of the GDPR.
All these are in addition to the stringent checks on best practices and coding practices that Google enforces on Extensions before they are allowed to be uploaded to the Chrome Store.
Tackle your productivity and cost metrics with The Wisestep Chrome Extension:
The Wisestep Chrome Extension is a must have tool for recruitment firms and talent acquisition teams as it reduces the cost and time to hire. The tool makes the hiring process automated improving recruiters' productivity, cutting down costs, and enabling quick access to the right candidates. Furthermore, organizations who have on-boarded on to Wisestep's tool will be able to leverage real-time analytics on key performance metrics that help them to make informed decisions and usher in business improvements.
If you haven't yet tried it yet, try the  Wisestep Chrome Extension now and bring immediate measurable impact on your recruitment process.