Every resume has this phrase indicating that the person possesses the special quality called 'problem solving skills' or 'problem solving abilities'. It's the magic phrase that every individual is sought for when it comes to pursuing a management role or are working in that role. It is a mere indication that the person would be able to take up the issue or has the capability to solve the problem that pops up.
Now, how many are sure that they 'really' have this attitude or capability. Even if you have them, how would you put it down in black and white? The content below would give a glimpse into the reality. In this article, we discussed how to show problem solving abilities or skills on resume and work.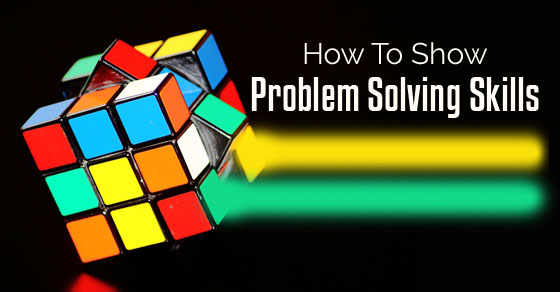 How to Show Problem Solving Abilities or Skills on Resume:
As you know that resume talks more about your skills, the problem solving abilities is one of the top five skill that is being looked for. Employers are interested to know how far you were involved and to which extent you were a part of it while solving an issue. Initially before writing down in resume take note of the points given below
1. Review roles:
Before applying for the job or attending an interview, it's wise to review the various roles you have taken up. It could range from being a student leader to being a volunteer or even while at work. Making a note of the roles that you had taken up during academics or during work is crucial. So brush up your memory and make notes of the work assignments that you would have taken up.
Consider the volunteer work that you had taken during student life and describe the challenges faced or consider the role as project lead when you were faced with molding a team for carrying out the task. Likewise, identify all the roles that you had taken up for consideration.
2. List down the challenges:
While reviewing the assignments you would probably be aware of the aspect that was challenging to you. It might be small but would have brought a great impact. It could be the various type of people you had to handle or handle a difficult customer who was not compromising or getting to synchronize all the documents from various sites.
Whatever be the intensity, never miss out on them. Nevertheless, write down whatever your memory takes you and draft them. Making a list of them will make your work easier.
3. Elaborate on them:
Once the list is exhausted, then comes the task of making them elaborate. Identify the problems you have solved during the course and the challenges you have met. Against each type of problem describe the situations that you have faced and what measures you had taken, what skill sets helped you and how did you go about it.
Making statements on those aspects of how you were able to handle each challenge will bring more confidence in you.
4. Correlation with job profile:
The resume is generally modified to suit to the job profile that brings out more elaborate details of the work assignments undertaken. In such cases, the person must be clear to which assignments or challenges he/she had undertaken so that the resume correlates with the job profile. Each type of job profile has its own specific tasks and challenges.
5. Use of appropriate phrases:
It's a common mistake that many resumes have this statement 'possessing problem solving abilities'. It wouldn't describe how you are able to do it. Instead, you could include statements such as those given below
Effective in assessing and resolving employee conflicts resulting in the completion of the project before time.
Adept in interpersonal and communication skill with all levels of personnel to gain insight and avoid potential problems.
Assisted in developing and implementing company policies and procedures
Detail driven and can identify and correct problems
Deals well with unexpected issues
Able to give decisions in emergencies
Excellent technical skills
Ability to analyze the warning signs and find the solution
Taking the above points into consideration, write them as brief notes and draft them using appropriate words. You could use examples when you had handled a difficult client, made an impact on the process life cycle, identified an error that caused savings, resolved technical issues, identified a safety issue, etc.
By using problem solving skills CV can be improvised in a creative way. These examples can be converted to statements of achievements for your resume. How do you do it? Make brief statement of the problem, how you went about the process of identification, how you had solved it and what was the outcome.
For example, My team had to perform the XY test with a day of notice which was important for certification. But the resources were not ample to conduct it. We considered the "XX" component for the test and kept it.
Used the instruments available which were already calibrated. Performed the tests and finished our calculation which was explained to the outside certifying bodies. We managed to convince them and our product was eligible for certification.
How to Show Problem Solving Skills at Work:
Problems that arise at the workplace could be technically related, within a team, a recurring one, conflict with customer, machinery repair, administrative. When it comes to seeing how to hone this skill at the workplace there are various methods or techniques to show them.
Review them and adopt it if you don't know how to show them. When you are confronted with a problem then know how to show problem solving skills at work
1. Analyze the causes:
Normally 'problems' are considered as something that is causing disturbance to execute or complete the work. Hence, when such issues are confronted with then get to know the cause. For that, you would need to ask the question as to why did it happen.
In other words, we can say a 'brainstorming' session. To analyze, you could use the mathematical models or systematic operation to find the reason. If you are not familiar get to know them through your mentors.
2. Gather data:
For bringing about solutions it is mandatory to collect information regarding the problem. There are various means of collecting data. You would know which method to employ for it. Sometimes, depending on the intensity of the problem, the third parties are employed to collect data. Hence, you must be aware of the methods of collecting data for bringing about a solution.
3. Find alternatives:
As you know being in the management role, it is like being on hot seat. So you have to immediately search out other alternative ways to get the work done. In other words, to achieve the goal you would be seeking out ways to accomplish it before finding a solution to the problem. Use the alternative ways to complete the tasks.
4. Find solutions:
Once you know that the alternative way helps to get to the goal or getting the work done, then finding the solution to the issue is next important criteria.
There could be many solutions to the problem, then you have to evaluate which one is best suited. Being a manager, finding solution would be in your hands. The solution cannot be got in a day. It requires time but the sooner you get to it, the better.
5. Be creative:
Once you are having the task of creating a solution, try to use your sense of creativity. Thinking out of the box is the main core of creativity. That is doing something that is unique and not the same as the old method.
If you love to do it then go ahead and allow others to join your work. Getting solutions also requires one to be creative as it requires ideas to perform the work in a different way.
6. Get others views:
Finding a solution is not one man show. It's a team effort and if you allow your team to participate in the solution finding, then you are indeed a true manager. No matter what the solution is, everybody to be a part of it and seeking their opinion would help to push ahead.
You can also say that you are seeking a consensus on the set of solutions. So pull in all the team or at least the majority of the team to review the solution before it is being brought for implementation.
7. Test:
If the problem is not a simple one and requires a budget for implementing the solution then you would have to know how to test them before implementing it. Testing often requires resources that requires approval. Make some allowance for testing the solution so that your team does not fail.
8. Know to communicate:
Solving problems requires skill of communication that leads to solutions. When needed to explain to the team you would need to know how to bring it out. The art of speaking and communicating is a basic requirement. It could be also important while resolving customer complaints and mediating conflicts.
9. Implement:
Having the solution at hand, you need to know how to do it and what steps are required to implement it. Implementing might sometimes require certain changes in the structure or the work process. You must analyze all pros and cons before implementing the solution. Write out the pros and cons to make your justification.
10. Follow up:
Once implemented means it's not the end of your work. It requires certain steps to see if the methods employed are correct or if the people involved are trained or if there are enough resources. In other words, you need to have a checklist to make a follow up. Keeping a third eye around the work would see if the solution needs a modification or not.
11. Verify its effectiveness:
There is a solution to every problem but it is important to note if the solution really works. There are various methods to see if the solution implemented is effective. If you utilize those techniques to see if the solution is working fine then you are indeed having the skill of problem solving
12. Share it:
Having solved the problem you could share the solution for it and how it has changed the way of working. You would also bring out the risks that were associated with it. By bringing it out to others, it would motivate and bring forth more ideas.
13. Repair:
At least know how to dirty your hands when it is relating to machinery problems. It is here where your technical knowledge helps to do the necessary repairs. Getting involved while repairing shows your commitment to getting to the core of the issue.
14. Restructure budgets:
Having to minimize the resources required while implementing is key to any organisation. The capability to restructure the budget according to the organisational needs would show your commitment. It also requires the skill of management.
15. Listen:
This is the most important skill that is required while having to resolve issues. As it is part of communication skill, any problem can be solved only when you listen to the evidence carefully. Having this ability is considered as a gift. It does not mean mere listening but able to understand what relates to it.
16. Resolve:
Conflicts arising is also considered as a problem as it will hinder the work process. Issues that arise are to be resolved immediately to see the deadline is not hampered with. Know how to resolve by listening, communicating and using appropriate language. Bringing about amicable solution to any conflict brings in respect for you.
Conclusion:
Hiring managers are always interested in knowing how far you are in problem solving. By getting to know this, they would also come to understand how you would help the team as a whole to perform better.
Besides, each category of a job has its own problem solving abilities like for example customer service representative would have to attend to a customer who is upset or manager who can handle a change in deadline or production manager who can fix the inefficient process. To define it in your resume, it is very important to explain those using examples from your academics to volunteering work.
Save