The work culture of any organization plays an important role on their employees work performance and also motivate them to work better. The work culture of present days has been a lot different than what it used to be.
Employers are giving more importance to employee engagement these days and the work culture has become more employee friendly so as to make them work efficiently. Several benefits have been offered to employees to motivate them work better.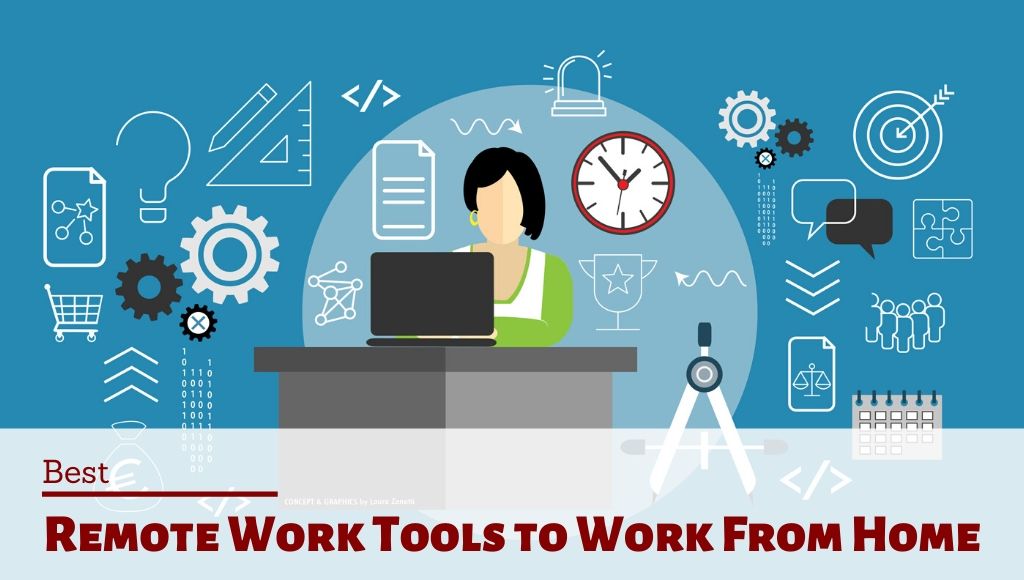 Work from home is one such benefit which employees love to have. But not all organizations provide work from home to their employees and the reasons of it could be any.
Now work from home is a benefit which holds more weight-age than any other benefits provided by the employees.
Work from home or working remotely is surely a perk but at the same time it also comes with lot of responsibilities. The primary responsibility is to maintain the same quality of work and productivity.
Working remotely gives you more comfort and flexibility to work independently and all this possible if right type of tools and software is used accordingly. Communicating, calls, responding to your team queries, video meetings etc are some other responsibilities one need to perform when working from home.
Though it looks like a benefit but is infact very challenging and making use of the best technology is only way to become successful. Some of the vital remote work tools are enlisted below,
List Of Remote Work Tools for Teams to Stay Connected:
Professional messaging application
Easy to use
In office instant messaging software
Supports Video calls, online meeting
Supports audio calling
Assists group messaging
Platform independent (Windows, Mac, Linux)
Best productivity tool
Works best for remote working
Create, manage and assign tasks
Organize and export files to and from third party
Create to-do lists
Personalized project management dashboard
Calendar features
Popular messaging application
Supports video conferencing
Safe and secured
Integration with tools like slack
Supports video calls
Sharing of files feature
Mobile and desktop can be synchronized
Emojis and stickers can be used
Best video conferencing tool
Used for online training
video and screen sharing
Professional instant messaging
Supports file sharing
Top collaboration tool for remote workers
Best alternative for google hangout
Professional office tool
Best tool for remote workers
Supports live talk shows, events, video training
Record and broadcast videos
Software development tool
Best when working remotely as a team
Easy to collaborate with other remote employees
As a team can review, develop, manage and build software as required
Best collaborative tools with remote workers
Cloud based storage system
Perfect for storing and sharing data with others
Very useful in case of system crashes
Secured data storage
Best management tool for remote employees
Resource scheduling tool
Effectual assigning of tasks and resources required to teams
Helps in monitoring work progress
Easy to use
Customized platform
Supports editing and bulk scheduling
Professional chat tool
Project management platform
Best social networking system
Managing and scheduling task to the teams
Monitoring work performance
Customized dashboard
Supports unlimited storage
Integrated CRM
Mobile compatibility
10. Skitch:
Sketch based communication tool
Help you share ideas using sketches with remote workers
Inbuild integrates designs
Supports importing from third party sources
Remote project management software
Scheduling tasks to employees
Monitoring the work progress regularly
Project reviewing and evaluation
Provide feedback on the complete project to the team
Email integration
Best tool for remote workers to work as a team
Team collaboration platform by Facebook
Helpful in connecting multiple employee on single network
Safe and secured platform
Best infrastructure
Live Video feature
Task scheduling
Automation feature
Cloud integration
Supports video calls and chat feature
Popular task management tool for employees working remotely
Best interactive project management platform
Supports managing remote teams
Segregation of modules and assigning tasks to teams respectively
Updation of project progress on the panel for easy visibility
Best project management tool for remote workers
Effective collaboration tool to manage remote teams
Supports automation of administrative tasks
Manage agile workflow system
Visual task management
Easy to use dashboard
Records previous projects details
Best business project management tool
Agile based project progress tracking
Automatic task planning feature
Easy task scheduling
Helps to take notes and prioritize things
Professional social networking tool
Collaboration tools for remote teams and employees
Single platform for remote employees to share ideas and discuss vital project related things
Supports project planning and goal setting
Best work management tool
Integration with multiple designing tools
Helps in assigning and managing tasks to remote teams
Supports project planning and development
Integration with BitBucket and HipChat
Supports online conferencing
Effective web meeting tool
Free screen sharing tool
Video calling feature
19. ScreenHero:
Best screen sharing tool for remote employees
Effective collaboration tool
Different teams can share and discuss ideas
Remote work management tool
Real time chat and group messaging tool
File sharing
Supports task scheduling and tracking
Video collaboration with remote employees
Cloud based secured storage
Annotating images
Effective time management tool for remote employees
Best supports when your team members are working overseas
Helps in assigning and managing tasks to employees as per their respective time zones
Content management tool
Best technology and tool for employees working remotely
Helps in managing files, work progress documents, project requirements etc
File sharing feature
Single platform for team meetings and sharing ideas
23. Wunderlist:
Platform independent
Project management software
Helps you manage tasks and create to-do lists
Creating work schedule for remote employees
No messaging and chat feature
Task management tool
Used for managing remote teams
Secured cloud storage
Scheduling and assigning tasks
Singe platform for complete project management
Operating software platform independent
Complete online management tool
Collaboration tool for remote employees
Supports creating and managing project tasks
Sales and support feature
Team communication software for remote employees
Instant messaging feature
Group chat
Video calling feature
Supports screen sharing
High security
Chat history storage
Create a project and assigning specific team
Task management tool
Manages all the project management tasks
Integration with development tools like GIT, Perforce cloud
Remote office communication software
Project security
Best visual communication team
Automatic screenshot feature
Video chat software
Messaging feature
Professional office communication tool
Instant messaging feature
Team management software
Supports group chats
Shared messaging space
Assigning tasks and respective teams
Reviewing employee contracts
Coding deployment
Tracking achievement tools
Supports daily achievements of remote employees
work progress reports
Newsletter sending feature
Helps in managing teams which are remote