A CV (Curriculum Vitae) is an outline of your professional and educational background, usually drafted by job applicants to increase their chances of being selected for the interview and ultimately for the job. The CV is your biggest marketing tool wherein you are selling your skills, qualifications, abilities, experience, and expertise to employers. For such reasons, job applicants are always focused towards what to include in a CV. But even minor mistakes can backfire your chances of being hired, and hence, just like what to include on a CV, even what not to include in a CV is equally important. So, have a quick glance to things you must include and things you must exclude in a CV. You need to put in some efforts as after all, it might get you hired to your dream job!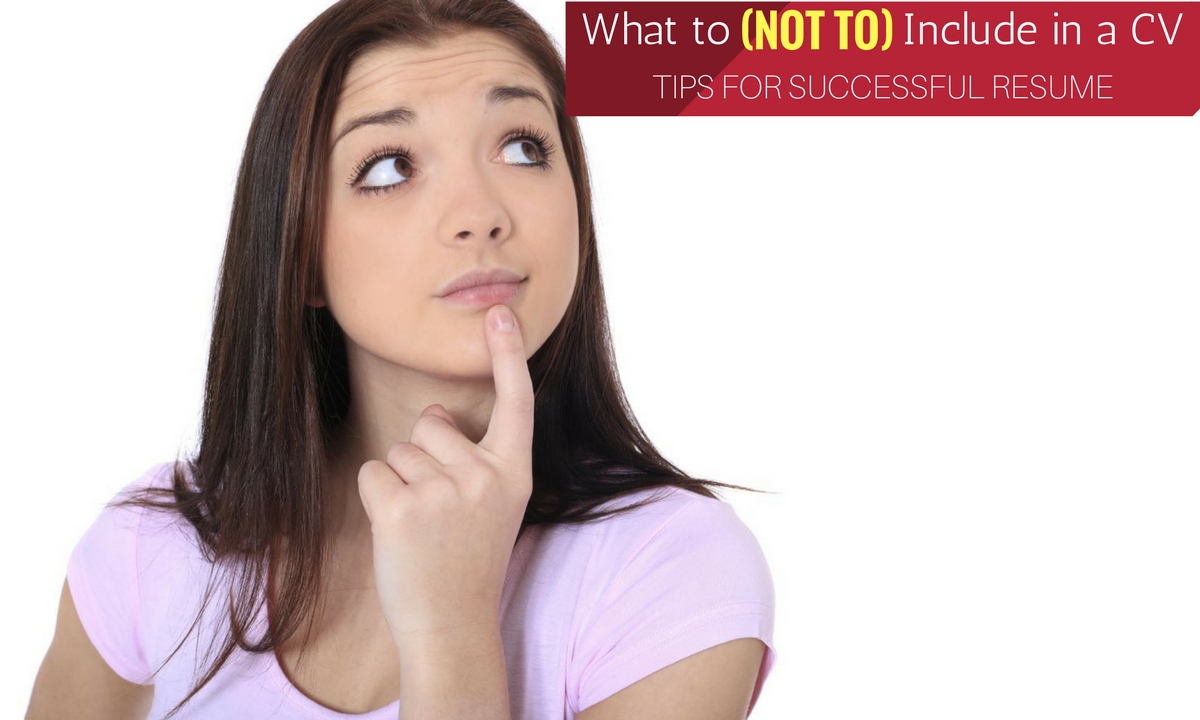 What to Include in a CV?
1. Your Contact Details:
Your CV must include your full name, phone numbers, address, email address and any other contact ideal for professional reach. This way interested employers would be able to reach you conveniently. Try to avoid including funny email ids that appear unprofessional.
2. Personal Statement:
This is an important piece of information for the recruiters that gives them an overview of your personality and expertise. It can be a small paragraph highlighting your qualities and skills matching to the job. Your personal statement must be few short sentences that address aspects, like your personality, how you can cater the company and your career goals.
3. Employment History / Work Experience:
This section describes your career path so far. You must list your current position, continuing in reverse order with your previous positions. Include the name, website, location and dates of your employment for each organization you have worked for, and try to highlight your personal responsibilities and accomplishments in bullet points. You must also mention your position in each role so that the person scanning your CV can look for job options that match best to your experience and skills.
4. Education:
Again like the 'work experience' section, your education must be listed in reverse chronological order, including the name of each institution, dates you have studied there, and grades you achieved. If you are a highly-qualified professional, then you may list the most relevant ones that can help you get your preferred job. You can use bullet points to illustrate your grades or special subjects.
5. Achievements:
Listing your achievements does not imply that you have to list out formal awards. Having no formal awards does not make it a point to exclude this section from your CV. If there are special things that you have done in your career and that you are really proud of, then you can list them in this section, like handling a project solely till its completion, bringing large business to the company, promotion, and more. It will help the employer to build an image of your professional success. So, if there are things that you feel only you were able to achieve in your previous job posts, then feel comfortable to highlight them in this section.
6. Skills:
Over the years, you must have developed skills, some intelligence, and a better understanding of the professional world. If there is any special IT skill you know, any foreign language you are certified in, or any other skill that has offered you recognition at the state, intermediate, or advanced level, then you might include it in your CV. Skills like project management and teamwork need to be supported with examples.
7. Hobbies and Interests:
Stating your interests and hobbies in the CV, helps employers to know more about your personality. It helps recruiters to know more about you, and if you have hobbies related to the industry, it will help you create a bigger picture of work you can do. Consider this section seriously, as it could help you stand out from others.
8. References:
Your previous employers or your educational experts can be your references. There is no need to add deep details about them. The name and a physical address or contact number would do fine. Just be sure to pick references about which you are confident, and that can be easily contactable by the potential employers.
So, what all you can include in your CV is completely in your hand, but even you can keep a strict check on what all you must exclude. To make the task much simpler for you, here are top important things that you must exclude from your CV.
What Not to Include in a CV?
1. Needless Personal Information:
You need to provide just your basic personal information in the CV. You must not include the address of any remote location, even if you change locations frequently. Descriptive or funny email IDs must not be mentioned in the CV. You can include links to your professional social networking accounts like Skype ID or LinkedIn profile. Avoid giving your Facebook account details or your Messenger Id.
2. Fashionable Photographs:
You must not place any fashionable photograph, which you have clicked during a celebration or a vacation. Your photograph must appear professional and must be placed only if asked as mandatory. Otherwise, avoid including your photograph in the resume, as some employers may reject you just because of your bad looks.
3. Statements of Self-Praise:
Many job applicants tend to include self-praising statements in their objective, like talented, multi-functional, award-winning professional, and more. The fact is that no recruiter or organization is interested in reading points that self-emphasis your personality. So, you must avoid including such statements or words and rather try creating a small summary that showcases your long-term professional objective and highlighting your expertise.
4. Explanations for Job Changes:
If you have frequently changed your jobs in the past, then no need to mention the reasons for the same. Having a baby, accident, relocation of your partner, closing down of the company, and more such reasons can result in your job change. But, there is no need to mention the reasons or such explanations in your CV. Such explanations can have different interpretations for various recruiting managers. Do not give reasons for you leaving the company right on your CV. You can explain the reasons during your interview session.
5. Salary Details:
Job applicants tend to mention their present salary details or their current CTC in the CV. They mention it either with their present job details or for all the jobs they have associated with. This is the biggest blunder one could make, as organizations have varying structures for preparing the salary, and if you do not fit well in their salary structure, then they would reject you. Some enterprises might even reject you because you are over their budget. Your salary can be a reason for your rejection. If you want a fair chance to being called for the interview, then it is better not to mention your stipend in the CV.
6. Family Details:
A lot of job seekers include information about their kids, marital status, and job details of their spouse, father, religion, and more. Such information creates an impression, which can be negative or positive. There are companies that do not wish to hire female employees who are married or anyone who is not having a strong family background. Personal details are not mandatory, and hence, must not be included in the CV. Recruiters are interested in your individuality and wish to know how you can serve their companies. So, just try to show your skills and proficiency.
7. List of Duties without Results:
Your CV must highlight duties or tasks that have resulted in positive results for the company. For instance, you may write excellent administrative skills. But, rather than this, you may write increased employee satisfaction rate by 20% due to excellent administrative skills. Ultimately, organizations and hiring managers are interested to see the results and not just the duties.
8. False Information:
Your CV must be your best possible description, but that does not imply that you include any false or lying information to add a little sparkle. Recruiters can always conduct a background check for your qualifications, stipends, job titles and achievements. Some companies even conduct vigorous checks for the background of their candidates. So, try not to include any false information in your CV.
9. Describing your Appearance:
There is no need to describe your physical appearance in the CV. Recruiters have numerous resumes to shortlist and interview candidates. You, must therefore not include information about your physical appearance as they would be hiring you for your skills and proficiency and not for the way you look or appear. Physical appearance is a necessity for few specific job roles.
10. Using Negative Language:
Negative language or words, such as hate, fault, bad, awful, aggression, and more can create a negative impression on the hiring managers. Such words or language is not acceptable and may be a reason for rejection of your CV. Even annoying and meaningless buzzwords, clichés or jargons, like dynamic, outside of the box can create a negative image and might be a reason for your resume's rejection.
How to Write a successful CV?
1. Creativity:
Experimenting with the CV is not an issue, and you can always add personal dimensions to its layout, but don't try to fancy or decorate your CV. It is a digital world and organizations prefer digital CVs in the form of emails or videos. Try your creativity, but on a positive side so that it works well to impress the recruiters.
2. Check for Grammar Errors:
Just like any other important document; you must always proofread your CV before emailing it. Make sure that your CV does not include any grammatical errors and false language. If you cannot do this on your own, then you can get it done from someone else.
3. Perfect layout:
Make sure that your CV is well structured and have a precise layout. The CV must possess a simple, clean and easy to read layout. It must not appear stuffed and must have enough white or clean space that enhances the visibility of important information in the resume.
4. Don't make it Too Lengthy:
Your CV must not be too long or too short. You must restrict your CV to just two pages of A4 size. No need to add 4 or 5 pages to your resume to showcase your skills or professional experience, no matter how talented you are and how much experience you have.
5. Don't Send a Standardized CV:
If you are applying for various jobs, then all of them must be requiring a special skill set. You need to alter your CV accordingly and tailor it as per the role. Choose and mention relevant skills and examples to demonstrate why you are the best fit for a job.
6. Keep it up-to-date:
Whenever you gain any new skill or qualification, then you must include it in your CV. Even your career goals may transform over time, and hence, you must update your CV with relevant information. You must update your resume every year or every 6 months.
7. Using Generic Language:
Just like any other important document, even there is a special language required for the resume. The language must be professional and must be as per the corporate requirements. Do not write the resume in a generic or informal language, rather prefer writing it in a formal professional tone.
Your CV is an opportunity to make a first good impression and get shortlisted for the interview. So, try to make maximum out of it. Use it as an effective marketing tool by presenting only important information about your profession, education, and expertise. Make sure it is well-formatted and offers enough visible space to the reader. Make sure that your CV must give recruiter numerous reasons to select you and no reason to reject you.