Job hunting is not an easy task. It takes a lot of time to get your dreamed job. But once you complete your studies it's the first thing you would want to do and do it as fast as possible. Companies have dedicated group of recruiters to screen the applicants based on the eligibility of the candidate. Recruiters are the ones who take you to the interview room.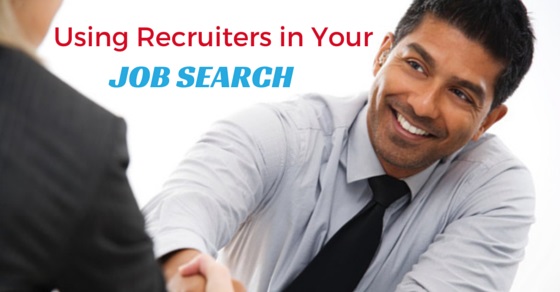 How to Use Recruiters?
Recruiter and job seeker have a very old relationship. But like every other relationship, it works on understanding each other. Before using recruiters in your job search you need to understand a few things about the way they work and how can you make your job search a smooth process with their help. Here are the points to keep in mind.
1. They are Recruiters, not career counselors:
Many candidates confuse recruiters with career counselors who would advice them on various career related queries But you should be clear that recruiters are not your career counselors. So don't expect them to analyze your resume and tell you where you should work. It's your duty to tell them what you want to do, in which industry you want to work, your expected salary etc.
2. They can help but may not guide:
Recruiters work for employers which pays them for every candidate that gets hired for their job vacancy. They would help you showing the right job if that comes their way, but they can't guide you in your job hunt. You have to find your ways on your own.
3. Two types of recruiters:
The Internal recruiter who works for employers and helps getting candidates for different job openings in the firm. He has his office in the company's premises. They are also known as "Corporate recruiters". They get salary on monthly basis. The other type of recruiters are called External Recruiter or Head Hunters who either works for himself or for some independent recruitment company.
These recruiters work on contingency basis, meaning they get paid only if they fill up the job vacancy for their client's company. These recruiters take sale bonus from the client company. Being the external recruiter a lot of companies hire them who can't afford an internal recruiter for their company. So their help in job search can be very beneficial.
4. They are not the decision makers:
To decide if you will get the job or not is not something which your recruiter can do. It all depends on your resume, your skills. If you are good at your work you'll get the job. Recruiters can only take you up to the interview room, rest is in your hands.
5. Sometimes the Hiring gets messed up:
Finding a suitable candidate for a job is a time consuming task and needs a good understanding of the industry and the position itself. It involves meeting many people and finding out their best skills and working on it. Sometimes the hiring process could get a little rough but it's not the recruiter's fault.
6. They work for the client company not for you:
Their work is to find candidates for the job opening not job openings for the candidates.
7. You don't need to pay anything to them:
Don't pay anything to the recruiter because they get their share from the company.
8. Maintain Professional link:
Whether its internal or an external recruiter, It is better to form a professional relationship with him as he is the person who can push your candidature forward.
9. Use more than one recruiter in your hunt:
You can and should go for more than one recruiter in your job search but it is not advisable to go for too many. 2 to 3 is a good number to target. To avoid any hassles later, don't sign any document which grants exclusive rights to represent you to the recruiter as far as possible.
10. Communicate Well:
First, You'll need to impress the recruiter with your credentials and skills in order to push your candidature to the client company. If they don't see your potential, they would not send your profile to their clients.
11. Keep your recruiter updated:
Keep your recruiter updated with every conversation you have with the employer. Discussing your interviews and other stages of the hiring process with them helps as sometimes they might have access to some information which can help you with your interviews.
12. Be direct and true:
He is the man who will get you the job according to your skill. So always be to the point and true to the recruiter. Answer all his questions correctly and don't act over smart.
13. Maintain a good relationship:
You must maintain healthy relationship with your recruiter and be in contact with him through mails, calls and messages. But don't bother him a lot.
You can find many recruiters in your location. Sites like Bullhorn Reach or Riley guide recruiter directory have recruiter search tool and directory which could help you find recruiters according to your location or industry. Other than these LinkedIn is a very popular site which helps you to get in contact with recruiters with a professional view.
Once you have found an appropriate recruiter to help you with your job search you need to keep the following points in mind:
1. Send him an email: with introductory message along with your professional resume.
2. Maintain contact: with him through e-mails, phone calls or messages. It's important to have a regular contact with him so that you don't get out of his mind and continue getting updates from him.
3. Be connected: with him through social sites like LinkedIn, Facebook or twitter as these are the more convenient ways for a professional relationship.
4. Check out their current status: Try to know the positions they are working on. You can also check the openings in the companies they work for and see if your recruiter is giving out your name or not.
5. Keep your resume updated: The resume you gave to your recruiter must be an updated one. If you develop a new skill you need to send your updated resume to your recruiter.
6. Verify: Always verify that your recruiter has you at the top of his mind and really has job openings with him. Don't let him blast on your hopes after sometime.
7. Check out: Keep a check that the recruiter is really submitting your resume to the company. Sometimes they just don't pass the resumes and keep you at a side. So don't get fooled. Be smart and keep a check.
Conclusion:
It's important for you to know your recruiter properly to get fruitful results from your job search. Keep yourself updated. Having a recruiter to help you with your job-hunt can be a good choice if you know how to deal with them. Happy job hunting.