Any individual in this world is said to be successful only if he/she knows how to make use of the time effectively. Also in a working environment, there is enough amount of time to use it productively and work efficiently.
Sometimes, the number of working hours might be more than required than normal working hours. The real question is how to make the clock move faster at work. Getting bored at the office desk is not so cool as it creates stress of being useless or stagnated, as well as it also spoils the image of the person among the colleagues.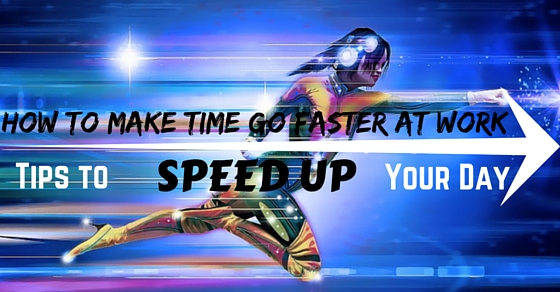 Proven Tips to Make Time Go Faster at Work:
The following mentioned are few tips on how to make time go by faster at work or ways of making time go faster.
1. Find the right job for you or ask for it:
Finding the right job is the first step to look forward to the day as well as time moves faster when you do, what you love. It is not that every single person ends up with their favorite job. But, everyone has an opportunity to make themselves motivated to their job role.
Try establishing your presence in your team, as well try getting at least a project in which you are more interested in. Time moves faster when you do something which you are passionate about. Find the right job, else ask for the right job.
2. Schedule your day before you take off:
Always try to have a clear picture of your day ahead before you start your work. Sometimes, you might be tightly packed with lots of work, and also the vice versa having nothing to do.
But, planning your day will give you an idea of how the day ahead looks like. Once after you schedule your work, you might know about the period you required to finish your work as well as the free hours during the day. This will eventually help you plan for you to flexible the working hours.
3. Set your desk interesting:
An office desk is a place where you got to sit almost a good amount of the time in your day. And when you don't have a busy day ahead, and you see a clumsy desk with all things misplaced you tend to lose your mood and feel stressed.
Organizing is a key to move your time faster as well it's a productive way to spend your time when you have enough free hours. So, design your desk interestingly with wall magnets, a nice flower vase, a good quote printed mug, or your best picture around.
4. Have a good rapport with your colleagues:
The organization you work in is a place where you spend most of your day. And more than your dear ones, any employee would always have to spend most of the time with their colleagues throughout the day in a working environment.
Create good relationships with your colleagues to have a productive work environment as well as it will make time go faster as you use your time to socialize. Socializing is a key to keep you occupied other than your regular work.
5. Take small steps around your desk:
It is natural to get bored when you keep working and not stagnate in one place. Try to move around your office once you accomplish a task or when you feel bored. This does not mean you got to be always around your cafeteria or your office premises.
Just make sure you take small breaks to have a few quick walks to make time go faster as well as make you relaxed at work. It is scientifically proved that employees who are active on the work premises show better productivity than an employee who does not move from the desk. Hence, to make your time move faster, take a few steps around the desk.
6. Get to know more about others in the team:
A good way to make time go faster is to know more about others in the team. As, sometimes when you tend to finish your work faster, you can also help others in their work or just have chat about anything be it work or even knowledge sharing about what makes you interesting.
Being bored is the worst thing which anyone can end up when you don't have a good company. Help others, be one with your team to make time move faster.
7. Be a sport with your team:
Most of the organizations will have many employee engagement activities going around the day. Try to be a sport, be very active and create a team to do be a part of fun engaging activities other than work.
By this, you can keep yourself engaged and time flies when you are very active and busy all around the day.
8. Compliment yourself often:
Sometimes there are days where any employee would feel low and bored about their work. Create a task sheet, so that when you feel bored take a look at your accomplishments and compliment yourself to work better. Nothing is interesting than spending your time by seeing your achievements.
9. Hear good music to feel fresh in amidst of hectic work schedule:
There is nothing better than lost in your favorite music. Take time to lose in the music when you feel bored or you could not concentrate on work.
Hearing songs is like taking a mental break from the busy world around. Plugin headsets and relax to feel fresh and to get back to work. Nothing is more occupied by hearing good music. Steal the day with lots of good music as well as more energizing work.
10. Try to be active in all office fun activities:
Join all fun club activities in your office to keep you more engaged. Most of the organization would always have recreational activities going around to keep employees stress free. Take part in all activities, organize more events, attend many meetings.
Create an atmosphere to keep you busy all through the day. Work when you have to work and keep you occupied in free hours by being part of all fun activities.
11. Change your desk if you have a chance to move:
Sometimes a boring desk or your sitting location might make you feel bored and stresses you to think about the long day ahead. If you have a chance you change your desk location or just change the direction, doing it makes you feel new.
By this, you may feel active and gives you the energy to meet the long day ahead. It also speeds up the day as you feel fresh and new at work.
12. Work harder, it's the best trick:
Working hard will always keep you occupied as well as be successful in work. Always make sure you do not postpone work which will stress you to not to do anything.
"The more you put hard work, the more you be productive" and the day moves faster the way you could not feel about how much ever long the working hours. Once, when you work harder throughout the day, you don't have to stay after office hours.
13. Learn more about your job role:
Being an expert in your job role will always make you feel good about the job. Try to learn new things, and prepare for many certifications when do not have work in your office hours. This will help you make time go faster as well as helps you to be an expert in your field.
14. Try doing some interesting exercise at your desk:
Sitting all day in the same place will make you feel bored and create a feeling you work for many hours and time is still. The one easy trick is to do some interesting stretching exercises in the workplace to relax as well it will make time go faster. By this, employees feel more energized and also create a feeling of being all day occupied.
15. Draft emails more legitimately:
Drafting emails is one of the jobs which most of the employees get to do daily as a routine. When you have a long boring day, the one interesting stuff to do is to take time to create nice legitimate emails that will keep you occupied. It does not occupy but also creates a good impression of your style of drafting emails.
16. Enjoy your favorite beverages at breaks:
Most of us love to drink many beverages to keep them fresh. And nothing sounds interesting other than taking a break to their favorite hot beverages like coffee in amidst of long tiring day.
So, always try to take some time to have a gulp of espresso or your favorite beverage at work which will make time go faster.
17. Nothing like social media friend:
It is natural to feel bored and feel like running a long day at work. And it is okay to surf social media to relax and spend some time on social media websites like Facebook, Instagram, and Twitter, etc.
There are also professional social networks like LinkedIn which is been allowed in many organizations. Hence, when you feel it a long day, do something which interests like surfing social media, etc.
18. Play an online game:
Playing an online game can make you feel energetic and excited. There is a number of your favorite school games that are back, so revise your childhood games and move forward and enjoy them.
19. Make an ergonomic workplace:
You may have a 9 to 5 schedule; be sure to make your place or cabin comfortable. The individual would feel better and work more when their workplace is comfortable. It is the body which should be happy to make your mind happy too. It is hence a good idea to possess an ergonomic chair and desk to speed up one's work.
20. Have a small snack drawer:
To boost your mind, nothing can work well other than a cliff bar or a Choco chip. It would be perfect to fill up one's drawer with healthy snacks and keep your energy boosting up all the time. In this way, sluggish work can be processed quickly and time goes faster.
21. Take a 5-minute break:
Fun is an important parameter which must introduce in the workplace. To make time go faster, apart from the usual corporate jargon making conversation with fun can be the best way. Have a 5-minute talk with your colleague which can be something unrelated to work. Employees can pick any topic and speak in favor of it.
22. Take a look at your competitors:
When you're bored or exhausted and you have a little free time, then make sure to research your competitor. In this way, individuals would be provided with leg up and they may also gain some good ideas regarding the competition that is prevailing outside.
23. Listen to music:
Try to get lost in the music for a while amidst work and once you've heard a song try to get back to work schedule. This can consider as a mental break and would help you feel better. In this way, you're boosted and work faster.
24. Dream

:

It is good to spend an hour thinking about how things would have been, how work would be when there are no hindrances and ideas for new products. It is said that daydreaming is a perfect way which boosts slow day work. This is because the mind is excited and chances for things to be visualized.

A simple example is that when an employee daydreams for a new position then his brain will automatically develop plans about how to get there.
Conclusion :
A hectic stressful day is not what all employees need in an office environment. It is nice to have no deadlines, no targets at work. But sometimes when you feel unoccupied that also creates stress.
With the world of the internet, there are so many ways to make time go faster. Always learn to keep you occupied and try to be proactive to seek out new things to do in a day. Hope this post provides some idea about how to make your day move faster.
Save
Save