There is no better time to sit back and relax other than vacations.
Everyone loves having long vacations where they can spend their time doing things they love.
If you are a student or even a working person on vacation then there are a number of things that you can and should do so that something positive can come of your holiday.
In case you are unable to come up with things on your own; here is a comprehensive list that you can go through.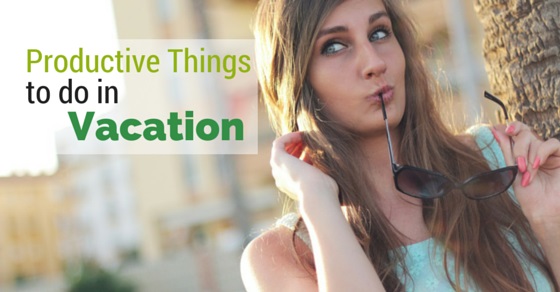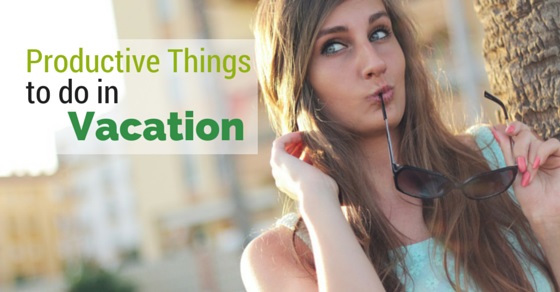 Ways to Stay Productive While on Vacation:
1. Organize fun programs for people living in your neighborhood:
If you think that you have what it takes to organize a program or a workshop then you should not shy away from doing something like this.
Taking up a project like this could really give you a sense of purpose and you will even have a lot of fun! Ask anyone who organizes things like this for a living and he or she will tell you that it is a rather lucrative job.
In addition to earning a handsome sum, you will also get to know your neighbors better.
2. Go swimming:
When the vacations are near by and the first thing that comes to peoples mind to do is go for a swim.
So just because you are a little advanced in age that does not mean that you cannot go for a swim, swimming is something that is enjoyed by people of all ages.
Even those who might not want to get into the water can spend hours at the side of the pool reading a book or listening to music. Doing something like this is a very productive way to spend your time indeed.
3. Try learning martial arts:
In this day and age, there is rampant crimes occurring all across the globe and it is of paramount importance that individuals, especially women learn some form of self defense or martial arts.
This helps them face any danger, they become more than capable of taking care of themselves rather than depending on the police, because trouble can strike anywhere and at any time, hence it is best to be prepared.
The vacations are a great time to learn self defense.
4. Try making frequent visits to your place of worship:
Today's 21st century is a world where man wields and incredible amount of power and technology can help us access any piece of information we want, but that does not mean that we should forget god and perceive ourselves as being invincible.
There is no more productive as well as peaceful way to spend your vacation rather than in the house of god, whether it is in a church, temple or even a mosque. Being in conversation with God is really a peaceful experience.
5. Join a book club:
Vacations are time where you can catch up with plenty of reading which you might have otherwise been unable to do.
A great way to spend your vacation is to read great books, no matter in which genre your interests lie, whether it is crime, fiction, romance or even history.
People often choose to join a book club where every week the group could decide on a common book they will read and when they have they will sit together and share their incites and views.
6. Sign yourself up for a camp:
Rather than being cooped up at home many people choose to spend their vacations outdoors, whether it maybe going for a summer camp or even a hiking trip. Indulging in activities like this are indeed both liberating and enthralling.
Once you return to civilization after your trip you are bound to look at things different and even start appreciating the smaller things in life which you would otherwise not even pay much attention to in the past.
7. Pack your bags and go on a holiday:
For many people vacation is just another term for a holiday to a new place that they have never visited before.
You could choose to go on this holiday alone so that you will be able to gather your own thoughts and spend your time away from the hustle and bustle of city life or you could choose to head for a holiday with your family, so that all of you can spend some quality time together and even make beautiful memories that lasts for a lifetime, since there is nothing more important than family.
8. Explore new places:
Vacations means you have plenty of spare time on your hands to do whatever you want to, however a particularly productive way to spend your time would be to explore new places.
You could either explore your own city to do things which you have never done or visit locations which you have never visited.
However besides this you could also go ahead and explore other cities which have always interested you but you never actually got down to visiting them before.
9. Try out as many new cuisines as you can:
All foodies are going to absolutely love this point and be in complete agreement.
Rather than caring about calories, kilo calories and fats,  vacations are a great time to throw caution to the wind and try out as many new cuisines as you like.
There are no guarantees however chances are that you might stumble upon a delicious dish that could simply blow your mind! In order to find these novel restaurants all you need to do is browse through the internet.
10. Attend interesting and fun work shops:
Workshops are a great way to spend your vacations because you get to learn new things and in addition to this you can even get to meet new people that have the same interests as you.
The workshop you attend can be pertaining to anything that interests you, whether it is arts and crafts, drawing, singing, origami, dancing, debate or even life skills.
Though signing up might cost you money, yet it will certainly be worth it, provided you sign up with the best!
11. Go watch a play:
Instead of being lazy and downloading a mind numbing movie online you could always go watch a wonderful play which has received great reviews.
If you do not know what plays are being put up and where, then you simply have to browse through the internet and you can get all the information which you need.
Besides the internet, many local news papers have a special column for good plays that are being put up in the city along with ways to procure tickets.
12. Be a part of a play:
In addition to watching a play, if acting is something that you have always been interested you could be a part of a drama club that regularly puts up plays for people.
Whether or not they give you a salary which is irrelevant, if it is something you have fun doing then money should not be a deciding factor at all.
Even if you may not be able to act, there are numerous other departments which you can help in, these include, choreography, stage management, lighting etc.
13. Do some spring cleaning and get your house in order:
During working days, people might not get a chance to look into the household matters but in vacations they should take the time out to complete any pent up work that needs looking into.
You tend to lose the respect of people when you do not bother to even keep your own house neat.
So maybe you could dedicate your vacations to putting your own house into order, after all a clean home is a happy home!
14. Try out a new fitness regime:
Trying out a new fitness regime during working days could be a problematic thing especially if the regime does not agree with you.
When you try it out during your vacation then what you are essentially doing is giving your body the time to adjust to this new time table.
If you have tried out a new diet chart then it would be great to try it out during your vacations so as to let your digestive system get used to it as well.
15. Get to know your neighbors better:
Most of us live in a neighborhood which has many people, but rarely do we take out the time to actually get to know them.
Vacations are a great time to get to know the people that you share a fence with. You never know, you might be able to make a lifelong friend and companion.
These are some incredibly productive way for you to spend your vacation if you rather not head out on an exotic trip with family and friends.
Being at home during your vacation doesn't mean that things are going to be boring, rather if you try out all or even some of these productive and fun things to do, then you are surely going to have a pleasurable vacation period.
Save