Most of the teenagers want to laze around and relax, enjoy their life as it comes.
However, there are few opportunities that create an opening for teenagers to do things that are productive.
When you set out to do something constructive, you practice to enhance your skills and knowledge.
From helping your mother to cook to reading some significant novel, from enrolling into some computer diploma courses to joining into summer camps or completing an internship, all are very useful and productive things to engage in.
A teenager needs to form to do list and put some real noble efforts in completing all of it.
If you confused what to do when bored as a teenager mentioned below are some pleasing productive things to do for teenagers.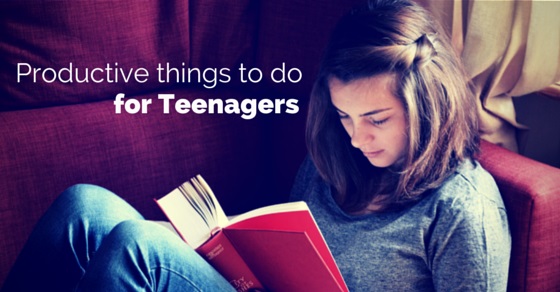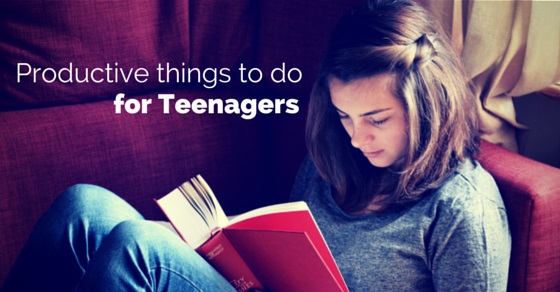 Things to do for Teenagers to Stay Productive:
1. Create goals:
Don't feel bored or think it is too early to think about your future.
Contemplate your hobbies, interests, passion and ponder what prospective career you can join in.
When you list down your goals, it makes it easy for you to choose your next step.
2. Clean up:
You may want to take some time out and involve in cleaning up your room. Get rid of the stuffs you do not want or require.
Bookshelf or closet, try to organize everything neatly so that you get a good and clean surrounding. You can also sell stuffs online to get you some pocket cash.
3. Blog:
Blogging is another trend that is booming for people of all ages. For a teenager it would be very constructive to occupy time by creating his or her own blog.
You will definitely stand out amongst your age group if you start blogging.
You can be successful in blogging by writing something you are passionate about and accumulate all the knowledge you need to keep going. From arts to sports you can choose any topic.
4. Create LinkedIn account:
It is great to commence with networking as early as in your teens. Initiate an account and join up LinkedIn groups that are based on your interests.
It is a very productive practice as you may come across people who are expert and experienced to facilitate for your prospects.
5. Learn something new:
The technologies have well advanced for anyone to learn something new. Rummage for new information on any topic such as in science, culture or history.
We are lucky to have technologies like mobile internet to give us access to any information for free.
6. Learn a new language:
It is never a waste to know more than two languages. You can learn the languages from the internet or take special classes.
It is always good to speak more than one language as you never know when it can come to your rescue in the future.
7. Exercise:
Many teenagers have been noted to have health troubles and stress before time.
You may want to calm your senses by doing a little meditation, or go for a stroll or jog, listening to music to become fresh and stress free.
It is a great technique to stay fit and get you some energy.
8. Sleep!:
Yes, you need sleep which you most likely fail to receive.
A teenager as a minimum needs 8.5 hours to 9.5 hours of sleep. Just be careful you don't make a habit out of it.
9. Read:
Reading is very essential for high concentration level and improvement of comprehension.
There are only benefits of reading books be it a novel or theoretical book or even a magazine.
You may discover various books that are meant for teenage reading and knowledge. You perhaps never know you may wind up inspired!
10. Internship:
It is never too early to get an internship. Search for an internship opportunity at a company that you wish to work for or in the field you want to work in and become an intern there.
You will get experience as well as it is the most productive thing one could absorb in.
You will really get to act like a professional and learn things like working with diverse people, punctuality and quality of work along with responsibility.
11. Volunteer:
Many NGO's are in need of volunteers and it is the best way to form a strong impression among your community.
Most of the organizations host fundraisers that require volunteers.
12. Computer Courses:
The computer courses just not only get you to some certificates to compile but also add up a massive amount of knowledge in you.
There are different segments that you can excel and become expert in.
Learn a computer language, coding, designing or tally. You have numerous institutions providing with these diploma courses and this can be included in your prospective resume.
13. Manage Personal finance:
Start tracking your income and expenses. Evaluate what you spend more on and how can you save money.
Prepare a monthly budget. It helps in improving your money handling skills and will help you in the long run.
14. Be active:
Join your school's extracurricular activities that are your pursuit and become an active student. The adolescents can always join clubs to keep their energies up.
15. Get a license:
Learn riding and get a license. It is a most productive thing one can do.
Riding motorcycle can come in handy very often and you can anytime ride around to get stuff, reach your college or just ride around to have fun.
Teenage is a best time to learn anything including riding; most of the people have passion towards it nevertheless it is very beneficial to know how to ride a bike or a scooter.
16. YouTube How-To videos:
There are plenty of videos on YouTube that can help you out in how to conduct a particular stuff.
You can come across learning to do various stuffs just by YouTubing.
You have wanted to learn how to cook a dish, how to do a meticulous hairstyle, how to use a tool in specific software or learn some innovative things, any thing can be found and studied from the videos.
17. Create your own YouTube channel:
If you have been inspired enough from the videos, how about starting your own how to videos?
Get some advises, learn some new stuff and share it via your videos. You never know it perhaps go viral!
18. Connect with your family and friends:
It is very fundamental in any person's life to connect with their parents, grandparents, cousins or friends.
You need their advice, support and love. It makes you feel refreshed when you discover about your childhood from your parents or grandparents, when you get along with your friends and discuss about everything that is going around in your life.
You even get another person's perspective about you and your life and their expectations of you.
19. Learn Cooking:
Learning how to cook never goes waste. You never know when you will have to just cook for survival!
Learn it from the internet or just take guidance from your mother. How about just helping her out with the daily cooking!
You learn things in bits and pieces and even get time for other things this way.
20. Relax!:
It does not mean you have to always keep doing something or the other. To be active you need a little relaxation.
Find a new TV series to follow, hunt for new genre of movies, watch international movies and understand their lifestyle how they interact or watch a few documentaries.
Plan a trip to a place, close to nature.
21. Experiment!:
Teenage is a great time to experiment with a lot of things so that by the time you turn an adult you really know yourself well and realize properly what are your strengths and weaknesses.
For instance, if you aspire to become a radio jockey however you cannot really communicate your thoughts suitably, this is a perfect time to change your desire or modify your own abilities to meet your aims.
Gather around some friends or strangers and try to talk like a host to them if you overcome your fears, you are good to go, if you do not and think it is not your cup of tea how about changing your aspiration?
Teenage is an excellent time for this.
22. Home 'Work':
Do some household chores or learn to repair some of the household electronic equipment.
Go for grocery shopping and become accountable on how to do a living. All this will guide you becoming a responsible and self assured person.
Next time or in anytime of your life you will not have to take help from others for repairing or going to the market.
Final Words:
These are the things to do when bored as a teenager. All a teenager ever needs is an inspiration and motivation to not laze around on the couch with a packet of chips.
You must believe in yourself and in your youthfulness and look around for work, help and stimulation that can yield productive results out of you.
Do not drain away in peer pressure and in the quest of always keeping up with the trend, you need to focus on creating your own style and optimizing your teenage days.
As a teenager, you have a long way to engross in accomplishing the higher goals, so you may want to check in some other preferred productive things too.
Save