Who wants a dirty desk?
Nobody! A bad desk is not just a sign of a disorganized person but also makes the person sitting near it feel demotivated and unhappy. If you are one of those who is absolutely tired of seeing their desks covered with stalks of papers, files, books, pens and pencils, then I am here to help.
Yes, I understand that when people are busy working, they are so lost that they forget to put things in the right place after using them. But in this post, that problem is going to get solved forever. In today's article, I am going to give some awesome inspirations that will change your office desk, room and cubicle forever. You will actually begin to feel like you are back home.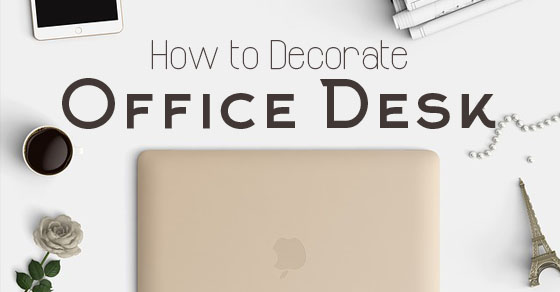 How to Decorate an Office Desk?
Here are a few desk ideas that help in doing the office desk decoration in the right way.
1. Get rid of all the mess:
If you want to decorate office desk with desk accessories, it is first important to get rid of all the mess. If you have any books, files, paperwork that is not needed anymore, don't keep them on your desk. Simply get rid of them! You don't have to throw them away into a bin. Just assemble them together and place them inside the storeroom or the cupboard. It is always nicer when you have a proper desk that looks neat and clean.
2. Use pretty colours to brighten your table:
Now that you have cleaned your entire table, it is now time to do some of the exciting things you have always wanted to do before. Yes, you guessed right! It's time to play with colours. I personally love pink, yellow, maroon and red and have decorated my desk with pretty objects and desk gadgets using these. You may also start doing the same. The whole point here is to make your desk look bright and beautiful. So a good mix and match of colours is always needed. You can get your desk painted at the same time or simply beautify the office desk set with the colours you like best.
3. Put a small mirror on your desk:
Yes! You are beautiful/handsome and it wouldn't be wrong in seeing yourself a few times a day. This especially goes out to all those ladies who want to do a touch-up and have to depend upon their camera to get it done. The good thing about having a little mirror on the desk is that it makes you feel more confident. You become more conscious of yourself in a good way. Plus it also appears lovely when you see your desk from a far. You can decorate the back of the mirror with some nice paper/art.
4. A little greenery will do no harm:
A little greenery would actually be quite good for your desk. It will not just enhance the whole look of it but also flatter your desk a bit more. Plus decorating your desk set with few office desk accessories like a few plants will definitely start looking trendy. There are plants in your office for sure and if you didn't know, they all help in reducing stress and that feeling of sickness. A little greenery can also make you a much more productive person.
5. Have a little cup for everything:
Another lovely thing you can do in order to make your office desk look neat and pretty is have a little cup organized for everything. In that way, you will be able to use old cups and jars, decorate them with your favourite piece of artwork and make your table look nice and pretty. And who wouldn't want that? All your pencils can go in one mug and the pens can stay in another one. Not bad right?deco
6. Change your mug:
Decorating your desk also means you have to take care of every single detail. If your mug is too old, you need to change it this instant. Don't use the same old boring mug. Use something that looks new and decorative. If you want to buy something new from the shops go ahead and do it. Or if you want to paint your mug to make it look new, you may do that as well.
7. Have a vision board in front of yourself:
A vision board is always a nice idea. All you have to do is bring your whole desk together and make it the centrepiece for creating something new. A nice vision board will not just declutter your desk as you display your ideas, dreams and inspirations but make you feel good about yourself. However, you need to be careful about where you put this and how you put this. If you are a graphic designer or working in the creativity department, only then having a vision board makes sense. Otherwise, it doesn't.
8. Family photo:
Keeping a photo of someone you love in front of you every day is always helpful. It will brighten up your day and help you feel better when you are upset or sad. You should always frame your family pictures if you want to decorate office desk and at the same time make it look pretty and nice. Trust me when I say this, you will like it once its there on your desk.
How to Decorate Office Room?
Now that I have given you awesome tips on how to decorate office desk, here are some office decorating ideas or office room design ideas. Keep reading to find out!
1. Get a new chair:
In order to give your office room an entire makeover, it would be smart if you start off with the chair. Get a new chair for sure. Don't use the same old one that makes you feel dull and bored. I remember doing this fun thing once. After getting promoted, I got a new chair for my personal office room. I bought one that is both black and golden. The cushions were black in colour while the rest of it was golden. And the look of it was so fashionable, the other ladies totally envied me for a bit. So get hold of a new chair. You can also use some different office chair alternatives.
2. A pretty DIY clock:
Once you have got hold of all the materials, you may decorate them on the wooden clock by using any colour of your choice. You can choose any colour you want. The point is to give your room a new look. So a wooden clock in that way would be a wonderful thing to do. You can do something new if you like. Use your imagination and give you walls the best look ever.
3. A calligraphy calendar:
A calligraphy calendar would also be quite a cool idea we think. If you have wanted to do something fun and unique for your room for a long time, this is the best thing we could suggest you right now. The best thing about calligraphy calenders is that they look so pretty and wonderful. If you can use lovely patterns like ones of flowers or maybe other prints, your calendar will start to look even more special! Also if your handwriting is good, this could be a great time to practise!
4. New vase:
This is for all those who love having flowers on their desk. The good thing about flowers is that they not only smell good but also make your whole room look adorable. You can actually have a vase for every desk in your office room. Buy some new and simple vases. Decorate them with nice and pretty looking flowers. I always like to put a few tulips in one and a few roses in another. It always makes my home look nice.
5. Erase board:
You could also add a new erase board to your room to enhance it's appearance. All you have to do is buying a small erase board and a marker. Once you have done that, place it on your desk. Now whenever you have some important task that needs to be done, make sure to use the erase board. It will not only make use of the decorations you have inside your office room but also help and keep you productive. So don't forget to buy one.
How to Decorate Office Cubicle?
Finally, we have some awesome cubicle decorating ideas for your office cubicles. We bet you are going to love them all. Keep reading this post to find out!
1. Make room for some light:
There is really no reason to make your room look too dark. If you want a little sunlight, you could keep your desk and chair in front of the light or maybe where the light is. That would naturally make your room look pretty and also there are several health benefits of natural light. Plus there is a lot of space you will get after doing. It is always a better idea to keep your desk in front of the window instead of taking up an empty corner. You have to make sure that the furniture is in sync with the other pieces. In that way, your room will look pretty.
2. Use a combination of everything:
Despite what many of you are thinking at this point, using a traditional desk will definitely not make your room look pretty or nice. In fact, it will make things look boring and congested. If you want to make your room look nice and pretty, use some lovely combination of silverware, stemware and china. It also works well and makes your cabinet look really nice. Those who have done it have absolutely loved the way their office cubicle decor has turned out. We bet you will love it as well.
3. How to make the corners look pretty:
If you have a corner in your room, this is how you should work it. Though a proper and formal living room can be accommodated at the work zone, we would suggest you to bring your chair, table and some other accessories such as storage bins, clips and lamps in order to give your room a whole new direction. Sounds fun doesn't it? You will also have a spot where you can work on your new assignments, read a book or write a letter.
4. Bring a tray:
There are times when you get so busy with work that you don't have time to organize anything. If you are one of those busy bees, then make sure to buy a tray sometime soon. The good thing about using a tray is that it will keep things organized. You don't have to worry about losing those tiny things either. Trays are always needed so that you can keep all important stuff together without having to worry about anything else.
5. Fun wallpaper:
Finally, if you get the opportunity to do this, you should decorate your home with bright and colourful wallpapers. Not only do they look pretty but will promisingly change the way your home looks. Wallpapers are always the best makeover you can give to an office cubicle design that has grown old. There are so many shops which can give you a whole variety of choices to pick from. Take the one you like best and go for it. You are going to love how your room looks by the end of it.
Conclusion:
Do you have some more cubicle decor ideas and office room decorating tips to share with us? If yes, please let us know in the comment box below. We would love to hear from you.
Also if you have questions regarding the post, let us know about them as well. And before we bring the post to a close, here is a quick reminder we would like to give you. Always remember that when you decorate office room, you must add those things that you like. Let it be your ideas and not somebody else's. Plus if you make a note of all these points and incorporate them regularly, your office will start looking really good.
Save
Save
Save