If you want to look for summer jobs then Internships are a great way to gain some experience in the industry before you enter into the business full time. Internships are normally hard to find especially in the summer since there are lots of people with a similar skill set eyeing for the same job.
The trick here is to search for a job a bit early than everyone else. This way you can beat the competition and get a secure position as an intern. The trick here is to find out where to look and how to look for the correct type of job.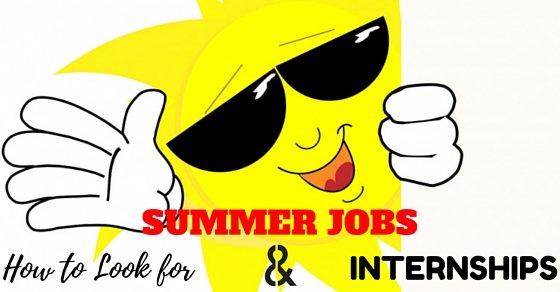 How to Look for Summer Internships:
1. Write a resume:
Always have a resume prepared and ready before you start searching for an internship or a summer job. This will speed up the process of the application when you find a job that is suited and interesting to you.
Also, when doing such searches, through job sites or searching through job fairs, always have an extra copy of resume ready whenever such submission is needed.
Try to ensure that the resume is properly structured, is completely proofread and looks professional and presentable. Before applying for any kind of work trying to build an experience, whether if it is an entry level, intermediate or a high level profession, the experience is a must and is used as a factor to select candidates from a group.
Moreover, trying to get an internship without any prior work experience is hard and it might not be possible for any employer to give away a job to a candidate who doesn't have any work experience.
The best method is to apply for volunteering at any local or well-known establishment. This can impress future employers for an internship.
2. Get appropriate clothing:
Looking professional applies for both the resume and the candidate. In the same manner, a resume should look neat and professional. The candidate should also dress professionally and smart to get a job.
How a candidate carries himself and the way he dresses shows his attitude towards the job as well as towards others. Moreover, employers far more confident in giving a job to a properly dressed candidate than to someone who dresses shabbily and has no interview etiquettes. A person's wardrobe shows how much he discipline and well behaved.
Anytime when you are going to enquire about the internship to a potential employer, even if it is just a casual talk, always try to be dressed for the job and the position.
3. Try to find an internship position through your resources and contacts:
Many high schools, colleges, and universities have their branch of career advisors and career centers where one can search for internships. Many of these centers have employees who can help in your research, give you advice and also helps you in writing your cover letters and resumes.
Another great way to get some help is through your alumni or your seniors. Try to find someone, and ask them how they got an internship or a summer job. This will help you get the correct information for the area that you are interested in.
4. Go to job fairs:
Job fairs are usually held in cities, towns or any populous location. These fairs have booths and stalls where one can go and ask the person present about the available jobs, search for information or apply for such jobs.
Try to search and look out for any kind of job fairs in your area. You should be well prepared, and should always carry your resume and should be well groomed and dressed for the purpose.
Job fairs usually conduct by companies or colleges or any kind of large organization like a publishing house. These kinds of job fairs will advertise on the local news and the newspapers. It might be also advertised on local channels.
You can also enquire about these kinds of job fairs by inquiring at your local convention center or the municipal stadiums. They may know about the incoming job fairs and the date and time of when it is going to be held or expected.
5. Use professional organizations or associations for your field:
Many of the well-established and professional organizations have their branches and sub offices where they would post about openings for jobs, internships and such similar information.
They will also have online job postings about various postings that are currently open to the public. Try to find such an organization branch, call them and inquire if they would give any information regarding internships and similar jobs.
6. Networking:
For any individual to succeed in a field, networking is an important factor. It is one of the best ways to find information about openings and job opportunities, including internship opportunities.
Try to poll together your friends, family, acquaintances, colleagues and ask them whether they have any kind of information for job openings and ask if they know people who have such information regarding the availability of such jobs. Also, try to get to know people who are presently working as interns in a company.
7. Use specialized websites:
There are many websites present that offer help and design to help them in finding a suitable internship. Also, try to be careful when such websites ask for your credit, debit or bank details since most of them want to scam you. So try not to give much information about you to such websites.
Try to find the right website and these can prove to be an invaluable method of finding internships. Searching through such websites gives you an idea about the various choices one can intern in.
How to Look for Summer Jobs:
Summer jobs can be really hard to find, especially for students and teenagers. Always try to look for summer jobs a bit early than usual. This necessary in the long run and can help you to find a good job.
There are three types of summer jobs:
A job that is only available during the summer.
A job which has a large boom and availability only during the summer
A job that hires low salary persons until a full time worker hired, in between they will hire summer job applicants.
For example: employing a student who is available in the summer.
Tips  to Make your Summer Job Search Better:
1. Crack the hidden job market:
Short term jobs such as summer jobs are not always advertised. You have to use your resources and your network to find the right summer job. Start your search by asking your friends, family, and acquaintances and ask them if they are willing to hire a student. Try to utilize your network.
2. Summer jobs are more important than you think:
Do not think summer jobs as a form of income. Instead, these kinds of jobs help you to know more about the industry. These types of jobs can also influence your future choices. Your future must apply to jobs that you think are more nearer to the industry that you wish to work as a full time employee.
Also, it gives an impression to your future employers that you are ready to work in the field. Hence, summer jobs can give you a small income and also a great starting experience.
3. Try to travel to different places for a summer job:
If you are a person who is living near a college, school or university, chances are you will find a huge competition. Rather than following the mainstream jobs that people usually consider, try searching for a varied job.
For example: Try applying for a job at a museum, since this is related to the tourism industry, you might get lots of chances for going on trips, hiking and spending time traveling. Also, these jobs give you a chance to meet new people from different parts of the world. Get to know about the different jobs that are available in your locality.
4. Clean up after yourself online:
Most of the youth today, leave their social networking sites un privatized. This means there is a high chance that future employers can see your embarrassing photos and statuses online. The first and foremost method is to untag yourself from such media. One common site that you can use to untag is called Pipl. Also, think twice when posting something.
5. Consider starting a business:
If you are one of those people who are more independent, consider starting a temporary business like an ice-cream parlor for the summer. You could also ask for help from professional services who help in establishing small starter companies.
Also, starting such an enterprise is beneficial. Not only it helps in knowing more about business but it also helps as a factor to boost the resume. You can also use this cash to fund other businesses.
6. Writing the perfect cover letter:
In actuality, writing a good cover letter helps in getting a job than writing a huge number of generic cover letters. It does not matter that you have to spend hours and hours just to get a cover letter right, what matters is how you have written it and how much attention it can get from the employer. This what defines a perfect cover letter than the rest of them.
7. Do not forget the keywords:
One of the main things that companies do while shortlisting emails is eliminating emails that do not have keywords. Some companies get so many emails that these kinds of keyword sorting are done by computer software. Even if they get a good cover letter, that will also be eliminated, it does not have enough keywords from the job ad.
8. Consider submitting an online portfolio:
When applying for summer jobs try to include your online web document. This can make free and simple as a WordPress blog or creating some kind of website that has your name and resumes on it.
It also can include the list of works that you have done so far. This shows the employer that you are tech savvy and you have the initiative to let people know about your qualities.
9. Address your application to the correct person:
Do not always start a letter with "to whoever may concern". This shows that you are lazy to find information about the person, or you do not care about such information. Also, do not send the letter with the wrong gender.
For example: Do not start the letter with Mr. when the person you are sending the letter to is a woman.
10. Avoid always checking the same websites:
Do not always check the same websites such as college websites or popular websites such as craigslist. Try spending more time searching for more and more popular websites that not only provide you with a wide variety of summer jobs but also are trustworthy for sharing your details.
Another better idea is searching for the list of companies that you wish to work for and tagging those companies in the form of a social networking list such as a twitter list so that you get the job related updates in your SNS feed. This will help you to be more informative about various companies and their job openings.
11. Target industries that boom and do well in the summer:
Entertainment and tourism related industries are the two well-known industries that boom in the summer. This is because, lots of people go on vacation during the summer holidays and do entertainment activities such as trekking, swimming, etc.
12. Always try to come back for the next summer:
When you get a summer job, and if you like it, try asking the employer whether you could come back again for the next summer and if possible, try to book a later date. This adds as a confirmation if you are searching for a job next summer.