In today's world of fast pace and the urgent need for talented people to work, more and more people are getting jobs and many facing rejections in the global employment sector. The most important thing to do for grabbing a good job is writing an excellent cover letter and resume, and an intriguing portfolio (in case you are a designer job seeker).
In any case, there are thousands of people out there who do not possess even the basic knowledge about resume, cover letter or CV. This article aims to help out those people who have a hard time understanding these aspects of interview and employment.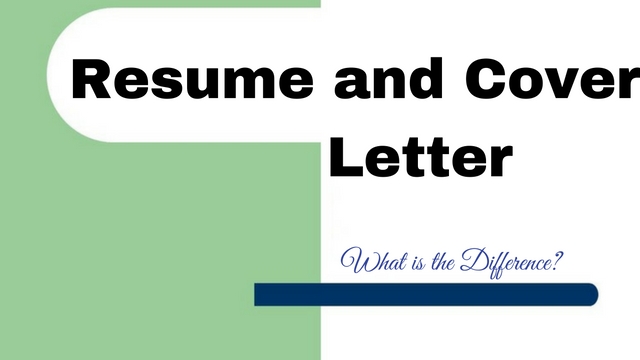 What is a Resume?
To get a clear resume idea about these we should know about what they exactly are. A resume is a summarized version of your curriculum vitae that are utilized by employment seekers or interviewees to provide an outline of their aptitudes, capacities, and achievements on a single sheet of the page. Resume mostly highlights your overall career in as few words as possible.
A resume is considered to be the shorter adaptation of CV which is usually beneficial for urgent postings or small posts. You can simply craft your resume by simply taking all the important events of your CV and summarizing and compiling it in a single sheet.
Since a resume is a common short and speedy route for employment seekers to acquaint themselves with a potential manager; it should be well written and should highlight your achievements well. The bad resume can easily demote you and will create a negative impression. The resume sends before the interview.
What is a Cover Letter?
A cover letter is nothing but a report sends with your resume to give extra data on your abilities and experience. The cover letter regularly goes with every resume you convey. The letter ordinarily gives a point by point data on how you meet all the requirements for the employment you applying for.
Businesses utilize cover letters as an approach to screen candidates for sophisticated occupations and to figure out which job seeker is fit enough to sit for the interview. A cover letter usually sends before an interview. Based on the individual cover letter, a candidate is select to sit for an interview.
What is the Difference Between Cover Letter and Resume?
The difference between a cover letter and resume is based on several critical points. But singularly, cover letter and resume serve the common purpose of providing the interviewer with an insight into the individual's skills and abilities. Nevertheless, both of them are different terms that create differently.
Resume:
1. Your resume contains data in a very dense way. You don't need to top off everything that you may have in your ability and experience. Here you require to furnish with just those attitudes and events that are important with the time and are key for the occupation you are going to connect.
2. A resume fairly means emphasize critical events and your singular skills that beneficial for you to grab the job. You won't be able to get your dream job if you create a resume that doesn't highlight your eligibility.
3. While preparing the resume, you need to keep it up-to-date with all the recent events especially your industrial and professional experience that has recently happened in your career. The company would want to know about all kinds of experience that you hold. Experience matters a lot in the industrial sectors.
4. Your resume should be all kept updated and to the point for a better understanding of the interviewer or the employer. You need to add up every event that you consider are relevant and important enough to display on the resume. You have to be very careful while resume writing because a single mistake can make your whole resume bland.
5. Consider keeping all the most important points that can surely help you grab the job at the top. Check your priority list carefully. The grave mistake that you can commit is by adding up unnecessary details at the top while bringing down all those relevant and important points.
6. Your resume is the first impression that you are going to put on your interviewer or employer. The worst thing you can do is crafting the whole resume poorly, bringing bad impression and negativity to your side. If your resume is not catchy enough, it will soon be trashed without a second glance.
7. The format of the resume needs to be short and precise. You cannot simply go on extending and adding useless details that are of no use. The more you write, the more likely you become prone to making errors. And an error-filled resume is the last thing that can attract an employer.
8. Your overall presentation is a very critical part that can decide your fate. If your resume layout is clear, writing is concise and precise, and the presentation is appealing, then you can easily get the job or the call for the interview. All you need to do is a careful study of writing a resume.
9. You may have the best of qualifications, but if it reflects poorly on your resume, you will discard even before the interview or on the preliminary round itself. The hiring process is complicated. You need to bring all the attention to yourself by designing the perfect resume for the occasion.
10. Your resume takes the shape and layout of the job that you are going to apply. For example, if you are applying for management jobs then your resume should be formal as well as rich in content. But if you are applying for a design job, then a plain resume will only result in the discard. So your job type and your profile should decide what kind of layout should give to your cv. Also, the presentation is not a small matter that can be ignored; everything depends on your presentation. If that goes well, then nothing can stop you from getting your dream job.
11. If you think that you have skills that can be beneficial for the employer for his business or industry, then you can highlight those skills and experiences on your resume. All you need to do is change the priority list. Put those points at the top that required and emphasize them more. Your employer needs to know that the required talent is you.
12. As a potential employee, you can add all those points that can help make the employer profitable or help in industrial progress. If you think that you don't possess the required talent, and then simply highlight all your past experiences as an alternative. Experience always works. If your experience level is good, then you won't have to worry about the job even if you don't possess the required talent.
13. Your employer should get a crystal clear idea about your personality and your level of experience by just glancing at your resume. Your job resume should be formulated in such a way that it should impress the employer. Go through various samples of resume and keep it precise and accurate for your employer to get good knowledge about you as a person as well as a potential employee.
Cover letter:
The cover letter tempts and entices a person to take a second glance at your résumé. Your professional résumé gives a survey of your past occupations and experience, however, it doesn't give subtle elements.
Make some reference to one of your important skills or achievements so that the employer will carefully study your résumé. The short cover letter for resume gives you a chance to add life to your resume.
Identity is so vital in employment that a few positions require identity testing as an important role in the recruiting process. Try writing a cover letter layout for a job with such enthusiasm that the reader will get tempt to appoint you for an interview.
The individual going through your letter will need to meet you since you seem to impart clear motivation and dedication for the work and do have something to share that would prove beneficial for the industry.
The cover letter of CV is nothing but your offering to the employer, about what can you do if they get to hire yours. It highlights more about you solving any critical issue related to the particular industry, or displaying you in your best frame and configuration. Your résumé is critical, yet restricts and accurate. An excellent cover letter gives you a chance to portray your gifts in entire sentences.
The cover letter allows you to put forth why you want to work with a particular industry. It's your chance to get the best out of impression by making the best possible cover letter for the organization or to be more precise in a particular position.
The clarification your abilities can display, how your abilities can add to the business. You need to do a little beforehand research on the industry and the job post to make this work seamlessly.
A cover letter for the job gives you a good chance to emerge higher from different candidates applying for the same post and job. It is not only you who would be going to apply for the post.
Thousands of candidates have applied for the same. You need to make sure that your resume stands out from others by crafting the perfect cover letter. Your cover letter acts as the preliminary stage for an employer to get an insight into your personality.
It should emerge because your cover letter is great, including the presentation. It may be taken into account that your cover letter should not be loaded with mistakes, as such a cv format will be easily tossed into a paper bin.
Utilizing a cover letter from the Internet or even from a related or similar résumé will make sure of the fact that your résumé won't get a second glance. Your good cover letter should be well-designed, well-written, easily understandable, readable and should be unique.
According to Robert Half International, a noted as well as expansive enlisting firm found that 84% of officials who overviewed thousands of cover letters said that a single or two mistakes are sufficient to expel candidates from the thought of providing the job.
On the other hand, the overall composition of the exterior or in other words, the presentation should reflect your usual range of familiarity, your true experiences and some real solutions to any matter of the targeted job post.
Keeping an eye on all those things, a cover letter is composed. Also, you need to make sure that your cover letter should not show any sign of begging for sympathy. Put in the perfect formal way.
If you doubt that your job cover letter may contain some errors that can truly harm your overall image, and then better get it proofread by some professional cover letter writer or proofreader so that all the necessary spell check, as well as grammar and vocabulary corrections, can be done before time. Before attaching it to your resume, go through it yourself several times so that it sounds correct to your ears.
Resume vs. Cover Letter:
The purpose of a resume and cover letter is different but they surely act as a key to make an impression of the candidate to the hiring manager. To make it more effective, you need to prepare the resume and cover letter according to the job description provided by the employer.
Not only the purpose but the way a resume and cover letter should be crafted is also different. In simple words, the resume and cover letter both give you a brief summary of the candidate to the hiring manager. So the resume and cover letter should be prepared carefully.
Some of the elements which a resume and cover letter consists of are
Resume:
Defined as a brief summary of the candidate
Elements:
Educational Qualifications
Special/Required skills
Achievements or rewards
Professional accomplishments
Cover letter:
Defined as a detailed bio about the candidate and showcasing that you are the best fit for the job.
Elements:
Headline
Greeting
Source where you found about the job
What will be your contribution
Future goals aligning company vision
Example Resume and Cover letter:
Sample Resume:
Lavez Charenzo
c.lavez@lavezcharenzo.com | 990-819-5674
Education:
California State University Los Angeles
Bachelor of Arts
Qualification:
Certification in copy editing from the association of proofreaders and editors
Certified in Adobe
Work experience:
Director in content management, Feb 2015 – present
Volato marketing services | Beaverton, OR
Managing a team of 12 copywriters
Creating 35 blog posts per week
Building landing pages for fortune 500 organizations
2. Senior Copy Editor, September 2012 – January 2015
Ledger associates | Jacinto City, TX
Editing 30 new articles on a daily basis for print publication and digital media
Monitored content writing for company websites and blogs
Teaching interns the styles of learning and different ways to improve
3. Copywriter/ Proofreader, May 2009–August 2012
SL corporation | San Jose, CA
Proofreading articles and correcting grammar or spelling errors
Reviewing the articles and providing suggestions to better the quality of the content
Writing articles on weekly basis
Professional Memberships:
Sales and Marketing Executives International
American Marketing Association
National marketing committee
Sample Cover letter:
Clen Cherissa
586 Wellington Blvd.
Spartanburg, SC 29304
July 19, 2019
HR department
Duke University
Durham, NC 27708
Dear Hiring Committee:
Writing this as of late found out about the vacancy of Arts professor position at Duke University from your site, and would acknowledge if you think about me for this job. I have heard a lot about Duke's excellence to greatness and want to work at an establishment that reliably positions among the best institutions in the country. I have 5 years of teaching experience at the college level, broad information of an assortment of classes and styles and a powerful urge to assist students with sharpening their basic reasoning and composing abilities.
As an alumni associate at the University of South Carolina, I showed four areas of Introduction to Literature and two segments of Arts and literature. As an aide educator, I have taught about British Arts and Literature culture from 1740 to 1800, along woth American Literature. During my time as an instructor, I have built up my student's enthusiasm for perusing a variety of writers, and I plan to proceed with this strategy as a professor at your university.
As an educator at Duke, I would proceed with your institute's responsibility to the scholarly advancement of its students. I anticipate joining the English Department staff so I can encourage my students' affection for writing and academic composition. I have likewise incorporated my resume with this application. I might want to talk with you further about this position. You can contact me at 555-817-8439 or by means of email at clen.cherissa@gmail.com. Looking forward to your response.
Best regards,
Clen Cherissa, Ph.D
Conclusion:
The major difference between both the aspects of the hiring process is in the way they should be composed and written, and the way it affects each other by any mistake. The contrast between your cover letter and resume is that your resume ought to give the employer a superior comprehension of your identity.
While on the other hand, your cover letter ought to come to an obvious conclusion for the employer to call you for an official interview and show how your past experiences, skills, and abilities are relevant for the occupation you have applied for.
A resume more often is a general rundown of your experience and abilities in highlighted points. It regularly records your training, your previous employments, and your regions of aptitude. But both of the factors have their level of importance in the field of hiring.
Save