Applying for any new job always requires a proper presentation of your eligibility. In order to get the job, you need to convince the employer of your skills, since you would be competing with thousands of candidates for the job. This is where CV comes to your rescue. CV or Curriculum Vitae is nothing but, a total summary of a person's academic and professional history, skills and abilities prepared for the job application. CV preparation is itself an art. So let us discuss how to make an effective CV that would impress employers or impress employers with CV, anytime. There are many things you should keep in mind while preparing your CV. The more you follow the guidelines, the better chance you get to impress your employer. Some of the most important points or guidelines to remember are mentioned below: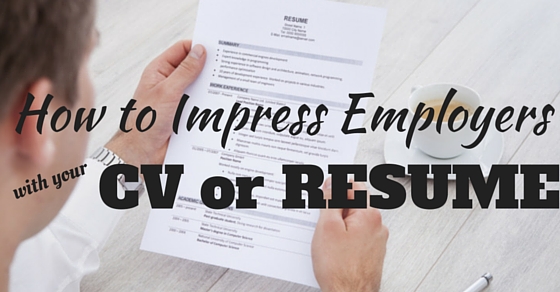 Step by Step Guide to Writing a Good Resume or CV:
The following mentioned below are few best tips for writing a resume or CV.
1. Proper organisation:
While preparing your CV, you must take proper care to organise your CV format in such a way that, it becomes professionally appealing. Your CV needs to be well- structured and authentic enough, to capture the employer's gaze. Always remember, usually your employer first attends to the upper middle area of the first page. Make sure to add your strongest points in that area, be it your skills or any powerful experience relevant to the job. A properly organised content attracts more employers than a disorganised one.
2. Keep it simple and concise:
While preparing your CV it is crucial to keep it as concise and clear as possible. Your CV should reflect your relevant skills efficiently. Unless you are applying for some design related job, keep your CV free from unnecessary details. Use proper formatting, A4 size plain sheet and readable fonts like times new roman or Calibri while writing your CV, to ensure simple, professional tone. Unnecessary use of complex words or fonts that are difficult to perceive results in a bad impression. therefore, consider using simple clear language for an impressive result.
3. Focus on strong points:
Yes, your strong points. If you are going to apply for a job, make sure your eligibility stands out in the crowd. Properly cross-check your strong points and skills with respect to the job and mention it in clear precise manner. Enhance your points with proper vocabulary at the same time use proper keywords for the relevant skills.
4. Your personal details:
Providing personal information in detailed format is very necessary. Personal details act as a link of communication between the employer and the candidate. Do remember to provide correct details like proper mail id, working cell phone number or any social media accounts (if asked) for proper correspondence.
5. Be honest with your writing:
One of the most important thing about effective CV writing tips is- NEVER LIE. You can enhance your skills, provided that true information is being mentioned. Faking skills may result in bad impression, thus decreasing your chance of getting the job. Getting honest with your skills will also ensure trust after employment. So always be honest while writing resume.
6. Understand the job details:
While applying for a certain job, it is always crucial to find out what exactly is the job asking from you. This research helps you impress your employers with your flawless understanding of job requirements. Understand the service, prepare your skills, use bulletins if required and present. Your CV must reflect your extensive knowledge on the specified job.
7. Use proper adjectives:
One of the secret to writing effective CV or resume building is adjectives. Yes, a properly used adjective at relevant places not only enhances your writing but makes a stunning impression in front of the employer. Take the advantage of scores of assertive to create a professional CV. according to a study, Words like "developed", "assessed", "implemented", etc have a more professional impact, than simple English.
8. Add some interests:
Adding interest category in your CV saves you from writing a complete technical CV. Yes, interests are considered to be the only informal part of the CV that is actually necessary. Put some interesting hobbies you have or things you love to do in some good language, to make a lasting impression. Interests in your CV show your diversity instead of sticking point by point with the job descriptions.
9. Keep a well-informed CV:
One of the important resume tips or CV tips is that, your CV should show all your recent activities as well as your history with utmost clarity. An updated CV carries more value than a CV whose information are quite outdated. Usually, an employer will look up for your recent activities on your CV for better judgement. Try to put your latest positions and abilities on your CV, to increase the probability of impressing your employer.
10. Be positive:
Your CV is a summarized version of you that reflects your character and abilities. Therefore, maintaining a positive attitude not only help in enhancing your CV, but also makes sure that the employer gets impressed. A positive mind is what an employer seeks in a candidate. While mentioning your points in your CV try using more positive language for a better result and impress employers with your CV.
Things to Avoid While Writing a Good CV or Resume:
There are a few things that need to be avoided to ensure perfection in your CV making.
1. Grammatical and punctuation errors:
Errors are the last thing that anybody wants to see in your professional CV, especially a grammatical error. So this should be kept in mind while working on the preparation of a CV. Avoid making grammatical errors, since they may result in bad impression. Take particular care of your tenses and try to keep your CV in perfect tenses wherever required, like for instance, keep your abilities in present continuous form and experiences in past.
Avoid using "I have" or "I had" in your CV. Start with an assertion for a better impression like "developed" or "investigated" in the experience category.
Proofread your CV before submitting, since this will help you identify any simple mistake that you would have made while writing.
Avoid overdoing things. Do not use fancy words that literally mean nothing at all or complex words that are hard to perceive. Your CV may get rejected right away if your employer is unable to understand your language in your CV. Try keeping it simple and professional.
2. Irrelevant content:
Never stray away from the topic. Like for instance, if you are asked to apply for a sales executive job, you need to prepare a CV describing your abilities as a sales executive. Any deviation from mainstream will only result in sheer rejection of your CV . Always perform good research on the job beforehand and then start with the writing. Write precisely to the point, describing well how you are fit for this job. Maintain perfect consistency with your writing and show relevant skills, abilities and interests that are actually necessary to impress the employer.
3. Unnecessary details:
According to a study, a CV of 2 pages that contains meaningful, relevant information carries more value than a CV of 5 pages full of unnecessary details that are not required. Avoid cramping your CV with information that are actually of no relation to the job. Try shortening your statements to keep it between 8-10 words per line. Use bullets to put forth your point in an organised manner. Employers usually prefer lists and bullet points than essays. At the same time don't add too much of them, as it may make your CV too technical. Give your words enough space to breathe. Your each word should be carefully chosen and incorporated. With proper formatting, relevant information and professional layout, prepare your CV within 2 A4 size pages at max.
4. Poor history:
You are ready with your first professional CV, and yet your education and work history look flat. It will only create a bad impression. Make sure your history work is to the point, relevant to the job and describes your abilities well. It should give the impression that you have quite a quality experience in past which may prove fruitful for your current job.
Use past tense while describing history works, and use assertion in past too.
5. Lying:
The worst thing that you can do while writing your CV is Lying. Exaggerating the truth a little bit is not harmful, but too much of it may result in a disaster. Be it a bigger lie, for instance, made-up businesses or accomplishments or smaller falsehoods like over exaggeration of your abilities or faking new skills may go unnoticed, yet bring you to shame after you have received the job. Hence, it is always advised to write the truth and only the truth.This is one of the vital resume building tips.
6. Negative attitude:
Do not bring negativity into your CV. It should reflect only positiveness. Negativity regarding previous employer or work, or in the case of ability or skill should be shunned in the first place. Try avoiding negative statements like "don't" , "can't" or "unable to" in your CV. Instead, use positive words like "able to", or "can" whenever required.
7. Bad font:
Fonts are an integral part of the CV. You certainly cannot experiment with thousands of fonts available in MS word. A perfect formal font is all you need. Try going for Calibri or arial while typing out your CV. Avoid using fonts like comic sans or Baskerville old face if you want to have a professional presentation. You can use times new roman, though.
8. Omitting accomplishment:
One of the worst things that you can do is omitting your accomplishments. Yes, employers approve of candidates with proper accomplishments from the past and good knowledge of the job they are currently applying for. Add correct, a relevant accomplishment in support of your abilities to increase your chances of hitting on the job. Do not add irrelevant accomplishment which has nothing to do with your application.
9. Missing photo:
Photo may not be an important part of your CV, but if you are going to apply online, providing photo is a must. The employer must ascertain that the CV has come from an existing person, not from any anonymous non-existent one. Also, choosing the right photo for the CV is very crucial. Do not provide your facebook or any social media photos attached as it results in bad impression. Use a proper formal photo taken with the good camera. Avoid blurred images or cropped distorted ones. Also, try not to use any photo-enhancing apps for your photo. Keep it simple and classy.
10. Improper contact information:
Imagine your CV has resulted in your job selection and when the employer tries to contact you back, he finds the contact information provided are all dud. Most likely he would just skip you and move on with other CVs. This has happened many times with various job recruiters. According to a study, wrong contact information will result in skipping off your application since the employer will have no option left other than cutting you out. So make sure all the information you provide are valid and working. Double-check your contact information to avoid simple errors.
To conclude this article, I would certainly advise you to adhere to the following guidelines before preparing your CV, and do not resort to unfair means to grab the job. Going clean not only ensures that your employer is impressed with your work but also results in lasting impression in your job. A properly executed CV goes a long way achieving your goal than a poorly presented one. So keep in mind the important points as well as avoid the common mistakes which may bring down your impression. Go for short, precise, to the point, and rich in content writing which is preferred in every sector of employment. Whether you are applying for the post of junior or for the post of senior manager, properly maintained CV can make sure that you impress your recruiter with your abilities, that are properly presented. Take a good care while writing out your CV and also avoid copying, to make sure you get your name on the selected list.
Save
Save