Empowered employees has over the years, increased a sense of ownership within the organization.
Happier than most employees in their companies, the empowered personnel will become more proactive and show the desire to embrace changes.
On the other hand, it has a few disadvantages too. In this post, we are going to discuss with you the meaning of employee empowerment, the advantages and disadvantages of employee empowerment.
Everything that you are hoping to find out about them has been enlisted below. So go ahead and read the post to discover more.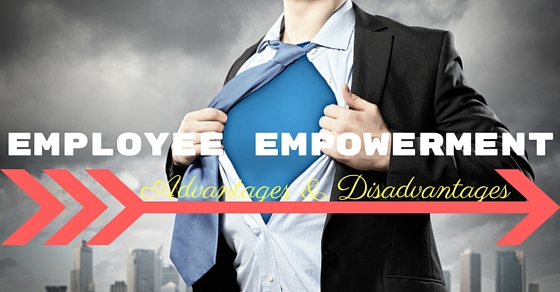 How to Empower Your Employees: Empowerment in Action
Empowering employees is a win-win situation for both the employee and the organization. From the employee point of view, it helps them improve their skills and develop and on the other side organizations can expect more productivity and growth from their employees.
Empowerment helps employees to think practically and take decisions as per the required situation, it is an opportunity for them to take control of the situation and be independent.
Employee empowerment can be done by,
Obtaining opinions and suggestions from the employees
Motivating the employee for sharing information and required resources
Trying out the employee ideas
Help the employee to develop their communication skills
Importance of Employee Empowerment:
Employee empowerment helps in developing productivity and cost reduction
Providing employee complete freedom to take up judicious decisions
Employees feel self-esteemed, self-efficacy and self-confidence.
Allocating right authority for the betterment of the organization
Helps employees feel self-reliant
Better decision making can lead to great self-confidence
Motivates employee to take independent decisions
Helps in increasing the organization efficiency
Provides the organization an opportunity to assign projects to test the employee competence
Boosts the employee morale
Necessity of Employee Empowerment Process:
Importance of responding on time
The employee must be ready to take up vital decisions
Helps the employee to build and manage their life fully
Aid in developing the potential in employees
Employee empowerment has given several employees some degree of responsibility and autonomy for making decisions related to specific tasks of the organization.
It will also allow the decisions to be made at much lower levels of the organization where the employees look at issues in a unique way and don't have a problem while facing their organization at some level after a point.
Advantages of Employee Empowerment:
Some of the benefits of employee empowerment include the following:
1. Boosts productivity and reduces costs:
An expert from an educational foundation once said that employees usually have great ideas when it comes to boosting productivity and reducing costs.
But companies have to know how they must ask for such ideas and pay attention to the employees as well.
Often it will take an employee who is stepping outside their territory and show the benefits of empowering employees.
Employees who are confident about their input and think it has been valued, will listen to it, act upon and will be likely to share the ideas, benefiting the employer and the employee.
2. Having better service:
Another expert who has written several blogs once mentioned that empowered employees are those who can provide exceptional services.
He is also experienced in this field and thinks that empower employees do have the power to make such decisions without taking help from the supervisor.
They also have the right to go and do something else, bend those rules and do what they can see and fit if they know that it is the correct thing to do for their customers.
Apart from any other feeling, the empowered employees will be able to create the feelings of a true customer service which will yield customer loyalty.
Companies which give their employees the freedom to make such decisions may end up becoming more successful in the near future.
3. Can embrace change:
Empowered employees are always free to change and challenge the status quo that is considered quite critical for companies that are changing fast and are driven by environment and technology.
Companies and employees are feeling comfortable about questioning their status quo, these companies will most probably stay stagnant since companies may swiftly get past them.
By establishing an environment where the employees are feeling free to question, offer and challenge new ideas may avoid such a problem and help the employers and employees in the same process.
4. Improves the quality of work:
When you empower your employees, you make them feel like they have been participating in the organization and helping it grow.
They also want to know what they are contributing towards and if the success of the organization is growing or not.
The employees are hence given the flexibility and the freedom to help make a change in their working environment. They feel empowered and deliver work of very high quality.
Not just that, empowered employees also take a personal ride in their work and do take the responsibility for doing a good and proper job.
As a result of this, the organization will reap such benefits of employees by delivering higher quality services and products.
5. Collaboration:
Since employees have been treated and empower as essential components within the organization, they gain a lot of self confidence as well as their abilities to influence the organization.
They will be a lot more comfortable when it comes to changing and giving each other new ideas, collaborating with other people and in a manner that is honest and open.
Their behaviour will also promote and boost team work and increase involvement to support the company wide goals which cannot be achieved in any work force that is not connected to one another.
Collaboration will allow the organization to achieve a lot more than any individual can achieve on their own.
6. Communication is boosted:
Employees do not like feeling as if they are the last to get to know when any important changes have been made inside the organization.
In order to combat that, managers should be willing to work on themselves and communicate within the reaches of appropriateness, the staff and keeping them informed when it comes to environment and jobs.
The management has to be receptive when it comes to input of employees and gives them a better sense of control over strategic and financial decision.
Once the culture takes root, the employees will become more comfortable and share their ideas with management and improve the morale of the workplace. In return, the employees shall become more receptive to any positive coaching from their managers.
7. A turnover that is reduced:
It has been understood over the years that people will leave their bosses and not the company they are working for.
The reason behind this are the managers who put emphasis and focus on the process and their results. The trait will get you more than any stifles empowerment.
The employees should also not feel handcuffed when it comes to being afraid of making any bold moves.
The more these employees feel about their actions and have a positive impact on the organization, the more they will feel connected towards their employees. This will also begin with management and serve as the voice and face of the organization.
The more free a manager is when it comes to giving important decisions and tasks, she will focus much less on the operations and strategy that will have to work on business planning.
8. Clients are much happier:
When the clients have been given a lot of power, they feel very happy and satisfied with their position. They become more enthusiastic and feel better. This happens to be a key area when financial improvements have been realized from empowering their employees.
The clients always communicate with the attentive and friendly staff, regardless of their enterprise!
And the empowered personnel will take a much more personal approach with their clients and focus on creative and better ways to solve problems that appear much less tied to the policy of the company.
In turn, the company will feel increased concern and improve retention and loyalty.
Resilience:
Finally we are going to talk about resilience in this post. The way your employees respond to such changes is the best and key ways to maintaining morale.
When you allow employees and make important decisions, it will affect the company and the changes shall be much less likely to be shown as uncaring edicts.
If the culture of employee and loyalty has been established, even when larger changes have been embraced and accepted, the staff must feel management in all their levels.
Other points:
There are several businesses that find enough productivity in their work as well as overall performance and believe that employees will help them achieve the organizational goal in the near future.
The employee empowerment activities will also have a positive and good impact on the quality of work, the satisfaction of employees, its costs and its productivity.
The organization will also provide its employees with flexibility and freedom and will make a difference and a much higher quality of work from their employees.
Employees in every organization are focusing on the rate of employment, levels of satisfaction and have often been quite satisfied with the performance themselves.
Disadvantages of Employee Empowerment:
Here are some disadvantages that come with employee empowerment:
1. Abusing power:
Most empowered employees tend to abuse their power when they have been given the power to make decisions the way they want to.
But there is a slight chance and a huge possibility of these employees and them taking advantage of the empowered for better and even more personal gain.
This also means that the employees may become less responsible for efficient based decisions they have made.
For example, the employee may want to spend some time on non work related things such as breaks and committee meetings.
2. Interpersonal relations:
With empowering employees comes the complexity of interpersonal relations. They could bring conflicts and misunderstanding between employees and their managers.
In any organization or culture that we belong to, we have a rigid and high hierarchy where the managers have a tough time while trying to accept a better culture of empowering employees. These conflicts could result on any environment where the employees as well as management cannot have proper working relations.
Even when empowerment could provide you with subordinate employees as well as job satisfaction, it could deprive their managers at the same time.
3. Additional costs of training:
Empowering employees may need you to have a proper training program for educating employees regarding assertiveness, leadership skills as well as group dynamics.
Even though the training is beneficial, the extra costs as well as time could be incurred by the business in order to make it happen.
Additionally, the training program will guarantee that the employee empowerment process will get you positive results.
4. Poor knowledge and understanding:
Even though the capacity to make decisions could be considered laudable, it comes with a few negative points as well.
Employees will not have enough knowledge regarding various decisions of business which can undermine the success of company and may cause more interrelation conflicts.
Having little knowledge could be due to lack of enough training or maybe because an employee could be competent when a task has been assigned.
For example, when a team leader is in charge of such sales and feels the need to contribute towards the IT department, will operate and make poor decisions at the same time. The team leader will also have conflict with the department employees.
5. Arrogance:
When employees have been given enough power, their confidence level is highly increased. Though it could be a great thing to be confident, the sad part is that too much confidence is not a great thing either.
Confidence levels in this case are far too high up and they also cross the line into becoming arrogant. People who are arrogant are quite difficult to handle and don't take up the direction properly which does become insubordinate in the future.
When you are working with such a kind of environment, it could take a toll on all employees and once again become all dissatisfied with the productivity levels and job.
6. Risks of security and confidentiality:
One way that all employees empower is that the employees end up sharing information that is not supposed to be shared with others.
The exchange of ideas which are free and the information which makes the employees feel very important and appreciated will end up helping and empowering them a lot too.
However there is a lot of information that has been exchanged freely with people through the company and has a boosted and increased risk when it comes to security and confidentiality and is leaked to all parties that usually don't have any access to that kind of information.
Conclusion:
Now that you know both the pros and cons of employee empowerment , we hope you will be able to make changes in the work place that you are looking for. Always remember that every concept and system has both its advantages and disadvantages.
It is upto you to find that perfect balance. If you have liked reading this post and have found some benefit from it, do let us know in the comment box below. We would love to hear from you. On that note, good luck!