We would all agree that getting a job is difficult. But when it comes to a fresher or intern the task becomes much more difficult.
All organizations expect a candidate to have some experience or at least they should have a basic know how's of their business and work profile.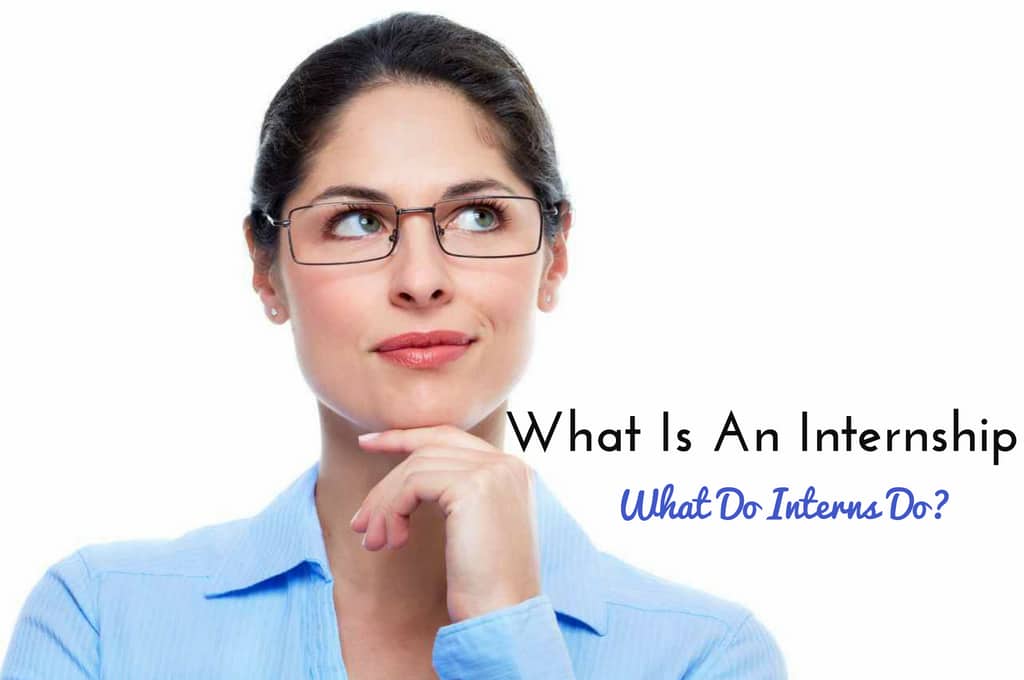 So, how to gain this knowledge?
This experience can be gained by doing internships. Many companies hire students for internship where they get chance to learn and assess their knowledge and skills.
A good internship can give you leverage amongst your peers and gives you a chance to prove your skills to prospective employer in future.
Internships are either paid or unpaid, but both of them help you a lot in many ways. Let's look in detail about it.
What is an Internship Exactly?
If you need to learn Swimming or driving a car, would you just read the instruction and understand everything?
No, right! You need to actually dive into the water and try and learn to swim.
Similarly, before you officially enter into corporate world, Internship gives you a trial run and makes you understand how things work in corporate.
Although curriculum is important, internship gives you chance to apply the gained knowledge in practical world.
Internship is a short association with a company which relates to students or a graduate's field of study. Internship can be done in different sectors, which includes marketing, sales, IT, Design etc.
Companies offer internship to students and graduates so as they can gain exposure to the industry.
The duration of internship can vary, it can be as short as a week or can be of 6 months as well. The longer you stay, the better you can understand the organization's culture and working style.
Why Internship is Important for Students:
Real time experience
Strengthen your Resume
If you do well, you will have Network
You can test you knowledge and skills
Foundation for your career
Time management
Life time experience
Advantages of Internship:
1. Provides you a clear picture of how things work in practical world:
You study many concepts and theories in your curriculum, internship will give you chance to put them to use, you need to think on your feet and get the problems solved in short time.
It will help you assess how well endowed is your knowledge and you can also evaluate your shortcomings.
2. C
hance to improve soft skills:
Communication skill:
In school or college you are surrounded by your friends and teachers, all of them are known to you, hence you feel comfortable communicating with them.
In internship you get a chance to put your social skills to test. You can see how quickly you can make friends in professional environment, how you communicate with your boss and what are the do's and don'ts while communicating in office.
Problem-solving:
You may be given a simple task to work on or a tricky thing to resolve, be it anything; it helps you improve on your problem-solving skills.
Presentation skills:
Organization has a hierarchy, where you need to discuss with your subordinates, superiors and management, the way you present your thoughts should be effective.
It should be to the point and should grasp the attention of audience.
Soft skill enhancement:
Apart from above mentioned skills, you get chance to improve your influencing skill, networking skills.
Objectives of Internship:
Internship is a good chance to get a taste of how your job's going to be and also gives you a chance to grab a job.
Let us discuss the objectives of internship in detail.
A Trial Run:
Very often we have an imaginary picture in our mind for our dream job. Many may imagine- A cool cabin, meetings with team and work getting done smoothly. But it is not a cake walk.
To work with number of people with different skills and different temperaments, it is often difficult to get things done in one go.
For example, if you dream of working as a Human resource officer. Its not always organizing fun activities and talking to people. But you need to follow policies, labor laws and keep abreast with the different tactics to attract talent pool.
Resume Building:
You can't just put your academics and hobbies in your resume, you need some real-time accomplishments to impress your prospective employer.
Hence it is suggested, to work hard and do beyond what is expected from you. Take initiative to take up some responsibilities. I will be clear to you, no one is going to spoon feed you or give you step by step guidance to do things, you got to speak to people and understand how things are done.
If you achieve something notable, it will be a great value addition to your resume. You may also ask your internship guide to put up some recommendations on your LinkedIn page, which is definitely a huge leverage over other competitors.
Remember, just a tag of having an internship from a big brand will give you no advantage but doing a notable thing in even a smaller company can provide you great learning and maybe a good chance to get a job of your choice.
Networking:
Internship is a great opportunity to connect with the people from your profession, you can learn many things from them and they may provide you references in future and help you in finding a job in future.
So make sure you meet as many people as possible during your association and build a rapport with maximum people.
Learn how they think, ask them how they started their career, how they improved themselves and what challenges they faced.
This kind of communication will provide you with greater insight on how your job's going to be and gives you chance to assess whether you fit well in it.
It may dawn upon you that you are not a good fit which is yet again a good thing that you realized soon rather than repenting later.
Potential Job:
In an interview you have only few minutes to impress your employer, but in internship you have days to portray your skills.
Take initiative and get yourself involved into some quantifiable work. When you achieve something, you will surely be praised by you supervisors for doing a good job.
Employers look for hiring good interns, if they find potential in you. Try to grasp company culture and gel well with the people around and your chance of getting a job will grow manifold.
Some other Advantages of Internship:
Lifetime experience:
You may get a chance to work in something very exciting, but may find it hard to find such work in full time job.
So, it is advised to take full advantage of the opportunity and have good time learning new things. You can make life time friends with people who are like minded and have same passion as yours.
Finding role-models:
You get to meet many directors and managers in your internship, there will surely be one person who you will admire, his or her leadership skill or problem-solving capability will be something you will want to inculcate in yourself.
You may get cues on how you want yourself to be in a decade of your career.
Who can be interns?
Well, this can be an obvious question; generally students from graduate schools go for internships. But it is not always true.
Few people who plan to shift their career path can also opt for internship to taste the waters and to gain some experience in the field of their choice.
One can do more than one internship in their college years to gain knowledge and have good chance to impress the future employers.
What Do Interns Do?
The responsibilities of interns depend on which field they have chosen, usually you will be assigned simple tasks or some administrative tasks to be done.
Do not get disheartened and do it well. You may be assigned some substantial task looking at your willingness to learn. If you get such task, do it well by any means.
Marketing intern can be given a task to do a market study, or do research on certain topics, or make a presentation of the provided data.
Human resource intern can be given a task to screen the CVS's and validate the candidates who are willing to change jobs.
You need to choose internship that aligns well with your career goals. Some internships may give your hands-on experience while some may only involve you into administrative task.
If you have a challenging task at your internship which gives you opportunity to work cross department, it will be an excellent opportunity for you to connect to all kinds of people and get a sense of organizational hierarchy as a whole.
To get additional responsibilities you need to take initiative, engage with most of the people and ask for the work you wish to work on
Will I be paid?
There are many unpaid internship opportunities available in market. Whether your internship will be paid will depend mostly on the industry and role you choose.
Editorial internships are rarely paid but if you take an example of IT engineering students- the internships are paid.
The amount paid to you during internship is called as a stipend. The amount may not be very great but if you are learning and earning a bit, then it's not a bad deal
Is job guaranteed after internship?
I cannot assure you that you will definitely get a job after internship. Employer's do hire outstanding interns in their team, but sometimes it could be a budgeting issue or some internal problem due to which you may not be given a job.
Also if you have not done anything exceptional or added any value then there are chances you may not get a job.
Employees generally look for a well-rounded personality, they look for someone who can take up task independently, have good people skill and use their expertise to get things done.
If you performed well and if you did not get a job, do not get disappointed/ Ask for a good reference from your supervisor which will be a glowing reference for the future jobs that you apply.
Be thankful that you got an opportunity to learn and had a chance to meet with several people. Be in touch with all of them as they will be helpful to you at some point in your life.
Tips to Get Most from your Internship Experience:
Jot down the things that you have done each day, write what you are learning from the same. Evaluate whether you could have done the job differently if given a second chance.
Being a fresher, you may commit many mistakes, there are chances you may get scolded for the same. But it is advised to take up all criticism positively, as it is the way you learn
Internship gives you a chance to understand your shortcomings. There is always a scope of improvement in everything. When you find anything in which you are lacking be it technical or behavioral, take a note of it and try to evaluate how it can be improved.
You can ask your seniors about your feedback or you can improve on your shortcomings. Accepting your weak points may make you look confident and may be perceives as a person who is willing to learn from his mistakes.
Keep in contact with the people you meet at work, you can add them in your professional network like LinkedIn, so as you can keep in touch for a long time.
Take advice on how you can make your CV better and how to get a job in your dream company.
College Life and corporate world are altogether different, internship acts as an transition in between the both. Focused and dedicated efforts, proactive approach and open mind is a key to have a successful internship.
Internship Strategy Information:
In order to gain knowledge and experience to work in a corporate company of your choice you need to follow proper internship strategy
Now that you know all the tips and tricks, don't wait up to get an excellent opportunity to learn and build a strong resume. Come back and add a comment, if any of my advice proved to be useful to you.