In the modern day and age where there is global technological development each passing day, we cannot ignore the importance of engineers and their contributions in every field of life.
With new engineering colleges opening up in every nook and corner, every third or fourth person you come across these days is an engineer. Thanks to them, we have a properly functioning system.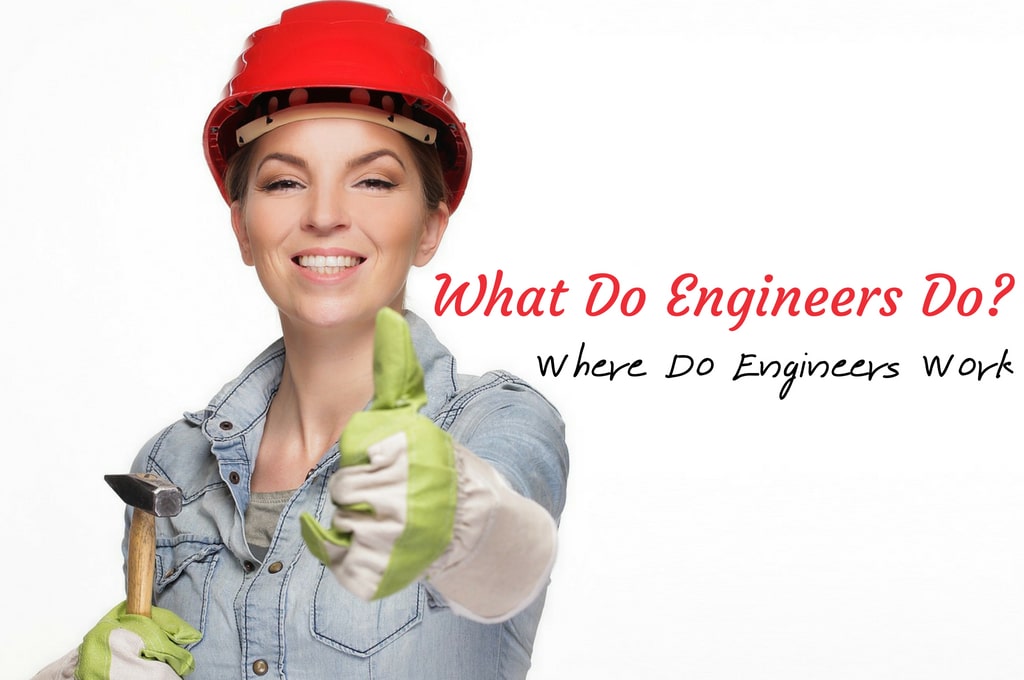 But let's get to know more about this profession.
What Do Engineers Do Actually?
The basic job of an engineer, irrespective of whichever stream he belongs to, is to apply theoretical, scientific and mathematical solutions to real life technical glitches or problems.
In short, engineers bridge the gap between scientific discoveries that were meant to change the world.
From the ideation of any product to implementation and finally developing the product, an engineer is actively involved in every stage of development.
Be it Design, development, testing, production, maintenance or any department, you will find dedicated groups of engineers working tirelessly to make sure the production process works smoothly.
With countless branches of engineering, each specialised engineer has loads of work to look after.
Civil Engineers Role?
Thanks to civil engineers, we have properly functioning roads, tunnels, bridges, buildings, malls etc.
Civil engineers are the ones who are in charge of the design and construction of these structures. This is considered to be one of the oldest branches of engineering, and a civil engineer can hold administrative and supervising positions or be actively involved in design, research, construction or even teaching.
Electrical Engineers role:
Electrical engineers, another older and traditional form of engineering, are responsible for the different stages of development namely
Designing,
developing,
testing,
maintenance and supervising the entire process of manufacturing electrical machineries.
These engineers also take care of wiring and lightings in buildings, the electrical systems in aircrafts and planes, radar and navigation systems etc.
Electronic Engineers:
Electronic engineers are involved in the manufacture of new technologies and electronic equipment's, like the television set or home theatre adorning your living room, the GPS that you use for navigation and so on.
Computer Hardware Engineers:
Computer hardware engineers look after the production and installation of computer hardware that includes assembling the CPU, computer chips, the circuit boards and even the relate devices like speakers, routers etc.
Chemical Engineers:
Chemical engineers are the ones who apply principles of chemistry in the production of chemicals in plants or other chemical products which are built as results of complex chemical actions.
Chemical engineers are responsible for supervision and the design of processes of chemical manufacturing on a large scale. The great part about them is that they work in a number of other industries apart from just chemical manufacturing.
Food, textiles, electronics, healthcare, medicine, biotechnology are other industries where chemical engineers thrive in. Not just chemistry, they apply methods and principles of physics, mathematics and mechanical engineering as well in their work.
Some chemical engineers specialise in specific chemical fields or reactions.
For e.g., there's oxidation, there are nanomaterial's and polymerization and so on.
Biomedical Engineers:
Biomedical engineers are what real superheroes look like. They are the ones who solve health problems and cure diseases by combining their engineering principles along with biology and pharmacy.
They work extensively and research along with medical students to develop treatments and products like artificial human organs, artificial body parts, different medical information systems etc.
Biomedical engineers are also responsible for design of different health devices like MRI, automatic insulin injections etc.
Aerospace Engineers:
Aerospace engineers probably have the fanciest jobs of all. They design and manage the manufacture of aircrafts, spacecraft's, rockets, missiles etc.
Among them, the ones who work with aircrafts are called aeronautical engineers and the ones who manage space crafts are called astronautical engineers.
Both aeronautical and astronautical engineers are in charge of developing new technologies that would be used in aviation services, defence systems of the country, space exploration etc. and most of them specialize in certain aspects of aerospace engineering.
Apart from that, there is a chance that they might be specialized in particular types of products, for example, fighter jet planes, commercial aircrafts, helicopters, missiles and rockets and so on.
Agricultural Engineers:
They combine the engineering skills along with scientific knowledge and apply it to the agricultural needs of the country.
They design and manufacture different machineries and equipment's to make farming and agriculture an easier process and to yield better crops and also for crop storage.
Apart from that, agricultural engineers are constantly developing techniques to conserve soil and improve the processing of crops.
Environmental Engineers:
They provide solutions to all the prevailing environmental problems using chemistry and biology.
They are widely involved in all major environmental issues and are responsible for pollution control, recycling old products, waste disposal etc.
Mechanical Engineers:
Mechanical engineering is another of the oldest forms of engineering. Mechanical engineers research about develop, design and maintain different machines and plenty of mechanical devices and equipments.
Mechanical engineers work with machineries ranging from engines, turbines, generators to refrigerators, air conditioners and the list just keeps on growing.
Marine Engineers:
Marine engineers are responsible for the design, development and maintenance of ships, cargos, boats, steamers, submarines, aircraft carriers and other related machines.
Marine engineers and naval architects come together to design and develop all modes of water transport.
Nuclear Engineers:
Nuclear engineers research and develop instruments and machineries that are needed to derive the energies and advantages of nuclear radiations. They are also in charge of nuclear plants and generate power from them.
They not only work in the nuclear cycle to derive power and fuels, they are also responsible for disposing the nuclear wastes safely without harming the environment.
Petroleum Engineers:
Petroleum engineers are in charge of designing and implementing methods to extract oil and natural gas from below the ground. After designing the methods, they implement them with the help of geologists for drilling the rocks and going underground.
After knowing about the different branches of engineering and different kinds of engineers, it is time to discuss where these engineers actually work.
While many engineers work at large corporate houses, many of them own their small firms as well. Engineers also work in manufacturing plants, construction sites, hospitals, government sectors, PSUs and so on.
Some other engineer roles and Where Do Engineers Work?
Where do mechanical engineers work?
Mechanical engineers are widespread across every branch of engineering, as none of them can properly function without mechanical engineers. The entire automobile industry is run by mechanical engineers.
Buses, cars, high end sports cars- none of them can run without mechanical engineers. They are involved in every process of the manufacture.
Mechanical engineers are boons to the biomedical industry as well, as they are the ones responsible for creating devices that ensure a healthy life for patients, like pacemakers, artificial limbs etc. They are a major part of construction projects like roads, buildings, tunnels etc.
Mechanical engineers also primarily run the Indian railways, from building train bogies, to building railway tracks, they do it all.
Where do electrical engineers work?
Electrical engineers too grace many fields with their work, namely, IT, telecom, constructions, manufacturing, aerospace etc. Companies that manufacture electrical devices are always in need of electrical engineers. These engineers are also needed for power generation and distribution.
Electrical engineers are also needed in laboratories and architectural firms.
Where do marine engineers work?
Different forms of engineering services are the largest employers of marine engineers. Many organizations do not have permanent in-house marine engineers either for cost-cutting reasons or due to the lack of availability of them.
So these organizations hire marine engineers on contract basis. The marine engineers provide their advices and other preliminary services to these organizations.
Another industry that employs large number of marine engineers is the ship and boat building industry. They have in-house marine engineers that build the watercrafts used for commercial purposes. These engineers then build yachts, oil tankers, barges, cruise liners; container ships etc. in parts and then assemble them later.
A lot of marine engineers also work for the federal government and offer the same services as they offer commercially. But marine engineers who work for the federal government are responsible for building military watercrafts like submarines and aircraft carriers.
Where do environmental engineers work?
Many private companies employ environmental engineers to make sure that their employees have a safe and healthy work environment. They also hire these engineers to make sure that their industrial wastes are properly and safely disposed.
Environmental engineers can work both indoors and outdoors. These private companies and industries also hire these engineers to work on environmental hazards that are caused by their plants and factories.
Even the public sector employs environmental engineers in natural resources protection or environmental protection departments for the sustainable development of an area.
Where do biomedical engineers work?
Biomedical engineers work in hospitals as consultants and consult them on how to maintain the different equipment. The beds, stretchers, surgical lasers are all designed by these engineers.
A lot of biomedical engineers also work in pharmaceutical companies as drug makers and design the delivery devices like insulin pumps, injectors and other things.
Not just that, they design different devices for organ transplants and other such important purposes.
All in all, this is a world that cannot function without engineers. Engineers are responsible for the smooth functioning of everything that's around us.