For most of the students, the vital things are grabbing a job as soon as possible after graduation. For that, they need to earn some experience in their working zone before their job. With so many options to opt for, many students get confused about whether they should go for an unpaid internship or not.
Landing a job is very competitive and so also is the paid internship. Students even do not give a chance to slip away from an unpaid internship.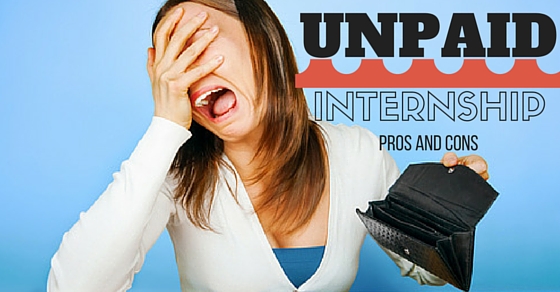 Therefore, many students go for anything that promises them to give practical experience but you need to understand the advantages and disadvantages of unpaid internships.
So let us understand the term intern and what is the difference between interns and a worker. We will then go on to point out the unpaid internship pros and cons.
What is an Internship?
This is very important as many students do not understand the importance of knowing the difference between a worker and an intern.
According to a study, an ideal intern must satisfy the following criteria:
The internship can compare to the training that provides before joining the industry. Like a beforehand free experience of industry work and life.
The interns usually not replace regular company workers. Instead, they chose to work under strict guidance.
The total work as an internship is provided solely for the advantage and profit of the candidate going for the internship.
The intern should not hope for getting a permanent job at the end of the term.
Clearly, the fact should be understood that an internship is purely for experience purposes. And not all employers forced to pay you for the work.
So a student should carefully understand the above points and should make it a point to understand the working terms of the company before moving on for an unpaid internship.
Are Unpaid Internships Legal?
As per the Fair Labor Standards Act of 1938, any employee working for a for-profit organization must receive a salary for the work they do. However, under FLSA, interns not consider as employees.
So here rises a question, Are unpaid internship legal?
The clear answer to this question is 'YES', provided only if the intern is the primary beneficiary of this type of employment process.
An internship is a form of employment in which candidates (usually called as interns) hire and where both the employers and interns benefit working together in an organization.
The employers can get their tasks to finish by acting employee (intern) in their organization, whereas the intern gets hands-on industry work experience and also gets to know the corporate work culture. So in this way, it is a mutual benefit for both the employer and the intern.
Taking the scenario of who is the primary beneficiary is completely subjective as both have their views regarding the situation. Moreover, the payor monetary benefit for interns stands on many factors and the most important one is overweighing cost on the employers comparing to the benefits gain.
Primary Beneficiary Test:
According to this test, if the primary beneficiary happens to be the intern then unpaid internship to an extent is legal. But if the employer is the primary beneficiary, then the intern should be paid a minimum wage for the work he does. The test is applied to only private for-profit companies.
Now the overall approach of the prime query is based on the seven-point primary beneficiary test done by The Department of Labor.
As per the test, the intern is beneficiary if he abides by the following points which are
Being aware that they will not be paid
The training received matches the training acquired in their educational institutes
The internship matches the intern's academic course or program.
Internship from employer accustoms the current academic calendar of the intern
The internship provided will be for a certain period during which they can gain beneficial learning and experience
The work done by the interns complements the work of the company's permanent employees
The concluding part of the internship does not promises any employment.
Now by the analysis of the above mention seven points, the query can solve. If the employer turns out to be beneficiary then interns have to receive a minimum wage or if the intern is beneficiary then unoaid internship can be marked as legal.
As per
Brandon Ruiz
, who has a law firm
Hennig, Ruiz & Singh
in Los Angels states that "
If the intern performs work that benefits the employer and that would otherwise be performed by a regular employee, it is unlikely to be an internship. If the intern performs work that primarily benefits the intern and does not do work that would otherwise be performed by an employee, it is more likely to be an internship
."
Tips to Create a Compliant Unpaid Internship Program:
Internship helps the students as an add-on to their resume and also aids them in their classroom learning. The industry-related work experience gained can be very useful in their academics as well as for their future ventures.
Also, employers need to design an internship program that benefits the students to a maximum level. Here are a few tips for creating an effective internship program.
Allot relevant and important tasks
Draft an acknowledgment
Assess and analyze each case separately
Collaborate with educational institute programs
Estimate the total cost.
Go through the state laws
Pros of Unpaid Internship:
1. You can get college credits:
To make it meaningful for the students, to pursue an unpaid internship many industries compensate for the money part with a 2 credit point.
But keep in mind that you should be through with the credit point system of your university.
The criteria and conditions that will make you eligible to earn credits for your son paid internship should be kept in mind and you should also be aware of the criteria for earning credits in an industry.
2. New experience:
Whether it is paid or unpaid, an internship gives you the chance to go and explore the real working condition of your career.
No matter how good you are studying or how knowledgeable you are, unless you have a working knowledge and hands-on experience in works related to your job, it can be a difficult task to land your dream job.
An internship is that bridge that connects your theoretical knowledge with practical applications.
3. Job prospective:
With increased experience and prior familiarity with the working condition of the company where you took your internship, your chances of getting a job is more than someone who has no prior experience.
Companies may recruit candidates who interned at their company because they can save money in training as they must have imparted the required knowledge you already had the necessary skills required for the prospective job.
4. Forming a network of professionals:
An internship can allow talking with the people who are experts in their field.
If you can impress them with your working then they may help you in advancing your career or assist you in landing the job in the same company.
You may be interested in acquiring skills but it is people that matter the most and internship can give the opportunity to explore and meet with different professionals and form a network of professionals.
5. Getting to know the compatibility of your job:
Sometimes the things that teach in a university and the knowledge that put into use can be quite different, different in the sense of the application.
Sometimes your course may have certain gaps in imparting different career paths.
So an unpaid internship can give you the chance to explore your career choices in advance and can help you in making a wise decision for your future growth.
6. Learning beyond your field:
Unlike a paid internship, an unpaid internship is basically about learning about and practicing in the field of your trade.
Though you may have a daily task to complete and report to your guiding head in no way, you are compelled to stick to only your job.
So you get ample opportunity to learn about other departments and get to know how the organization functions as a single unit and as a result you get more experience.
7. Not in the responsibility of meeting deadlines:
By definition, a person is an intern if the person is only practicing the skills require in the industry for education purposes and any work of his or her has no immediate benefit to the company.
So in short, you are not under pressure to complete the company's daily task and at the same time learns and understand the skills and knowledge requires to get a job as soon as you graduate from university, making your job ready.
8. Other perks:
You may not be getting paid for your work but to keep you engaged in your work, a company can offer means to compensate for money like giving you extra incentives in terms of free food or travel expenses.
Or they may provide with add-on learning to experience like providing you access to meet the leading industrialist and innovators in your field or giving you access to their library that contains lots of detail about your job.
Cons of Unpaid Internship:
1. No money:
The most obvious disadvantage of unpaid internships is that you don't get to earn money while working.
Many of your friends are getting paid in their paid internship or part-time job but you will be just working tirelessly without any monetary incentives.
An unpaid internship is only viable for those students who have a strong financial condition and can manage without earning their own. It can be very straining for financially backward students.
2. The legality of the job:
Many experts consider an internship unpaid as illegal as many companies are using it to exploit talents at free cost.
Therefore, labor organizations of different countries have set some rules to distinguish between interns and workers and this distinction is very important as these safeguards the student to be manipulated and gives them the right of earning money whenever and wherever applicable. Students must make sure to learn about all this.
3. Unfair advantage of work:
Many companies nowadays are using new interns as input and are utilizing them to get their work done for free instead of hiring new employees.
In this way, companies get to save a lot of amounts on paying salaries and training those candidates while getting their job done.
This can be a terrifying situation for a student who is not financially capable as he or she could have otherwise pursued a paid internship or a part-time job and could have also earned money for the work.
4. Narrowing of opportunities:
It may be contradicting the previous point about the opportunity but candidates who did unpaid internships have less chance of hire as an employee than their paid counterparts.
Companies generally prefer to recruit someone who has done a paid program as they consider them to be more serious and capable in their task.
Rather, your condition might be just the same as someone who did not do any internship.
5. Fewer working rights:
Since you are doing an unpaid internship, so you are not technically an employee of an industry.
Thus, it results in limited rights in your working life and can result in your discrimination and harassment in your job which is very disturbing.
As an intern, you should under the vigilance of your guide but it can sometimes happen, you may not give due importance as you are not earning nor responsible for work that will benefit the company.
6. Decreasing your chances of employability:
As stated in the earlier point, an unpaid internship can harm you sometimes especially in landing a job. They are no way better than someone who has no experience.
According to the survey done by National Association of Colleges and Employers (NACE), out of all candidates who took internship only 63.1% of them got placed in contrast to 37% of those candidates who did an unpaid internship which is very much similar to the placement statics of those candidates who never did any internship.
7. Lower income in future:
If statistics to believe, candidates who undertook paid internships have a better salary package than the unpaid ones.
In fact, in some cases, the salary packages of students who did not do any internship are more than someone who did an unpaid internship.
According to NACE, the average salary median of paid ones was $51,930 while that of unpaid ones was $35,721, and those who never did any internship got an average pay of $37,087, which is more than unpaid ones.
8. Increasing unemployment:
The recent trend of unemployment has made it very worse for the candidate to get a job that gives a handsome salary.
If companies continue to use unpaid interns as a way to get their task done while not employing new ones for a long term job then it will not only overexploit the learners but it will also affect the young graduates to grab a job and thus it will weaken the economy of a country.
9. It does not help students to improve their financial condition:
To make up for such huge student loans, many students take up part-time jobs so that they can be less burdened with financial pressure.
No-pay internship means the student will be spending a lot of time working while not earning even a single penny.
This will only increase the load of the student to come up with some other means to pay his loans on due time which can sometimes result in poor studies or a much stressed life.
10. Backfiring companies:
By not offering paid internships, companies miss a chance to interact with potential candidates and talented students who could
have been a part of their company.
Paid internships attract the attention of lots of students and if companies are not able to give such an offer then many students would not opt for it because either they maybe not interested in it or maybe it will be difficult for them to sustain financially.
11. No real impact on the organization:
Since you will be in an unpaid internship program you would be usually given a task or job that might not be directly related to work.
Also, your guide or head might not interested much in giving you a task that carries importance to the company.
So if you want to see the impact of your work in a real working situation then you may consider opting for a paid internship or part-time job.
Although an unpaid internship may not give you money even after that many students go for it because it gives you the experience to work in real world conditions and equip you with the latest skills and abilities that make you industry ready. Therefore, if you are planning to go for an unpaid internship you consider these:
Going for an Unpaid Internship?
1. Learn about your working condition:
Talk with your guide before you join the company about the working condition and whether they have a scheme for up gradation from unpaid to a paid one.
2. Know your rights:
You must know about your rights as an intern in the company.
3. College credits:
Make sure if your unpaid internship is eligible for earning some credits. Talk to your college and the company regarding this matter.
Save