With the onset of casual Fridays and casual weekends at the office, many employees have the dilemma of what type of casual clothes they should wear and what kind of style they should adapt to. When talking about casual clothing, the first choice that comes up in one's mind is jeans. Jeans are the ultimate casual clothing that you can wear any time and they give a sharp look.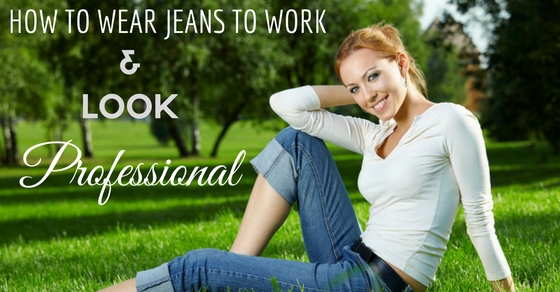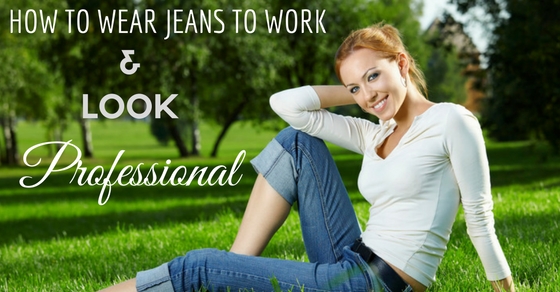 The real problem starts when employees don't know what style of jeans they should wear and how they should accessorize it. Either it could end up as a tragedy or as a success. The real key lies in how you match the rest of your outfit with the type of jeans that you are wearing. Also, choosing the right style and the right fit of jeans is necessary to make you look professional even in casual clothes.
Can I Wear Jeans To Work?
In reality, it depends on the situation if you are supposed to wear jeans or not at the office. Most employees are often confused whether or not it is acceptable to wear jeans at the office. Truth to be told, it depends on the office work culture, where they work and what is the position of the employee at the office. If your company is not that formal, then it is acceptable to wear jeans up to a certain extent. But if it is a highly professional industry, such as the investment banking industry, then try to find what rules your company has for wearing jeans and casual clothes to work and act accordingly.
In summary, this is a yes or no question, and the answer totally depends on what kind of work culture the company has. No matter how professional the company might be, there will be some cases where the professional is allowed to wear jeans at work. For example: during holidays, or some informal events conducted by the company.
These are the following ways in which you could see whether or not it is appropriate for one to wear jeans at work:
1. Try to understand the casual dress code issued by the office:
As mentioned above, try to find if your company accepts their employees wearing jeans at the office. The best way to understand this situation is either read through the rules and regulations book that the office provides, if any or try to observe your surroundings and see what the rest of the employees are wearing and dress accordingly.
Another factor that needs to be considered is to check where your workplace is located. Try to check if it is an urban area or in a suburban area. This is necessary since most urban companies won't allow their employees to wear jeans and denims to work, except for a few occasions. If you are an employee working in a suburban office, then chances are you might even get away by wearing jeans every day, since most of the suburban offices follow a business casual look for their employees.
Also, make sure that the area your work in has an environment that makes it suitable to wear jeans for work. People who live in humid and tropical areas are usually advised not to wear jeans, as it can get stuffy for them in the hot weather. They could either wear any light materials like linen or they could try pants for a change and be comfortable at the same time.
Wearing Jeans To Work Rules:
There are certain factors and conditions that the employees should apply regarding the style and cut of the jeans that they choose so that they could look professional and sharp at work. Keep in mind that jeans often come in a wide array of styles and fashion and the real success lies in what kind of jeans you choose for office. Getting the wrong jeans, can either make you look like a cowboy at work or they could make you look like a dapper young professional. The choice is up to you.
As a textbook rule, the following 5 factors should be considered while choosing the correct denim for work.
1. The jeans that you choose should only be in a single solid colour and should have a dark colour. Bright coloured jeans are not acceptable at work, unless you are working in the fashion industry.
2. The jeans that you wear should not be faded and should be crisp and neatly press. Try not to get jeans that have a wash. This will be frowned upon by the supervisors. Also, make sure that your pair of jeans has been washed properly and is neatly pressed. Nobody wants to hire an employee who wears the same pair of jeans for a month.
3. The jeans that you wear to work should not be torn and tattered and has the ripped look. Ripped jeans are not acceptable for work. Ripped jeans give off a rowdy look to the employee and wearing those, will ultimately result in you getting a warning from your managers.
4. Jeans should not have any kind of embroidery or special stitching that is eye catching. Jeans also should not have any kind of markings on them, as it does not follow the rules of casual clothing at work.
5. Another factor is the fit of the jeans, try to find the correct size and right fit of jeans that flatters your body type and has the correct length. The fit of the jeans is really important if you are wearing it in a business environment. Usually it is advisable for employees to wear jeans that have a cuffed hem, since it makes it easier for them to work and move around.
Best Jeans For The Office:
While choosing the best jeans for work, there are certain factors that you should consider. First of all, choosing the ultimate pair of work jeans can be a tough job. Another reason that makes it harder is the fit of the jeans and how well it suits us. With a little bit of understanding and help anyone can find the right pair of denims for work.
1. Consider your field of employment:
Try to find good denim that is suitable with your field of work. If you are working in a construction field, you should not wear jeans that have fancy stitching and embroidery, along with frills and designs. Depending on work, whether if it is an outside or inside work, try to find a pair of jeans that is suitable and durable and can hold up while working. Comfort ability is also another factor that you should keep in mind. If you are working in an office, tough jeans are not suitable, instead go for the classic dark washed jeans.
2. Think about the environment:
You should always select jeans that should not be either too long and should not be short. Long jeans can hinder the work process and short jeans may look awkward and ill fitting. Try to find a pair that is just a bit long than your intended size. This allows you to hem and alter the denim in the future if considered necessary.
3. Try to check the gap of the jeans:
To know if you are buying the correct pair of jeans, you can try the rule of fingers for checking the gapping. This can be applied for both men and women. When you are trying on a pair of jeans, measure the gap between the jeans and the back. If you can put two fingers in, between your back and the jeans, chances are you will get a perfect fit. If you are able to out only one finger, then the pair of jeans you chose is very tight and ill fitting. If you are able to put more than two fingers, that is your whole hand between your back and the jeans, then the jeans you tried on is very loose and you should try a size smaller than the selected one.
4. Try to check if the fabric is lightweight or not:
Keep in mind that the durability of your pair of jeans is also an important factor. To find how durable it is, try to find the optimum weight for the denim fabric. For men and women, the weight should be somewhere between 7 to 18 ounces. If the fabric is too heavy, it will last for a longer amount of time, but at the same time it will be uncomfortable to wear those for work. If the fabric is too light, the pair will be comfortable for daily use, but it would not last in the long run. So depending on your nature of usage and the fit, try to find an optimum balance between the denim density and the comfort factor of the pair of jeans that you choose.
Benefits of Wearing Jeans To Work:
Wearing jeans to work, not only gives you a good visual appearance, but it also provides an added advantage to your health. Studies have shown that people who wear jeans to work are proven to burn calories more than employees who do not wear denim at work. It is also mentally pleasing for employees, since they feel a boost in confidence when wearing their favourite pair of work denims. The following factors show why wearing jeans are beneficial for employees.
1. Wearing jeans improves your vision:
It is seen that employees who wear denims are encouraged to move and leave their desks from time to time, thus providing their eyes with the much needed resting time and rejuvenation.
2. Employees will be more satisfied:
Allowing jeans for employees will result in a happier staff. Wearing a favourite piece of clothing encourages workers to perform more and be more active at work.
3. They'll help in achieving better health:
As mentioned above, wearing jeans makes the employees more active and productive and these results in burning up of more calories. This also means that employees feel healthier and their heart conditions can be improved. Hence, wearing jeans can prevent cardiovascular diseases and risks up to an extent by encouraging workers to move and be active.
How To Wear Jeans To Work and Look Professional:
There are many ways in which you could match jeans with other types of clothing and make you look presentable and appealing at work. These are the following ways in which you could achieve a professional look while wearing jeans at work.
1. Adding a blazer:
Adding a blazer with your jeans adds a professional and executive look to the employee. Try to wear blazers having a monochrome colour combination to go with the clean and formal look. This look goes well with employees who work in highly professional and executive work environment, such as in investment banks and corporate offices.
2. Try to add minimalistic accessories:
Try to add and combine accessories that enhance the style of the jeans and give a sharp and professional look to the whole attire. For men, they could try adding belts that show their sense of style and adds a touch of personalisation. For women, they could add a simple gold necklace along with basic accessories.
3. Use a cardigan or a sweater:
Printed sweaters helps to upgrade the style and look of the jeans and also helps to add a professional aura to the employee. This look is really suitable for employees who work in semi formal companies such as in advertising and marketing firms. A simple cardigan can add a sense of complexity to the whole wardrobe.
4. A simple cotton shirt:
A simple blouse or a cotton shirt can be really adding a formal casual look to the employee. Men could try wearing a simple button down shirt and women could try wearing a simple top that adds a feminine look.
So, finally we can conclude that jeans can be used in formal settings and they can be used to give a casual formal look to the employee. Depending on the settings at the office, one can easily pull off a formal look while wearing denims to work.