Dressing in a business professional attire is important for success, in a professional office surrounding.
Your dressing sense makes a professional statement in the office or workplace, and if you are not in administrator professional attire for your business office workplace then it may result in end of the vocation.
Whereas the professional clothing or costume, of every person alters for different workplace. But still there are certain standard guidelines which every working individual should keep in mind.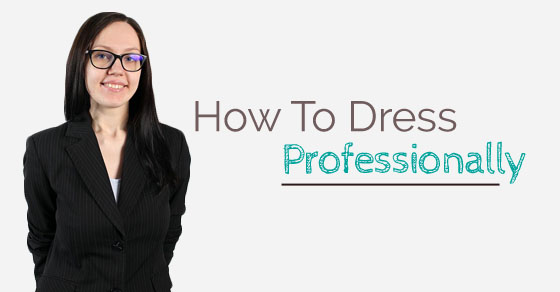 The 6 Guidelines to be followed for a Professional Dress Up:
The following are few top ways to follow when dressing in a professional business attire.
1. Dress in according to the work place necessitates:
Generally in the market many work places or offices give the written instructions that should be followed strictly regarding the professional wear in the office, yet in some workplaces there are as such no provisions till date, so then you need to look around yourself on the very first day and notice that what the other working employees are wearing and accordingly dress up in the same manner.
i. A good Formal Dress Up is the best for high standard jobs and work places such as administrative job, government sector, managing department, etc…more over in some place it's for business which teaches formality. One should always keep in mind that the business offices go with the Formal dress majorly.
ii. The term "Business Casual" generally relates to the offices which are less formal as compared to the high standard offices. But the Business Casual does not mean to be completely Informal.
So you should be alert and keep noticing the office environment and dress up accordingly.
Here, also there are situations where the Business Casual sometimes changes to completely into Business Formals, most likely these situations occur during the press conferences, high standard meetings, office yearly functions, and many more.
iii. A good sober tie with dark pattern color should be the first taste in the business professional dress up for a special event or a special function. For men the Tuxedo and for the women an Evening Gown will be the perfect for these occasions.
iv. The professional dress up demand gradually increases with your incrementing payments, promotions and higher ranks. So one should always keep in mind their working post and dress accordingly which is the best suitable for the office or work place environment.
v. Also there are many places which have a Described Dress Code for the working, like the chefs, nurses, cooks, police men, lawyer, etc…so one should always follow the specific dress code given.
2. Experience the Office Culture:
For getting professionally dressed up, sometimes gets the most chaotic work to do, as every office has a different office culture. So it really matters that what you wear or how you dress up for your work place.
But here is a twist, being in the market you will notice that some of the work places opt for a different look as compared to the Business Formals or the Business Casuals. For example:
i. An Egyptian company was found encouraging it works to wear the dress which the company was going to display on its website during a fair trade.
ii. One of the Biggest Manufacturer of the sports equipment NIKE has asked its employs for an athletic dress up as per the companies work profile.
3. The Season Time:
World-wide the professional business dress-up also has seasonality in according to the changing seasons.
The dress up of the employs changes with the changing seasons, keeping the atmosphere of the office fresh and energetic to work in.
But here also goes a basic guide line for the seasonal professional dress up. Here are some of the guide lines in the world wide workplaces for season time:
i. Light fabric, linen, and soft light dress up are perfect for summers.
ii. Woolen dress up is perfect for the winter seasons.
iii. Wear a white color shirt suitable for every season.
iv. For varying temperatures always wear a layer of clothes well suited for the season.
v. Also a important point to keep in mind i.e. the visibility of skin for women's, the Russian culture allows one to freely wear short or relaxed clothing where as in Qatar one is not allowed to wear such dress up.
4. Color combinations For a professional dress up:
There are as such no color conditions in the professional work attire or dress outfit for any organization to object. But in general one should always stick with the general and the natural neutral color combination for the professional outfit.
For men colors for the best professional SUITS are preferred as: black, grey, brown, navy blue, coke and brown.
Whereas the shirts combination for both should follow: white, black, light blue, light lemon and all light shades available in the market.
i. This is in general a limited color combination which will make your mood boring, but surely one can keep its wardrobe full with the wide range of good combination clothes so that you can easily interchange them accordingly
ii. Color accessories with your professional dresses for work are absolutely fine. The ties, shoes and the scarves can be of different matching colors so that you can make the Professional Dress a bit more attractive, but in general go with the medium light shades as compared to very dark and bold shades for daily uses.
iii. A multi colored and multi stripped shirt will perfectly work for the professional outfit. You can wear vertical, horizontal and cross stripped shirts of matching color for your work place.
iv. The above tips were for those who need to be more cautious for their professional dress up.
The experienced once can opt out brighter range of colors according to the occasion and situation of their work place, but the once who are a bit less experienced in the field of professional dressing they should opt for the lighter color segment which suits them the best.
5. Be aware with what others are wearing:
For the once who are still unknown to the ways to dress up in a professional manner, they should be very aware of the office environment and more over you should see and notice what other working employees are wearing and what dress up they propose.
This will definitely help you to select the perfect professional outfit for yourself.
Generally it is good to communicate to your work associates regarding the miss conceptions of dressing in a professional manner. Search more over the internet to look for the best outfit possible for your professional dress up.
Also take everything into consideration as different events and occasions demands for different dress codes: a company seminar will highly demand an outfit which is highly professional and formal, where as a company pool side party will demand outdoor casuals such as shorts. Flip flops, etc…
6. Synchronized Grooming makes things different:
To look professional and appropriate, you need to dress well and also you need to groom yourself for the work place. A suitable outfit with a groomed personality will make the things complete for an individual.
When you look out for the professional outfits with focus, you should always be worried for your grooming also.
Points to keep you groomed up:
i. Showering. One should need to shower daily to keep a fresh looking appearance. It may also depend on the culture, environment or the climate condition.
ii. Use of good perfumes, scents and deodorants is must for a professional get up. It makes you more adorable when someone passes by you.
iii. Consider a well groomed hair cut suiting your personality.
iv. The beard (if their) on the face should always be well trimmed and tidy in looks, should suit the office culture.
v. The uni-brows are mainly not considered in a majority of places.
vi. For ladies, their legs should always be clean shaved.
vii. Your oral hygiene always matters, if you have oral odor problems then try to get rid of it as soon as possible, because bad odor creates a very embarrassing situation sometimes.
Now as we have discussed about the general guidelines that one should follow for a professional dress up, let us see how men and women should professionally dress for their work places or offices.
How to Dress Professionally For Men:
A professional dress code works very well in the business market. The following mentioned are few top tips about a professional business attire for men.
1. Proper Footwear according to the Professional Dress:
Starting for the ground itself, one should always keep in mind that with a proper professional dress the footwear is also equally important. Good looking suitable footwear is starting of a professional look.
2. Dress to look a bit Over your age:
Dressing to look above your age is important because by looking a bit elder will gain you some more respect and people will follow your instructions seriously, where as looking younger may result in negligence by others and also people may not take you seriously.
3. Build your wardrobe with light collections:
The light color collection of shirts is the perfect choice for all professional dress ups. It works as the main back bone of the suiting. It gives a descent touch to the dressing for professional environment.
4. Get at least one branded good Suit for your collection:
The demand for a Suit is most common during events and company functions, so you should have a descent and a sober looking Suit for the different and special occasions.
How to Dress Professionally For Women:
Good Office attire for women or professional attire for women play a vital role in the workplace. The following mentioned are few top ideas for best business attire for women.
1. Proper shaped clothes:
The professional dress for women should always be in a proper shape and size in according to the body's structure. It should not go over or under length in looks.
If over sized then it needs to be processed by a good tailor for proper fittings and if under sized then it needs to be changed.
2. Proper selection of Suit:
The selection of the skirt or the trousers should be perfectly matching to the upper clothes.
The colors should be neutral i.e. black, carbon black, grey, white, and chocolate brown. Also the skirts should not be shorter than the preferred professional outlook.
3. Full buttoned shirts:
The full buttoned shirts are assumed as the work bank of the professional outfit in business class. A good quality of white silky or a white cotton shirt is the best for a Professional dress up.
Also women should carefully consider and keep in mind that the buttons of the shirt are not gap opening when worn.
4. The sober Accessories:
i. The Close-Toe pumps:
A set of these footwear is a main constituent for the complete women's wardrobe. The height for these set of footwear that is idle for the professional outfit is 3''. These offer you a comfortable fitting where as the style factor is also not compromised.
ii. Pearls:
A perfect set of pearls will go perfectly with almost all the professional outfits you opt for. It really doesn't matters whether the selected pearls are original or fake. The fake once also does the job perfectly if bought carefully with a perfect size and shape.
iii. Leather Bag:
A perfect dark leather bag is the finishing touch of a women's overall professional dress up. It should be kept in mind that the size of the bag should be enough to carry files and documents along with the personal care items.
Hopefully we have discussed a lot about how one can dress up in a professional way to keep up with others in the work place. Always keep in mind a professional business attire dress code will remain professional for a longer time period if kept with proper care and cleanliness. With this you can extend the life of your business professional outfits or dress wares.
Save
Save
Save
Save