Being professional is not only about skills you possess, but also how you project yourself at the workplace, which includes what you wear at job-station. For women, business formals include a variety of options, including skirts. Not the short and skimpy ones, but those that are versatile to accentuate personality, yet gel in with the workplace's dress code ethics.
In some companies, rules are very conservative about how a female employee must dress, while others allow 'business casuals'. Let us find out how skirts for work can fit in these criteria and how a woman can seem dashing yet confident at workplaces when she puts these on.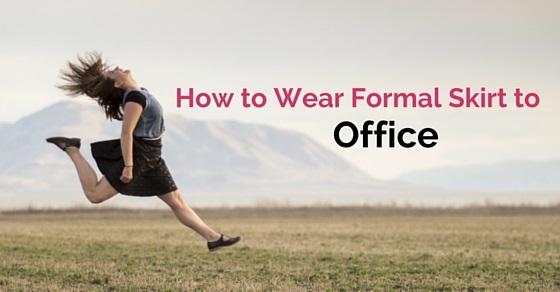 How to Wear Maxi Skirt to Work:
Perfect Pencil Skirt, Ideal Office Formal Outfit:
One of the most preferable formals a woman can wear to work is the pencil skirt dress. It is a beautiful formal outfit for women that clearly reveals her grace. It sits well with sweaters, blouse, jackets and a lot more. A woman wearing a pencil skirt for work has several top options to choose from. These skirts are a great choice for summer as well as winter seasons.
The pencil skirt style dress appears appealing on all body types, making it a viable choice for wardrobe. If you have a pear shaped body, this skirt will reveal your curves in the most graceful fashion. The silhouette of this clothing is straight at waist, narrowing down to knees, hugging body's curves. Select the ones that have pleat or slit at the rear towards the hem to help flex movements on walking.
Professional Look Means Crisp, Clean and Wrinkle Free:
Just getting formal attire is not all. You need to keep it free of wrinkles, dust, stains and perfectly spotless. The clothing has to be washed and ironed when required to, allow it remain free of wrinkles. How you carry yourself at work says a lot about the person you are.
Especially when it comes to skirts you wear to office, they need to be perfectly maintained. When there are wrinkles on a skirt, they may appear shorter than the actual length and these may have a negative impact. This is particularly true in case of knee length pencil skirts.
Synchronize with Attire Color:
You must be a leader in your professional life and strictly avoid following the bandwagon. You need to pick not just the perfect skirts but also matching tops to go with them. There needs to be a proper synchronisation in the colors of your professional outfit if you wish to create a lasting impression. One way to assure this is to choose matching shades of skirt with the top-wear. Soft pastel colors and bright shades both are nice options.
Women usually choose matching shades of skirt and top. The matching theme usually works well when you are picking up light shades. If you want to pick a dark shade, a contrast theme can work wonders. You must take into account your complexion before choosing the shades. Opt for colours that match your skin colour.
Appropriate Casual Skirts That Spell Confidence:
The casual day at office is one thing most of us await eagerly so that we may wear the casual outfits. Yet, you need to be careful with your casual choices too. Short length skirts are usually acceptable in office during the casual work days but make sure you do not wear something too skimpy.
For the office, linen, wool, cotton casual skirts are comfortable options when it is 'casual dress' day at job-station. Keep the clothing mid-knee length so that it falls either below or above kneecap. This way, your casual attire won't offend anyone in your workplace and you won't land in any trouble.
Dress for Office According to Body Type:
Wear skirts that go well with body type. Women with extremely slim figures should avoid opting for body hugging outfits as these can actually make you look lanky and underfed. Similarly, women who are overweight or obese should opt for some skirt that does not reveal those bulging fats.
Even women with those perfect hourglass figures need to be careful. Flaunting curves are fine, but do not overdo it in a professional realm. Do not buy something that will make you uncomfortable in your own skin. You must wear something that looks mature and stylish instead.
Look Good in Flattering Skirts:
Skirt outfits make women look gorgeous but picking the right add ons can make you look even more appealing. Pair skirts with blouses or jacket that easily tucks in, but does not lead to a pull around or bulge at waist.
This makes for an attractive look, without appearing inappropriate. The jackets may be of a darker shade than the top or of a contrasting shade as compared to the skirt. There are multiple options in such jackets and you must pick one that best goes with your figure type.
Alternate Short and Long Skirt outfits:
Do not stick to a particular type of skirt as that may turn to be your stereotype. People at the workplace may stop noticing you after a point. Try to experiment with different varieties of skirts. You may try and wear long and short professional skirts in varying occasions.
You may also try and opt for different styles and different materials for your skirts. You need to catch up with office fashion trends and pick the best skirt that goes with your office dress code.
Play With Patterns for The Rough and Bold Look:
Bring your strong personality to limelight by experimenting with the skirts you wear to the office. You do not have to choose plain skirts always. Buy the ones that have formal prints, designs, chains, and pockets on them, plausible enough to seem professional. Patterned skirts also look good.
Women are lucky to have myriad options among skirts. Patterns of paisley, fall patterns and floral patterns also look great if presented well on a beautiful long skirt. If you do not want to be boring, you must always be willing to try some new skirt and experiment with your dressing styles.
Go For Accessories That Maintain The Formal Look:
It is a great thing to experiment but you should know where to draw the line. You must not experiment too much with accessories that put down focus from clothing. Be selective about accessories for skirts, and dress overall because too much of everything may not seem great with formal wear at work.
When you pick earrings, go for sober ones. Unlike ethnic wear, formal attires look better with simple and subtle accessories. The same rule applies with bracelets and footwear. You may opt for flats or heels but make sure they are not too loud or showy.
Additional Tips While Wearing The Skirts:
Now that you know how and which skirt to wear to office and understand the Do's and don'ts to it, a final tip is the attitude you wear along with the clothing. Combine skirts with stockings for legs to give more sauciness and professional appearance. If you are wearing short tops, you may have some lacy gloves in the winter season to complement your professional outfit.
You need to look mature and thoughtful in your office attire. So use light makeup and tanning compact to go with the clothing. Avoid excessive make up and lipstick as it may make you look more like a clown than a professional.
Tips for Wearing Tops With Skirts:
Any top may not look good with any skirt. You need to follow the office dress code while picking tops to wear with office skirts. There are many factors that you need to consider and we have listed out a few of the major factors:
If it is a conventional office environment, sleeveless tops may not be quite acceptable. Hence, you need to strictly avoid such tops to be on the safer side.
Make sure that your top has the regular neckline. Low neck blouses are not acceptable in a conservative office environment.
You need to always choose conservative materials for the skirts as these are bound to be acceptable. Avoid Denim and Jeans skirts as these may be regarded as informal clothing.
You can freely choose the feminine patterns for tops. These are readily acceptable in all office environments.
Make sure the fit of your top is proper so that you are comfortable while working. If you do not find the right fit in shopping centres and malls, another great option would be to get your attires tailored.
Hairstyle Could Be Crucial Too:
Even when you pick the best skirt to wear to office, a wrong hairstyle could ruin the whole look. There are different office hairstyles prescribed for different face shapes. You must pick a hairdo that matches your face shape. You may consult a hair stylist to know the perfect professional hairdo. This will complete your professional look and you can confidently march into your office and be sure to be noticed by your colleagues.
Save