We live in an era of open marketing. And as an employee, to market one's skills, our dressing sense always plays a vital role. Office attires should convey your core competency and credibility. To a larger extent, it also reflects some personal attributes without going overboard. So it is always paramount to integrate them with the workplace cultural norms. The following mentioned are few fashionable office wear tips for men and women.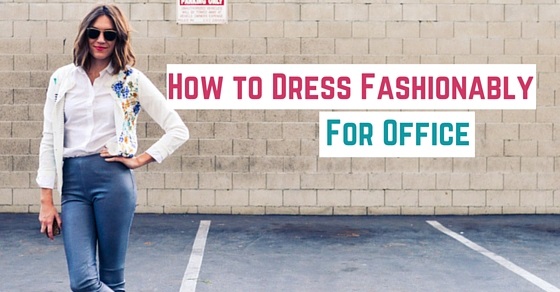 Usually, office wear or attires depend a lot on occupations, offices and states. The right clothing always gives away extra seconds to make a case and influence the surroundings. So they need to understand that they can never afford to take their dressing lightly.
Men's Fashionable Office Wear Ideas – What to Wear to Work:
Pick the Right Footwear:
It is always advisable to ground up before starting. While dressing for office fashionably, every little bit counts. So appropriately fitted footwear is one of the important steps for dressing. You need to understand what kind of footwear will provide the stylish formal look as well as offer comfort to your feet. Men have multiple options in footwear. Pick a shoe that you feel comfortable in. Leather may not be suitable in all weathers. In summer, due to heat, the shoes may smell if they are made of pure leather. Instead opt for modern footwear made from advanced materials that do not stink and cause a havoc. Oxford, Derby, Boot and Loafer are some of the common formal shoe styles that men prefer to wear in office. Go with the footwear that matches your style so that you can make a style statement with your every step.
Pick Mature Outfits:
Men have to be very careful about their formal work outfit choices. You will be perceived in the manner, you dress up. Always dress to look older with the business attire that matches up to the level of maturity. Especially if you have already reached your 30's, people around you may not accept your experimental attitude. They would prefer you to stick to one mature style rather than trying out many different styles of outfits.
Include a Classic Suit in Your Wardrobe:
It doesn't matter what is your best style, you need to have a classic business suit for special formal occasions. Regardless to the nature of your job, at some point you will surely need a decent classic office suit. So it is better to have a good decent suit in the wardrobe.
Suits go best when there are award functions and ceremonies. It is also a great outfit option when you are planning a meeting with foreign delegates. Black suits with white formal shirts are the most common options for men. But you may also try out shades like grey and brown based on what will go best with your look and complexion.
Pick Colors That Spell Authority:
Try to make dark color choices for the clothing either for jeans, shirts or pants. Dark rich colors always depict the authority. This is a general rule for men while selecting their formal business outfit. However you need to make certain exceptions based on your complexion, looks and height. If you have a darker complexion, it is wiser to choose dim shades like light brown, off-white or pale gray. Avoid shades of pink, purple and magenta as these are predominantly female shades and may not go well with a thorough male persona.
Select the Right Accessories:
The right accessories add the final finishing touch to your outfit. Accessories always make a man complete. So always pay attention to your bag, watch and polished shoes etc. These are small things but they get noticed easily by people working with you or those around you.
A man who works in a corporate work environment should be careful about his choice of watch, shoes, pen and cufflinks. These are accessories that define your class.
Be Perfectly Well Groomed:
Fashion is not just defined by your stylish garments and accessories. It is also decided by the way you maintain yourself. You need to be perfectly well groomed to be an ideal employee in a corporate work environment.
Make sure you have your face clean shaven. A slight stubble may be trendy but it is usually not acceptable in most corporate work environments. You also need to make sure that you have a well trimmed hair cut. Long hair for men is usually not acceptable in corporate work environments.
Even though women are making tramps to the workplaces, but selecting proper office clothes for work or meeting always remain a challenge. Your clothing shouldn't be too skimpy and tight. Especially in a case of women, if your clothing is bit extra revealing, it may distract people around you and you may even invite the wrong kind of attention. Clothing is one of the overlooked components of women's professional life. Employee Handbooks issued by your company also contains formalized dress code. It is a good initiation to procure what is the most suited wear to the office. A good option is to observe the clothing styles of your supervisors and women working in your office at the time of starting a new job.
Trendy Style Tips for Working Women:
The following mentioned are few basic tips on fashionable office wear outfits and best business attire for women.
Women Look Stunning in Business Formals:
Business formals are one of the most stylish attires for women who are working. You should prefer them while going to court, presentations or usual office days. It is the best compromise of a blazer with a skirt of matching fabric.
There could be several colour options even in business formals. You must pick the shades that look best on you. Correct choice in business formals is what gives you the perfect professional look.
Being Well Groomed Matters:
Grooming is extremely vital, especially for women. Always go for regular pedicures. Regular waxing will help you have a smooth and clean skin. If you are wearing formal skirts, it can be annoying if someone spots hair on your legs.
You also need to regularly cleanse your facial skin. As women travel to their workplace, they are bound to be exposed to dust, filth and pollution that may damage the skin in the long run. Regularly cleansing can help you keep your skin clean and give you the perfect stylish and fashionable appeal.
Select the Right Shades for Dress Pants:
All women wear business formal attires to office. The factor that distinguishes an ordinary looking woman from a fashionably dressed professional woman is her choice. Dress pants, appropriate blouses and denim jeans are like the building blocks of your images in the workplace. Try to procure strict solid natural colors like camel, black or navy. Pick shades that suit your complexion. You need to invest some time to gather the right garments for regular office wear.
Accessories Can Help To Add The Finishing Touch:
Impressive accessories can always transform your entire look. Fashion attires always demand a bit personalized accessories. It should include leather bag, pearls, chunky jewelry, watch and proper bracelets etc. But these things shouldn't make noise. Yes, since you are selecting accessories that you may wear to office, go for jewellery that does not jingle or make noise. Studs and stone earrings with screw back design would be apt to wear to office. They look classy and elegant on simple formal office attires for women.
Strike a Balance Between Fashionable and Comfortable Footwear:
Women are often tempted to look the best.In the course, they may even wish to sacrifice comfort a bit. That is the reason why many women happily go for stilettos and pencil heels though they are not ideal for the workplace.
This is really not the right approach. If you are not comfortable in what you are wearing, you will never be able to concentrate on your work. Even while you pick a footwear, you need to keep this simple fact in mind. If you really prefer heels over flat footwear, you may opt for platform heels or wedges. While these help you look tall and elegant, they are also much more comfortable to wear compared to pencil heels. Wedges are also available in number of colours and shades. You can pick a shade that goes well with the outfit you wear to office.
Other Simple Tips To Look Fashionable in Office:
While these were some basic tips for men and women to look fashionable in office, here we have listed out some additional tips that work equally well for men as well as women.
Keep track of the latest trends in men's and women's office fashion. Being the first in initiating the latest style in the office always matters.
Never repeat the same colours, styles or shades. Your peers may regard you as a stereotype if you do this.
Always maintain the best hygiene habits. Remember that even the best fashion and style does not count if you are unhygienic and have annoying habits.
Save