Do you want to double up your money in a year safely?
Are you worried about your future expenses and would like to make a whole lot of money within a short period of time?
If the answer is a yes, then this post will surely help you.
In this article, you are going to learn how to double your money within a year's time safely. The tips and money making ideas enlisted in this post are quick and easy and we are hoping you will be benefited greatly.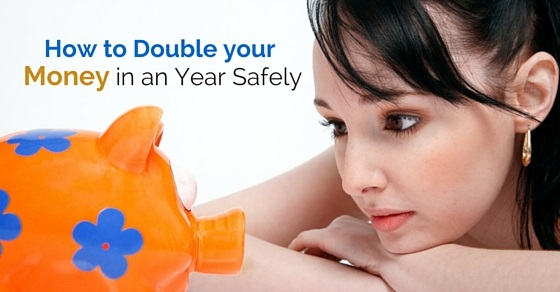 Secrets to Double Your Money in 12 Months:
The following mentioned are few tips on how to make money and also ways to double your money within 12 months.
1. Be very careful of frauds:
People often believe in the 72 equation and like to think it is straight forward and easy to double up your cash. If you want to make money quick in a lesser period of time then you just have to look for an investment plan that gives you a bigger percentage yield.
Isnt it? Obviously NOT!
The first and most important thing you need to do is see that the average return provided by every stock market over the past few decades is around 8 percent or not. That will surely be a better way to go about it.
2. Learn the 401 k plan:
Try the 401 k plan if you want to know the easiest and best way to double your money you have earned in the past. This will help you make investments in matters of mutual funds that will hopefully give you a minimum of 8 perfect returns.
An example can be used to illustrate this. If the investment you are making comes straight out of the paycheck, then you are actually spending about 25% more than what you would have in case you held on to something with the cash once you got your paycheck after the taxes.
After this you may also consider that more than most of your employees will give you an equal contribution for every single penny that you will spend on the 401 k plan. So then that would again help in building up a lot more money over a period of time than just if you tried doing something on your own.
3. Boost your leverage:
If you are keen on increasing your income drastically within a year, then try to boost your leverage. This of course is not something that happens within a time. You have to be patient and wait for things to change. A year is good enough for dramatic changes though. The faster you begin, the better results you will get.
Always remember that there are two kinds of people in the world…those who are currently experiencing leverage and those who are creating it. It is your goal to decide who you want to be out of these two. So pick your choices carefully.
4. Boost your value at work:
If you want to double your money within a year's time, you have to boost your value at work. You must know that both the janitor and your boss work for the same number of hours a week but it's your seniors who get paid more. The reason is that these people bring value to the work place. So what you should do in cases like these is increase your value.
You could do a three month course or something that improve your standard or come up with impressive ideas at work. Your assignments should always be done on time and make sure your work is outstanding. In that way you will get promoted, make more money, save more money and double your money.
5. Start something new:
Apart from working at the office, you can also do something new to make more money. This will surely help you earn money a lot and double up the cash. A new kind of business is an example.
If you are successful, you can always make more money in the process. So do yourself a favour and come up with a new idea that will help you double up your earned money in a year.
6. Dividend Stocks:
Even though investing in individual stocks is an exceptional way to deliver the best results, you may also do it in a smarter way. This is something that I absolutely love about dividend stocks.
They will help you boost the regular stocks but will also set you a payment before you can have ownership on the stock. This is obviously very good news because it can hedge your investment.
My strategy with dividend stocks are the best way to pick those chips that are well known and will give you around 3 to 4% return when it comes to dividends. In this way more than the average return will be guaranteed to you.
7. Saving those products that are high in interest:
Even if you do not pay the entire amount at this point, most of the high-interest saving accounts and CDs at some level will surely have some worth in your life once again. The banks will again raise the rates of national interest and it will be of great news for your savings.
It wasn't a long time back when I had an account with a particular bank that was giving me a 5% return guarantee. Before that I also had a CD which would give me a total of 6% return every year.
As far as things like consistency of returns is concerned, there is no way you can actually beat percentages using a technique like that.
8. Something you should always remember:
Never become too greedy while trying to double your money within a year's time. Obviously there are no quick schemes that promises you doubling your cash within a month. So don't make the mistake of falling for traps like these.
There is no quick time to make schemes, so expecting unrealistic results is your fault and not anybody else's. You should look for investments that look both safe and realistic. In the long run, you will be glad you made a result like this.
9. Spend lesser than what you are earning:
A smart, easy and simple way to double up your cash is by spending lesser than what you earn. The amount that you have left at the end of the month is usually your saving. But to be honest, that shouldn't really be the case.
You should save at least a whole lot of money for the first three months to see how much you are capable of saving. This is a best way to invest the money. In that way, who knows? You could double all your money within a years time.
10. Make investments in bonds:
The kind of stocks and bonds that you have will speak a lot about your age, the goals you would like to reach and the kind of tolerance you have towards risk.
If you happen to not fit into the profile of a person who should be invested quite heavily when it comes to equities, you could look forward to those bonds that will double up your cash.
If your bonds give you an average of 5% every year then according to rule number 72, you shall be able to double your cash in every 14 years approx.
Always remember that people who drive too fast and too slow have very little chance of reaching their goals. But if you follow the speed limit, then most of the problem will be solved.
11. Pick the right policy bond:
Before you choose a policy bond, make sure you have seen it thoroughly. It is very important to know and have a good idea on the policy before you sign and start making quick investments.
Remember there are hundreds of frauds out there who are waiting to fool you. So be very careful and don't go to some random agent, someone you do not know at all.
Instead choose a person you have known for a while or take some recommendation from a friend. Or the best thing you can do is go to a bank that you trust. That always works!
12. Purchase Ukraine:
Now, this is a very smart plan and perfect for those who are business professionals. The risks are quite obvious and we don't have to explain them to you.
The smartest method using which you can purchase Ukranian currency is by buying it. Known to us as hryvnia, it is one of the most preferred routes in all stock markets.
Conclusion:
This brings the post to an end. Doubling up your money is surely not the easiest process in the world, especially if you want to make it happen quick. But if you follow these unique steps and tips, you will surely find help.
On that note, good luck and here's hoping you find the best investment plans so that your money is doubled in a safe manner over the year. Plus if you have any feedback regarding the post, then do post your questions and comments below. We would love to hear from you!
Save