Every day in our life, we experience a lot of confusion.
Sometimes it is of very small importance like which dress to wear, what to cook, what to eat, etc. They are being faced easily because it doesn't hold any importance and can be dealt with even if it is been chosen wrong.
But people panic, get confused and worried when it comes to major decisions like career, relationship, etc. This confusion occurs due to the fear of facing a change in life which in turn creates stress.
Stress and confusion happen because humans fear to move out of their comfort zone, as a career is something possible only when you make it happen.
It is very easy to overcome the confusion in a career at various stages of life only then we realize the importance of an individual.
Let us briefly discuss a few tips for the people who are confused about careers.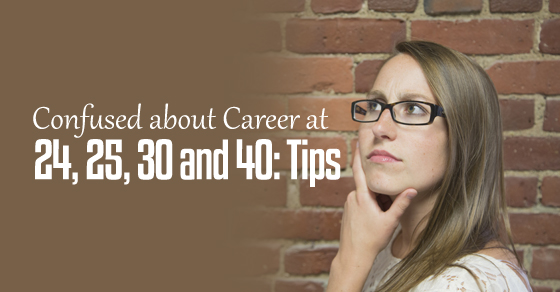 Confused About Career at 24:
Fear-base confusion happens when you forced to take a decision which you know will create a great impact on your life.
Worry not, everyone in this universe has to make a decision on their life, be it family based or career based.
Never feel all the decisions made has to go positive and successful once you start thinking of what to do in your life.
Sometimes a wrong decision might also lead to the new desire of your life. This part of the decision of your life might sound crucial but believe, it's going to something which you wanted all these 24 years of your life.
Before deciding what you want to pursue in your career, make sure you take some time to know who you are as a person, what you love to do, what is your longtime dream in your career.
There are few tips which would help you to take wise steps towards your career.
1. Take it your way:
Before choosing your career in the 24's make sure to know what is your goal or vision of your life.
Be positive about your dream, there might be some hindrance that scares you now, but believes, down the lane, it might become nothing when you pursue.
For example, your dream is to become a chief editorial head of a magazine in about 20 years, what you need to do is to join a journal magazine company to what it is all exactly about.
2. Prioritize:
Know your needs of the present age of your life rather than thinking about your future needs.
When you feel money takes the lead, don't try to compromise your vision fully but plan accordingly to your career.
For instance, you want to practice law with a leading person in the field, but you are offered a payment which does not meet your need. Don't get back from the vision, rather do some extra job in the same field to earn more.
Be an opportunist. End of the day it is in your hands to make the most.
3. Evaluate:
Next, the queue would be evaluated.
Note down a list of positives and negatives of the choice you are planning to make. Try to know which leads to the queue of your decision.
Imagine yourself how you can overcome the negatives of your decision if it seems to manageable move or else rethinks about your choice.
4. Seek help:
When are not sure about your choice, try to ask help from the right person to guide you all the way.
Please make sure the mentor you wanted to choose is someone who has good exposure to the field you have chosen.
Most of the time, experience plays a good role in guidance for a decision in a career.
5. Socialize to know it better:
It is very essential to socialize at the beginning of your career to know how exactly a work atmosphere would be.
Try to be in contact with people who have already been successful in the path which you have chosen.
You might not know, even they might consider you for a job role in their firm or an organization.
6. Job boards:
Register yourself in as much as job search sites to know the vacancies in your field. Keep your resume updated, and attend as many interviews as possible.
Once when you look out for many opportunities, you might know exactly where you stand in the field and it also boosts your confidence about yourself.
The more you face people, the more you feel the market of your interest. Hence it is very important to always look out for opportunities when you grow.
7. Be ready to move through the way:
Once you have set your goal, prioritized, evaluated the outcome, got good counseling then make your career choice and don't overthink your decision as there is nothing that cannot be taken back.
Confused About Career at 25:
"Once you make a decision, the universe conspires it to happen"- Ralph Waldo Emerson
The saying speaks itself about how we should approach the decision made.
There is no good choice or a bad choice when it comes to career. That too at the age of 25, try not to worry a lot about decisions made rather try to make your decision work.
There is always learning at any possible outcome. Trust me, you learn more from bad decisions made than the good ones.
Uncertainty applies to all things in life. It is how we overcome our difficulties matters. Work hard to make what you have got into best than looking back at the decisions made.
You might no longer be a fresher at your 25's, so make yourself ready to work smartly knowing your flaws. Remember these tips when you are confused about a career at your 25.
1. Revise:
Try to recollect what you have crossed in your career so far and its consequences. It might be good or bad. Contemplate the results to plan your future.
2. Draw a short plan:
This is the time where you get lots of time to correct your mistakes and give what you can do the most. It may not be the best, but not worst too.
3. Research and experiment:
Try to do lots of research on your job, and keep updated. Try to experiment with all your knowledge to be outstanding.
All you have to do is throw some light on yourself wherever you are.
4. Put some extra effort in your resume:
It does not mean, once you join a firm you are done with your resume.
You need to keep yourself update on the market as it is very important to accredited with some proper certification to recognize all over.
5. Know your Manager:
Knowing your manager is very important in the early part of your career because you are been hired to meet their demands. Hence, try to cope up with his expectations to climb the ladder.
Confused About Career at the '30s:
Being confused about your career at the age of 30 has become very common as people have started realizing what they need in their career is not only money.
People have started feeling their job is so routine, no excitement and they not satisfy with ambitions. There arises a sense of no fulfillment in their job which makes them confused with fear.
They opt to do a master's degree in some top universities or switch a job just for a change of environment. Some people wanted to become an entrepreneur in '30s once they are financially stable.
Before making any decision to switch a job or start your company, ask the following questions to yourself and then move forward.
1. Are you going to do the same thing?
Ask yourself this question to know what is running in your mind. If it is going to be yes, rethink your decision as it will also be boring at some point in time.
Never confuse yourself or decide haste.
2. Are you ready to take challenges?
Once when you decide to start a company on your own, ask yourself this question to know whether you are ready to take the challenge.
Remember, even though you hire people to do various jobs in your future company, you will be the one who will handle the responsibility of allotting multiple jobs.
Commitment is needed more for an employer than an employee.
3. Are you going to create a new starting point for yourself?
Remember, be it a job switch or becoming an entrepreneur you need to ask this question because unless and until you have a new starting point, things will be the same.
Create a new life that would satisfy your dream and your life vision. Make a plan that has fresh ideas to execute.
Also, make sure you have a nice new environment that makes you feel contented for your choice.
Confused About Career at the '40s:
A career change for people at '40s might sound ridiculous, but in reality, this situation arises due to some unavoidable reasons in the workplace or due to some emotions which take from the employee's perspective.
There are very few common reasons which might happen in the early '40s for an employee in an organization which makes them quit. They are
1. Disrespect to the years of experience:
This happens most in the case when the top level management is of lesser age than the employee.
They tend to underestimate as they feel they outdate in the pace of technology.
2. A sudden decrease in salary:
An employee tends to come out of the firm when he feels he, not pay as before, around 10 years back.
3. Need for a change of place:
An employee might feel he bored of the same work done all over the years together, he might need a change of place or a complete change in the environment.
Sometimes employees also want to decide on changing their job by themselves for starting their venture. An employee needs to think twice before they take a step out of the organization, as the market flood with people without jobs.
According to a survey, people above '40s are being hired for their good number of years of experience, and their stable management skills.
At the end of the day, talent remains the same even at the age of '40s. It is in one's own hands to showcase it and make a difference.
Conclusion:
For everyone, a career is something that holds a major part in your life. The right decision is very important to climb the success ladder. But still, sometimes we move up or sometimes it does not work as we wanted it to be.
All we need to remember is everything is learning until we decide to quit. We will only lose once we hesitate to try and avoid the situation rather than facing it.
Put the maximum effort to search the right career for you. It doesn't mean you got to overthink about your decisions. Of course, the more you sow, the more you reap.
Invest your time wisely and put your talent in the right place without the fear of trying something new.
It may not be as encouraging as you expect, but certainly, it would justify yourself in your career. Do not let the confusion in your career take charge of you.
Remember to keep the above points ticked before you decide on your career. There is a beautiful saying telling what career is for passionate people,
"Career is not just a gratification, it is a relationship"
Save