As we turn young adults we discover the perfect style of clothing that suits us.
We become highly knowledgeable on how to dress for particular occasions. A person's success begins the moment someone looks at them and their appearance.
Thus one has to learn the art of making an impression on people by their attire and looks. You must thoroughly plan how you want to look and how to act accordingly to acquire a specific reaction from those who look at you.
When you master in the art of making an impression, it surely has a positive impact on your career and business.
From the below dress to success tips learn how to dress for success and generate a professional image.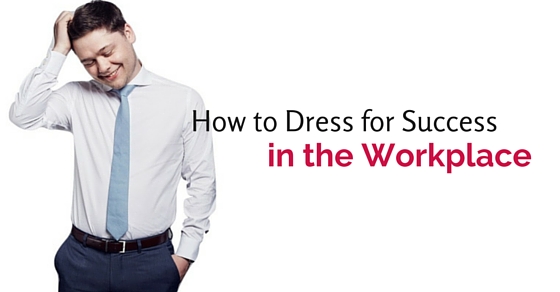 The importance of Dress to Success:
The following mentioned are few career tips and work outfit ideas on how to dress for work and perfect business dress tips for success.
1. Factors of complete appearance:
Color, style and the fit are the key factors for your complete appearance. Color affects the people's corporal and psychology.
The business arena is not an exception for this fact. Style plays a vital role if you want to display power and professionalism.
When clothes fit you well, it appears as if they were made for you.
2. Color:
Each color communicates a message and contains an impact of its own. How well you are able to put them together will convey your message.
The dark colors like black, navy and dark grey shades will imply psychologically power, knowledge, responsibility and success. White denotes cleanness, formality and sophistication. Pastels symbolize femininity and softness.
3. Avoid brown:
The color brown indicates that you are reliable and firm.
However it even implies that you do not have power and authority. It is better to avoid brown and looking less influential.
4. Style of clothing:
You look more powerful when you wear a suit coat with long sleeves, faintly padded shoulders, which adds authority, plus a collar. Pleats would add bulk.
To provide you an illusion of heights wear classical three -buttoned jackets. The men and women who have average height can wear single- breasted jackets. The double-breasted jackets match the taller people.
5. Fitting:
Most of the stores offer free tailoring and it is wise to tailor your clothing to provide you with perfect fitting.
Buy your accessories and shoes along with outfits so that you choose a complete look that goes well with each other and looks ideal on you.
6. Clothes reveal self-esteem:
When you wear clothes that are not fitting well, or are torn, or messy, it display others a deprived sense of self worth.
Through what people see outside of you, they get a picture of your inside. Impression is in the summit and so it helps people comprehend what is the reflection of your inner self.
7. Dress up reveals self-respect:
There are very few people who have got the ideal shape and size. However one display self respect when he dresses up to showcase the strengths of his body and effectively reduces the flaws.
8. Lack of self-respect:
People lack self-respect when they wear clothes that do not suit them. One must understand and accept their body shapes.
For instance, women wear low necklines, short skirts or tight pants as well as some men wear short pants, spotted ties, torn jeans etc.
Self respect has a big part in understanding and wearing clothes that fit socially and dress professionally.
9. Demonstrate confidence:
The manner in which you carry yourself speaks the confidence you hold to the people. What you wear equally shows confidence in you. Your aim always must be to generate an aura of confidence and assertiveness as you walk into a room full of people.
When you are comfortable in particular attire, you are confident about yourself. Thus allow your attire to contribute its part.
10. Clothes reveal your managerial skills:
You must appear organized in your clothing style and the choice of color. You must have a cohesive look from head to toe, not just summoning attention to a single particular part of your attire. The recruiters judge organizational skills by the appearance of a prospect.
11. Accuracy of judgment:
You must know what to wear in what particular occasion. The knowledge and judgment of what clothes go well for a specific occasion speaks a lot for your accuracy of judgment.
You should know when to wear a suit or dress up in business casuals or the formals to blend in the occasion aptly.
12. Pay attention to the detail:
Only the 90% of your body implies business as you are clothed, the rest of the 100% of your impact can be made through accurate grooming.
It comprises of trimmed mustache and beard, manicured nails, clean, neat and attractive style of hair plus appropriate amount of makeup and accessories.
13. Be clean and fresh even for casuals:
Paying attention to details is not just for the formal wears but even for casual dress code in the workplace. Staying neat and clean with fresh and ironed clothes, you make an impression that you respect your work and profession.
If your peers are in casuals and not groomed well, do not follow their example but stay groomed and be an exception so that when a superior passes by, you stand out.
14. More on Grooming:
There are some inevitable aspects of grooming to keep in mind to dress for work. Avoid any extreme hair color, cut or styling. Women must avoid excessively long nails.
Make sure tattoos or piercings, other than the conventional ear piercings, should not be visible. Avoid thick and large jewelleries. Avoid smoking before entering the workplace.
15. Clothes reveal a lot about your creativity:
All the businesses permits you to atleast personalize a little. Take the advantage of it and portray your uniqueness by wearing a special tie, using matching handkerchief, scarf or an exclusive piece of jewelry.
Perhaps you speak your uniqueness by the way you tie around your scarf or the way you use a hankie matching to your blouse or suit etc.
16. Understand your industry:
Since the advent of internet, clothing for the workplace has turned a bit more casual in few professions while others still remain very conservative. Remember you must be dressed up well to reflect your job.
Whenever you go out for shopping you must take into account what is your company's dress code, casual, fashionable or conservative. You can be versatile in accordance to your company's dress code.
17. Strategic shopping:
The quality of your clothing speaks a lot about you as a professional, thus choose good, atleast best quality of attire and materials.
It is always clever to choose pieces that will remain in the trend for quite a while, so you remain trendy with the clothes showcasing your growth.
Men must spend more in blazers and shirts on the other hand women must invest more in shoes, belts and purses.
18. Organize your closet:
In the sprint to go for work, avoid wearing clothes that does not go with the workplace or fit you as well. Therefore, you must keep your closet organized.
You must arrange clothes according to their appropriateness to workplace and keep them in their designated place. You will be spared from the morning struggle to get something apt to wear for work.
19. Wearing appropriately:
Regardless of any industry it is tactful to wear appropriate clothes at work, bearing in the mind to have respect for self.
Thus women must avoid formfitting, short or low cut clothes and men must avoid clothes that make them look like they are heading for the beach or enjoying the Saturday evenings.
20. Dressing according to age:
Many professionals make the blunder of wearing like the young, revealing on part of the women and frat boyish on the part of men.
Conversely, some wear like the old to appear more professional. Never forget to dress as per your age and let your brain and work speak for your professionalism.
21. Light Makeup and Perfume:
Makeup should be very light and natural for the workplace. Your makeup must be day friendly and avoid overdoing whatever little you apply.
When spraying perfume remind yourself that perhaps you are not able to smell the perfume; however others can definitely get a whiff of it, so keep it light.
22. Follow your superiors and not the peers:
You can certainly gauge what is acceptable way of dressing up by making note of what your superiors wear and following them.
Perhaps all of your peers are in jeans at work but you are wearing trousers in accord with your higher-ups.
This will surely demonstrate to your superiors that you are more serious about your work and your attitude would display that you are a more promising candidate for promotion.
23. Understand difference between following and copying:
You must know there is a thin line between following someone and simply copying them. When it is said that you must follow your superiors on clothing, keep in mind to not replicate their ties or wear the same kind of suit or keep replicating your entire closet with the same clothes as your senior.
You must go for professional attire that can be comparable and which works well for you.
24. Be appropriate even on casual days:
You surely are being permitted to wear something that is casual, but it does not mean you have to wear something that is illustrating what you imply to do in the weekend.
Beach wears or party wears or simple shorts must all be neglected.
25. Go for apt shoes:
Wear footwear that you are comfortable working in, is appropriate for work and which speaks your profession. Flip-flops and heels are surely not good for working environment.
Formal shoes for both men and women are apt. Sneakers and wedge heels shoes for men and women respectively should be appropriate for casual days.
26. You reflect the image of your company:
In times where you need to deal with an outsider in relation to the business that prospect wants to make with your company, the professional dress for you plays a very significant role.
You display your company's image and status through your dress up. Dress up formally even if the meeting place is in a casual setting.
27. Dress up for the job you aspire to have:
The most basic trick to dress up for success is to wear on attire for the job you wish to have. You must evidently show that you are just not prepared for the promotions but know the dynamics of the title by dressing the part.
You just do not act serious but appear serious from your clothing to reach the job title you wish to have.
28. Write down your goals and reflect:
Write down your goals and place it around your mirror. Make sure the mirror is a long mirror so that you can see yourself from top to bottom.
When you look at yourself, check whether you reflect what you want to be? If not then endeavor to look like one, if yes, you surely are ready to go to work.
29. Do not take business casual too seriously:
If your industry, boss and the company all support and lean towards casual wear, wearing business formal clothes can make you look restricted and overly straight.
For instance, in creative industry, employees are mostly allowed casual clothing as they lean towards creative and comfortable wear.
30. Ask when in doubt:
The boss knows how important wearing impactful clothes are and so it is completely fine to ask whether what you should be wearing in a particular occasion when you are in doubts. There is nothing to be shy about.
Perhaps the employer will feel happy that you consider his take as to what should be worn and it will show your respect to company culture.
Perhaps dressing for success will take considerable time and effort, but the result is significant. You will appear and feel more confident and assertive. You will stand out in the crowd of your company as a professional.
Save