Sporting a decent, professional look at your workplace is essential in order to create a positive image in the minds of co-workers and seniors. Recent research has confirmed that women who do apply makeup for office have greater chances of getting a promotion. However, this doesn't mean that you will need to apply excessive makeup. Maintaining a proper balance is essential.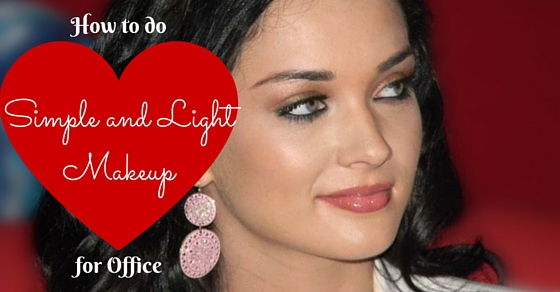 Women who do excessive makeup for office often end up creating the wrong impression in the minds of their seniors and coworkers. While you are in office, you need to maintain the professional air by using simple light makeup. This means that you need to maintain your professional look. Overdoing the makeup can ruin this look.
Choosing the right makeup based on your skin tone is also considered very important. Here are tips on how to do very  light makeup which will help you retain a perfect professional look.
Simple Ways to do Natural Makeup for Office:
Simple makeup for office is always apt as it avoids providing wrong impression. The following mentioned are few tips on how to do makeup for office or how to put on a light makeup.
Start with the eyes:
The beauty of your face greatly depends on where you start applying the makeup first. The best approach would be to do your eyes first. Make sure you apply makeup that suits your eyes and give them the perfect penetrating look they deserve.
Once the simple eye makeup is done, you can continue doing up the skin surrounding your eyes. This way, you can coverup for any smudges around the eye or on your facial skin.
You should start your makeup by applying a base around your eyes. The presence of a good base will ensure that your makeup stays intact over a long span of time. Use a concealer to cover dark circles. Once you have done that, go for eyeshadow makeup by using colours that make your eyes look bright.
Matte shade in brown or light pink could be suitable options. To avoid smudging, apply a black eyeliner. A waterproof one would be the best option. Then, apply one or two coats of waterproof mascara as per your preference.
Apply a cleanser/Facewash:
To have a fresh and natural look, make it a point to use a good quality cleanser on your face and rinse it. There are several cleaners available in the market but few are really of good quality. Many of the cleansers are made from acidic substances that are harsh on the skin. You need to select a mild cleanser that cleans the skin without having any side effects.
If you do not come across good cleansers on the Internet, you can even try and prepare natural cleansers at home. These are cleansers made from natural substances and their effects last on the skin for long hours. Wash your face with the cleanser to get rid of the accumulated dirt, filth and foreign particles. Your skin will then revive the fresh and glowing look of youthfulness.
Toner:
An even skin tone makes one appear young and beautiful. If your skin tone is uneven and patchy, the face looks dull and unimpressive. So you need to take special precautions to avoid the patchy and dull look of the skin.
It would be wise on your part to use a toner to remove any residues which have been left behind by the cleanser, in order to ensure that they don't block your skin pores. Go for toners that match your skin colour. This way, the extra layer of toner won't be easily visible and you will retain your natural and attractive looks.
Cheeks:
While applying makeup on your cheeks with a blusher, make it a point to ensure that it matches with the shade of your eye shadow as well as your skin complexion. Don't go for anything which is too shimmery. Shades such as peachy, very light pink or very light reddish pink would be the best options to create a simple, yet stylish look for your workplace.
Avoid dark red, dark pink or other loud shades that make you appear like a doll rather than an employee. You should be wise with your choice of shades when it comes to foundation and blushes. A wrong choice can ruin the entire look and impression.
Lips:
As compared to eye colours, you can have a bit more freedom while opting for lip colors. Your main concern should be to ensure that they aren't too bright and look odd on you. But keeping the office environment in mind, you can opt for a neutral matte lip colour. Create the first line of your lips using a lip liner, close to your lip colour before applying a lipstick of a lighter shade something similar to pink, peach or brown.
Many people make the mistake of selecting loud lip colours for the lips. While you get to see secretaries boast of loud red lip colours in movies, in reality, it is best to opt for subtle shades. Loud shades make you look flamboyant and that is not the look preferred during official meetings.
Use a moisturiser to create an even skin tone:
The quickest and natural way of moisturising your skin is by using La Mer The Reparative Skin Tint SPF 30 which is a tinted lotion. As it is sheer, it doesn't need to match exactly with your skin tone. It helps you get an even and professional look so that you can head to office confidently.
There are many natural options to moisturise your skin. You can try these too if you are not keen on using chemical moisturisers. Milk and lime are ideal to regain moisture for your facial skin. You need to make sure you are not allergic to any of the natural alternatives before you apply them on your face.
Apply some powder if it is necessary:
In case your skin becomes shiny, apply an oil-absorbing powder such as Bare Escentuals Bare-Minerals Matte SPF 15 Foundation. Apply it with a brush in a circular motion to create an invisible veil. You need to be wise and careful while selecting a powder for your skin. Go for a powder from a known company so that there are no side effects. Adverse side effects can cause your skin to lose all the colour and beauty so make sure you choose wisely.
Use a dot on eye pencil:
If you feel that your eyes need some more definition, then what you can do is to create light dots of soft gray or brown pencil in between the top eyelashes. The Shiseido Makeup Smoothing Eyeliner Pencil in Brown would be a perfect option in this case.
Eye makeup styles should be selected wisely. Avoid eye makeup that smudges easily. You must also avoid eye makeup that gets washed off with water. Opt for simple eyeliner and eye shade that do not get easily affected by sweat, heat, water or time. Check the expiry date of the eye makeup. If the date is over, the eye makeup may cause an itchy reaction on the skin of the wearer.
Select a foundation:
Though a dewy foundation would be a suitable option, in order to look fresh throughout your working hours, you need to go for a matte finish foundation. And provided you have acne-free skin without dark circles, then you should opt for a foundation that goes well with your skin tone to create a fresh look on your face. Don't forget to use a nourishing moisturiser after you wash your face.
Apply a bronzer:
Use a large, fluffy brush in order to apply bronzer. Whirl the brush in the bronzer and tap it before applying on your cheeks. Then, sweep it up and down a number of times from your cheek's outer part, before you work your way in. Repeat it on the other side also. Follow the same procedure on your chin, forehead and neck.
Use perfumes with a bit of care:
A perfume is one of the essential things that you apply on a daily basis while going to the office. But to create a good impression, opt for light scents, such as Romance by Ralph Lauren. This soft fragrance is best suited for use in the workplace. You may also go for powder-boosting ingredients such as rosemary. Research suggests that smell enhances mental performance and creativity. So, use perfumes sparingly.
Avoid the use of strong perfumes. Many people are allergic to strong perfumes. They develop cold or similar allergic reactions when they inhale strong smells. It can affect people in your workplace and prevent them from putting their best at work. This is another reason to opt for light fragrance perfumes. These do not affect performance but create the perfect ambience for working.
An office going woman is often posed with the challenge of selecting the right makeup for office that casts the spell without creating any negative impressions. The main function of a makeup for a working woman should be to enhance her look and create the professional appeal. A working woman should keep this in mind while selecting her makeup. Good makeup is surely worth investing on. It may be a bit expensive but is worth it, if it creates the right impression.
Save
Save
Save
Save
Save