Wearing red lipstick at work. To do or not to do? That is the question. And a very valid question indeed.
The color red, for centuries, has been laced with sexual connotations. In reality, the color red actually symbolizes Love, Boldness, even Loyalty.
After all, what color is our blood?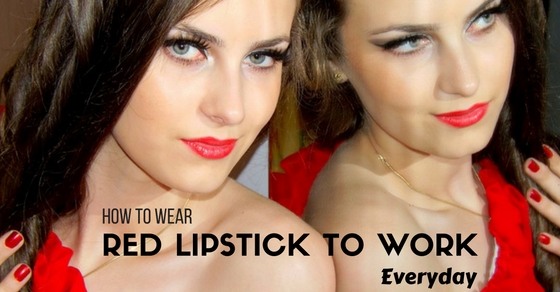 While it is true that there are certain strict rules when it comes to work related etiquettes , cultures and even outfits, wearing red lipstick is not one of those rules to be strictly adhered to.
When worn correctly, red lipstick can most definitely be an extremely feminine as well as empowering color for women to sport on their lips.
Women are always on the ledge about whether wearing red lipstick to work would be appropriate, or even having doubt in themselves, whether they would be able to pull off the look or not.
If you are planning on taking the leap, and sporting a nice, bright red lippie on your next day at work then follow the mentioned ways on how to apply red lipstick that stays on at work.
Easy Tips for Wearing Red Lipstick:
Below mentioned are few best tips on how to wear lipstick and also about the different shades of red lipstick.
Time and Patience:
It can very rightly be said, that pulling off the classic red shades of lipstick look is a dream shared by many women.
This color can make you feel bold, empowered, powerful and beautiful. So why do so many women shy away from wearing a red lipstick to work?
One of the main reason to this would be because you might have seen your favourite celebrity, or a friend, sporting a beautiful red lipstick, that you instantly wanted to try out yourself.
You are very sure to diligently go to the store and purchase the exact same shade. You get home to try on the much awaited red lipstick, only to find that it does not suit you at all!
Before you throw away the lipstick and your dreams of ever sporting a good red lipstick away into the trash, you have to remember, a good red lipstick depends on what skin tone you have. Every red will not suit every person, you have to take the time out to try and find the perfect shade for you.
Observe with your skin tone:
The first step in finding that perfect red color, is to figure out your skin tone. For this you need to analyze your undertones. There are two main undertones- warm undertones and cool undertones.
If the veins on your wrist appear blue under light, then you have cool undertones. On the other hand, if the veins on your wrist appear green under the light, then you have warm undertones.
Another way of figuring this out is to find out if you look better in gold or silver. If you chose gold, then you probably have warm undertones, while if you chose silver, you have cool undertones.
Figuring out the right shade:
Step two in your quest for finding that perfect red lipstick is to figure out which shade will be perfect for your skin tone. Lipstick shades such as bright brick red, pink, and orange will suit you better if you have cool undertones in your skin.
On the other hand, the dark different shades of lipstick red such as ruby, purple, and maroon will suit you better if you have warm undertones in your skin.
The key here is being patient. Finding the right shade of red lipstick makeup for work  will open up doors for you. Now you can find that perfect lipstick shade of red, to wear confidently at work.
Keep it clean:
Another tip you must keep in mind when you are planning on wearing red lipstick to work, is to make sure it looks neat and clean.
Since red lipstick is brighter and more obvious than the other neutral shades you might usually sport, such as light pinks and nudes, red also has a tendency to catch the eyes if it goes wrong.
Make sure to use a lip liner to ensure clean and neat lines. One of the most distracting things is to see a good red lipstick bleeding out of your lips and on to your skin.
Remember to check to see that you have not stained your teeth with the red lipstick. Again, this would lead to a completely unprofessional and sloppy look at the workplace.
Tone down the rest of the makeup:
The key to rocking the red lipstick look at work, is to balance it out with the rest of your outfit. At the end of the day, you are at a professional environment, not a party.
While it is not inappropriate to wear red lipstick at work, it can be deemed inappropriate to sport a full face of heavy makeup with bright red lips. That look is better during your weekends off.
So when you are wearing red lipstick to work, keep your makeup minimalistic like a simple office makeup. A simple black liner on your eyes and some mascara, and a pop of blush on your cheeks is enough to complete the red lipstick look.
Outfit matters:
For your red lipstick to look more appealing, you also have to keep in mind the rest of the outfit you are planning to wear.
While the right shade of red lipstick will look good with just about any outfit you plan on wearing to work, it is preferable that you choose a more subtle outfit to pair up with your bold, red lips. Red lipstick tends to look better with black, whites, and neutral colors such as beige.
You don't have to wear a bold outfit to pair it up with the red lipstick, as the red lips are enough to draw attention to you. So keep your outfit subtle, and you will be able to easily pull off this much envied look.
Look like a boss, work like a boss:
Recent studies are in favour of the red lipstick to work!
Surveys have shown that women who wear red lipstick color at work feel more powerful, bold, empowered and confident at work.
In a male dominated world, feeling confident is not necessarily the worst thing now. In fact, studies have also shown that women who have been wearing red lipstick to work feel that people pay more attention to the words coming out of their mouth.
This can be due to the basic reason that not only is the color attracting more attention to you, but when you feel confident, you perform better at work.
The right texture: 
Nowadays, there are more varieties of lipstick available in the market than we can dream of. You get creamy lipsticks, matte finish, glosses, balms, shimmer, glitter etc.
When you are thinking of wearing a red lipstick to work, you have to keep in mind that choosing the right texture of lipstick is just as important as choosing the right shade. A lipstick which will require a retouch every 15 minutes is a complete no.
When you are at work, you want to concentrate on your work, not on whether your lipstick is still on your lips or not.
Especially if you are required to talk to clients or your boss, or make a presentation, an uneven application of lipstick will just be distracting to those who are trying to concentrate on your words, not your mouth.
Hence, glossy and shimmery lipsticks are out of the question. These textures are easily transferable on your teeth or the rest of your face, and can look extremely unprofessional.
Creamy red lipsticks are still ok to work with, but will require periodic touch ups. The safest texture of red color lipstick to go with, would be red matte lipstick with fine finish. These textures are non transferable, and stay on for hours.
It will make you more competent at work:
Another recent study conducted by P&G at Harvard University revealed that those women who wore red lipstick shades at work were seen to be more competent at their jobs.
Women should not be afraid of showing their high position in their workplace. The red lipstick will give you the ultimate "Im in charge here" kind of feeling which is the exact moral boost you need, to work even better.
You look amazing in it:
One of the best things about wearing a bold red lipstick to work, is that it makes you look younger, more confident, and makes it seem like you have made an effort to look good, even though you didn't.
The red lipstick in itself is a very bold and glamourous look to carry, and wearing this to work will give an impression of you making that additional effort to look your best at your workplace, which is always a plus point.
Conclusion:
A rep lipstick is no longer reserved only for your date night out. You can comfortably wear this to your work, but remember to keep it simple.
Do not go over board with the entire look, and most importantly, whatever you wear, be confident in it. If you are not comfortable in your own skin, it will show through. The red lipstick is a timeless, classic, and fail proof look.
So keep this mantra in your mind the next time you consider wearing that envied red lipstick to work- to become a boss, you must first look like a boss!
Save