When you are going to work you must make sure that you are dressed in a proper manner. If you do not look good then no one is going to respect you at all. Respect is something which cannot be forced; your personality and ways should command respect.
If you are confused about how to wear skinny jeans to work, then all you need to do is follow these tips to help you along the way.
Skinny jeans are very versatile and go well with almost any look, so do not be afraid to try your hand at new styles and looks.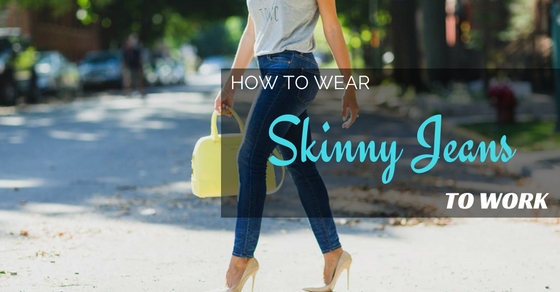 How to Wear Skinny Jeans?
1. There is no need to over think things at all:
Once you have chosen to wear skinny jeans to work, you should not go back on your decision. There is simply no need to over think things at all. If you are very confused about what you need to do, then simply ask someone at the mall to assist you.
If you have purchased your jeans online, then you can browse online further to see, how people wear skinny jeans to office. Skinny jeans are comfortable and fuss free. The best part about opting for jeans for work is that you can wear them for one or two days straight without constantly having to worry about getting them cleaned.
2. You can never go wrong with skinny jeans:
One of the best parts about denims is that they look good and feel good. Once you have got your perfect pair of denims then you must show them off. Do invest in a good pair of branded skinny jeans because then you can be sure of the quality of the product.
Many people fret about wearing skinny jeans to office because they think that it may look inappropriate but as long as you are comfortable in your own skin no one has the right to raise their finger to you. There is really no scope for you to look bad in skinny jeans, so do not think twice before getting into them. This look will require little or no effort on your part.
3. Skinny jeans give plenty of scope to experiment:
Skinny jeans do give people the chance to experiment a great deal in terms of their casual attire. Since you have played it safe by wearing skinny jeans you should be more experimental with the rest of your look. You should do whatever you like as long as you do not end up looking vulgar, foolish or over the top.
Keep in mind that this is a place of work and showing too much skin without any reason is not in good taste at all. If you go against the dress code of your workplace, then chances are that you may lose your job.
4. Wear accessories in order to look edgy and trendy:
Many women love wearing accessories and simply cannot do without them. Lucky for such women, skinny jeans hives them the chance to experiment as much as they can in terms of the jewelry which they are wearing. You should feel free to wear your chunky jewelry as it goes rather well with the skinny jeans. You can choose to wear chokers, as long necklace, or even rings.
The jewelry may not necessarily be precious stones or metal, skinny jeans look just as good with costume jewelry. In addition to that you can throw on your favorite watch in order to complete the look properly.
5. Pairing the skinny jeans with a formal shirt is a good idea:
If you are confused about how to go about the loom, then you should pair the skinny jeans with a formal shirt. This way you look professional at the same time. The formal shirt can be any color you like and it need not be a neural shade.
If it is a dull and gloomy day then you can brighten things up by wearing a bright shirt which will help you look and feel bright as well. There are plenty of good formal shirts available for both men as well as women. Ensure that the shirts do fit you well, so if you do not want to buy them off the racks, then you can get them tailored as well.
6. Choose a floral jacket for a fun spring or summer look:
If it is the season of spring or summer, but you want to jazz up your skinny jeans a little, then you can choose to wear them with a jacket. The jacket can be monochromatic or it can be with patterns on it as well. It is all entirely up to you and your mood.
If you have an important board meeting in the course of the day then you can choose to complete your outfit by wearing a jacket or coat. In the office, the surroundings do get a little cold because of the air conditioning so the coat helps you in this respect as well.
7. Blazers go well with skinny jeans as well:
Once summer has passed then you can choose to wear your skinny jeans with a blazer. Blazers are just as versatile as jeans so this look is a sure winner. Skinny jeans are great for helping you keep warm so at the time of winter opting for skinny jeans is a smart decision.
Your blazer can be of any color you like because it is sure to complement your jeans a great deal. It is not for nothing that mostly all people across the world feel most comfortable in jeans and opt for wearing it every occasion which they can.
8. Over sized bags look very sophisticated with skinny jeans:
Just in case you are confused about what bag to opt for with your skinny jeans, then if you are a woman then an over sized bag looks the best. This look is bound to attract a lot of attention towards you and you will surely be known as the diva of the office. These bags will enable you to carry around all your stuff and look good at the same time .
The bag can be in any color you like, but if you want to keep it simple and rather understated then you can opt for a bag in the color black, beige or even grey. If you opt for red then that will really look bold and eye catching.
9. Try your hand at various colored skinny jeans':
Skinny jeans for men and women are available in plenty of colors so you do not need to stick to the usual blacks or grays. Nowadays ripped skinny jeans come in a lot of different types and colors so choose whatever you think would suit you and your workplace the best. However this having been said avoid choosing ripped jeans or acid washed jeans as they often end up looking way too casual and easy going. In the workplace, you would never want to give out a careless attitude as that might stand as an obstacle in your path to success.
10. Ensure that the jeans do fit you well:
Wearing jeans that fit well is of paramount importance. If your jeans are too loose then they will not be skinny jeans at all and if they are way too tight then you will be unable to prove in a proper manner. Skinny jeans, does not mean that they need to be skin tight jeans or uncomfortable.
Skinny jeans are meant to be convenient and foot loose. So make it a point to try the jeans on before you just buy them. If they need alteration then do get that done, before you decide to put on the skinny jeans and head to work.
11. Team your skinny jeans with a good looking belt:
The purpose of wearing a belt is to ensure that your pants remain fastened to your waist and don't come down, but along with that the belt is also a fashion statement of its own. Belts hardly serve any purpose when worn with skinny jeans but they can be used in order to elevate the jeans to the next level. So if you have worn a formal shirt as it has been suggested above then you can opt to tuck it into your jeans, Once you have tucked the shirt into your jeans then you can pick a belt which you think would suit your look. There are an array of belts available out there, so do invest in one which looks fashion forward.
12. Wearing formal shoes will complete your office look:
Wearing the right kind of shoes to work is very important. If your shoes for jeans do not look good then it is likely to bring your entire look down. So if you cannot decide about what shoes to wear with skinny jeans, then opt for a sophisticated pair of closed formal shoes. That will really raise your look from semi formal to formal. You must be smart when wearing skinny jeans; there are plenty of ways to take your outfit from ordinary to extraordinary.
13. Make up complements skinny jeans very well:
Whether you choose to wear makeup to work or not is your decision. The good thing is that fashion skinny jeans go well with makeup. So if you are in the mood to go all out with pop colors then you should not hesitate before doing so.
If you want to opt for a more sophisticate look then you can choose nude shades, but if not then red lips look very good with skinny jeans. When it comes to your eye makeup, here too there are no set rules, so do things the way you like as long as you feel good and comfortable.
14. Throw on a scarf with your skinny jeans:
Throwing on a scarf with skinny jeans is a stroke of genius. Scarves are pretty and very functional. So in order to look like a fashionista, do not shy away from wearing a scarf. There are plenty of tutorials available online in order to help you tie your scarf in unique ways, so do look at them and try out something new. This will be both fun and a learning experience as well. If you do not have the time to look it up then just tie it with a knot, it will look just as good for you.
15. If you are conscious of your figure, opt for a longer top or tunic:
If you are really conscious about how you might look in skinny jeans, then you can choose to take baby steps initially by wearing your best skinny jeans with a tunic or longer top. Once you get more comfortable then you can try your hand at other things.
16. Do not shy away from wearing a tie:
Skinny jeans look great with ties so if you are a man then do not hesitate to wear a tie. That would be great business casual dress. This will surely make you come across as a classy businessman who has a good sense of style. Choose a tie in a monochromatic shade if you want to play safe, but if you want to look unique then try one with patterns on it.
A good fashion sense is something which some people are born with. Even if you are not born with it, there are plenty of ways by which you can acquire a good taste. All that you need to do is put a little effort into how you look and how you upkeep yourself properly. You must never simply focus on your clothes; you should lay equal emphasis on your accessories as well. Once you show interest in the way you look, people will automatically think of you as someone who is neat and attentive to the smallest of details. Coming into work looking unkempt is a very bad thing indeed.
Save