You might be having a novel idea in your mind, for the new project, perhaps a marketing initiative you have discovered to help reach your company to a new audience, a rebuilt tag line for an identified product, or a new method to effectively manage the team's records.
You are likely to feel excited but most of it is going to be the anxiety of whether how you will pitch an idea to your boss. You must analyze, before pitching the idea through his or her perspective.
To convince that your idea is the best, you must be prepared to answer the questions that will probably arise in the mind of your boss.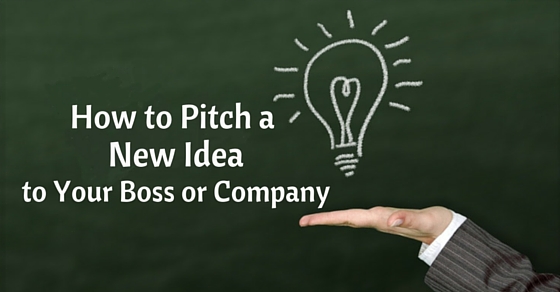 Let's go through the steps on how to pitch an idea, spawned in your mind, to your boss.
How to Pitch an Idea to your Boss?
The following are few tips on how to pitch an idea to a company and pitching new ideas for business toy your boss.
1. Write down your idea:
Write down your idea as a title and then list its strengths and weaknesses. List the opportunities of it being used and the possible threats to its accomplishment.
Prepare a flow chart with the implementation of the idea mapped step by step. Print it out or prepare a PowerPoint presentation, depending upon the time your boss is ready to give to listen to your idea.
2. Reach out to all parts of the idea:
Similar to human life parts of past, present and future, you need to list down things that currently exists alternately, what changes the idea is going to bring and what will be the benefits that can be enjoyed in the future.
3. Present new business ideas that your boss can approve:
Some of the times, people are not aware that for some of the ideas, it is not their boss who can make the decision.
When you present ideas to your boss that he has no authority to approve of, you drag him down in front of his employee as he is not someone who can do anything about the idea. Thus look for innovative ideas that fit under the umbrella of your boss to approve.
4. Be trustworthy:
Before even hatching of an idea, you must initially consider whether your boss trusts you enough to believe that you will actually do what you say.
You need to start with completing projects effectively, execute it so expertly that your boss is compelled to consider you as an integral contributor to the company's success.
5. Be assertive:
You must initially be able to convince yourself, that the idea you have is great, before convincing other people.
Be confident about your creative ideas for a new business and its value. You must remember that doubts are contagious and so if you doubt your idea, those doubts will be evident to your boss too.
6. Do proper research:
Before proposing your idea, you must do your research on whether the idea has been already presented. You need to be the expert of your own idea, so you have all the answers to the boss's queries.
7. Scope of the idea:
Assess the scope of the idea, the bigger an idea the higher the scope of the idea being recognized. Is the idea tiny? Is it a new feature or enhancement to a particular thing?
Is it a new array of product or a new area of company? Is it small or big project? You will need to understand the details of the idea. If your intention is clear to yourself, the idea will be too.
8. Find out who to pitch to:
You cannot approach with a website idea to the sales department of your company. Thus you must know whom you should take your ideas to.
Find out if the department to pitch to has a certain preference of pitching such as emailing the idea.
9. Find out the best time to pitch:
It is obviously not the right time to pitch right before a deadline of a significant project or client meeting. You have to figure out when your boss has the time to focus and give consideration to your idea.
If you are unsure about the schedule of your boss, it is best to pitch on weekends or on successful completion of a big project.
10. Explain the boss of your time management:
When you introduce ideas for new business with your boss, he will obviously wonder on how much time you can offer the idea, with all that is already on your plate.
The best approach method is to fit in the new initiative into your workload and demonstrate it to the boss.
11. The contribution of it to the mission:
You have to assess whether how this idea fits to advance your organisation's success. You need to consider the bigger picture and contemplate how it will be able to contribute to the growth of your company.
It is just not about giving your company a new idea as part of your job, when you find out ways for your organization's growth, your boss feels impressed.
12. Requirements of the idea:
After you have explained how the idea fits in your workload and will be able to contribute the company objectives, you need to list the requirements your idea will need, to be fulfilled.
Perhaps you will require extra staff, space or resources. It is better to clearly state what all you will need, at the time of pitching, rather than asking a week later of approval.
13. Walk through your boss:
Other than literally running behind your boss to get your idea approved, walk through him, implying that you will need to make the boss understand your idea and plan
Get some feedbacks or inputs that the boss will like to offer and let him have credit for input of some aspects to the idea. You will acquire great support from his part following these steps.
14. Furnish the key points:
You should make the work easy for your boss; hence you must clearly list your key points.
What you intent of the idea, what are the major changes, what outcome you wish out of the idea etc, must all be presented and not made the boss to discover by himself.
15. Leave no scope of misunderstanding:
When you put down the points out clearly, you leave no room for misunderstanding. If you poorly present the boss with your idea, the boss may conclude some wrong intent out of it, leading to rejecting the idea altogether.
16. Tailor your pitch:
Understand the pattern in which your boss prefers a conversation. If they like to keep it short, prepare something that can be explained in short span of time. If they prefer detail, prepare a good session pitch.
17. Prepare three samples of your pitch:
Make three alternatives of your pitch, content wise and time period wise too.
Place three alternative pitches with content that imply the same meaning and convey the same objective but have different approaches. Provide them each with the time slot of a min, 5 minutes and 10 minutes.
When you figure out the best pattern in which your boss will consider your pitch, choose according to the time slot.
18. Form a league:
Most of the things in the organizations get done because people come together to complete those things. Thus you need to build an alliance that support your idea and are willing to help you achieve success.
The more support you get from customers, coworkers, managers and stakeholders, the more likely it is that the idea is going to be approved.
19. Don't hold back from addressing the current problems:
Even if it is not pleasant to hear out the problems that exist in the company, you need to address the troubles of the company that can be resolved or helped out by your idea.
Bosses are mainly concerned that some step taken might go wrong and affect adversely to the organization and so they remain rigid.
Your boss is more likely to feel relaxed with your pitch, if they perceive it as a 'resolution' relatively than a 'new idea'.
20. Test your pitch:
Once you make your pitch, you can take feedbacks from the experts of your field on your idea and the pitch.
Doing this you receive a completely different perspective on your idea from the person and you can think about answering their doubts and meanwhile furnishing your pitch more.
21. Failure of a pitch:
When you come across failure in your pitch, you do not have to renounce the idea completely.
Contemplate what went wrong or simply ask for it to gain insight on what you should have done to make a more appealing pitch. It could be the way you approached, a certain aspect of an idea or the timing that went wrong.
Refine your idea by rectifying all that went wrong or settle on looking for new brilliant idea.
Conclusion:
You will receive many benefits from a new business project ideas, ranging from increased visibility to extra lines to impress on your resume.
You just need to utilise the above tips carefully when you pitch your idea and show enthusiasm in your contribution to the company.
You are surely to receive positive response from your boss towards your idea if you consider the idea as something you are doing it for yourself.
Save