Appointing an employee is a big commitment for any organization. Whether an employee fulfills the full-time or part-time position, there are ample numbers of fiscal and time-related investments to be made, like interviewing, recruitment, training, administration and more.
For small businesses and start-ups, the process of hiring can increase the company's already existing budget. It may even consume their valuable time without resulting in adequate consequences. But as the business expands the company's requirement increases, and hence, they look for some additional support from entities that outsource hiring solutions.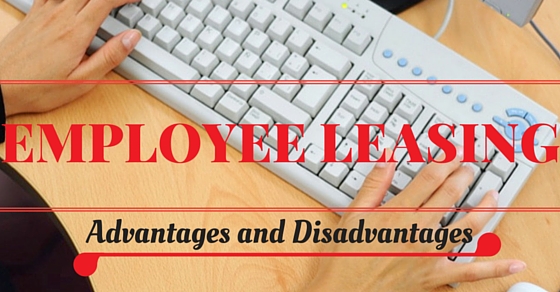 What is Employee Leasing?
The process of recruiting employees with the help of an external contractor is known as employee leasing. Most of the small to mid-size companies follow this process of leasing as it seems to them an effective and viable option to meet their firm's requirements.
But just like every other thing on this earth, even employee leasing accompanies a few benefits and drawbacks. So first go through the benefits or pros of this process as these are in fact the major reasons, why numerous companies across the world rely on this process. Let us discuss some
Pros and Cons of Employee Leasing:
Advantages or Pros of Employee Leasing:
1. The liabilities for business are experiencing certain tasks get reduced:
When a company hires a new employee, then it has to fulfill various tasks that need to be completed on a routine basis. HR management, workers compensation, paying taxes, benefits administration and payroll are some of these tasks.
With the use of employee leasing service, the liabilities associated with them are transmitted to the organization that is carrying the services.
2. Serves as an instant framework for the business:
Structuring the HR department from the very first step seems next to impossible. Most of the small companies even lack sufficient funds for it.
By availing the advantage of employee leasing, it is possible to install an instant framework for solutions so that everything required is easily accessible. It supports the business to enter the market more easily.
3. It involves a predictable cost for services:
Employee Leasing offers help in every industry and field that exists presently for a flat rate. Companies or businesses are aware of the cost that they have to spend to include this framework into their business. It gives them a better calculation of their yearly expenditure.
Once the contracted rates fit well into their business and offer them convenient access to whatever they require, businesses can then confidently move towards accomplishing their demands.
4. Better advantages are obtainable for employees:
When employee leasing is available as a service, the leasing company gains access to a better pool of advantages that can be considered to a local employee base.
It is also a fantastic recruiting tool to direct inexperienced sound people and then be able to retain them. Such a technique is great support, even when start-ups are not able to serve employees with a competitive salary structure.
5. Access to competitive and desirable gains:
Agencies that provide employee leasing solutions can control economies of scale and hence can negotiate with the service providers. This implies that a staffing agency can offer more desirable and competitive benefits, like extended health insurance, pensions, dental plans, food coupons, schemes and more.
All such facilities are offered by these companies at a much-reduced expenditure than the company can negotiate on their own.
6. Advanced Performance Management Support:
If company partners with an active agency that manages the performance of employees with scheduled retention and review programs, then the employees that are hired are offered with support on a regular basis by the agency.
It is an active management style that is usually not requested by the companies who hire employees. Some entities select this technique as it enables them for unbiased feedback to be given to both the company and employee and development and training support to be availed when needed.
7. An extensive HR support:
The process of employee leasing is not only linked with outsourcing the payroll or HR department but also to offer essential support to their HR department. In most of the instances, medium to small sized companies does not have enough funds and resources to handle the vital HR functions.
The employee leasing program offers companies the ease to offer an extensive support solution to their HR department. It is because of the character of the co-employment relationship, partnering with such agencies can offer wider support to the HR system.
8. Companies can focus on other imperative functions:
The program of employee leasing enables small business managers and owners to spend their time in performing other vital activities of their businesses. It offers them the ease to avoid engaging into the hassles of paperwork and other issues related to the hiring procedure.
Around 30 – 40% of the management time is spent on carrying such activities, which can be otherwise spent on performing other productive activities. It is, therefore, a simple way to focus on other key areas of the business.
9. Legal protections:
There are numerous legal formalities involved in the employee hiring process. The employee leasing program helps companies to fulfill all sorts of legal formalities with ease and accuracy. Most agencies perform legal solutions like employment liability insurance, civil defense and more.
In case an employee does not possess complete documents or other essentials that are required for the designation, then the agencies keep notice of it and make sure that they do not hire any wrong or unprofessional employee.
10. Offer cost savings solutions:
Most of the agencies that offer employee leasing services are big giants that are involved in this practice over the years. By hiring services of such agencies, it becomes feasible for companies and businesses to hire employees at better-negotiated packages and reduced insurance costs.
Although companies have to pay such agencies a desired amount of fee, then the cost is extremely low as compared to the costs related to the hiring of the employees.
Disadvantages or Cons of Employee Leasing:
1. Less control over employees:
Since the employees are hired by a leasing agency, the company lacks control over it. Most of the times, employees tend to perform certain functions as per their convenience.
To be concise, the business owners are not able to work as ultimate authority in their workplace, and they have partial control over the functioning of their employees. In domains like firing and hiring the company lacks authority and such issues are simply transferred to the customer's worksite.
2. Lack of communication:
The process of employee leasing adds a greater height of bureaucracy to the overall employment procedure. When employees possess certain questions related to benefits, payroll or other HR-related functions, then they communicate directly to the leasing agency and not to the company.
The process is smooth and trouble-free if the agency and company have a very strong and reliable working relation, which is not in most of the cases. So as a result, there is always a communication gap between the company and the employee.
3. Issues related to commitment:
If you hire an employee who is bound to develop a long-term working relationship or if you intend to maintain long-term investment in your hired employees, then the process of employee leasing is not ideal for you.
Most of the employee leasing programs do offer maintenance of the long-term relationship between the company and the employee. But most of them provide only temporary services and hence make it difficult to perform necessary employee deployment programs.
4. Impersonal:
Entities that undertake the services of employee leasing agencies are not able to offer an equivalent level of personalized solutions that they provide to their other employees. In most cases, companies treat differently the employees that are hired by external agencies.
For this reason, even large number of employees avoids getting hired to an organization through the employee leasing program. However, it is not always the situation, but still it happens in most of them.
5. Health care transformations:
Organizations that work under the employee leasing program always search for the best deal on the health care of an employee. For this reason, they may alter health care providers on a continuous basis, which can be frustrating for the employees.
However, you may still utilize such agencies for administrative purposes and offer health insurance services to the employees.
6. The employer only defines the hiring standards:
The employee leasing agency is mostly responsible for performing all the activities related to hiring or new employees. The hiring process is performed by a standard that the employer defines, but even the agency sets certain hiring criteria.
The employer is not allowed to interfere in the hiring procedure, which results in a lack of control over who enters the workplace and who is rejected from the post.
7. Leasing agencies history is not beneficial to independently operating businesses:
For companies that intend to operate liberally might not find the historical records or other vital data related to the employees useful. It is because there are few leasing agencies that perform a poor job, and hence, they are not able to deliver the companies with adequate results, which the firms intend to avail.
It could also lead to the complete replacement of the HR framework for a small-sized firm. The results that may lead to the cost of the transfer or fiscal loss or loss of reputation can be troublesome to combat.
8. Lack of employee motivation and loyalty:
Another drawback of the employee leasing process is that in some cases it leads to lack of loyalty and motivation within the employee who is being hired through such process.
Employees may feel that they are either not an active member of the company or are not involved in the productive performance of the organization. In such cases, there is also a conflict between leased and regular employees of the firm, and all this may lead to a reduction in the overall productivity of the organization.
9. The dependency of the company increases:
One major downside of the employee leasing process is that most of the companies develop a dependency on leasing agencies. In such circumstances, if the agency stops working for the company or if the agency moves out of the state, then it can generate a huge trouble to the business company.
Sometimes, the business firm can also engage in a legal dispute with the employee as the complete details and knowledge about the employee is possessed only by the agency.
10. Financial expenditure:
A company hiring the services of a leasing agency has to bear a fiscal debt regarding the fee to be paid to the leasing agency.
Whether an employee sticks to the company or not, or whether an employee can cope with the company's demand, if an agency has hired him and if he has been allowed to enter the workplace, then the business agency has to pay its hiring cost to the leasing agency. It can be troublesome to the companies, especially of small size.
Conclusion:
The employee leasing program typically points it as a positive process for most of the companies. It is because the process is easy, fast and efficient. The results obtained through this process are also reliable as even the leasing agencies are concerned about their reputation, and hence, carry activities that can provide them with more clients.
If a firm can regulate or control the disadvantages of this process, then it can build its company structure in a fast and efficient way.