"A leader…is like a shepherd. He stays behind the flock, letting the most nimble go out ahead, whereupon the others follow, not realizing that all along they are being directed from behind." – Nelson Mandela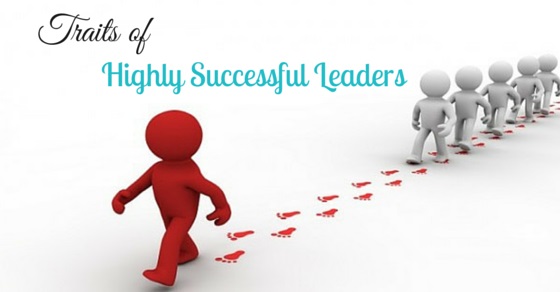 Leaders have traits that is in their genes. A trait refers to a specific characteristics that is caused by genetics. In other words it refers to something about you that is "you".
A leader leads with both his "head" and "mind". What could be those characteristics that makes a leader successful?
Powerful Traits Of Successful Leaders:
1. Displaying self-confidence:
Leaders don't run away from challenges and face them with self-confidence. They lead employees with strong commitment and do not waver from it.
You could see that during turbulent times, employees immediately turn to them for guidance. That shows the person remains calm even during such instances.
2. Interest in welfare:
Such leaders do take interest in the welfare of the people working under them and see that their interests are not hampered.
This genuine interest or concern for them show that they are quite sensitive to the surrounding and are responsive as well. They act like they are guardians for their well-being and success of the organization.
3. Show support:
Leaders who take good care of the health and other concerns for their workers are great leaders. To foster success, they are always on lookout for solutions and guide them through challenges.
They help out in modifying work schedules for them to help out handling personal challenges that does not hinder the work process.
4. Communicate effectively:
Good leaders have a knack for delivering the right messages at the right time. They are adept in communicating effectively that inspire, reassure, motivate, others that stirs up the idle organization.
By translating the information into actionable objectives they are able to keep the team focused on the mission of the organization.
5. Strong determination:
Great leaders who are given any work or project ensures that the work is completed. They look through the details and keeps track of those details till the work is being completed without any hitches.
They easily don't give up in case of any disadvantages and try to make things happen till its end.
6. Displaying uniqueness:
Great leaders are seen to show uniqueness in their approach, dress code, actions, and the way they communicate. In this way, they set themselves apart from others and gain respect and admiration.
The uniqueness is displayed when they speak intelligently when needed to, dress up professionally and are quite knowledgeable about the organization details. Like said 'lead by example'.
7. Stimulating others:
Great Leaders show enthusiasm in any new assignment or new thoughts. They would immediately dive into it and stimulate others through their persuasive communications filled with optimism.
Their stimulation energizes workers to get involved in that work and help to move ahead as they make it enjoyable. They also challenge them to think so that they learn and make new changes to help and the company to grow.
8. Taking responsibility:
Successful leaders take due care about the work of their employees. They hold their workers responsible for the success of the organization. They do not hesitate to praise their people for their efforts and do so publically.
In case there is a hitch somewhere or downtrend they do not sit back and blame someone, instead take the strides in their hands and steers everyone to come out of it.
9. Ethical behavior:
Great leaders show honesty in their approach and treat people as they want them to be treated.
They take other feelings into consideration before making any specific remarks. The interest of the people are kept before theirs for the success of the organization.
Successful leaders maintain their integrity and be composed. They are considered as a person who is approachable.
10. Plans ahead:
Successful leaders make plans for the future of organizations. They think ahead visualizing the future prospects and charts out plans utilizing their analytical skills.
Their passion aligns with the vision and lead the organization with their heart and head.
11. Taking decision:
Effective or successful leaders take the right decision at the right moment. They look into the pros and cons of the situation and decide accordingly. Having all the information with them they don't falter to give their direction.
Once taken they don't step back out of it unless there is a genuine reason to come out. They know that taking decisions for 'making things happen' is the need for growth of the organization.
12. Encourage to speak:
Successful leaders are those who use their executive powers to help others to speak out. They make the environment safe to speak so that they can confidently share their perspectives. They know that the success of the organization is only through sharing views.
13. Reward performance:
Successful leaders review business performance and keep themselves updated. They do not hesitate to show their enthusiasm for the hard work that has been put forth by rewarding the performers.
14. Create positivity around:
Great leaders have a mindset of positivity in them and create an air of positivity around them.
They inspire and motivate their employees so that they get the work executed properly and gives good results. This attitude makes them to be a likeable personality who is wanted.
15. Solve problems:
Successful leaders tackles issues or problems that they face and finds solutions for it. They don't leave any stone unturned.
They use all their resources to get the issues settled down and in course learn the details for the future. Hence, they make their team to be also learning along with them.
16. Provide feedback:
Great leaders do take time to review the work of projects and make remarks about it. They provide feedback on the work so that they take care in the future.
They know that by providing such feedbacks they get closer to their employees as employees look forward to it. The relations get stronger which is the need for sustaining growth.
17. Allocating talent force:
Successful leaders are well aware of their talent force and know where and how to deploy them. They have the knowledge on the abilities of the team members and know when to activate or deploy them bearing in mind their capabilities.
18. Seek knowledge:
Great leaders are always seeking knowledge and getting information by asking questions and looking out for the right answers.
They also look out to learn new things as they are committed to making themselves better informed to make the right decisions. It also makes them more confident and give inspiration.
19. Mentor team:
Successful leaders are good teachers as they impart their knowledge to their team. This is to make their team more informed and gives advancement in their work.
They impart their knowledge through statistical data, trend charts and sharing company news. They take special time to impart knowledge to them and make them aware so that they become eager and progress.
20. Investing in relations:
Successful leaders do allocate time for investing in relations with not only their team members but with other leaders also.
They establish long term relations with other leaders to learn their trends and see which they can adopt for their growth. They know that every day is a learning phase.
Habits of Highly Successful Leaders:
To become a successful leader, it is very important to understand that there is no shortcut to success and it can't be gained over night. Success can be achieved through dedication, hard work and good skill set.
A successful leader's lifestyle and habits play a significant role in boosting their career and success. The traits and characteristics of a leader is what makes him grow and successful.
If you habituate to good things then they truly help you in dealing with any kind of issues and leads you to a path of becoming a great leader. Here are few common habits of highly successful leaders.
Overcoming fears by taking action
Planning you next steps in advance
Be very clear about your goals
Need a conspiring and powerful purpose of life
Look up to people who motivate you
Take good care of health
Accept challenging tasks
Prioritize thing accordingly
Make reading a habit
Do not stop learning
Most Successful Leaders Do These 10 Things Every Day:
More than designation, leadership is a act of performance. Leadership is surely a senior most position but also comes with more responsibility and duties. Managing the team along with monitoring their work performance is not an easy task.
It requires immense skill, experience and talent to lead. Moreover maintaining a strong relationship with employee makes your work even more easier. Similar to the traits of successful leaders there are few things which most leaders do on a daily basis and that helps them do well.
In this article we have enlisted few things a truly great leader does every day,
Working for the organization's goals and vision
Lead by example
Empowering others to do well
Decisive performance
Risk management
Good listening
Effective communication
Prioritizing things
Motivating change
Assigning tasks
Have a sense of emergency
Avoiding procrastination
Avoid all kinds of unwanted distraction
World's 50 Greatest Leaders:
Enlisted here are the names of the top leaders on a global level.
Conclusion:
A close review of all the traits show that some of these traits are learned early in life and some later.
Through research and stories of best practices followed by great leaders who practiced the basic qualities like empowerment, accountability, courage, humility we are able to develop other qualities or traits for being a successful leader.
Great leaders exhibit these traits day in and day out. They take time to invest in their relations with others as well. Sometimes a good sense of humor can be a wonderful tool in leadership!!