A resume is a mirror to what you are and whatever you want and the resume title (also called resume headline) should be written in such a way that it grabs the attention of the recruiter.
A resume is ideally a piece which talks about you and how you are. It talks about the skills you possess and the qualities that you are an expert at.
Thus be sure that the resume is going to speak a million things about you.
It is the ideal piece through which you will be entertained in a company. Without a good resume, it is difficult for you to be known anywhere and spoken to.
Therefore, anyone can judge a great deal about you when he or she has seen your resume.
In the same way, an effective resume title is also necessary for a well-written resume.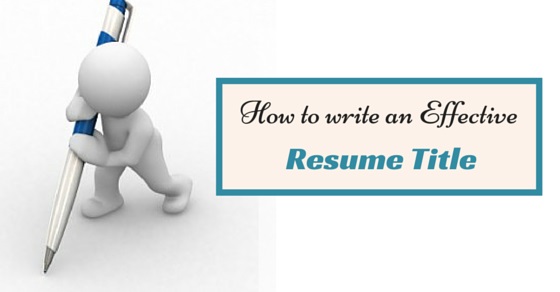 However, in today's world, everyone makes a resume.
Everyone can make an effective and interesting resume which does a great deal in talking about him or her.
The challenge these days is to make a resume that will speak about them first.
There will be a pile of resumes lying out there on your employer's desk and all you will need to do is make sure your resume gets picked out first.
Thus, it is always better you make a resume with attractive titles on it. Now,
 What is meant by a good resume title?
A resume title works out a great deal in helping someone know more about the person in a very attractive way.
Why are Titles Needed on a Resume?
When you are in the mood to edit or create your demonstrating and vibrant resume, you are asked to give a title to your resume.
The name or the title you pick will be nicely featured across the very top of your resume in a nice, bold and colored text.
This is going to be the resume headline, so one must select a name that would be memorable and yes definitely, professional.
Experts have suggested that learning about some appropriate resume titles examples is important before you start writing would help the resume get a good title field.
First, one must conduct a nice search for some representative job titles that would interest you," says Ginger Korana who is the principal of Taking Charge Coaching in Phoenix.
The title is like the first impression you draw upon the person. The better the title sounds, the better it would be for the person, to enter into that resume and know more about you.
Try and not limit your word and use them as tactfully as possible. Titles are essential in telling you whether you are qualified to take up that job or not. Thus, don't be afraid at all to use abbreviations only because you have to save space.
Also, one must keep in mind that the goal and essence of your title are to compel employers to keep reading your resume.
Thus, if you do not want to be a loser and make sure things are sorted for you in your life try putting a resume title.
What Should a Resume Title be Like?
An effective profile title in the resume includes everything. However, it is also not good that you try and infuse everything in your resume title.
It has to include your resume objective and it will take into account your strongest qualification.
There are workforce services specialist people from the Kansas Department of Commerce who say that "That could include years of experience, an industry credential or a job-related skill,"
Below is a list of what should be the title of resume and the things to include:-
A title can include various important points about you and your life. Some people prefer their profile title for resume to be as short as possible and just say something about themselves. For example, Raja Shah, C.A, Fresher.
A title may want to include some more details about the person, for example in the above title, if you think Raja Shah, Fresher is not enough you can add Raja Shah, C.A, Fresher, Plodder College. The name of the college adds weight. It makes the employer want to take your resume a see and read more about you. Do not be worried or weary to put more details about you, because that may just impress your employer all the more.
You can also choose to add something more about yourself. For example, people like to say that they are experts in different fields. They would say that they have done such and such thing, in their resume title for example now this Raja Shah can easily become Raja Shah, C.A, Skilled and Expert.
A resume title can also be made nice and accentuated if you put more of some details about yourself and make it look better. Some more details, something nice which can make the employer immediately show an interest in you. Something like Raja Shah, C.A, Talented and Dedicated.
These are all some added tricks to make your resume look even better. The resume must include all the necessary details which say everything about you. The title must include details that say more about you as a person. So suppose, a title reads like 'humble yet competent' …..' Professional But creative."
Try to keep your resume title as concise as possible Do not try to add more details in it or make it flow because it is never going to impress your employer.
Thus a title must have all the words which make a person know more about you. Thus, a resume must be good very good.
Things which you should not put in a Resume Title:
There are also certain things that you must keep in mind to remember what you must not put in your resume title.
A title must be nice, attractive and very good to be seen. An expert called Perez says that "a resume title is a place where you must show your wit but try not to be over smart"
Employers want some serious people who are professionals who don't need to rely or depend on gimmicks.
Things like these should be avoided in the resume title
"Hire Me, I am good."
"I'm Your Best Candidate!"
"Unemployed and Need a Good Job."
You may or may not use your name as it completely depends on your professional output. It is your call and your choice. For me personally, a name helps one associate oneself to that person.
Different Catchy and Effective Resume Titles:
Different professions call for different and unique resume titles. It is not completely necessary but if you put various titles, it is going to help you only. Read up on these various ideas on what should resume title be:-
Administration:
Pre: A Secretary needed
After: Assistant of Admin, MS expert
Sales:
It is easy to sell others not yourself.
When selling is all that I can do
Given you one resume only because other is sold
Technology: Resume title for IT professionals

Good at anything related to tech
When tech is the future and I dictate it
Engineering:
Manufacturing Engineer, Six Sigma. Impressed
Engineering can take you to another level with me
Machines interest me, you would too.
Nursing:
Medicine, Nurse, and service
Neha Sharma, ER Experience, Qualified
Accounting:
Everything from Numbers to counting
It is counting endless and amazing
Accounting is the way to go ahead
Finance:
When life is not only about numbers, it is about managing them
You want a finance consultant, I can be one
Finish it with me, A Finance consultant
Arts/Design:
When drawing and creating means life
When it is all about filling colors to what you have
Art defines history and magic to me
I can be a good teacher….of arts
Not everyone can take the arts and be an ARTIST. I AM
Being an Artist is something I genuinely like
Human Resources:
I can manage humans…they are nothing but animals
I can have the resource to manage a human
The job will pay but I will give
Not an MBA…But still good at it
IIM (A)….NO need to say more
HR and that is it
Retail:
Clothes, manufacturing, and production.
I am good at it…will make you good too.
Retail is the choice of life…
Marketing: Resume headline for MBA marketing

I can prove to you that 2 and two equals Marketing
Because the color of the sky is not blue
You need that razor, you need it right now
I am an unemployed employee, take me…First P of Marketing
Public Relations:
When I can talk to the press and I can do it
Press is what presses me
Mediating the media
Education:
Learning the solution to all odds
When teaching and education solves all problems
I serve and teach, I do the deed.
Skilled Trades:
It is not that difficult to be an expert
You need to be skilled at it, I am
I invested time, money and energy, take me
Career Change:
Good with machines, good with writing…Take me
Fresh beginning but passion to learn
New, smart and Gorgeous
Military to Civilian:
Learned values, now applying them
Raja Kapoor, General in Objective training and work
Once a major always will be
New Graduate:
Fresher but no novice
Skillful yet smart
The young, vibrant energy
Workforce Reentry:
Productive at home…very productive
I can do everything from cleaning to writing. And clean writing
WRITING…you could read that
Writing is my genre…. I am free
Thus, the resume title making is not that difficult, you just need to put your time in it. Take your time and learn.
Save