The power of a well-written resume can never be omitted in an individual's career. According to the various statistical data on an average, most of the employers take around only a few seconds to go through a basic resume.
That is only possible when highlighted contents are only taken as essential for shortlisting a resume. This clearly means one should really concentrate well while preparing your personal resume to create a very good first impression.
When considering the medical profession like nursing, a well-structured nursing careers resume will help you gain an edge over resumes in very few important things.
There are few basic and important things that have to take care to be avoided in an excellent nursing resume. Read this post to know about the mistakes to avoid while preparing a nursing CV.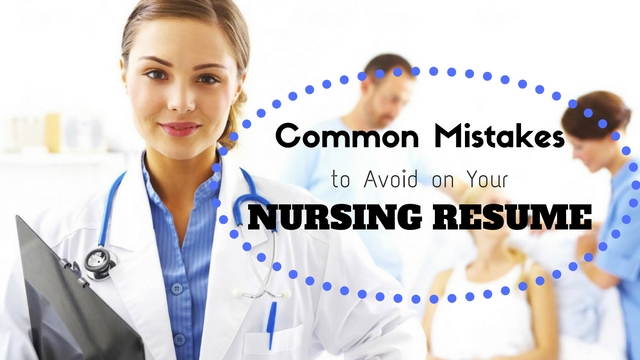 Mistakes that can Kill your Nursing Resume:

The following mentioned are few nursing resume tips and resume guide on preparing the best resume for nurses or nursing resume format
1. Using a personal email id or an unprofessional email id:
The very first and common error committed by most of the job applicants is using unprofessional email id's.
Especially when considering nursing job applicants, it is very important to use formal email id to create good impressions. The very first communication process will always be done to personal email id's.
So there are more chances of getting noticed about your email id. Hence, avoid using funky or unprofessional email id's.
2. Grammar errors and spelling mistakes in a resume:
The most irritating mistakes that you can commit in your resume are grammatical errors and spelling mistakes. With so many advanced office suites and online application, such errors are long forgotten in the past.
But, even after that, if you careless enough to let such mistakes to pop up in your resume, then it is as good as to thrown into a trash bin.
So make sure that you do make a double check of your resume and make sure that it is completely grammatically correct and there are no spelling mistakes.
3. Not including your other activities:
Being in the nursing job does not mean that you are totally out of this world and you need to keep serving all day long. You are just as much human as any other and thus it is necessary to show your interviewer a proof of that.
Although you do not need to elaborate on this section as it is of little significance to the job, you should still mention about your hobbies and other activities as it projects you as someone who is culturally fit for the organization and has a life outside of the company.
4. Forgetting to write about your job experiences in particular:
Many candidates just brief about their position in different hospitals as they think that since the job is the same in any hospital they do not need to mention any specific in their resume.
But in order to make a resume strong, you need to be more particular regarding your experiences as it will provide your employer with exact information regarding the type of service you provided and how efficient you were in your previous jobs.
Giving something in numbers can help to strengthen your point.
5. Not considering for proofreading:
This point is nothing specific to nursing resume. It can be expanded to other types of resume too. This mistake is so recurrent in many cases that it is worth mentioning.
If you really want just one piece of resume advice that will get your effective resume all set for job situation then it is proofreading.
The proofreading should be done by someone who is experienced in taking interviews. You can also take help of your family members and your colleagues.
A second eye is all you may ever need to keep mistake at bay.
6. Mentioning your recommendation:
Recommendation plays an important role in any job situation. Many job seekers think that including references and names of recommended person will raise the value of their resume.
But here comes the trick. No one interest in the recommendation at this point in time. So unless otherwise mentioned, one should refrain from using any section related recommendation on the resume.
You can include them in your CV or in an interview as per the requirement or convenience of the situation.
7. It's all about the result:
At the end of the day, what matters the most is results. No one is here to hear your inside story or your struggle.
All everyone cares about is the result. Therefore, it is important that you mention about certain useful outcomes or results that you have achieved in your job time.
Adding those tangible facts significantly raises the value of your resume and sets you apart from the rest of the candidates.
Including real-life examples and renowned work can really impress you interviewer about the quality of your work.
8. Increasing your brand value:
You want to make sure that you selected among the rests. So what you can do in the case when everyone is competent in your field and having the same experiences and job skills.
How can you make sure that you are the one who gets selected for the job? The answer lies in marketing your personal brand.
You need to design your resume in such a way that it projects you and your strengths in good light, impressive enough that the reader will be interested in the next round of selection.
While resume making, be sure to be humble and at the same time confident about yourself.
9. Adding unwanted details about your previous job:
This is a very important point if you have previous job experience. Do not add unwanted previous job details or any kind of reasons about why you have left your previous job.
There might be a very valid reason to justify your previous job resignation, but none of them is going to add to your good image.
So, it is better to keep the reason minimal or at least do not show your rebel against your previous employer. Remember you are someone whom you show to them. So, only speak positive aspects about you.
10. Using social media in an inappropriate way irrespective of your job role:
Even though this point may be personal or it is not something which you need to control totally but it is good to keep not so unprofessional.
For example, nursing is a career where the very first thing expects is some caring attitude or decent behavior to all in common. So, never add too funky pictures or cool dude kind of posts which will create a disrespect to your job role or also show you irresponsible.
The best possible networking websites most employers view through your social media would be like LinkedIn, Facebook, etc. So, try to keep it decent enough during your job search.
11. Avoiding the correct contact details:
Communication has not only to do with a proper way to get in contact with you but also it adds to your image totally. There are few job applicants who try to hide their location details or also their personal details about their exact contact number.
This will completely ruin your image as trust is the first thing which can be built by your true information about you. So, do not try to hide communication details as much as you can.
12. Hiding your previous salary:
Every job applicant has a fear that they might offer a low salary based on your previous job salary and they try to hide the correct information.
But it very advisable that either you specify the correct salary details or never mention anything about your previous salary details.
Yes, salary expectations cannot neglect, but especially for a nursing job, your job service expectations should prioritize than about money.
13. Using a common nursing resume template or a standard resume for all:
Most of the nursing job applicants follow up a basic nursing resume template or they do not update their resume according to the organization they apply.
This is a very common error that will reduce the chances of getting select to the next level. When coming to the nursing profession, all they need is someone who is very noticeable than any common degree performance details.
So make sure, you avoid using formal resume templates or using common standard resume for all employers.
14. Missing out the resume summary to your employer:
Most of the nursing job applicants or in general forget the importance of a job summary. Job summary is something which a job applicant expresses about the job expectations like about the service they would like to offer for the medical organization.
This is very important as the employers would be eager to know what you are ready for, and how much you can do for the organization. So, never miss out the job summary while preparing a nursing resume.
15. Using standard resume objectives:
Objectives are also a very important part of the resume. This really means about your future goals or ambitions. It can be either related to the organization or some personal goals which benefit your career.
There are also added points if you put your nursing objective for resume, related to the organization you have applied.
16. Poor nursing job achievements:
There are a few things which need to be removed or never added in your resume. For example, like your school day achievements or very childish nonprofessional achievements in your resume.
Always only add standard and worth mentioning achievements. Sometimes when you load your resume with unworthy things it creates an image like nothing in your resume is worthy to read. So, make sure to add only worthy nursing job achievements.
17. Never forget to brief your previous job role:
In particular for nursing resume it is very important to add a few details from previous employment like the teaching status, the number of beds in the unit and also the facility type. These are all certain important details that should never avoid in your resume.
18. Do not overboard your real character to show your modesty:
There is a general misconception that nursing job is only meant for service and not for professional goals.
This is sometimes over boarded in a resume like most of them try to add their personal character traits related to the job role. Sometimes there are chances that consider as bragging or false character analysis.
So, do not add too much service traits or fake information which will only create trouble in the future.
19. Missing out important references:
When coming to a nursing job profile there are few things which note equally with the job applicant's resume. The reference part plays a major role in nursing job applications.
This just uses to authenticate about your background as well as sure it will add you to the preference list. So, do not miss out these kinds of reference information on your resume.
20. Poor formatting errors:
Formatting errors always create the unsatisfactory image on the job applicant. Always make sure to check out for grammatical errors, appropriate font type, and size. Making your job resume format proper readable is very important.
Also never add too many abbreviations as sometimes applicant tracking system might miss out your details. One more important thing is to add bulleted lists than adding too many paragraphs which will motivate to read all the information present.
21. Cover letters also add value to your resume:
Most of the resumes even though have a good resume content get misses out because of not adding resume cover letters. Do not forget to add a simple nursing cover letter that brings out the overall gist of the job application.
Conclusion:
Every job application is very important and your resume should be in a way which speaks before they meet you in person.
When coming to a nursing resume, this career profile is equally important to doctors as they are a huge part of running the medical field.
Hope this post helps you to understand the common resume mistakes that are to avoid in any nursing resume.
Save