Video games are a source of entertainment where people from different age group shows interest in playing part of it. People play video games mostly because of its fun factor. They get entertained through different types of games and some players who play such video games, even get addicted to it. Playing video games are considered as an indoor game and people get so attached to it that they prefer to stay at home and finish the game instead of going out or socializing. Though many people find playing video games as a waste of time, you will be surprised to know that you can also make money playing video games.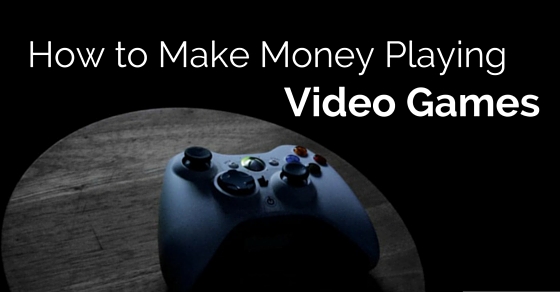 List of Different Types of Video Games:
Nowadays people play video games in taking the name of socializing. There are different areas of video games such as games for kids, adults and for boys and girls. So here are some video game types stated below.
1. Puzzle:
Puzzle kind of games is more into intelligence and helps to give your brain some work. Puzzle games are normally played by kids and even adults also like to play such games by taking advanced levels. Puzzles is a game which will be completed by collecting all pieces of its puzzle and set order.
2. Action based games:
Action based games are such games played mostly by males. Generally, these kinds of games is created to attract men or boys. It involves fighting and hunting and sometimes even girls like to play such games. These games can seem a little violent and the players who play such games prefer to clear all levels of it. They get so involved in it that they don't even care about anything.
3. Fairytale based games:
This kind of games is made solely for females and kids. It is kind of like fairy tale stories where we need to get the king and queen together. It mainly revolves around castle based games. It is subtle and very sweet kind of games.
4. Racing games:
In this normally we find racing relating games. Most probably cars, bikes, monster truck and heavy vehicles. In this racing game basically, all the vehicles participate in one race where the person reaches the finish line first he gets to win. Racing games create such an atmosphere that player playing such will involve in so much that they feel as they are riding the bike or something.
5. Strategy based games:
Strategy based games, as the name suggests it's a game to be played with strategy. This may relate to the puzzle kind games. For example Farmville or temple run. These games make you connected that you feel as if you can't get over with it.
6. Social media games:
These social media games are played through social media. It provides all the updates about the game through social media. For example Facebook, Gmail and much more. Through these games, a player can invite his/ her friends to play with them. Even these games can be followed on Twitter. Social media games introduce us to a variety of people who are connected to that particular social media.
7. Street Fighter games:
These games are less violent kind of games where the player chooses on the opponent and he/she gets a street fight, that may be wrestling or boxing kind of games. The player who loses the other player will win the fight. These kinds of games gets you involved and played until you finish the game.
18 Best Ways to Make Money Playing Video Games:
There are people who made video game playing their full-time profession and get paid to play games. And here are some of those easy ways to make money playing video games.
1. YouTube related games:
By playing YouTube related games, one can make money with all the fun element. It means these kinds of games are played by creating a video playing record and helps to understand his /her move by constant commentary. It's mostly called commentary based games, where the player plays a game and also provide commentary for it. YouTube gamers are provided with certain link to play their paid game.
2. By playing gold mine based games:
These are such kind of games where a player need to buy or sell gold items and even played by solving puzzles to a clear next level where a player find bonus points as gold coins. A player gets an opportunity to be allowed for the auctioning of his /her gold in terms of money.
3. Game tester:
There are some professionals who play such games and informs a company which created such games about its success factor. A game tester is a person who tests such video games and provides the company with its accuracy. It is a game which gets paid and the person who tests such games gets paid too. Some people who play games all the time made video game testing and playing as their profession.
4. By providing training videos online:
A person who plays a video game can make video playing his / her profession. In this kind of video, a professional player helps a basic level player to clear a particular level. It's like a tutorial class through online. They get shared and people who want to learn about such games will get the subscription for it.
5. By inviting others to play such online games:
The video game launching company uses this strategy to attract more players. Like if a player invites another player to play with him/her, he /she will get a bonus point to invite them and if they join the game then they will earn exciting prizes.
6. Simulation-based games:
Simulation-based games are games played by using online aircraft and helicopters. In this game, the player will face an extreme situation to overcome and he/she has to land that certain aircraft safely. A player who lands an aircraft safely will be declared as a winner.
7. Driving based games:
These games suggest such games which are not racing games. It's a valet parking game, in this the player has to park the vehicle safely to its allotted parking area. A player who park such vehicle safely which be declared as a winner of the game.
8. Adventure-based games:
Adventure-based games are created on the basis of experiencing at most adventure. In this game a player need to get into an adventurous trip where the player will face different hurdles and the player has to clear all those hurdles to get to the end point. And if a player clears all the hurdles and makes to the endpoint then he /she will be declared as a winner of the game.
9. By selling bonus points for money:
A player who plays such video games can sell his / her bonus points to another player for the money. There are some players who sell their bonus points to another player so that they can get points to go ahead in the game. Selling can be made through their mutual consent and it is legal if it's out of the game. Bonus point selling can be considered as selling life of the video game.
10. By auctioning your strong virtual gamer:
A player even can auction his / her virtual character in the game. The player who plays such a game will make a smartest to buy such virtual game player. Auctioning of virtual character can be processed internally or externally. Players buy such virtual character to make themselves strong to continue in the play. To buy such virtual character a player places a bid and highest bidder gets that character.
11. Even by writing about video game details:
Here some player writes about certain games and also inform common gamer about latest launched games. They provide all the details about the new gaming company, popular gaming character and also about the winner of such games. The player who writes about such games also provides details about the new version to be released by the company.
12. By reviewing video games:
Every game player writes a review about his /her experience while playing that game and even they can rate it with stars. The highest would be 5 stars. Some of the gaming company hires a review writer for such a gaming program. A review writer writes reviews for that company's produced game and for those each review he/she gets paid.
13. By subscribing game:
A player who plays a certain game can get an option to get subscribed. Every subscription from others gets you money. A player posts a video of his /her game without any comments and if the video gets hit, then people start sharing, liking and subscribing such games. Through all this process a player posted such video will be paid a certain amount for his / her game.
14. Creation of gaming forum:
Gaming forum is a place where all the video game player gets to discuss their moves. Gaming forum also provides all the details about upcoming video game competitions. There will be video game player teams invited from all around the world and the winner would be those who clear all the gaming level with the smartest and fastest way. He/ she would be awarded as a champion.
15. Playing gambling games:
Gambling games involve such games in which the player gets to involve certain money online in the game. For example, card games or horse race or racing games. These games involve a player who involves online money to communicate with other players. Even these can be considered as a bidding kind of game.
16. Betting on certain auctioned games:
A player can also make money through some of the video games. If a player bet on certain game with the result calling "wins" then at the end of the game if that particular game that the player called for wins, then the player gets all the rest of the people who called on losing.
17. By launching a new game:
A video game tester examines certain games and they also create certain games. If the game they created is really good then he /she can approach a gaming company and show their proposal to them. And if the gaming company likes the game created, will get to sell the game to the gaming company and the player gets paid for it. Even a game tester can update such games for better performance.
18. By following games online:
A person who loves to play video game can follow such video games. By following such game the player gets paid. Following these games can be made through social sites and much more. By sharing information and also by referring others to follow such games can help you earn money online. Follow those games on social media and get paid. This is one of the quick way to make money online.
To end this discussion, I would like to suggest all the video game players that playing video games is not wrong but getting addicted to it is very wrong. And playing video games to earn money can be subject in a different manner. Some professionals play video games to create new games and versions. Those game testers test games using their knowledge over video games. Playing video games is not an easy task, it needs intelligence, quickness and sharpness. Therefore, those who want to make money playing video games can follow above-mentioned steps to make video game playing as their full-time career.
Save