For ones who exercise after work, might find lugging gym clothes to and from the office quite tough. They after gym work can find it even more difficult to pack and bring the things back home. The best solution for this idea would be to wear workout clothes to work. This idea also makes them look chic and beautiful. When decided to pull out, workout dress at work is considered as an art and there needs to be proper planning and selection of choices in order to master your dressing with comfort and ease.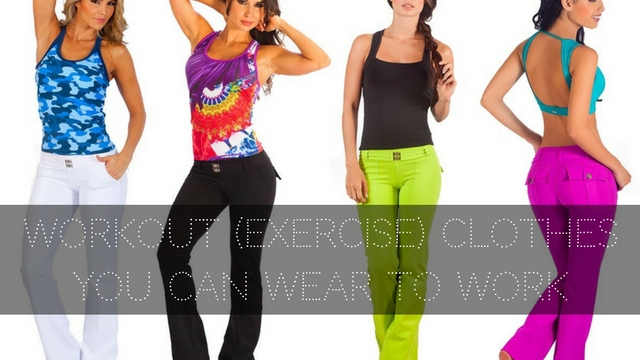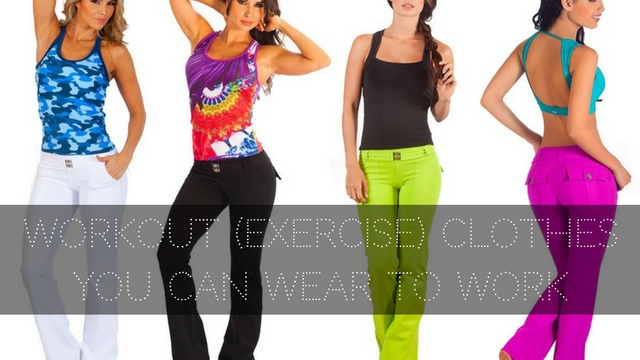 Workout Dress You Can Wear to the Office Anytime:
1. Yoga pants:
Yoga pants are one which resembles the same as dress pants. Being made of rayon material, these pants are ones that offer ultimate comfort. These pants are presently manufactured as dress pants and often provide the best for both work place and gym. These yoga pants cannot be easily identified and can be best used for long office hours.
2. Multipurpose tunic tops:
Multipurpose tunics tops are the best choice which makes you look chic as well as perform your dual function of gym after work easily. There are various brands and shades of tops which can be tried out and used for multipurpose idea.
3. Workout dress:
The latest women sleeveless fitness dress also mentioned as workout dress is a great choice to wear it to office. The dress is considered as one of the greatest choice as it possesses loose fabric and a waistband which is stretchy. This dress can be worn as a over-sized tank top over your yoga pants, leggings, or shorts for work. The length and fit of the dress can be altered by using the midsection. While working out, the dress can be worn higher up and during office hours, it can be lowered.
4. Trek trousers:
These twill pants are most favored for travelers. These pants are reflective, water-repellent and are tailored in a perfect manner. They are suitable for morning bikers, workouts and more. This can be a best choice to work by snapping into sneakers.
5. Denim jeggings:
Denim jeggings can be a great choice for ones who desire for a workout after office hours. Designed specifically for working out, they are manufactured from the largest sport apparel brand and undergarment and hence they look similar to jeans.
6. Opting for prints:
Yoga pant can be a right choice to rock in, but remember that you need to make your presence in the professional environment too. Try to choose printed pants so that they mimic work pants that are traditional.
7. Hybrid tank top:
These hybrid tank tops really look detailed and hybrid, and can be a best choice for dual purpose. Wearing them to office makes you look trendy and chic which can further be a comfortable choice for workouts. A touch of sophistication is added to the top when a sweater or a blazer is added to it.
8. A casual blazer on: 
The best way to dress your workout clothes to office is to throw a casual blazer. It is hence good to opt for a stretchy, comfortable, breathable blazer so that one does not feel suffocating. The latest performance knit blend blazers are updated and are ones which are more comfortable, relaxed and wrinkle free.
9. Go for a detailed dressing:
In order to gain a classy touch and refined look, go in for unique details. Some detailing includes asymmetrical hemline, cowl neck, seaming, ruching, and more. Such dressing makes you look perfect for office work as well as for work out.
10. Layering your dress:
It is always good not to flaunt much in such dual reason of dressing. You can gain a lasting impression by layering your dress with design, hues, fabric which can be a perfect choice for work as well as for workouts. It would be better to opt for breathable and fast drying fabric and also accessorizing can be made simple so that it suits both the worlds.
11. Plus size fitness dress:
This is yet another option for both scenarios for it holds a wrap look perfect for office but mainly intended for workout. This dress is a neutral one and you can dress up as desired.
12. Fitted long sleeves:
A fitted sweater shirt or a trendy long sleeve shirt can be a perfect choice for office dressing as well as for workouts. In order to match your workout environment opt for light weight knits, French terry, or wicking polyester. This idea makes you look more refined and play a dual role.
13. Structured sweater shirt:
You look more comfortable and structured in a sweater shirt as it has tapered bottom and broad shoulders. This sweater shirt can be paired with a scarf or a statement necklace and is considered as one of the best choice for workout. In order to look higher tailored and designed, the sweater shirt has cutouts at the back too. This attire makes you look chic at office and can be opted for workouts too.
14. Long sleeve tee:
The yoga tee which is long sleeved looks versatile and can be a choice for skirt to the office, the same can be paired with leggings for workout too.
15. Soft tunics: 
Soft tunics are considered as a comfortable option as the tops are poly spandex and are a comfortable choice for workouts and effortless for office work too. The top can be made look very dressy when bright colors are opted. The rough neckline makes it a good choice for both work and gym.
16. Cardigan multipurpose one:
These types of jackets are considered the best choice as they make you look trendy. They can be comfortable for workouts and is in fashion right now. They are also considered as a perfect layering piece which can be worn anywhere.
17. Light weight t-shirt:
One of the cutest choice is this light weight t-shirt which highlights your wardrobe. The breathable and loose feel material is one which makes it perfect for work life and the top is designed for the gym. The beneficial features of this choice are the cropped length and the relaxed fit, and heat can be ward off by its super-soft fabric.
18. Mesh top:
An outstanding choice to wear to office and then to the gym, the structured work makes it the right option for work and the loose fit is a perfect choice for workouts. Fun details are added to the tops by the excellent mesh available in the bottom and sleeves of the tops. The choice is best as they help to keep you cool while you sweat.
19. Classy hoodie:
The subtle hooded neckline and the tunic like cut is one factor which makes the top look classy. They are a perfect choice for gym and trendy enough for work life. They are causal enough for wearing it during workouts but they have elements which makes it a right choice for office.
20. Compression leggings: 
Compression leggings are a best choice for extra-cold days as they can keep you warm on long runs. These compression leggings can be paired with a pair of boots which makes you look chic and modish. They can be a best option for work as well as for work outs.
21. Bomber jacket: 
This bomber jacket has styled fashion and is an alternative to blazer. The fun hidden pockets are another promising feature which makes the bomber jackets a multi user, for office as well as for workouts.
22. Teck tape pants:
These categories of pants are the best choice for work to workouts as their fabric is anti-microbial, wick able, breathable and opaque in nature. The best part of teck tape is that they are dressy in nature. They are ones which supports your muscles and makes you look perfect for work as well as for workouts. They can be paired with stunning contrast tops which makes you modish.
23. Cashmere sweater:
It is a cozy layering piece and good option to be paired with leggings. The oversized and swingy sweater is breathable and adds a chic look for work as well as for workouts. They can be worn to office which makes a unique fashion amongst others.
24. Leather yoga jacket:
Your gym workouts are not made complete without the touch of leather jackets. These leather jackets possess a sleek layer as your hand becomes toasty in the freezing weather. They look trendy when worn for office work and later for gym workouts.
25. Ankle leggings:
These ankle leggings are the latest trend which has new shades of fashion in it. The ones best suited for office as well as for work is the two-tone leggings or the inky blue hues which offers a polished getup. This can be paired up with a long sleeve shirt along with a blazer. This can be made best attire with a pair of patent platform oxfords.
26. V-neck drawstring tank:
An effortless exercise of mixing and matching can be achieved with this choice with neutral colors. This V-neck tank offers you hint of athletic flair which can be made perfect with premium sneakers for office.
27. Running woman sweats:
This active wear is the choice of most joggers as they offer a trouser like style. This can be paired with an oversized sweater, or half tucked in t-shirt with a short ear drops and classic pumps.
28. Cocoon wrap:
The heavy knit topper is a perfect choice for gym, and an option for work when paired up with understated cuff, pencil skirt and chunky heels. The material is soft, cozy and makes you feel comfortable.
29. Barricade jacket:
These barricade jackets can be paired with elegant blouses and high waist trousers. This makes your attire for work look chic, also comfortable enough when you desire to go to the gym after office hours.
There are yet a number of ways by which fashion can be tuned to make a perfect fit for office work as well as for workouts. The sleeveless long line tunics can be paired with ankle boots which makes it a trendy look for both official work space and for workouts. A collar necklace may highlight your trend and grab other attention. Illusion necklines and mesh panels are yet another choice which makes your look more modish and updated with the fashion. Such categories with short midi skirt and knee boots can be a perfect choice and can play dual role as attire.
Workout gears can be now worn to office as there are a variety of brands which are designed to be stylish and look chic apparels. There are more number of trends which has popped up which helps you wear your workout gear to office. For people who are fashion conscious, there are a number of stuffs which looks great and amazing and can be used for both office and workouts. These clothes are designed in a stylish way so that they can be a perfect choice for work as well as for gym.
It is mandatory to make the right mixing and matching so that you are updated with the latest looks. The above mentioned tips and hints on workout clothes you can wear to work can be helpful for people who like to be trendy and wear their gym wear to work. Only a few modifications and tips, your work out wear works well for work too. Moreover there are a number of branded stores that sell the latest trends for dual purpose. People look for style and comfort which are basic necessities which makes the look outstanding and excellent. The right accessories, pattern and way of dressing are important to grab the attention of others and make your attire a multipurpose one.
Save
Save