Office is where you spend most of your work life. Casual Fridays and degeneration of the official dress code has created confusion among executives about what they should wear at office. While you are permitted to wear casual attires in office on Fridays, there are still some rules or silent dress codes that you need to follow.
Otherwise, there are chances that your colleagues and coworkers will regard you as a freak or a geek who doesn't have the basic sense of dressing. There are some attires that you must strictly avoid as they do not match the working man's standards.
If you are planning to wear any of these, it is best to rethink your decisions right now.Here we will discuss the apparels about what to wear and what not to wear to office instead:-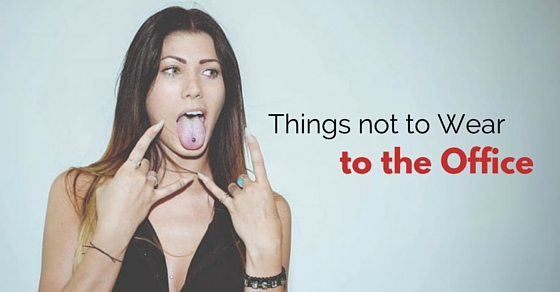 What Not to Wear to Work:
The following mentioned are few dressing tips on what not to wear in the workplace.
1. Flip Flop Dressing for Women:
Flip flops are some of the most fashionable clothes one can flaunt. But this is not an appropriate dress that you should wear at the office. It is an ideal summer wear that helps you look stylish and stay comfortable in the hot weather.
Women should however stick to formal dresses and skirts instead of flip flops because they are too casual and skimpy. While they may look appealing on you, it may act as a distraction to other employees in office. You may select simple and comfortable office dresses that retain the professional appeal while staying comfortable.
2. Flip Flop Footwear:
The flip flop footwear comes in many colours and styles. These are unique and go best with summer clothing for women. Yet, these are not well suited for offices even on days when casual wear is permitted in office. You can opt for a ballet flat or flat sandal which would be more suitable to wear at the workplace.
This is because flip flops appear too casual to be worn in office. Sandals work out perfectly as they have a semi casual look. This is an important thing to remember when thinking of what not to wear to the office.
3. Wet Hair:
Be it men or women, there are some definitions to casual look that need to be followed in the office environment. Your office may have the most casual environment to work in, but it is highly inappropriate to turn up for work with wet hair or unshaven face. Women usually have the habit to rush out of shower and head to the office.
In a hurry to reach office on time, they just fail to set their hair well. It may create a bad impression on your bosses. If you have to head to office soon after a shower, you may use hair bands or hair clips to have your hair well set and in place.
Men who enjoy showing off a bit of a stubble should remember that this is not going to be acceptable in the office environment. If you wish to be appreciated in office, you need to wear a fresh look which is a combination of clean-shaven face and short trimmed hair for men.
4. Cut-Off Shorts for Men:
Cut-off Denim Shorts look great on well built men but office is the wrong place to flaunt your physique. It is always wise to avoid wearing cut off denim shorts at the office. Though you may have a strong liking for them, go for a better denim. Being casual in office simply means that you do not have to be extremely strict about the dress code. Yet, there are some simple codes or unwritten rules that you still need to follow.
5. Sleeveless Tops For Women:
During the summer, many women consider wearing sleeveless outfits to their workplace. Professional stylists agree, but partially as there is a slight variation between tank tops and sleeveless shirts.
Since sleeveless tops are not equally acceptable in all professional environments, it is best to opt for lightweight tops made from thin fabrics instead of going for completely sleeveless tops. This way, you will be living up to the company expectations regarding dressing while still staying comfortable in what you wear.
6. Off shoulder and backless outfits for Women:
When you enter the office, it would be inappropriate to make your skin the center of attention. You will be drawing everyone's attention if you wear clothes without straps or with an open back. Avoid wearing short tops which would reveal your body. In a professional environment, you need to adhere to the dress codes as well as act to suit the mindset of people around you. Most organizations run on age-old work culture that is strictly against modern and stylish outfits in the workplace.
You should go for button-down shirts to look more presentable and are also comfortable. It suits the traditional professional environment and coworkers would never find it objectionable.
7. Super trendy outfits For Men or Women:
If you are not working in the fashion industry, then avoid wearing super trendy outfits, as they will create a bad impression. Women should stay away from sequin type of skirts, crop tops, leather pants and stiletto type of boots. Men should avoid wearing sleeveless shirts or stylish jeans and shorts that may not be regarded suitable for the office environment.
If you are a woman, it would be better for you to go for heels which have thick heels and blazers that come with prints. Trousers with high waistcoats and full looking skirts are the perfect options for work wear in a professional atmosphere. Men should opt for casual office wear that covers the whole body and looks casual but normal.
8. Make-up and bold hair colours:
Women often have this inclination for loud make-up and hair colours. While selecting a hair colour, stay away from bold shades such as mahogany and blue. Follow the same approach when it comes to make-up as green shadows look too loud to apply for the workplace. Rather opt for hair shades and lipsticks of lighter shades which will make sure that you don't get instant attention. Always look for simple and light makeup for office.
While men do not have such desire to look attractive, they are surely prone to experiment with different hair colours and shades. If you are one of those men, stay away from colours like blue, green or pink for your hair as these look funky and extremely casual. They may not be acceptable in the office environment.
9. Avoid Yoga Pants and Track Suits:
Though you may feel comfortable wearing yoga pants, they look more appropriate at the gym. But to avoid unnecessary attention, take some time and opt for real pants. Tight fitting Lycra looks loud and unprofessional at the office setting. Moreover, there isn't a suitable top that would go well with yoga pants. So, avoid wearing it to your workplace.
Denim would be a smarter option to go for as they go well with any type of top. Men as well as women may opt for denim or jeans for their casual day at work.These are usually readily accepted at most modern workplaces that adhere to traditional work culture.
10. Sweat Shirts:
hey, are an absolute no-no. If it is winter and you are looking out for some warm clothes, sweatshirt should never be an option. Rather than flaunting a hoodie with the logo of your favorite basketball team, or a sweatshirt, consider opting for a cardigan sweater or blazer of neutral colour, especially for those days when the thermostat is turned down. Pick the right shades and you will be comfortable even in winter.
It will ensure that you do not get unnecessary attention and cold vibes from your co-workers. Sweatshirts are often designed to be well fitting and attractive. You may also not be pleased by the kind of attention you get in office on wearing sweatshirts to work.
11. Avoid Jewellery with Jangles:
Women are often crazy about different types and styles of jewellery pieces. Earrings, bangles and jingling jewellery are likely to cause a lot of distraction while you are in office. You must understand the office is not the right place to wear jingling ornaments. Similarly, you need to avoid jewellery that reflects a lot of light. Clothes and jewellery with mirrors studded on them are a strict no no.
Therefore, it would be a better option to go for single bracelets or stud earrings at your workplace. Go for classy jewellery that matches well with what you wear to office. You may opt for colourful ornaments or bracelets and statement pieces that make you look perfectly professional.
Reasons Why You Should Adhere to These Unwritten Rules Of Dressing:
If you understand the logic behind setting these rules regarding office dress code, it will be easier for you to digest some of these restrictions. Here we have stated some of the common reasons why it is better to abide by the dress code:
You must remember that an opinion about you is first created by the way you look. If you head to the office in an inappropriate attire, it is sure to create a negative impact that may affect your career.
Office is a place where you go to work and hence it is best to choose an attire that does not distract you or people around you.
Save
Save