Who says that during pregnancy you can only wear bulky clothes? You can be modern and stylish like ever with glamorous maternity wear for work. These are not only sleek and cozy to skin, but also fashionable in appearance. Latest trends in professional clothing throw up ideas now and then for pregnant women's formal dressing.
So enjoy oncoming motherhood and work in the most elegant way, by flaunting your baby bumps without posing health risks. Here are some stylish attires for office wear while you are expecting.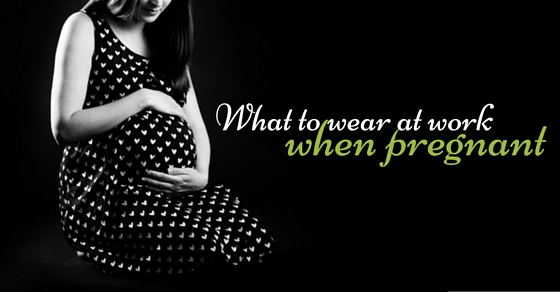 Maternity wear for work – Dressing Tips when you're pregnant:
The following mentioned are few tips on pregnancy outfits and maternity formal dresses for pregnant women to wear at work.
1. Flowy Blazers:
If you think that pregnancy adds restrictions on your formal wear, not anymore. The modern garment industry has picked up with the need of expecting mothers in a workplace. That is why now you have special flowy blazers designed especially for would be mothers.
For pregnant women, there are structured blazers that posses extra bump space at the bottom. The ones, which come with minimal buttons, are among the best choices. It will give you a free feeling. You will look like a top-notch professional personnel.
2. Comfortable Blouses:
A lightweight, printed flowy blouse will skimp down the body well, and give a versatile appearance. Make sure it has a hidden zipper in the front, so that you can breastfeed without taking the blouse off completely. Layer the clothing beneath a slip or blazer it off with a long-sleeve tee.
The blouses come in many different printed patterns like fall designs and floral patterns. You may go for light shade blouses as these look gorgeous on women. These blouses are great for mothers who have just delivered or are soon expecting. They conveniently accommodate the baby bumps and make you look splendid.
3. Elegant Neckline Tops:
One tip to divert the attention from your baby bumps is to wear something graceful on the top. Wear a nicely designed blouse or top that has an attractive neckline or a specially customised sleeve. This will draw the attention of the people around you towards the top.
Draw emphasis to upper side of the body than the lower section. Halter necks, cowl necklines, and V necklines are excellent for formal dresses. Pointy and butterfly sleeves will look trendy with a sweetheart neckline top are cutout for pregnant women.
4. Flexible Skirts & Gowns:
If you think skirts need to be avoided during pregnancy, you are greatly mistaken. Skirts are ideal wear for pregnancy. The only thing is that you need to know which skirts and gowns to choose and how to wear them impressively.
Broad pencil skirts, sheath dresses, formal flowing gowns etc. are designed especially for formal maternity dresses for work. Skirts and dresses with stretch panels and tie side help you to sit well with the expansion of body during pregnancy. Adjustable dresses with layers and pleats at front can return to standard size. These are eternal pregnancy clothes for pregnancy and after. Do not forget to include these in your pregnancy shopping list if you are a professional woman.
5. Elastic Pants:
You may also include pants to your list of pregnancy dresses or professional clothing. You need to make sure to pick pants that have an elastic waistline. During pregnancy, you need to strictly avoid wearing attires that exert a pressure on your abdomen.
Wear the most stylish pants, but let the waistline be elastic enough that it does not put pressure on the abdomen. A cigarette style pant hitting at your ankle will look awesome because you can show off the shoes. You may wear a matching pair of footwear that perfectly complements your pant style.
6. Low Rise Trousers:
Well, if you do not wish to take the risk at all, it is better to go for low waist trousers. The low waist trousers, as the name suggests, starts below the waist, and hence do not exert any pressure on the waist at all.
A low waist trouser will not trample your top or stomach at all. Moreover, such trousers look neat with a long top or blouse. Swivel a jacket around the body and hit the workplace, appearing dazzling like always.
7. Work Shirts:
A true professional understands the beauty of tailored shirts that are customised to your measurements. During pregnancy, this is always a better option compared to buying readymade shirts. You can have the maternity shirts tailored as per your measurements leaving scope for expansion later.
A maternity shirt tailored right to fit cozily on the breasts and abdomen is a perfect wear to workplace. Printed or stripped shirt will look better than plain ones.
8. Mid-Length Dresses:
Most women love to wear figure fitting attires that reveal their true shape and figure. But during pregnancy you cannot afford to wear such an attire. You need to avoid any pressure on your stomach.
A tight fitting dress is a big no, but a mid-length framed dress not only will make you look lean, but cover up those bulky bumps gorgeously. These are available in many unique shades and you can opt for one that best suits you.
9. Right Shoes:
As you need to alter your choices regarding dressing, you also need to choose footwear that suits your present condition perfectly. High heels are not allowed during pregnancy as it is not ideal in such a condition. During pregnancy, you need to rank your comfort much more than your looks.
For pregnant women sharp heels are not a good option, as it stresses back and pelvic region. Rather opt for few professional seeming flats or ballerinas. A simple strap sandal in bold shades can put you in comfort zone and gel with the dress.
10. Accessories for Clothing:
You also need to pick some ideal accessories that go with your attire during pregnancy. Picking the right accessories to match your dress choices will help you look truly professional and bold even during pregnancy.
A bump band on trousers will hide unfastened buttons, and seem perfect as a slick accessory. It is the right time to wear broad jewelry. However, do not overdo the jewels, as it may appear odd. A necklace, waist belt (loose), and brooch will be just great.
Outfits to Avoid in and Outside Office When you are Pregnant:
Women often face the challenge of adjusting to their new size and shape once they get pregnant. This is a phase where many women have made real bad choices in outfits and it is time we learn some lessons from them. Here we have listed out a few outfits you must strictly avoid if you are pregnant:
1. Short Tops That Reveal Your Naval:
Women look awkward in short tops that show their naval when they are out of shape. Hence, this is one outfit you should never wear even for office parties or get togethers where casual wear is allowed.
You must instead opt for tops that are fully covered and accommodate your baby bumps rather than making them awkwardly evident.
2. Tube Blouses Should Be Avoided:
It is not a great idea to wear tube blouses when you are pregnant. They look awkward but that is just one part of the story. The fact is that tube blouses can be uncomfortable for the mother and the child.
3. Don't Be A Hanger:
Some women get extra conscious when they are pregnant and start gaining weight. So they start wearing extremely loose outfits even while heading to office. This is really a wrong choice as too long clothes will make you look like a hanger. Go for outfits that do reveal your curves in a decent manner.
4. Pick The Right Maternity Outfit:
Even when you are carrying, you do not have to announce to the world that you are carrying. Just because you purchased a dress from a maternity store, it does not mean that it will suit you.
You need to strictly avoid maternity gowns that are short length and stop above the knee. Short attires make the baby bumps evident. Sometimes they jut out like some awkward bulge. It is best to avoid such outfits and prefer full length maternity gowns that conveniently conceal the extra weight.
5. Don't Wear Short Skirt and Tops for Office Parties:
You need to maintain your image and reputation in the office circles. Remember that people in office notice what you wear. Even when there is an office party or get together, you need to avoid short skirt and top as these may make you look funny. It may also hamper your image among your colleagues and coworkers.
Finally:
Pregnancy is a very important stage of a woman's life. She undergoes a lot of changes in those few months. Hence, during your pregnancy months, you should rate your comfort above everything else. You can keep away thoughts of looking stylish and attractive for a while and instead focus on being comfortable. Let your comfort govern your choice and you will easily find the best attire for pregnancy days even to wear to office and professional settings.
Save