In this day and age, clothes matter to a lot of people, especially if they are working in a professional and formal environment. Even though we hate to admit it, clothes do decide one's status and behaviour towards the job.
We might think that a worker is judged solely based on his work and performance at work, but that is not true for most cases.
Unfortunately, in this highly competitive environment, clothes matter a lot and how a person dresses for work shows how much importance the person gives to their jobs.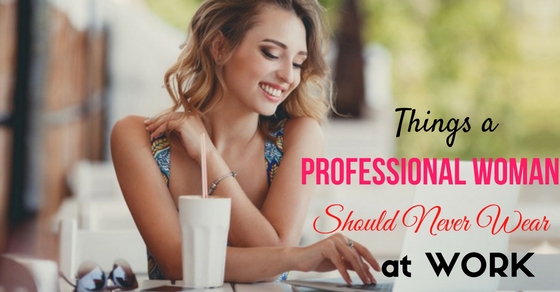 Why Appearance is Important?
The manner in which you get ready and get dressed for a job shows your feelings and opinions about the job. How a person dresses for their job shows how much priority they give to their jobs, how much attention to detail you give to the job and how serious you are towards your profession. Make sure that you are dressed appropriately and aptly for the situation. Appearances do play an important role in deciding one's behaviour and personality.
Irrespective of the stereotypes and excuses, the inevitable fact is that appearances and attire really do matter in this day and age. Keeping that factor in mind, there are some things a professional women should never wear while dressing up for work. Either wearing them could make you feel sloppy and informal or they could make you feel less important at work. Try to make sure that you do not make such mistakes and errors with your wardrobe style.
Things Every Woman Should Take Out Of Her Closet:
1. Wearing flip-flops to work:
The main reason for this point being that flip-flops are footwear that is suitable for the beach. This applied to many popular flip-flop brands, especially crocs. Crocs are widely used by adults and children alike. Children use it for wearing them outside or while playing.
It is true that the footwear does provide good comfort and is cool to wear at humid conditions, but the fact is that such brands are limited only for external usage and outside environments. Wearing crocs or any other beach footwear is strictly prohibited in the office, no matter how comfortable they are to wear them for work.
If you are a person who absolutely cannot live without using crocs or similar such brands, then try to use their professional versions, if available. This allows you to wear such footwear in style and they are designed to be suited for social and professional environments.
2. Forgetting about company culture:
Another thing that you should keep in mind while dressing up for work is to know your audience and take notice of what all kind of professionals you are interacting with at work. Keep in mind that one style of attire does not fit for all types of profession.
For example: In corporate culture, such as investment banks and large corporations, it is expected that all employees, especially women are to wear attire that has a neutral colour scheme. The colour scheme may include shades of dark blue and grey. This is to ensure that their attire does not stand out too much from the rest of the employees.
On the other hand, in industries like advertisement firms or marketing firms, where creativity and innovation is necessary, employees are allowed to wear semi formal attire having a variety of colours. So try to understand what kind of industry you are working in and dress accordingly.
Make sure that you are following the company's policies regarding the attire of the employees. Also, be free to alter your existing wardrobe according to the work culture at the office.
3. Wearing the same style of clothing again and again:
To ease the stress of shopping, many working women try to purchase clothing either from the same designer or from the same brand. This will not only make you look bland, but also will make you look tacky and dated.
Do not be afraid to try out new styles and designers for your work clothes as this will add variety and freshness to your wardrobe. Try to add various styles and create suitable combinations of styles that are both suitable to you and your body shape and are according to the company rules.
Another factor that should be kept in mind is that, every working woman should always have the basic style of attire. The classic combination of a grey suit, shirt and pant is a must have for every working individual. This adds a professional touch to their wardrobe and makes you feel more serious about the job.
4. Ignoring the fitness factor of the attire:
Almost everyone working in the corporate industry knows that, wearing too tight and ultra fitting clothes is very unprofessional and might give a bad impression for the employee. Also, wearing revealing and skimpy clothing is prohibited especially for the working woman. This is because wearing such clothing makes it hard for them to work at the office freely and will cause a lot of restrictions for them.
Also, wearing clothes that are too loose is also not a safe bet as the worker will look sloppy and shapeless. It adds an unprofessional touch to your persona and people might judge you as careless for not wearing the correct fit. While selecting the correct formal attire, try to find clothing that is not too tight fitted or too ill fitted. Having the right work clothes adds an extra boost of confidence to the employee and allows to work without any obstacles.
If you find that your attire is not suited for your body type, then try to alter and shape it by taking the clothes to a tailor. At the end of the day, what matters is how you have presented your attire at the office. So fit is a really important factor to pull off the perfect style.
5. Dressing informally during formal weekdays:
Many corporations give a chance for their employees to wear informal clothes during the weekends. But sometimes, employees try to wear informal during weekdays where formals are mandatory for work. Most people do not know what the difference is between the two styles of business attire and they end up mixing them both throughout the whole week.
Always wear business casuals during weekends like Saturdays and if you wear casuals during the rest of the week, then you might not be dressed properly for emergency meetings and formal events at the office. So, to be ready and alert, try to ensure that you are wearing business formals during the weekdays and business casuals during the weekends.
6. Wearing showy and outdated hair accessories:
Many hair accessories have been gone out of fashion and many working women still wear them. One famous example for such a hair accessory is the infamous scrunchies. Scrunchies were really popular in the late 80s and 90s. But with the onset of the new millennium, the style has been slowly phasing out of style.
Wearing scrunchies not only ruins the whole look of your attire, but also adds an old look to your hairstyle. There are many other popular hair accessories that you can replace for scrunchies. These include pins, headbands, thin hair bands and also black elastic bands.
Also, try to avoid wearing ribbons and flashy hair ties, this will make you look immature and awkward and won't go well with the professional style. If your workplace is more casual, then you can try wearing a small formal hat, if allowed.
7. Try not to wear any overpowering perfumes:
Make sure that you use only the required amount of perfume while getting ready for work. You might never know if your colleagues or clients may have an allergy or discomfort to scents and perfumes.
Also, using a strong and overpowering scent makes difficult for others to fully concentrate on your work. Not only it makes you look bad, but also it discomforts the people surrounding you and makes it hard for people interacting with you at work. So always ensure that you do not use lots of perfume or use any heavy scents that might irritate others.
8. Wearing tight fitting leggings and sports pants:
One should keep in mind that leggings and spandex both are suitable for working out and is supposed to be used at the gym. Wearing such tight leggings is not considered suitable for work. It can attract unwanted attention and also will present lots of obstacles for you.
Also, ensure that you do not wear any bright neon coloured leggings and also pants with zipped bottoms. Both types of clothes are used for exercising and hence they should stay within the gym itself and not in the office.
If you want any clothing that is well fitted for the legs, then try using tights. Tights and stockings are considered as appropriate clothing accessories for women since they add a professional touch to the whole wardrobe. Depending on the job, both solid toned and opaque tights are acceptable at work and they can be paired well with skirts and they are more rounded-off and provide a more polished look.
9. T-shirts having a bold printed message and writings:
Wearing t-shirts is not allowed in many large corporations, especially in industries where you have to meet a lot of clients on a daily basis. The main reason being that unlike button down shirts and blouse shirts, t-shirts are not considered as part of formal wear and nor are they considered the best choice of clothing to wear for work.
Also, having large printed messaged may seem as too obnoxious and loud for some clients especially the older clients. So, whatever the reason or excuse may be do not try to wear any t-shirts to work as it may be seen as unprofessional by the superiors and the supervisors.
If you want to wear something that has a similar style to a t-shirt, then try wearing formal tunics. Tunics are a longer version of t-shirts and they add a feeling of elegance and professionalism to the office attire. Also, tunics are great to wear for social events and meetings.
10. Wearing heavy makeup for work:
Even if we deny it or not, it is a fact that women who wear a light makeup, end up getting more jobs, a good experience and they get paid more. We live in a world, where external beauty plays an important role in finalising one's career path. A recent survey has shown that many supervisors prefer female employees who try to look pretty by wearing light makeup.
This is because; wearing a light makeup helps them to become more appealing and professional, aesthetically. On the other hand, they do not prefer women who do not wear any makeup because they feel that they do not attempt to make themselves more presentable at work.
So, always try to ensure that you are presentable at work, since most of your performance will be based on your appearance, depending on the type of job that you have.
If you do not know how to do a, light makeup, then try using one product at a time. An example of this could be, using a lipstick.
Lipsticks are easy to apply and they create a big impact on the face when used. Just make sure that you have a trusted colleague to help you and give you valuable information and advice on how to wear daily makeup.
As mentioned above, appearances do matter a lot in this day and age, especially for the professional woman. How a person carries themselves shows how much the person is ready to face the world and tackle various challenges. If they are confident with themselves they can easily defeat any kind of obstacles. Having a presentable appearance is the first step in achieving a confident mindset. So, to become a successful professional woman, try to have a formal attire that accentuates your seriousness towards the job.