Stress is a direct outcome of our hectic work schedules these days. Even most of the times we ignore such stresses and go to live with it. This thing adversely affects ones quality of life and productivity in the workplace as a whole.
To manage these stresses, business professionals try to come together for celebrating different occasions.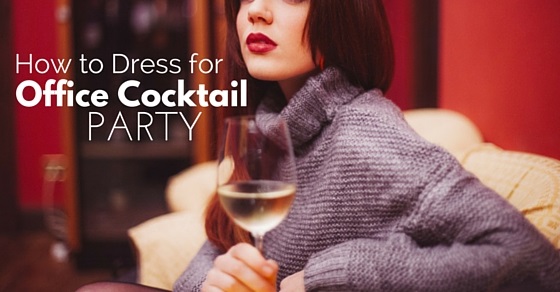 For creating merry moments, cocktail parties are the best options. Though one needs to separate work from home life but office cocktail parties and dinner are the best times to spend quality time with colleagues. If you wish to be the heart of any party, you need to make sure you are dressed properly.
How to Dress for Office Cocktail Party:
One always needs to find the perfect cocktail party dresses. Here are few of the tips to dress for office cocktail parties.
Select Attires To Match The Theme of the Party:
Usually there is no fixed dress code for cocktail parties which make it difficult to select the suited attire for such occasions. Though there might be a little difference between every function but office cocktail parties are relatively formal functions.
So always try to match with the stipulated themes. There are colour options that go best with each theme. You need to make sure you pick an attire that goes with the colour option.
There could be some colour code theme or a theme for some special occasions. The themes vary based on the time of the year, the type of people gathered and their varying tastes. For instance, in some places, there are themes based on the season like fall theme, spring theme and monsoon theme.
On the other hand, some companies prefer to have cocktail parties based on festivals celebrated at that time of the year. The common cocktail party themes in this category are the Christmas theme, Halloween theme and Thanksgiving theme.
Pick Garment Fabrics That Spell The Casual Look:
On a formal occasion, you have to strictly adhere to the office dress code but you can cover up for this by dressing casually for a cocktail party.
One should wear variations in formal fabrics like silk or satin, to dress up for such relaxed events. These fabrics are known to spell the casual look. It is great to look casual but make sure you do not look unprofessional.
Variety Prevents You From Being Boring:
One ground rule of being a stereotype is that you will easily be labelled as boring or uninteresting. Always opt to try out different outfits. In the case of men, there is, of course, fewer variations in formal wear but you may choose different styles that are in vogue and be trendy in such cocktail parties.
Be Prepared to Head To Party Right After Work:
It is quite possible that the party is right after 8 hours of meticulous working at office. If you have to head straight to office in the same outfit, you may not look fresh and lively as you are expected to look.
In case you are planning to hit the venue straight from the office, it is advisable to wear dresses that can be broken. It is like wearing a custom-tailored suit in the morning and nip to glam top before the evening.
Be Choosy When It Comes To Accessories:
Accessories make up a significant part of your stylish look. So choose rich color fabrics, jewellery and killer shoes to match up the event. Men should make sure they wear footwear that have a semi-casual look. This way, they can choose to wear the same footwear for office as well as for the cocktail party without looking like an odd man out.
In case of women, the jewellery they wear actually define them as stylish, professional or casual. So it is a great idea to carry two sets of jewellery while heading for office on the day of the cocktail party.
One pair should be studs or classy jewellery that does not dangle or make any kind of noise. You may wear these during your working hours. While heading to the party, you can wear the other sparkling and dangling jewellery that makes you look like the heart of the party.
How to Dress for Office Dinner Party:
Everyone loves to dress for party. Especially dinner parties that involve more interaction and quality time. So it is always advisable to go for comfortable and stylish dress options for such evenings. Here are a few of the tips to dress for office dinner parties.
Figure Fitting Outfits Are A Great Pick:
The right fit of the dinner party outfit makes an instant impact on the onlookers. A man should opt for custom-tailored suits as they can be designed to match your physique.
You may also ask them to add some special touch like a unique monogram of your initials to reveal your identity. Women have to look graceful in the outfits they pick to wear to office dinner parties.
Always choose the dress which accurately flatters your figure. One dress might be suited for curvy figure but it may not suit the slim one.
So always opt for custom tailored individual style attires. This will help you design the outfit to suit your unique figure.
Get Tips From The Host:
You may consult your host regarding how he or she plans to arrange the dinner party.You may also ask whether he has some special theme in mind. Try to understand the taste of the host and match your outfit to his or her taste.
Your dress should suit the occasion. It is always better to take certain details and advice from the host. In one way or the other, it is best way to find out either you are welcomed better in skirt or long dress. Such discussions also help to strengthen the bond between guest and host beyond mere colleagues or coworkers.
Pick Attires That Match Your Complexion:
The party wear or attire you pick for the dinner party should match your look and colour. If you are fair, you must pick outfits that match fair-complexioned people. If you are dusky go for shades that match your complexion. Men look better in plain shirts and suits. Patterns and designs often look funny and inappropriate for occasions like formal dinner parties.
Always try to pick the right fabric and color as per your complexion. Women who plan to wear skirts or party wear gowns should be choosy about the fabrics too. Bold colors are always great for the spring and summer parties while deep gold, blue or red colors are better in fall parties. It is advisable to go with the fabrics that move with the body.
Maintain The Professional Look:
Be it a dinner party or any other office party, it does call for a casual look that retains a certain amount of maturity. Do not go for funky shades and colours that make you look like you are just planning a trip to Vegas.
Gauge your office party outfits with official invitations carefully. In general, your complete attire should be fun but professional. You may opt for colourful outfits but they should still look mature. Avoid knee-length shorts or Bermudas as they are completely inappropriate in a thoroughly formal environment.
Merge Style With Maturity:
Accessories redefine your look. By picking the right accessories you can retain the professional and no-nonsense look. Men and women who are heading for office dinner parties should be extremely careful with their choice of accessories.
Men may choose the perfect formal footwear that goes best with your formal suits. You may opt for black or brown footwear but make sure it blends well with your outfit. They need to pick a good branded watch. If you are wearing a tie, go for one that adds appeal to your outfit. Bow ties are also a great option if it suits you.
Always plan your accessories as per the looks. But instead of picking up many accessories, pick only one or two to flaunt. Women love to get thoroughly decked up but it is always better to make impact with less accessories.
Pick a good pair of earrings that add lustre to your ears. If you have a long open neck top, you may also go for a necklace that ornaments your neck. One bracelet in your arm will complete the classy look.
Hairstyle Should Be Professional and Comfortable:
Men should prefer the well-trimmed look as this appears neat. Men who have extremely curly hair may use hair gels to set their hair properly.
Women have plenty of options in hairstyles. They may leave their hair open but they need to make sure that the hair is well set. They may also opt for a bun or a pony that gives them the no-nonsense look. Women may use attractive clips or ribbons to ensure the hair stays in place.
Save