Some people are very clear about their career preferences; they try to be focused more about their particular job requirement in their preferred field of work.
Similarly, some people only try to get into a government sector because they believe it is one of the career preferences which provide greater job security for a lifetime.
Therefore, such people try to get a job in government offices, it doesn't matter what post they want to work in. But the only thing that matters is that they want to work for the government sector.
There are several ways which can be used for the sake of getting a government job. And they are as follows: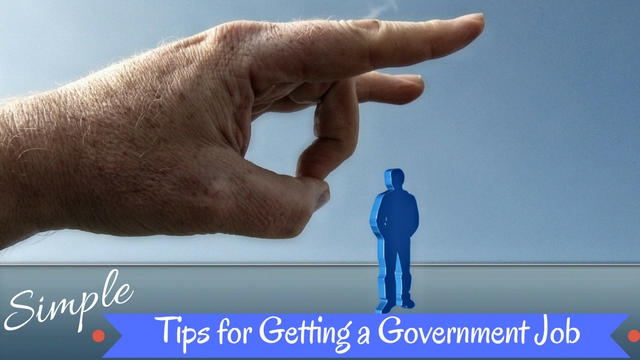 How to Prepare for Government Jobs Exam:
There are many multinational companies which are paying their employees' good salary along with great perks, but many people especially youth still prefers government jobs more than working in these private sectors.
Be it any government job or private job, there is one common hindrance which everyone has to face, that is nothing but entrance exam. Cracking the entrance exam is not that easy, but with dedication and hard work, we can surely get through it successfully. Create a schedule for preparing for your exam and work on it accordingly.
Here are few Killer Tips to Crack Government Job Exams
Motivate Yourself
Know Where You Stand
Dedication
Collect the study materials you need for preparation
Chase Quality, not Quantity
Make tough things your priority
Proper planning
Finally, try mock tests.
How to Get a Government Job?
1. Figure out the particular field of work in the government sector:
There are several different sectors available in each and every government department. And before making a move towards such a government department, a person needs to be sure of the field of work where he would like to join in.
Try to acquaint yourself with the various departments and headquarters that the government has, which has its own set of the target, missions, and motto.
Make sure you go through these various departments and choose one that you think is the most suitable for you. This job might also be a great help in showing your full potential and abilities which can make you an ideal government employee. This also allows you to see the bigger picture and explore about the various jobs and positions that the government presents.
It is one of the important steps to get into a government job. Without knowing the field of work or the particular field where a person would like to work in the government department is considered as a complete waste of their time.
2. Maintain a positive attitude:
Getting a job in a government department is not that easy as it seems. Dreaming about getting a job in the government sector is one of the dreams where the possibility of fulfilling that dream is very minimal.
As all people know about the work process of the government department which undertake several background checks in different field of work.
Similarly, when it comes to getting a government job, a person needs to go through several tests and screening and to clear all those tests, a person needs to have a positive attitude towards his efforts.
3. Have an optimistic mentality:
Moreover, some candidates might hear and might come to know that the number of government jobs is decreasing year by year, so do not be disheartened and try to think that there are a large number of jobs that are still waiting to be searched and applied for.
So try to look for the right kind of job, by searching through online and offline resources. For this to happen, it is required that the candidate should be positive and should have an optimistic approach during the whole job searching process.
4. Start looking for a suitable job using job searching tools:
When a person made up his mind towards government job and ready to put in all his efforts and hard work to get him selected as one of the government employees, then firstly he should start looking for a government job using different job searching tools.
Try to find out more about the jobs and positions that you are interested through various job posting sites or could get any information about various job postings by contacting the national employment exchange or by constantly checking the government job sites for an effective result.
Also, try to find the jobs that you like with respect to the area and location. Most probably a person needs to keep track of all the updates about government jobs available in their particular area and region.
Moreover, after finding out the required field of work, then that person should apply for that job following government rules and regulations.
5. Research well about the department of work:
It is possible that after applying for the job using job search tools, a person might receive an early interview call from the government department.
And at that point of time, the candidate needs to start gathering information about the position offered in the interview application. Try to find out what the department does and how is it beneficial to the government.
Also research about the various positions that the departments have and also enquire about what they do and also the perks and privileges that the government job provides for each designation.
Therefore, it is necessary for each and every candidate applying for the government job that they need to be well researched with their interview possibility.
6. Look out for any news:
After you have decided on what field or branch of the government and IT organizations you want, start looking out for any types of notifications related to it through various employee websites or through the government job sites itself.
So stay tuned for any type of news or notification, whether it is in the upper government sector, public sector or even the foreign service sector. Keeping an eye on the news will help you be prepared and ready for future job interviews.
7. Prepare yourself in advance:
It is not easy to clear government interview. And unlike the rest of the company conduct some common interview sessions, the government department organizes special tests and screening for a qualified candidate.
Therefore, if a person needs to clear out all those tests, then he should start preparing for those tests well in advance so that he can pass through all those interview stages. Moreover, preparing for the tests also helps in the increase of knowledge as well.
8. Seek advantage from networking:
Working in a government department is not an easy task to get it done; some people even have to leave everything for such a prestigious post of work.
Therefore, it is possible that some people seek help from their networks so that they get that post in the government department.
9. Format resumes information:
While applying for the government job a person needs to keep in mind that he should be careful of false information on the resume. Sometimes it happens that because of false information on the resume a person might get into legal trouble for the rest of their life.
And that is why if a person wants to apply for the government job, then they should reformat their resume and include only truthful information which may not seem offended for the government officials.
10. Try to be patient throughout the interview process:
It is possible that waiting for the interview call and waiting for the interview sessions might seem really exhausting. But the truth is that if a person really wants a job in a government department then he should learn how to be patient throughout the interview sessions.
Therefore, being patient can bring out the level of passion for the post in the government department. And finally, that person might get selected for the job offered by the government.
11. Follow government norms:
One of the important things that the candidates need to keep in their mind is that before applying for the government job, they should have certain eligibility for the job. And that eligibility can be made by the government department or by the constitution of the government.
Therefore, it is compulsory to follow all the provided government norms for the welfare of the government and its activities. Moreover, people might even get punished if they disobey the government rules when it comes to recruiting employees for the department.
12. National Employee Exchange:
Although the idea may sound cheesy and old, but applying yourself to the nearest national employee exchange can help you land a government job.
All you have to do is go to the most nearest office of the national employee exchange and get yourself registered. The whole registration process usually takes about a day to a few hours and the registration process will most probably be completed within the same day itself.
After registering there might be chances that you might get a call from the employee exchange because the government officials have called you for a job that is suitable based on educational requirements and skills.
So if you haven't registered yourself to the national employee exchange, the safest bet is to register yourself right away.
13. Expand your general knowledge:
As a potential job seeker, it is necessary that you are reading the newspaper and going through various news sites every day just to keep on track with the historical and current affairs and also expanding your general knowledge.
You can also take an extra step by noting down the different national and international affairs that have occurred in the varying fields of science, politics, and economy and also among social life like movies and social affairs.
Make sure to note down the details that you learn about in a book and make it as your personal general knowledge book. Ensure that you know the important names and dates and also know the important historical dates. This is an important step that you have to do in order to have a good chance of getting the job while preparing for government job exams.
The main reason being that along with logical and analytical reasoning, a good amount of general knowledge and current affairs is also asked.
14. Logical and analytical ability:
It is a fact that almost all the government-related jobs and its exams include logical, analytical and numerical reasoning as one of the main factors so as to select candidates for the job posted.
So, it is necessary that you try to develop such skills and abilities every day. This can be done by doing questions related to reasoning and analysis every day and practice them whenever you can.
Another factor that needs to be noted is the time management. This is because most of the less prepared candidates forget how to manage their allotted time while doing mathematical and logical reasoning questions.
So try to practice questions every day as if you are writing an exam, so as to make yourself more familiar to the limited time allotted
15. Good communication skills:
It is necessary that most candidates should have good and sound knowledge about Basic English and they should be able to have good communication skills, which is sufficient to keep up a conversation in English.
Having good English skills can have two advantages one being that the selection exams for most of the government jobs present English questions in the same level of priority as logical and reasoning questions because they feel that having good English skills is also as important as having proper analytical reasoning and logic.
Government Job Interview Tips:
Without any doubt, government jobs are the best career choice as per the majority of job seekers. The primary reason is that government job gives your security and also several other benefits which can make you lead your life happier and prosperous.
As the competition for this government has intensed, the selection process of these jobs have also made tough. So for getting a government job, you need to perform well throughout the selection process and especially in the job interview.
Tips on How to Prepare a Government Job Interview:
The interview tips which we have mentioned are completely unique and also tried and tested ones. Following these tips will surely help you crack through the job interview successfully.
Be Ready for the Challenge
Research well about the department you have applied
Cover every info about the government job
Use a solid and authentic reference (if any)
Make a list of all the points to speak in the interview
Gather details about other government jobs too
Prepare all the common type of questions usually asked
Ascertain the competition for the job
Overnight preparation doesn't work
Practice Makes a Man Perfect
Take the help of your family and friends
Practice in front of a mirror
Overcome your fear by proper preparation
Participate in the quiz and similar kind of interviews
Meet your seniors who have cleared the interview
Should be updated about all the government jobs
Get coaching for clearing government job exams
Try to give more actual interviews
Prepare well to face any situation during the interview
List out a few questions that you want to ask the interviewer
Prepare well to face panel interviews
Prepare yourself psychologically and mentally
Work on your Emotional Quotient (EQ)
Have a positive attitude during the interview day
Have a smile on your face
Body language should be positive
Eyed contact and firm handshake
Avoid using strong perfumes or deodorants
Attire must match your personality
Personality matters but not physique
Keep it simple not glamorous
Prepare a simple and elegant resume
Avoid Over-designing your resume
Avoid over-describe yourself in your resume
Study your resume carefully
Explore More about resume on the web
Wake early on the day of the interview
Have a light breakfast
Visit the interview venue in advance
Use personal vehicle for commuting
Be Punctual
Have all the relevant documents handy
First Impression is the Last Impression
Carry fewer things to interview
Do not talk with the rest of the candidates before the interview
Give Interview with an Open Mind
While entering the room, follow all the protocols
Ask permission before you do anything
Know About Interview Protocol
Pitching should be Perfect
Always Greet With Good Morning
Prepare the most elaborate introduction of yourself
Do not hide anything about yourself
Eye contact is important
Words and Actions Must go Hand in Hand
While talking, use formal English
Avoid using if's and but's
Try to be in commanding position
Avoid being talkative
Do NOT be Argumentative
Have a good presence of mind
Remain Calm and Composed during Interview
Talk about your interests and expertise
The sense of Humor works in interviews
Be honest
Be sharp and objective
Do NOT Ask too many Questions to Interviewers
Avoid Open-Ended Questions
Share Good & Bad Experiences
Do NOT Ask for Salary during interview
Do NOT Start Growing Weary
Be Humble
Share At Least one Weirdest Moment of Your Life
Explain your Point with Examples
Avoid using too Many Fillers
Your conversation must revolve around the job
Avoid bringing out personal prejudices
Do not panic if something goes wrong
Talk about your academics Only If it is Good
Share about Your Personal Life
Be Natural
Completely Engross Your Interviewers
Use thank you and greet them after the interview
Ask for Feedback
Make a List of Points Where You Went Wrong
Do NOT Show frustration at Interviewers if Rejected
Do NOT Lose Heart
Cracking a Government Job Interview is All about Personality
Start Developing Personality From Now On
Personality is More Important than Academics
Think positively
Improve listening Skills
Overcoming Stress, Fear, Anxiety & Nervousness is vital
Understand Your Strengths and Weaknesses
Strengthen Your Communication Skills
Improve your Analytical Skills
Work on Your English Language
Have good general knowledge
Clearing an Interview is all About PERSONA
Another reason being that after you have passed the preliminary tests and exams, you might be called for an interview for the second stage of the selection process. Here, the candidate is expected to have foundational knowledge in English and they should able to keep up a basic conversation completely in English.
They might also be called out for group discussions where the candidate has to impress the interviewers by raising and stressing on important facts and points said during the general discussion.
Conclusion:
Finally, the bottom line is that this discussion over all the necessary tips for getting a government job can definitely provide useful information about the government interview requirements. Therefore, interested people who are trying to get a government job or those who are preparing for the government job from a very long time should follow all the above-mentioned tips to get selected for the post offered by the government.