Recruiting top employees for your organization should be accomplished in a way which people like to work for you.
The real fact is that most companies accept that employees are the real asset of the organization and hence perks really matter a lot to the employees. By introducing beneficial and comfortable perks, the employees are sustained happy and engaged.
Perks and benefits is one of the best ways to hire exceptionally talented individuals and motivate them so that they perform in an outstanding manner. Here are a few amazing employee perks that attract great talent anywhere in the world.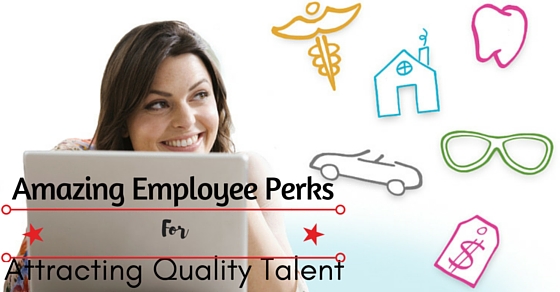 Awesome Employee Perks and Benefits:
1. Remote work environment:
The best benefit which makes many employees comfortable and happy is working from a remote location. With the state of the art technologies using a combo of cloud-collaborative tools is one best way by which employees are able to work from any location in the world.
The new trends are Skype, Podio, Google drive, Join.me, hangouts and more which enables employees in task management and organize any project. The best part of remote work environment is that employees can work with comfort from home.
2. Unlimited PTO:
Unlimited paid time off can be a bit unreasonable but is the main feature which boosts productivity. When employees are trusted with the time to take off, they make sure they have done with the work. The moment employees feel that they are trusted by the organization, they start to stick around the organization.
3. Profit-sharing:
When discussing a bonus, whether it's a quarterly or annual bonus, profit sharing can be a major attractive aspect that ties employees to the company's success. When employees realize that they are gaining a direct benefit from the company's profit, then they try to work harder and efficient.
4. Drink fridge:
A drink fridge at employee's floor can be another great benefit which boosts their energy at times of work. By this way, they don't have to get out getting cool drinks when they are exhausted and wanted to refresh.
5. Maternity and paternity leave:
To present that work-life balance is a major priority in your organization, the company should offer their employees with extended maternity and paternity leave. When employees as parents are allowed with the freedom to enjoy and care for their children, then they are back rejuvenated with fresh sense of purpose.
6. Onsite childcare:
Organizations can obtain a license and initiate onsite daycare which will make almost all parents in the organization feel pleased and happy. By possessing onsite daycare, strain in the parent's mind is taken off and they feel free at work.
7. Spousal death benefits:
When an employee is deceased, the partner or surviving spouse is provided with 50% of the salary for the next 10 years. This is one of the nicest things that any company can offer for the partner who is left alone.
8. Free SPA services onsite:
All organizations can be big and if they possess free SPA services along with a masseuse, can be one of the greatest ways which can help reduce the stress in employees.
More mistakes are made when an employee's stress levels reach to a high point. In house SPA services can hence be a great way to reduce the stress levels of employees.
9. Off-site events:
The best way to build unity in the team and show that you really care for them is by conducting off-site events occasionally. Apart from this, off-site events are also considered as a recruiting tool.
Employees can go in for shoot around the golf, go-karting, host a summer barbeque and lot more. By this way, they pose and post pictures on social media sites and share with others how best their organization is.
10. Education subsidizing:
When it comes to education or formal training required for the welfare of the organization, investing for education can be a great win for the organization. When employees go out for training or new education, they bring in a lot of new thoughts and ideas.
11. Tablets for new hires:
One best way to boost hiring efforts is by providing free tabs for new hires. Instead of providing a cash bonus, employees can be given with something interesting and useful that can attract more employees.
12. Clubs:
There are a number of organizations that has their own clubs which has games and other activities for their employees. Some of them are hiking clubs, quilting clubs, photography clubs, and more.
Organizations look for employees hobbies and invest in them. When an organization pays more than 100 bucks for its hiking club on the top of a hill station or a mountain then it is remembered and this is one way by which your company gets noticed.
13. On-site amenities:
There are a number of on-site amenities which make the workplace a stimulating one. Few beneficial ones are free snacks and coffee provided in the break room.
Some other on-site amenities include community gardens, cafeterias where free lunch is offered and sleep pods. End of the year holiday gifts are yet another amazing benefits where gifts such as chrome books are offered.
Companies like Facebook possess on-site amenities such as micro kitchens and barbershops apart from campus cafeterias. Apart from these companies like Cisco has its own pharmacy and primary care too.
In-door rock climbing wall is another interesting employee benefit aspect in a company called Chesapeake energy.
14. Paid health insurance for employees and their loved ones:
Apart from offering health insurances, there are organizations that also pay for health insurance of the employees and their dependents.
By this way, employees gain peace of mind where they understand that the organization cares for the health of employees and also pays for the families of employees whom the employees think are important.
15. Gym membership:
Employee wellness programs are something important that an organization should focus on. Another important aspect is that they must be viewed as a strategic move and not for the sake of business.
When the employees of the organization are healthy, they work harder and reap in more profits. Apart from being happy, the employees also form binds with co-workers while at the gym.
16. Ping pong table:
The 2.30 slump can be conquered very easily with the help of ping pong game for employees. By playing ping pong, employees are also able to get to know one another.
17. Paid day off for birthdays:
Birthdays are special and everyone desires to get a day off for their birthday. By providing a day off for employee's birthday they feel special and focused, these benefits are really spread a lot through word of mouth and attract in a lot of employees.
18. Personal services:
There are numerous personal services that are offered by organizations so that employees focus on their jobs rather than running life errands. Concierge and personal services are being offered many in number, for example, Google offers their employees with complimentary cars in order to run errands.
In the same manner S.C.Johnson&SonInc possesses their own concierge services which takes responsibility for employee's tasks such as taking cars for automotive services and also pick up their groceries. Also in San Francisco office employees have laundry and cleaning services on site.
19. Reimbursement for professional events:
Employees are provided with reimbursement when they attend a conference or join in any networking group. Organizations respect employees who desire to enhance their skills which add an advantage to the company and the employee.
20. Fixing schedules:
Fixing schedule is another benefit which grabs the attention of many employees. The best selling point for the company is permitting the employees to work when and where they desire.
With four days of workweek, the employees can decide to fix their work schedules either earlier or later. They can also decide to break their work into smaller chunks.
When employees are offered with such options they get fixed into their lifestyle and start working quite harder and turn out to be productive.
21. Stocked kitchen:
Having a stocked kitchen can be a good way so that employees do not have to leave the office for any snacks, tea, coffee, candy, chips, granular bars, fruits and more. When stocked kitchens is present inside the office, the employees are satisfied and would stay at their desks.
22. Fun and rewarding training programs:
Fun-filled and interesting training programs are ones which are offered by organizations for new recruits. The training programs are usually started off with enthusiasm and motivation for new hires.
Irrespective of the type of training whether occupational health, management course or safety training course the first impression is the best one and counts the most.
23. Promise for promotion:
It is really not possible to promise for promotion and can be done only for promotion roles. Employees would like to hear such promises as they would like to go up the career roles and be ahead.
When employees hear such promises they would like to stay back and work for such promotions.
24. Transportation or access to car facility:
Apart from free lunch, remote access, another main reason to pick a company is to have a fleet car. When the job task has more of travel, possessing car facility can be a beneficial factor for employees.
When travel arrangements are made for employees, the employees are free and gain peace of mind.
25. Games room:
Having games room in organizations can be a relaxing and refreshing session for employees at times of stress periods. Games such as ping pong, darts, and others are a chance to offer employees with fun during their breaks.
Another beneficial factor with a games room is that games are played by employees in teams, pairs or groups and hence employees get to know each other. By this way company, culture can also be met.
26. Exciting perks at organization:
Apart from the numerous benefits and perks, companies like Google offer amazing perks where employees can work in the cargo net, get on complimentary bikes or cycles and go around the campus, bring their pet dogs to work and also take martial art classes. Apart from all these, there is online medical care and enormous relaxation space.
27. Surfing:
Organizations like Patagonia want their employees to surf outside their office campus. The organization has also mentioned in their policies that employees are permitted to skip one of the meetings and get out for surfing.
The organization has a mindset that when an employee wastes good surfing outside then he may not be a perfect fit for the organization. Moreover, the organization offers organic meals at work for the employees.
28. Possessing a good work culture:
One of the main reasons for employees to choose an organization apart from job description is the actual work culture. When great work culture is mentioned in job descriptions, in marketing and social media services, then these are some ways that present employees to know how awesome the company and culture would be to work with.
29. Offer referral bonuses:
To incentive, your present employee's referral bonuses is the right way in order to grab in talented employees. When a right person is found for a company through referral the employee knows that he would be benefited along with the organization and hence it is a win-win solution.