The rules of hiring are altering. Though the human will always play a major role in recruitment, it is expected that everything will be automated, and augmented by the latest technology and tools, which will benefit job seekers and recruiters alike. This new form in hiring is the future of recruiting.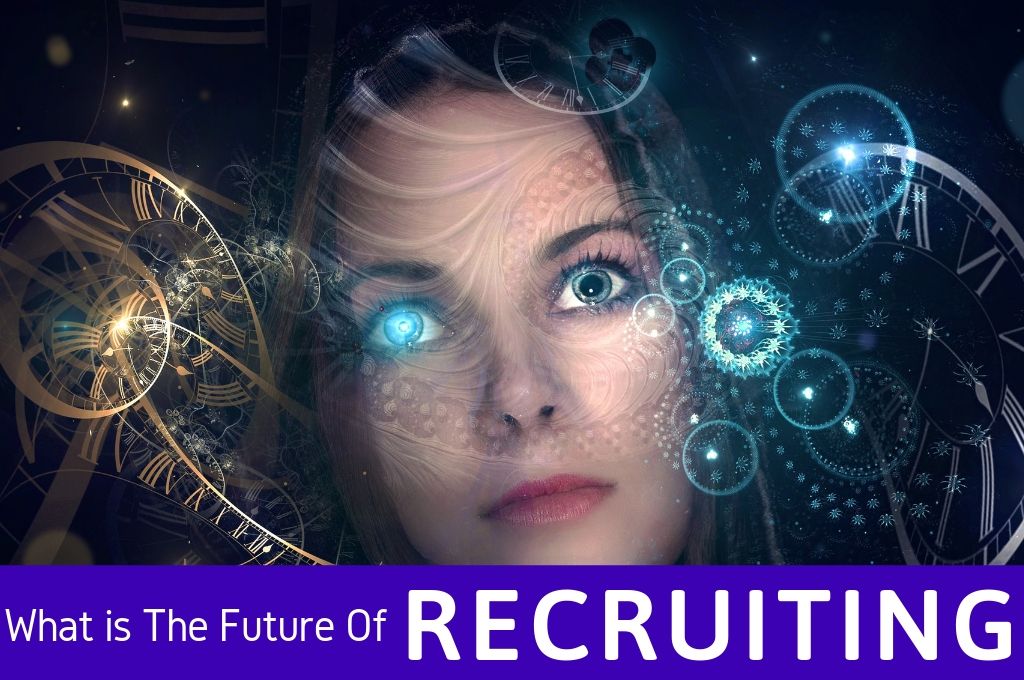 Smart navigation:
In this article, we will be discussing the below-enlisted topics,
In this post, let us see what exactly the future of recruiting industry holds.
How Will the Recruitment Industry Change Over the Next 10 Years?
It is expected that there will be a huge change in the recruitment industry over the next few years. With the help of modern techniques and innovative ways the future of recruiting will turn hassle-free and more productive. The five ways recruitment may alter over the subsequent decade are as follows:
1. Selection Based on Algorithms:
Finding recruiters through traditional modes is a time-consuming process. Moreover, the selection made through hunting paper resumes is not always precise. Finally, the CV-centered approach can result in bias.
To combat all such issues, algorithm-based selection and shortlisting candidates come in. In the coming ten years, recruiters will gain access to powerful computer programs, which can analyze data first in databases and talent pools and then in a wider range of data collections to shortlist perfect candidates for roles, regardless of age, gender, and more. Also, hiring experts can focus on advanced selection techniques to choose the top person for your job. In this way, the future of recruiting will bring in many employment benefits
2. Safeguarding:
Job tenures nowadays last shorter. In this condition, safeguarding will become vital than ever before. In the future time, it will be best for candidates to send DBS checks with the resumes.
Every individual intends to feel safe in the workplace, and DBS checks offer a way towards achieving this.
3. Job Titles with New Glossary:
In this part, there will be an influx of novel job titles for the existing jobs because of automation and effectiveness of artificial intelligence. Reporting on areas like China, the first-ever free bank for employees offered opportunities like offering magazines and newspapers with speculated guidelines.
It is undeniable that vacancies in specific niches will be impacted by such emerging technologies. Careers in delivery and driving can also get impacted as driver-less vehicles and drone delivery technology will become more advanced.
But, this also means that a few jobs will disappear. It includes business development manager in Artificial Intelligence, data detectives, walker, and even masters in edge computing.
4. Learning Quotient Hiring:
Learning quotient means that recruiters shall shortlist candidates based on how conveniently they can adapt to novel situations and how fast they can pick up new details,
If companies chose candidates on the basis of their learning quotient, talent, willingness to learn and work, and creativity, they will help to create a fluid workforce, which can move diagonally, sideways, and upwards to carry out a range of jobs within an organization.
5. Career Lattices:
Presently, people do not just change companies frequently; they shift to new job titles. Even those working in journalism can plan working in PR or marketing or can switch to the role of a travel expert.
Employees don't consider this diverse approach problematic, the career framework as contrasting to the profession hierarchy and make employers end up in differing opinion. Recruiting employees cost money and hence they don't intend to capitalize in hiring an applicant for a person to vacant or to become a part walker.
Future recruiters will comfort employers regarding professional framework and to help them to find roles which offer them a better workplace culture. More such advantages will be seen in the future of recruiting.

The Future of Recruiting (Is the Job Application Dead?)
Without any doubt, the process of recruiting is changing rapidly. Developing and hiring great talent has become one of the most vital things a company can do. It is something that even the best recruiters also agree.
However, the way recruiters hire is changing.
Untargeted emails and job boards may work well for entry-level openings. But in order to hire the top talent, recruiters require a new approach, which is more focused and engaging.
Why?
The reason that application is no more working is that job adverts fundamentally assume that a candidate is interested in applying to the company. This is excellent for active job seekers, but what about others?
How is it possible to recruit candidates who responded to the tweets? Moreover, people who are visiting the career page expect to learn more about the culture.
In addition to this, prospects that heard about your company from a friend will intend to click to the apply button. But if there is no one there to assist or see his application then the candidate may not be able to get hired.
For this reason, around 95% of people visiting the careers page of your company leave without taking any necessary action.
Typically, the only action that visitors take is the application. A major problem with this is that passive candidates, who hit the website, are not willing to apply.
Maybe it is because the application is quite far from the candidate lifecycle, asking most candidates who come to the website to apply like showing someone a picture of a home and asking if they will purchase it.
Such candidates, who come to the website, are interested in the brand of employer. You need to make a new relationship. However, you don't have the correct strategy to convert them.
The simplest way is to offer candidates another option, which is you must allow them to begin a relationship and convert them into a lead.
The Ways to Alter Passive Candidates:
In order to alter passive candidates into the leads, recruiters need to incentivize them so that they provide you their contact details. This is one of the best ways to nurture the relationship.
1. CTAs or Non-Applicants:
As per Matt Charney, 44% of candidates spend a half hour or more on an online application, and around 10% spend more than one hour.
This is especially true when you are considering passive candidates who are not sure whether they wish to apply or not.
For such candidates, hiring managers must offer a simple way to get them registered. Hence, here you require a non-application process.
It is best to add a call-to-action or simple application form on the website that allows you to add little personal details in exchange for a place in the talent community.
This is a great way to attract people who are interested in the position but are not willing to apply.
2. Create Worthwhile Talent Communities:
Sometimes, talent communities get a bad reputation. Most of the people accuse that they are signing up for job alerts, but not specifically inspired about them.
If you wish individuals to offer you their details, you must offer them something of high value in return.
Most of the people are looking for a better career opportunity. They intend to explore, learn, and connect with like-minded individuals.
For this reason, a personality like Lockheed Martin Military Veteran is so successful. This is a targeted group, attracting a particular section of candidates. Those who join this group are able to avail real value.
The primary reason that has brought immense success to the Lockheed Martin group is specialization. Their group focuses only on one persona, which is veteran.
Their community offer veterans with immense value and supports them to re-integrate into civilian life. Practicing this has helped Lockheed to get a vast pool of talented people, which creates a positive impact on their company.
Hence, the one thing that has worked into the favor of Lockheed is the focus.
This implies communities or groups based around a particular skillset have a higher chance of success as compared to the generalized ones.
3. Interactions and Conversations:
To convert passive candidates into potential hires, it is essential to lend an opportunity to interact with the company. This involves anything from beginning a chat on Twitter to running a Google Hangout account with the members and candidates of the team. Moreover, you can sponsor an event or host one.
For example, an event was recently sponsored by Spotify that gave it access to a group of talented engineers. At the same time, it offered them the opportunity to create a positive statement within the ongoing debate. There is nothing much to be done to gain success with such events.
You only have to select a local meet up to gauge value based on the position, which is difficult to fill. They are focused on generating qualitative hiring leads by incentivizing the candidates to begin a relationship with the brand. Once it is done the next step is to engage such leads.
The Significance of Engagement:
Engagement is gonna be the new trend in the future of recruiting.When we think to engage new hiring leads, we take into account lots of guidance from the marketers and the way they approach client acquisition.
Here, mirror marketing makes sense.
The life cycle of a customer has altered. Presently companies are now prepared to develop a relationship with the leads before they ask them to purchase. This is highly effective. Consider the last cold sales you get and how receptive are you.
Naturally, we are more focused to purchase when we have an existing relationship with the seller and marketing departments clearly understand this.
For this reason, all companies hold a sales pipeline, which regularly works to move through the numerous stages until you are ready to buy.
Effective recruiters understand that it is vital to regularly build a pipeline of prospects whether they actively hire or not.
Nurturing and building such relationships in advance implies that when companies sell opportunities they have a receptive based on leads, which are interested to learn more.
It is a simple technique, but it helps companies to make major strides to enhance the hiring quality and cut time to hire.
What Errors to Avoid?
The one mistake that most of the companies make when they think about lead nurturing is that they don't consider people who have applied in the past.
Over the years, companies gather huge databases filled with thousands of candidates. All such people connect strongly with the employer brand and are interested in the role they have applied.
Might be, such candidates may not have been the best fit when they have applied initially, but they have got enough time to gain experience and develop new skills. This makes them a perfect fit.
Reaching out to such candidates is a quick and affordable norm.
There is no requirement to task the sources to find and connect with the new talent. The requirement to connect with past applicants has resulted in the rise of an entirely new form in hiring and also can be framed as the future of recruiting technology.
Whether you prefer to use new software or not, it is vital that you think actively about the engagement, build a hiring pipeline, and connect with the past applicants.
New Recruiting Trends You Should Implement:
The year 2020 has brought new recruitment trends and is expected to bring even more in future of recruiting. These recruitment trends will drastically enhance the overall process of recruiting. If you wish to be successful in the recruitment industry and don't want to end up being a loser, you must implement these recruiting trends right now.
1. Candidate Experience:
The experience of candidate relates to the past, present, and future potentials as well as the recruiting process of the company. It takes into consideration the behaviors, attitudes, and feelings of the candidate during the process of recruitment from screening, sourcing, to hiring, interviewing, and on-boarding.
It is believed that candidates with a positive experience in the recruiting process are more likely to accept offer letter, reapply in the future, and refer the company to others. However, if the candidate experience is negative it can cost your company many bucks.
2. Inbound Recruiting:
This is another marketing strategy that proactively and regularly attracts candidates with the aim to consider you as their next employer. Inbound recruiting is practiced to convert, attract, and engage candidates.
Right now, it is no more about reaching out to the candidate and offering him an offer letter. Recruiters are expected to bring long-term and permanent solution and advance their hiring and recruiting strategy. Hence, to achieve all these, hiring managers have to adopt this recruitment trend.
3. Recruitment Marketing:
This particular trend is related to the implementation of marketing tactics in the recruiting process. It is the process of attracting and nurturing skilled individuals to the organization utilizing marketing techniques and methods.
This trend has been introduced considering the present labor market scenario. It aims to follow the latest marketing trends and help companies to combat all kinds of new challenges. Organizations that adopt novel recruiting best practices are more likely to gain talent.
4. Employer Branding:
Another latest trend relates to describing the reputation and popularity of a company as an employer. Also, it is based on employee value proposition against its value proposition to clients. Every company must explore novel ideas to brand employers in order to attract and employ talented candidates.
According to research by LinkedIn, more than 70% of job seekers check online about the employer brand and reputation of the company before applying. A company with a bad reputation struggles to attract candidates and also finds it difficult to retain employees.
5. Tools for Recruitment Automation:
Such software carries the automated recruiting process based on new technology. The recruitment process has been automated to a great extent. It is now beyond the Applicant Tracking System and recruitment marketing software. Nowadays new software and recruitment tools are available that integrate both recruitment marketing and ATS solutions under a single platform.

With the use of advanced and automated recruitment software, it is possible to find, engage, nurture, attract, and convert candidates into applicants. Further, such software streamlines and simplifies the hiring process, converting it into a more efficient and faster process. If your company does not incorporate an automated process, it can lose the best candidates.
6. Social Recruiting:
This particular trend is related to recruiting through the use of social media platforms. It takes into account various social media platforms like Twitter, Facebook, LinkedIn, and more. It also considers blogs, job boards, forums, websites, and platforms like Indeed and Glassdoor.
Recruiting through social channels is beyond posting ads of present job openings on the social network account of a company. Social media networks can be used to proactively search potential candidates and develop a relationship with them. It is also related to encouraging them to apply for vacant positions. Since it offers numerous possibilities, so it has become a popular recruitment trend.
7. Candidate Relationship Management:
CRM or candidate relationship management is related to managing and enhancing relationships with the potential future and current job candidates. With a strong CRM, it has become possible to acquire the best talent and combat the major challenges in the recruitment industry.
8. Talent Pools:
Another new trend in the recruitment field refers to a database or place where HR managers and recruiters keep into consideration their best job candidates. This trend makes available not only those who have applied for openings but also referred, sourced, or expert candidates who have joined the talent pool in an inbound technique.
Using this trend ensures that you always have a vast pool of talented people that lets you pick the best one with ease. For this reason, most of the recruiters prefer building a strong database of high-quality candidates to meet existing and future requirements.
9. Employee Referrals:
This is one of the highly productive ways to fill open positions and hire talent. Numerous researches have proved that employees recruited through referral programs take less time to hire and demand less stipend.
Hence, employee referrals can offer recruiters with the best solution and a key to hiring the best talent.
10. Talent Sourcing:
Sourcing talent proactively has become a vital recruitment strategy for recruiting process. According to research by LinkedIn, around 36% of potential candidates are seeking for jobs. More than 85% of them are interested in novel job opportunities.
For such reasons, talent sourcing is an important recruitment trend that must be taken into account.
11. GDPR:
GDPR or General Data Protection Regulation is a novel piece introduced by EU legislation. It replaces the existing Data Protection Act or DPA with an aim to bond data regulations within the EU.
GDPR offers greater control to people over their personal details that mean it will completely alter the way recruiting mechanism operates in 2019. Also, it is concerned about the organizations that are in non-compliance will experience hefty fines. It is the latest trend in the field of recruiting.
12. HR Analytics or Data-Driven Recruitment:
These expressions are useful to demonstrate recruitment methods where decision making and planning are done on the basis of data obtained through the use of HR recruiting technology like recruitment marketing channels and applicant tracking systems.
With the help of data-driven metrics, it is possible to gain insights on distinct parts of hiring. It also let recruiters know the aspects of recruitment that need improvement. Using HR analytics and recruiting through the use of data-driven techniques have offered proven results to improve the most vital hiring metrics like cost to hire, hire quality, and time needed to hire.
13. Strategic Alignment:
It is vital that hiring and recruiting are aligned with the overall strategy of a business. It is known that companies cannot grow without people. Hence, it is important that recruiting talent must be strategic.
To ensure that recruitment is more strategic, it is vital to identify the future goals and needs of a company. On the basis of that, potential future and current skills gaps can be identified. Moreover, hiring managers can plan their recruiting efforts to support business growth.
14. Structured Interviews:
This is increasingly becoming a popular interview-type among employers. Some of the prominent benefits of structured interviews are:
Fairness
Objectiveness
Legal defensibility
Fairness
15. Collaborative Hiring:
Collaborative hiring is something new in the recruiting career industry. This type of recruiting is the newest trend of hiring in which HR teams, as well as other departments, work together to search and hire the best talent. This particular trend is of extreme importance as it drastically improves the new hire quality.
If the quality of hire is excellent, it means fewer turnover rates that positively impacts overall hiring and recruitment strategy. For all such reasons, collaborative hiring is among the top new trends in recruitment.