Floral pants can make you look really good as it's a fun concept which makes you look trendy. It is a bit of trepidation for women when they opt for floral pants as they look at it as a flippant concept.
Floral pants can make women feel attractive and comfortable when they choose to wear them for work. Here are few ideas and great ways to wear floral pants to work which makes you look chic and outstanding: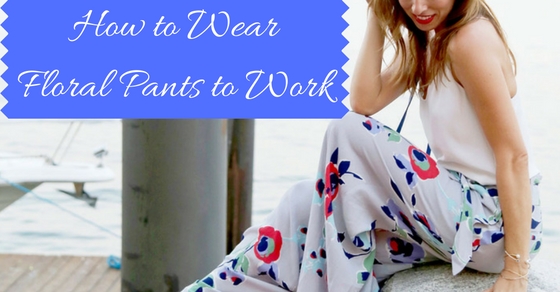 Tips to Incorporate Floral Dress into Your Work Wardrobe:
1. Spaced floral pants:
Floral pants are being acceptable to work and women update them with new trends for work. A spaced out floral pants can be a perfect choice for ones who are unaware of the trend. Women who find it unusual to work can wear them on Fridays and make your day at work special. Your floral pants can be paired up with a blouse or a solid colored button up and for ones who are bold enough, they can wear print on print. A blazer can be added to add an even more professional look.
2. Floral blazer:
With your favorite colored floral pants, a floral blazer can offer you a modish look to work. A light colored blazer with less floral prints can be a perfect choice which makes your weekend special and enjoyable. You don't look too jazzed up and hence a floral blazer can be a new trend to try.
3. Floral blouses:
The best way to make you look trendy is to pair up your floral pants with a floral blouse, chiffon floral blazer, or even with silk and satin blouses. Button down blouses can also be opted for work. It would be more perfect by trying to tuck in your blouses and have a look. Pastel color combinations are another choice which offers you subdued look.
4. Choosing the right accessories:
There are innumerable categories of floral pants, choosing a tall sleek one can be a perfect choice. These should be matched with the right choice of accessories which can make you look trendy. Flat sandals, with big size leather bag, air of long earrings, sleeveless tight top and necklace can make you look perfect.
5. Denim floral pants:
A tonal blue floral pants can be a perfect choice which would look great with a white tunic top. Added accessories can be a contrast colored scarf, flip flops, and a leather bag with accessories. This denim floral pants when linked with large black colored handbag looks stylish for work.
6. Black colored floral pants:
A black printed floral pants can look great when matched with a red colored t-shirt which might keep everything clean. When matched with platform thong sandals, half white canvas tote bag with pendant, black and white glitter bangle set, and a black enamel double drop earrings can make you look modish.
7. Floral pants with wooden accessories:
You can present with a sophisticated look by opting for wooden accessories for floral pants. The floral pants can be paired with a white vest top, and a buttons detailed denim jacket. The other accessories for dress which offer you a rugged and stylish look are Canyon brown handbag, brown leather sandals, wooden bead necklace, and dark wood drop earrings. You look trendy and updated when such attire is chosen.
8. Short floral pants:
Yet another trend these days is the short floral pants to be worn for work. Short floral pants can be matched with short tops which can be of plain color or a white one. This would go well with heels or sandals along with a handbag.
9. Tulip cropped floral pants:
Your wardrobe can be made interesting by adding the colorful tulip colored floral cropped pants which can be considered as a perfect choice to wear for work. A berry red blouse can be a perfect choice which can add a chic look for day time or otherwise a simple white t-shirt can be perfect for office wear. When it's for work you could opt for a silk blouse of light color, a leather watch, tote bag and high point heels. This gives you a professional look and makes you look trendy.
10. Floral pants with clutches:
Floral pants can be best matched with white colored clutches, white heels and a red colored top. This makes you look neat for work. Another option could be to wear T-bar high heels, furry clutches, a spot lace top with white drop earrings. Sling bags are another choice which can be used when you're out for work.
11. Dark floral pants:
Dressing in dark floral pants can be mesmerizing when you match with bright blue tops. Burgundy or a cozy gray color can also be used for a chic look. With all these your look is made complete with adorable loafers.
12. Grey floral pants:
A subdued grey floral pant can be a unique pattern which goes well with billowy oversized blouse or a black sweater. This pattern looks stunning when worn with high heels.
13. Jungle floral:
Apart from the conventional floral print trousers, deep neutral jungle pants are the latest trends presently. This jungle floral can be matched with brown, green or blue tops. Dark colored foot wear and contrast bags can be a perfect fit for these jungle floral pants.
14. Popular colored printed pants:
Printed pants with the most colorful florals like purple, yellow, white and green is another trendy wear for office these days. The floral pant is quite busy with more patterns and hence the tops can be decided to be neutral with some accessories. The satchel you carry can be colorful structure or purple flat.
15. Floral twill pant:
A twill pant with big and bold floral patterns seems to get popular as many women opt for this choice. The bold floral sparkle twill pant can be matched with a neutral top so that you're the big buds in your pants shine. Large heels can be the best footwear which makes your look upfront.
16. With printed heels:
Floral pants look trendy when you match them up with printed heels, cheeky tee, and a spike necklace. You would gain additional points when you opt for a leather jacket over your t-shirt.
17. Floral jeans:
Subtle floral print jeans are pretty ones which women these days would love to wear for work. They look chic when they are paired with bright yellow pocket tee, hipster cool tortoise shell shades and suede heels. A pair of dark colored glasses can add the extra touch to your style.
18. Black floral pants:
Floral black pants are ones which are attractive ones and grabs others attention. When such attractive floral pants are worn with striped tee, along with a leather clutch which is sleek in look, and angle strap heels can be ones that make you look dashing at work.
19. White with floral patterned pants:
A cheery white background and pink floral pants paired with a pink top along with a black blazer makes you a real professional employee at work. Add more points to your dressing by wearing a leather statement and a simple necklace.
20. Slouchy floral pants:
Its weekend and you are to boost your chic in a slouchy floral pants and a short-sleeved knit tee. Lace-up sandals can be a trendy one which goes well with this attire, with a gorgeous cross body bag and stud earrings.
21. Floral pants with black tee:
Again a black colored floral pant with a plain black strapless top can look unique when you hand over a black leather handbag and high heels.
Few Other Ways to Incorporate Wearing Floral Pants For Work:
When women opt for bold printed floral pants, it can be best suggested that they wear neutral and soft shoes such as black pumps or a nude pumps. They are suggested best for spring.
In the same way when you opt for a floral printed top for the day, match it with a neutral pants. When you opt for a floral print pants, opt for a neutral top where you can go for colors such as white, black or grey.
If suppose your office dress code is quite strict, try to wear floral blouse under your suit and a floral pump. Also floral cardigans are best suggested which adds punch to your work attire.
When you decide to opt for a full floral outfit with blazers, floral pants etc, try to decide on neutral shoes and minimum accessories.
Floral pants can also look gorgeous with similar colored shoes and clutches and a contrast colored blazer. Remember to wear a neutral colored or white top before that.
The color of floral in the floral pants can be the key attraction and hence wearing the same floral colored blazer and hand bag can be another choice.
Well another chic style can be to wear your floral pants with a hat, ankle boots and a cute tee with graphics.
Floral pants with denim jacket and sneakers can make you look modish.
The tops worn must be of the same color of the hues that are present in the pants along with cute shoes and statement necklace.
During fall of winter try to add chic look by wearing floral pants with knee boots and a cute sweater.
Floral pants with cardigans along with a flower crown of the same color of the floral pants makes your look sizzling.
Get a preppy and cute look by wearing a chunky sweater over your buttoned shirt. Remember to wear the same color sweater as the florals.
Floral pants with a black top and a black leather jacket can be a great combo to make you look modish.
Chambray shirts which are open over white tees can be a great look over floral pants.
Floral pants with buttoned up top and tucked in makes you look cool which can be accompanied with a flat closed shoes.
Floral pants with bright colored blazers as in the florals are ones that make you look professional.
Preppy with white top and a cardigan are simple enough to make your floral pants look trendy.
Floral palazzo pants with cropped tops are yet another way to look dazzling along with dark colored glasses.
It is not a rule that floral pants always need to be paired up with neutrals; they can be worn with bright colored button down tops and shoes.
Sneaker wedges and graphic tees are yet another way to make you look trendy and cool.
Also long kimono along with floral pants and ankle shoes can be modern enough.
Floral pants with lace tops and numerous bangles can offer you with a varied look.
Floral pants with oversized sweater looks cute. You look sweeter when you wear heels along with this attire.
Floral pants are exciting and interesting attire for feminine trend. These hints are an ultimate guide which helps you in mixing and matching your floral pants with various combinations. By following these tips, women turn out to be chic and they go crazy with this attire. There are various varieties such as classis, polka dots, and striped attires which can be matched with floral pants and offer you with a modish look for work. It is also mandatory to concentrate on the other accessories they wear such as handbags, clutches, sling bags, bangles, ear drops, bracelets, bangles, rings etc. The right pair of shoes or sandals are mandatory to make you updated with the latest trend.
There are various color combinations mentioned which are tried out and grabbed others attention. Hence women who are passionate about floral pants can follow these latest trends and make themselves look trendy and sync with the fashion world. There are ample sites that offer exclusive floral pants and patterns for women. The accessories are also to be noted as they add beauty and charm to your look.
Save