Pantyhose Means?
Pantyhose material is a delicate fabric that covers you from the toes to the waist. They efficiently make you comfortable in your attire therefore; they can make perfect office/work attire. They come in different styles and colors. They can be opaque as well as transparent.
They are made of nylon fabrics and thus they often rip apart or run at few places. They are perfect companion for people who want to have a perfect look. They make your legs look fine and polished.
Due to the delicate fabric they have a higher chance of getting ruined. However, once you master the art of wearing pantyhose, all you need to do is enjoy the fine look that it provides.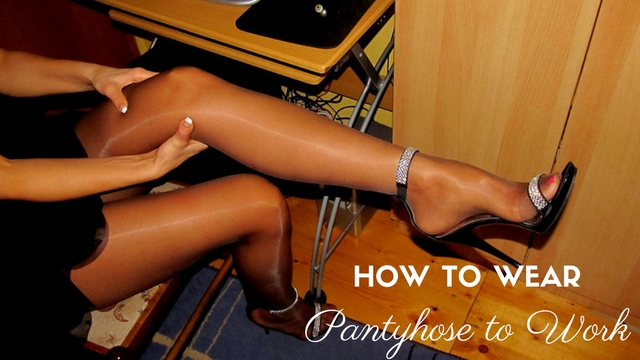 Whether or Not to Wear Pantyhose to Work?
These delicate yet elegant fabrics are worn on various occasions apart from the regular use. Pantyhose have been a part of the workplace attire for a very long time. Therefore, it has always been an issue for the female employees whether they should wear pantyhose to work or they should not.
Females from various fields have therefore made their own choices on this topic. Some prefer going bare legs while some stick to the traditional pantyhose. Hence, one of the most related pantyhose questions asked is that "Is it essential to wear pantyhose to work or not?"
For understanding this we need to check out a few elements that might clear a few queries.
Here you go-
1. The Dress code policy of the company:
Company Dress Codes and Policies give a better idea of the dress code. The answer to any dress code related confusion would definitely have an answer within these policies. There are two possible answers to the question depending on two specific dress code styles. If the workplace you work in follows business casual attire or casual attire then you can simply skip the idea of pantyhose.
On the other hand, if your organization follows strictly business attire (i.e. pant suit or skirt) then wearing pantyhose will do you no harm. As a fact, it will help you be more comfortable. However, if the confusion persists then you can always inquire the concerning authorities regarding the query.
2. Decision varies depending on the company culture:
Women all around the globe have a serious debate on wearing pantyhose to work. Some believe it to be an item that provides comfort, even skin tone, and perfection to their aging legs. Meanwhile, young adults are under the impression that wearing pantyhose is old-fashioned and simply not needed.
Regardless of the personal opinion, candidates and employees should consider the cultural aspect of the company. If at all you are confused or unsure about the company culture, then you may also skip the idea of skirt and dress. Going for a pair of trousers would be more ideal. You are better off safe than sorry.
3. Consider the professional aspect of choosing your wear:
Pantyhose are available in various styles, colors and design. Employees and candidates (job seekers) should keep in mind the professional aspect of the company while designing whether to wear pantyhose. Always opt for a office pantyhose, make sure that it is either nude or black.
Colored or patterned designs are not only trendy but also have a fetish. Before opting for a pantyhose , make sure whether working in pantyhose would be comfortable or not. However, in a professional setting, wearing inappropriate pantyhose can ruin the professional charm. One should have a knowledge to choose between best attire and worst attire as Inappropriate dressing style can totally turn your career in a wrong direction.
Dressing matters a lot when you are a part of the strict corporate world with a fixed dress code. Judging the type of wear you should prefer can be better understood once you are a part of the company culture for a good period of time. It is always advised to check with the authorities as well as other employees of the workplace in order to discuss about the appropriate dress code and the pantyhose confusion.
Objectives of Pantyhose Designing:
Pantyhose are delicate piece of cloth. They are designed to provide a specific level of comfort to the women. Let us look through the objectives of designing pantyhose. Here you go-
1. Appearance:
Many of us have a high regards for people with classy appearances. Pantyhose are specifically designed to provide that classy and complete look to any specific wear. It polishes the look of any dress or formal wear/attire.
2. Eliminates imperfection:
'You look imperfect' is the last thing anyone wants to hear. Of course, we all have our eyes set for perfection. That is one of the services of pantyhose. This hose helps in hiding blemishes, scars, hair, veins, patchy skin as well as uneven skin tone.
3. Ease and comfort level:
Wearing pantyhose can ease the irritation that is caused by frequent friction of bare skin thigh region. In addition, it also provides comfort between the feet and the footwear. Moreover, it reduces the chances of having shoe bites.
Pantyhose: Its History and Present
Pantyhose were a great part of the 20th century office attire. A lot of employees took onto pantyhose as a feature of polished women. However, lucky enough for millennial that they have no such compulsion regarding wearing a pantyhose to work. So, these easily ruined materials are certainly enjoying their popularity.
1. Popularity icon:
Millennial have pretty much kept this hosiery item in great popularity. It has not extinct from the face of fashion even in this century. However, there is a fair share of young women who have never touched this item at all. Millennial like the Duchess of Cambridge Kate Middleton, have increased its popularity.
2. Popularity status:
A popular social media site, Instagram, pretty much gave a decent amount of people who have been accustomed to wearing pantyhose. More than 7 lakh users have tagged their picture with a hash tag saying '#pantyhose'. On a similar note, the amount of posts with the tags like '#pantyhosefetish and #pantyhoselegs' is nearly a lakh and more. This gives a certain idea about this item in today's time.
This is one of the reasons as to why many companies and firms actually have added pantyhose into their guide of workplace formal dress code.
How to Put on Pantyhose?
For some individuals, wearing pantyhose is too much of a hassle. Especially people who are clumsy may have more odds of ruining pantyhose before even having them on. Therefore, let us look at how to wear pantyhose carefully in order to prevent any unwanted runs or tearing.
1. Decide the type of pantyhose you are required to wear:
Yes, decide what type of pantyhose you are required to wear. Pantyhose can be  sheer tights or opaque and differ in their end result depending on the type you choose. The sheerer pantyhose can provide you a nude look i.e. it will blend into your skin tone, while the other styles may not.
2. Consider your comfort levels:
Wearing pantyhose at work may be a compulsion but you can set your comfort level according to your choice. Decide on a hose that provides you ease in performing your daily tasks.
3. Prepare before slipping them on:
Having a pair of pantyhose is absolutely good; however, maintaining them is a real pain. Here is a tip to maintain them while doing the following things before slipping them on- Make sure to file your nails (fingers and toes), remove any kind of accessories that may cause runs, moisturize your skin (hands and legs) to prevent any accident.
4. Gather the material:
Choose your preferred side and start slipping them on. Choose one of the legs and gather it from the waist until you reach the toe. Slowly slip your toe within it and repeat the process with the other leg. Make sure to be gentle while easing the material on your foot.
Make sure to set the crease while pulling the fabric upwards. This will prevent discomfort in the later period. Moreover, it will prevent from tearing the fabric while it is stuck near your heels or knees.
Regardless of the attention one is bound to run into any edgy areas and get a run (laddered). However, we do have some solutions for them. Keep reading.
Which Industries Require Pantyhose?
Let us have a look at industries and firms where pantyhose fashion is pretty much a compulsion on women regardless of their age.
1. Healthcare industry:
Health care workplaces demand pantyhose as a part of the dress code. There are firms where wearing skirt or dresses is a part of regular attire. However, there is an ongoing debate between the people all around the globe in this field. "Wearing stockings to work, i.e pantyhose stocking should be a choice instead of compulsion", states one of the workers in the healthcare industry.
2. Finance sectors:
Dress code in financial sector has always been a question. Similar to the health care industry, even the financial sector faced a great amount of defense against the strict attire or company dress code. However, they mostly ask for opaque or darker color tights and/or pantyhose regardless of the weather. Moreover, places like corporate finance sectors, banking jobs, etc. require you to wear one. However, wearing pantyhose is an option for lawyers depending on their day of work and the judge.
3. Politics:
Politics is of course a total different area. However, the demand for the pantyhose seems evident when it comes to the women staff working in the Washington DC. Winter is a total different scene where everyone prefers wearing stocking at work (pantyhose) on a dress or skirt. However, the staff here has never been without pantyhose even in the summer.
4. Restaurants:
Yes, restaurant staffs also do wear pantyhose (hooter style). Hooter style pantyhose are footless. The staff may be asked to go with a pair of socks. This style is also worn by the cheerleaders.
5. Flight attendants (air hostess):
Uniform is one of the necessities when it comes to the job requirement of the flight attendants. They have varied uniforms depending on the company. Beneath the skirt, these attendants are required to wear sheer pantyhose. However, this requirement do not only cover the look or branding part but also gives warmth to the attendants in skirt as they are flying on a high altitude. It also helps in preventing Deep Vein Thrombosis (DVP).
The Cons of Pantyhose (and solution):
Pantyhose come along with a few troubles too. There must have been some cons of wearing pantyhose because of which some people disagree on wearing pantyhose. Let us look at the disadvantages of pantyhose along with some solutions by the hosiery production industries.
1. Pantyhose is not an antiperspirant:
Yes, the nylon fabric cannot absorb or help the sweat in the way a cotton material does. As a result, you are more likely to sweat and that sweat will remain in the places like toes, feet, legs, genitalia region. This excessive and unabsorbed sweat in these areas can cause not only discomfort but also is an open invitation to odor and bacterial (fungal) infections. So pantyhose made of nylons at work are not comfortable.
Solution:
Hosiery manufacturers did realize the very same problem that comes along with wearing pantyhose on everyday basis. Therefore, they came up with some solutions that might help. Some manufacturers started adding silver to the product in order to eliminate odor and odds of possible infection. Moreover, natural fibers like silk items can also lessen the chances of odor by absorbing the sweat and lessening perspiration.
2. Nylon is not an Eco-friendly material:
Environment is our friend and we must always protect it. People's preferences for pantyhose generally change when they realize the harm they contribute to the environment. Pantyhose cannot be recycled nor can they be biodegraded.
On disposing pantyhose, there is hardly any chance of it degrading or being useful to the environment. They only contribute to the landfill rubbish. Moreover, burning them is also useless. Nylon, when burnt, releases toxic elements into the natural surroundings. However, they surely did come with some brilliant idea to eliminate the risk to the environment too.
Solution:
After a certain period, in UK and later (gradually) around the world, they thought of a way to recycle this piece of fabric. They collected pantyhose, tights, nylone stockings, etc. and tried to recycle them. Apart from these recycling industries, there are various sites on internet that provides ways to reuse these materials for other things.
3. Easily destroyed or ruined material:
Pantyhose are known for their delicate material and comfort. However, women all around the globe have encountered them getting torn or run down at parts. Due to this tearing or running, it stops being presentable. Either a toenail or any sharp edge around the room, table, bus, car, desk, etc. can cause it to tear or run.
Solution:
Luckily if the 'run down' area is not visible then you can apply nail polish or hair spray to prevent it from tearing or running down further. However, if it is on the visible area then you might have to invest into them again.
Save
Save