In everyone's life there comes a stage where all the people need to move forward towards the real professional life leaving their fun life behind. Moreover, all of us agree that college time is the best time of one's life.
But it doesn't mean walking towards professional life and finding one's first ever job also might seem like a fun one in another manner. But anyway, it's a job of after college and people are nervous about their work.
Moreover, some people even have certain views about the job to be. Therefore, it is necessary that everyone needs to plan their first job out of college so that it won't be a surprise.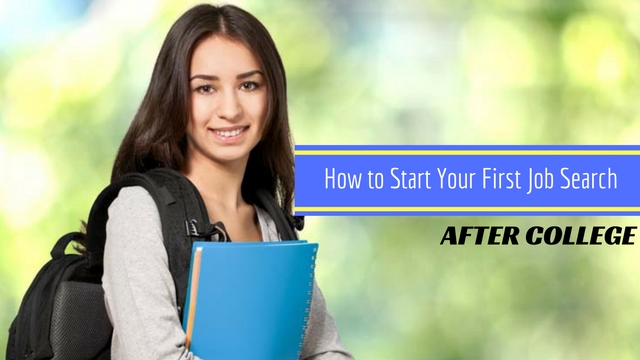 Tips for Starting Your First Job Search:
Some people find it hard to switch to a new environment and getting a job is kind of a big step for anyone.
Therefore, it is necessary to keep some points in mind before taking such a decision and one can also figure out a way to start their first job search after college in a responsible way.
1. Focus more on interest jobs:
It is not necessary that if smartest guy or girl of one's college, joins a company or plans for some company, then the rest of the people need to join the same company. But what's necessary is that one need to join such a job which makes them happy working for it.
Therefore, when it comes to the first job after college a person needs to focus more on a type of job which they interest to work in. Moreover, this decision needs time and space to take in.
2. Make a list of jobs:
There is a possibility that if someone confuses about a job, whether to go for it or not, then they make a list of the employers and see whether joining these listed companies will benefit their future.
Most importantly, making a list of these companies will help them sort that one company or the employer to which they want to work for. Moreover, these lists of companies also provide them time to think about their future, which can be formed better if they choose the right job.
3. Start gathering information about those listed employers:
When a person makes a list of companies or the employer, then it is obvious that those companies list because it is one of the companies wherein which the candidate could learn more about the job.
And once this basic information such as contact details and availability of job sorted, then the candidate needs to dig in deep and collect more information about the company objective and their recent ventures and much more.
4. Start applying for the job:
Once all those things and questions about the company things sort and the candidate find the company the right choice to select as one of the first jobs ever after college, then that person needs to start applying for those jobs before it's too late.
Because nowadays the job market is running slow and it is tougher than anything to get a job easily and especially when it is one's first ever job. Therefore, it is necessary to use proper things at the proper time.
5. Apply using other job searching tools:
Because of advanced technology one can apply for a job without any extra effort of going anywhere. It's better to use these advanced job searching tools to search for a job so that there won't be any wastage of time and money.
And it is way better than any other source of job search. Moreover, these job searching tools provide necessary information about the company and their requirement as well. Therefore, all the students who are trying to get their first job should be thinking of using these advanced job searching tools for their good.
6. Create a LinkedIn profile:
Nowadays, a LinkedIn profile considers as one of the professional profile, where all the employers and the freshers register themselves so that they can reach of those necessary skilled people who can be helpful in their future purposes.
And that is why a person who just completes his studies and starting to find a job should join and register themselves on LinkedIn, so that can be in touch of all the necessary employers in the world.
7. Try and get an internship:
Getting an internship during college time or getting an internship after the completion of one's study is the same. It is possible that once the student gets an internship in that company and they perform more than expectation, then there is a slight possibility that the company can propose them to join their company and work there as a permanent employee on a long term basis.
Therefore, the internship can provide better job opportunities for all the students who are trying to get their first job after college.
8. Maintain a professional online profile or create a blog:
Time has changed and people have changed their thoughts as well. Nowadays, instead of writing a resume people prefer writing a blog or a professional online profile.
In this professional online profile or a blog, a person might share all of his personal and professional details which is necessary to get a job in a good company. Therefore, it is one of the ways to consider if a student is trying to get their first job after college.
9. Try to form a creative resume:
As it is a job ever of a person who finishes their studies and trying to get a job, then they should take a little more time on their resume as compared to the rest of the people.
Creating a resume is one of the things that should do even before applying for a job and especially when it comes to people who just finished their studies. Therefore, creating a creative resume helps in finding a better job for a person who is trying to find their first job ever.
10. Try to ask for an employee referral:
The employee referral can add advantage for the student if they want to work in a good company. Sometimes the interviews might go wrong or the employee might be finding other candidates for the post, then at that time the candidate needs to make a move and ask them for an employee referral where they can send their contact details to necessary employers who require such people who just finished their studies.
Conclusion:
Finally, the bottom line is that at the end of this discussion over starting a first job search after college, one can understand how tough it is to find a job properly. Finding the first job is kind of a responsibility which cannot be taken in a hurry.
Therefore, if anyone who just finished their studies and confused about how to start their job search, then they can read all the material given above to make their decision easy and quick.